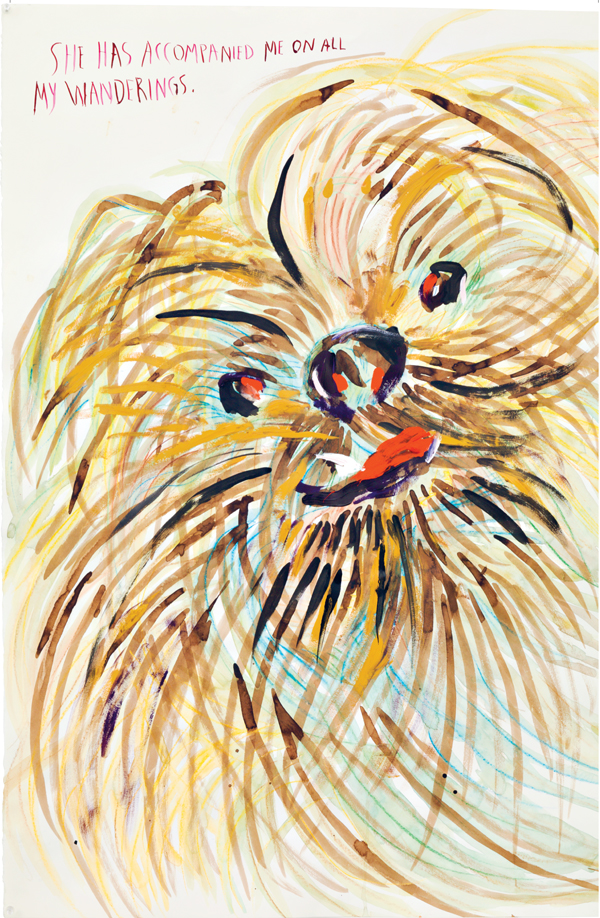 No Title (She has accompanied), 2014, ink, gouache, and acrylic on paper, 43 1/2" x 30 1/2". Courtesy David Zwirner, New York/London and Regen Projects, Los Angeles.
One day, in 2011, a shaggy brown dog the size of a pork roast trotted into our old loft at 62 White Street, paused at the reception desk long enough to take in the lay of the land, then made her way from desk to desk, introducing herself to each of us, before vanishing through the doorway to Lorin's office. Shortly thereafter, a woman arrived to reclaim the dog and to apologize for the intrusion. The dog's name, she told us, was Boo. We assured her that Boo was welcome whenever she cared to visit, which turned out to be fairly often. She would tear from one end of the loft to the other with surprising speed, then break stride to describe a large circle with her backside on our Oriental rug or to relax with an intern on the sofa under our sunniest windows.
Boo, we learned, belonged to our new neighbor, the artist Raymond Pettibon. We didn't meet him until a couple months after Boo's first visit, though we saw him on the street and in the elevator. "I didn't want to bother you guys 'cause you have a lot of work to do," Pettibon later explained, "but when the door was cracked open, Boo would scoot out and make a beeline for The Paris Review."
Pettibon has owned Boo, who is a Brussels griffon, since she was a puppy; she's now almost four and has earned a handful of nicknames, including Boo-boo, B., and Lil B (after the rapper). Pettibon says she's small, even for her breed, but what Boo lacks in size she makes up for in personality and quickness. "When I used to take her to Tompkins Square Park, she would draw a crowd—not just from the other dog owners, but from the people on the fence outside, too—because she was so fast. She would run these other dogs ragged."
Boo is a frequent muse for Pettibon—her portrait graces the cover of this issue, and she appears, in various guises, throughout this selection of drawings—but then dogs are everywhere in his art. Dobermans and Dalmatians are regular favorites: the former because they're so recognizable that, he argues, you don't have to draw the whole dog; the latter because their distinctive markings are visually interesting within Pettibon's black-and-white palette ("it's like doing a zebra").
When Pettibon was a boy in Wasco, California, his first dog was a cocker spaniel mix named Peanuts. Peanuts was followed by Porky, an old Yorkie whom Pettibon once chased three miles to retrieve and who bit him on the leg. As an adult, in Los Angeles, Pettibon had three dogs. The first was Vaguely Noble, named for a famous racehorse and, Pettibon explains, "because he didn't have his papers, so he's vaguely noble." He found the dog in the pound, and they bonded immediately: "I picked him up and he pissed all over me." Vaguely Noble was a loyal friend until the end. "You could see it coming," Pettibon recalls, his face slackening. "He was getting old and slowing down. And finally, in my studio in LA, he just lost his last breath." The second dog was Barely Noble, aka O.G. Barely Noble, a long-haired dachshund also rescued from the pound. The third was a cocker spaniel called Ohne Titel, a name given him by Shaun Caley Regen, Pettibon's LA gallerist: in German, all of Pettibon's drawings are Ohne Titel, or "No Title." (Regen's own dog, Gordo, features on page 216, though in name only.) Some of the dogs' portraits were composed with brushes made from their own hair: "You don't have to tie it up. You can just hold it in your hand and it's kind of cool to make a portrait of the dog with its own hair."
A 1999 work gathers several dogs from Pettibon's past. The animals drift weightlessly in the bottom half of the drawing, which reads REAL DOGS IN SPACE. PROFILES IN COURAGE. It's a tribute to those canines who were first in spaceflight. "Real dogs in space," Pettibon exclaims, "those were heroes." One of the dogs is Bick-a-bo, a cocker spaniel who once escaped, Pettibon says, out the window of his father's turquoise '64 Chevy Malibu at the post office; Pettibon found him about a month later, living comfortably with a new family. The dog's name comes from the song "Swingin' the Alphabet," from the 1938 Three Stooges film Violent Is the Word for Curly, in which the trio masquerades as professors at a women's college. Pettibon sings me the line from memory: "B-A-bay, B-E-bee, B-I-bicky-bi, B-O-bo, bicky-bi-bo, B-U-bu, bicky-bi-bo-bu."
—Nicole Rudick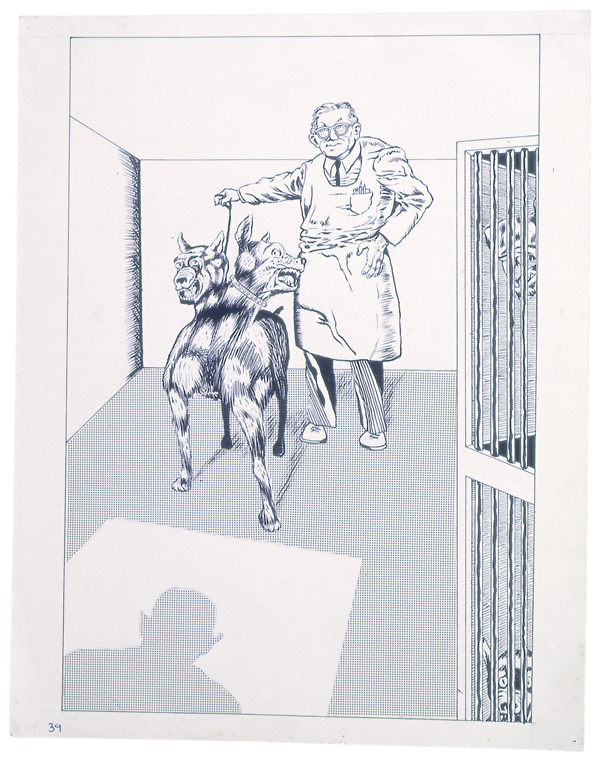 No title, 1978, pen and ink on paper, 14" x 11". Courtesy the artist and Regen Projects, Los Angeles.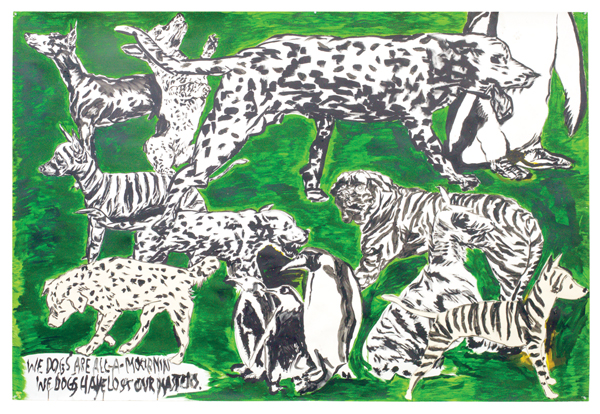 No title (We dogs are), 2013, ink and acrylic on paper, 55 3/8" x 81 7/8". Courtesy the artist and Regen Projects, Los Angeles.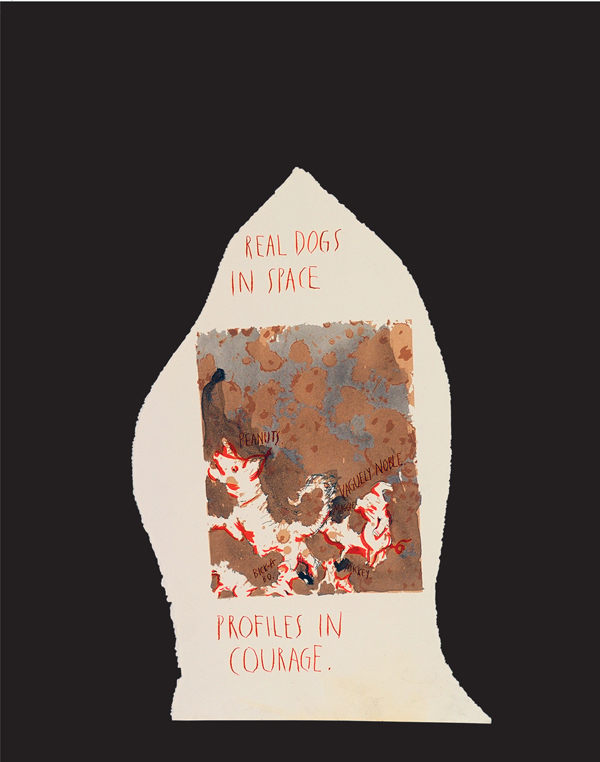 No title (Real dogs in), 1999, pen and ink on paper, 16 1/2" x 9 1/2". Courtesy the artist and Regen Projects, Los Angeles.
Want to keep reading?
Subscribe and save 33%.
Subscribe Now
Already a subscriber? Sign in below.