Interviewed by Ted Widmer
Issue 193, Summer 2010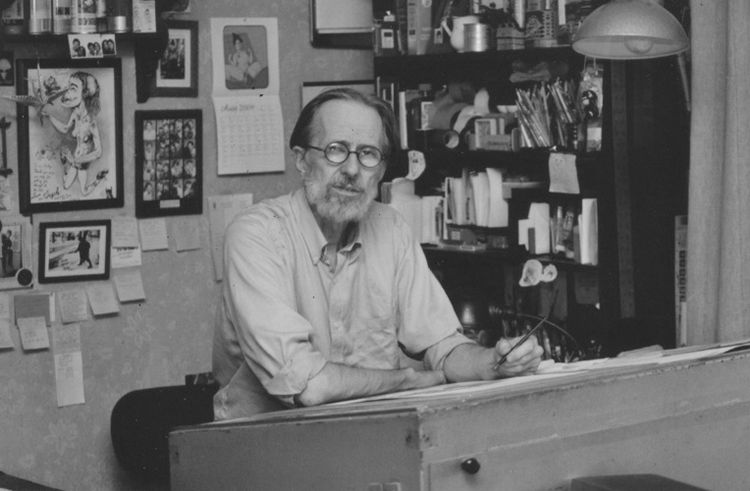 R. Crumb at his drawing table in 2009.
Robert Crumb asked me to say that he lives in Albania, to discourage would-be pilgrims from beating a path to his doorstep. He doesn't, but his medieval hamlet is so far from the United States in every sense that it takes some perseverance to find, and upon locating it, I discovered that the streets of his walled village are too narrow to penetrate with even the tiniest French rental car. I mean, Albanian.
But even this tiny community was too distracting when it came time to draw and ink the extraordinarily detailed illustrations for The Book of Genesis, which was published last year. Like a monastic scribe, he pursued his vision in a desolate shelter in the mountains outside town, working for weeks without human contact. These mountains have harbored many heretics over the centuries, but Crumb's Genesis was an act of textual devotion, precise to the last "begat."
Crumb is perhaps the most influential cartoonist of his or any generation, famous for decades of work that reflect an idiosyncratic variety of fascinations—arcane twenties music, everyday street scenes, the female form—yet have proved capable of mass appeal. But "cartoonist" fails to convey the full scope of the Crumb oeuvre, which includes the handmade comics he created as a teenager; the underground periodicals he generated by the score in the sixties; and the increasingly realistic work he has produced since then, probing the lives of twenties bluesmen, authors, biblical patriarchs, and his own family. In all of the places he has lived, Crumb has been a creator of books on his own terms, helping to spawn a thriving DIY print culture of zines and graphic novels that has revived and reinvented the comic form. It is a remarkable achievement for someone who came of age when the comic book was the lowest form of literary life imaginable, attacked by Congress and shunned or ignored by respectable society.
When the weary traveler finally locates Crumb's house, where he lives with his wife Aline Kominsky-Crumb, a small sign in his unmistakable hand warns the mailman, pas de pub svp—no advertisements, please. Crumb is equally jaundiced toward the media, and remains distrustful of many aspects of contemporary life, including e-mail and the Internet. But modernity is not much of a threat inside his seventeenth-century home. Books are packed in everywhere, and in his collections the centuries begin to crowd each other out—a Brueghel print from the fifteen hundreds hangs on the wall next to a racy ad from the nineteen forties. When the tape was not rolling, we listened to many of Crumb's favorites from a library of more than five thousand 78-rpm records—including Blind Mamie Forehand, Chubby Parker, and Skip James—witnesses to a past that never ceases to exist as long as the record is intact and the turntable spins.
INTERVIEWER
Let's begin with Genesis. Where did this book come from?
R. CRUMB
Well, the truth is kind of dumb, actually. I did it for the money and I quickly began to regret it. It was an enormous amount of work—four years of work and barely worth it. I was too compulsive about the detail. With comics, you've got to develop some kind of shorthand. You can't make every drawing look like a detailed etching. The average reader actually doesn't want all that detail, it interferes with the flow of the reading process. But I just can't help myself—obsessive-compulsive disorder.
INTERVIEWER
But it does also seem like a labor of love.
CRUMB
I did try to be respectful. I decided not to make fun of the text, not to put any kind of jokey stuff in there. I was tempted a few times. But I whited it out later because it distracts from the text. The text itself is so compelling that merely illustrating it is enough. But people who believe that the Bible is the word of God, you're not going to please them. They'll find faults. The Jews won't like it because you actually portray God. And the fact that I show people actually having sex, that's going to eliminate a lot of the Christians.
INTERVIEWER
You've shown how much strangeness is in the story.
CRUMB
I think that the best public service that it has to offer is that it brings everything out. It illustrates everything equally. Even the strangest stories, stories that don't make much sense. The Bible was not written for entertainment purposes so it's a real hodgepodge and a compendium of all kinds of stuff.
INTERVIEWER
Did you read the comic-book versions of the Bible as a kid?
CRUMB
I didn't. I wasn't interested. In my midteens I went through a brief stage of religious fanaticism but it was very much about just saying prayers and stuff like that, reciting rosaries and spending a lot of time on that kind of Catholic ritual. My brother Charles admired Saint Francis, he'd walk around with stones in his shoes. But soon we started to see through it, my brother and I started questioning the church and it fell apart very quickly for us.
INTERVIEWER
You wrote in your introduction that you actually stay truer to the words of Genesis than a lot of those comic-book versions.
CRUMB
In all the comic-book versions I was able to find, they just made up dialogue, pages of it that are not in the Bible. I was reading this one thing and I thought—did I miss this? And I went back and checked against the text and it's not in there. And they claim to be honoring the word of God, and that the Bible is a sacred text. But they're just making shit up! If you're not going to make it up, then the only way is to tell the whole thing. You have to put in every word, and that's a very cumbersome task that only a fool would take on.
INTERVIEWER
Genesis is obviously a graphic novel, but the cover is like a fifties comic-book cover.
CRUMB
It's a Classics Illustrated! I had to argue with them to let me call it "illustrated." They wanted to call it The Book of Genesis According to R. Crumb but I preferred "illustrated by." I wanted a humbler position. It's an illustration job, OK? Illustration has a bad name in modern culture because for decades artists who were "mere illustrators" were considered inferior to fine artists. Being an illustrator was looked down upon. It meant you were not really a creative person, you just had the technical skills that you were lending to someone else's ideas. It's all bullshit though—the fine-art world, the myth of the creative genius artist.
I made the drawings nice, and the people who like that kind of thing, the aesthetics, are impressed, but the most significant thing is actually illustrating everything that's in there. That's the most significant contribution I made. It brings everything out. Comic books are good for that. Many of the educational experiences I've had about important things, I got from comic books. A Japanese artist did a comic book about his childhood growing up in militaristic Japan and about the dropping of the bomb. It's called Gen of Hiroshima. It's so powerful and vivid. Also Joe Sacco's book Palestine and his book about Bosnia, or Spiegelman's Maus, a powerful story of the Holocaust. Those are some of the strongest revelations of what happened.
INTERVIEWER
How did you get your hands on the research material for Genesis from a medieval village in Southern France?
CRUMB
Hey, come on, this is the electronic age! You can get anything, anywhere! A friend got me the DVD of The Ten Commandments and some other biblical epics and he freeze-framed them and he took hundreds of photos. I developed a great respect for Cecil B. DeMille. When you freeze-frame it and look at it closely, every detail is really interesting. You've got these donkeys pulling primitive carts with big urns all tied up with ropes, and I used all of that. All the statuary, the rows of the lions as you come out of the city of the pharaoh. It's beautifully made and all the craft and attention to detail, it was really quite remarkable.
INTERVIEWER
And did you get history books about the beginnings of Christianity?
CRUMB
You have to go way back, to the beginning of Mesopotamian civilization, because the stories of Abraham and all that—that's like 2000 b.c. It's hard to find Mesopotamian visual imagery that goes that far back. How did people dress? Did they have doors? Did they have a door on hinges, or what? The Bible says, Lot closed the door and wouldn't let the men come in, but what's the door made of?
INTERVIEWER
Was the act of drawing a God figure a challenge? You have had panels in the past where God is speaking to someone.
CRUMB
Mr. Natural. But I also saw God in a dream in the year 2000.
INTERVIEWER
What did he look like?
CRUMB
He had features almost like Mel Gibson or Charlton Heston, very severe but at the same time sort of anguished looking. And he was warning me about something, very briefly, warning me about this destructive force that was getting stronger, and since He loved Earth or this reality or whatever you want to call it, He was enlisting me to be one of the people to protect this reality from this destructive force. When I was trying to figure out how to draw God I remembered that image, which I could look at only for a split second, it was painful to look at this face, it was so severe and yet so anguished.
INTERVIEWER
Did you give God that face in Genesis?
CRUMB
I tried to. It doesn't quite capture it. That was my reference point. All the way through I would go back and rework the face, I kept whiting it out and redoing it, to try and get it right.
INTERVIEWER
So it wasn't just a "straight illustration job," was it?
CRUMB
It wasn't, but I wanted to illustrate the text as properly and accurately as I could. I looked at a lot of old European imagery and it's all too schmaltzy—unless you go way back to when the stuff's really crude in the early Middle Ages, when it was all iconographic and crude and primitive. The main challenge for accuracy was to read the text very closely to make sure I wasn't misinterpreting anything. When you do that you realize that it's extremely condensed and it probably came from a period when it had evolved in the form of a recital of the seminomadic Hebrews, just like they do in the Bedouin tents today. They are reciting their history over forty generations, and it'll go on forever unless you start to condense it. But you can also condense things so much that the meaning is lost.
Genesis was so demanding. I dedicated it to Aline, because she realized early on that I wasn't going to get it done unless I went into isolation, so she found a place for me in the mountains. They're called gîtes—a little house, with a little kitchen. I went and stayed there for weeks at a time.
INTERVIEWER
You were like a medieval scribe.
CRUMB
A monastery would've been perfect.
INTERVIEWER
Did you use a quill?
CRUMB
I use what's called a crow-quill pen.
INTERVIEWER
I was joking.
CRUMB
An old steel-point nib, that's what I use to draw with—for my artwork, I have to use antique, archaic tools.
INTERVIEWER
Just go up in the mountains with an old pen and a bottle of ink.
CRUMB
I also took my white-out and a brush, source material and some books, the Bible and paper and pencils to do some rough sketches and some scripting.
INTERVIEWER
What kind of paper do you use, what kind of pen and ink?
CRUMB
Well, I use the old Strathmore vellum surface paper, which is the best paper you can get in the Western world for ink line drawing. It has a good, hard surface. I have it mailed from the New York Central Art Supply in New York. For a while I was using this old Strathmore paper from fifty years ago that some guy sent me, it had bad comic art on one side, hacked-out comic work from 1959, 1960, but the paper is superior to anything you can get now. It just holds the ink better. I ran out of that and now I use this new stuff that's not quite as good.
INTERVIEWER
And how about the ink?
CRUMB
I use Pelikan black drawing ink, and the crow-quill pen nibs. And you stick them in a handle. They're all getting harder to find, all these antique art instruments. The companies that have made them are dying off one by one. But I got lucky. One day about six or seven years ago, my daughter, Sophie, bought a box of old pen points at a flea market in France. She found a box of about a hundred drawing pen points, and they're the best ones I've ever used. They last and last, everything about them is fine, the point, the tensile quality, even the metal, the glass. The metal was just better, back then. I've still got maybe fifty of those. I think they'll probably last me the rest of my life.
INTERVIEWER
So with each panel do you pencil it in first and then ink it?
CRUMB
Yes, I use pencil first. With Genesis, because there was so much technical stuff that I had to do, especially drawing correct anatomy, I would often make a sketch first on a piece of scrap paper, try and get it right before I started penciling on the drawing paper. How's this angle, his arm, and the guy's holding a tool, how does that look? I used Muybridge's Animal Locomotion, from the late 1800s. It includes hundreds of photos of naked people in action, really handy for any kind of cartoon work where you have to draw people realistically in different actions and poses. Like the scene where Jacob is wrestling with the angel; fortunately there were pages of photos in Muybridge's book of men wrestling.
INTERVIEWER
Did you ever use live models for any of these drawings?
CRUMB
A few times I asked people to pose because the draped clothing is really very tricky, those robes and stuff. It's impossible to know sometimes how the cloth will fall in certain positions, I would ask somebody to put a curtain in a certain position and see how the cloth would fall. You can't make that stuff up.
INTERVIEWER
How big were the pages?
CRUMB
The paper was twelve by fifteen inches; the margins of the artwork were roughly eleven by fourteen. So I reduced them down to about eighty percent for the book.
INTERVIEWER
Where do you draw?
CRUMB
When I'm at home I sit at an old printer's light table, a big metal light table. I use the light sometimes but usually I just draw on it. It has a slight slant. When I was working up in the hills, when I was in hiding, I just worked on an ordinary kitchen table.
INTERVIEWER
And are you sitting or standing?
CRUMB
Sitting! You can't stand up and draw comics. It's not like painting, it ain't like painting at all. People, you know, don't realize that about comics, they'll say, Well, how do you paint, when you paint, do you use an easel? I say no, this is comic art, you sit at a desk and do it, at a drawing table. And for close work I often use a magnifying glass, for the details. The problem with working with a magnifying glass is that you sometimes lose the perspective of the whole image. It's tricky.
INTERVIEWER
How many panels a day could you get done?
CRUMB
It depends on the amount of detail and the amount of will and enthusiasm. That changes from day to day. If the artwork is fairly simple, I could get two-thirds of a page done in a day. If it's more complex, maybe half a page.
INTERVIEWER
And then you'd finally just walk home?
CRUMB
Aline would come and get me because she's the only one who knew where I was. She would come up there on the weekends and bring me food and stuff and letters, mail that had come.
INTERVIEWER
Did you ever think it was too hard to get through?
CRUMB
No, I just knew that I had to get through it. I compared it to laying tracks for the Trans-Siberian Railway. It was long, it was the longest thing I ever did by far. I couldn't believe it when I made it to the last panel. Now I'm sick of the whole thing. I'm finished with the Bible. Back to drawing pornography.
INTERVIEWER
What books were in the Crumb house when you were growing up?
CRUMB
There were no books in our house. My mother bought a set of encyclopedias in the early fifties and that was it. Those Brand X Americana encyclopedias. There were trashy magazines: my mother read movie and detective magazines. My father read the paper and that was it.
INTERVIEWER
You have said you are dyslexic. Did that push you toward comic books as a kid?
CRUMB
The only real books I read were school textbooks and they were tedious. And the way that they taught you to read stories at school was so boring. It just didn't interest me at all. My brother Charles got interested in reading real books earlier than I did. I had a hard time reading, I read very slowly and in a faltering way, because of dyslexia. Even comic books with a lot of text were daunting to me until I was in my mid-to-late teens. Text was tough for me and it has taken me decades actually to become a good reader.
INTERVIEWER
And yet you put a fair amount of text into your comics. You write out every letter of every word beautifully—it's very labor-intensive.
CRUMB
When you write slowly you have more time to think about how to word things. I don't type, I just handwrite everything in block letters. I take the time to think out how to articulate things. I've written a lot in my life—I've kept up a lot of correspondence and I've kept diaries off and on over the years. I started at an early age having long correspondence with a couple of different people. Communicating on paper was easier for me than communicating in person.
INTERVIEWER
Did you think you were going to be a writer as a young man?
CRUMB
My brother got me drawing comic books at a really young age and I never thought of doing anything else. It's all I ever could do. We also watched a lot of TV, a lot of cartoons and Disney. I was really a child of pop culture. We got a TV in October of 1948. I remember the day they installed it, it's a vivid memory. It was in a huge wooden cabinet, a big console cabinet and a tiny screen. You had to warm it up. You would turn it on, and there'd be this dot of light in the middle.
INTERVIEWER
Almost like in Genesis.
CRUMB
The world comes out of the void! And we had to put a great big antenna on the roof of the house, a giant aluminum antenna.
The first image I remember seeing on TV was Milton Berle. We got the TV cranked up and we turned it on and there was Milton Berle being lifted up by this team of acrobats. The audience was laughing. I remember it very well, the first image I saw on television. It was powerful. I remember just sitting and watching anything. My parents watched these boring variety shows, like Dinah Shore and Perry Como, they were terrible, and sometimes the commercials were more interesting than the shows. Of course I watched kiddie shows: Captain Jet and Sheriff John and all that stuff that was popular in the fifties. We would watch all of the cartoons. That was my first introduction to old cartoons and old-time movie comedy.
INTERVIEWER
Were you watching cartoons before you encountered comics?
CRUMB
It was at the same time. I was reading Little Lulu, Donald Duck, Mickey Mouse, Mighty Mouse, Felix the Cat. Often they were very bad. I never knew who the artist was, they didn't give the names of the artists at all in those comics. I gradually started to get more discriminating about comic books and got interested in Donald Duck creator Carl Barks. Donald Duck and Little Lulu turned out to be the outstanding story comics of that period.
INTERVIEWER
What was it about Little Lulu that stood apart to you?
CRUMB
The stories. The drawing in Little Lulu was very simple, hieroglyphic, but the stories were very sophisticated—it was a literary comic. Carl Barks was a cartoonist who was both very powerful visually and as a storyteller. The stories were great in those Donald Duck comics. I still enjoy reading them.
INTERVIEWER
Do you remember any of the Kefauver hearings about comic books and juvenile delinquency?
CRUMB
No, I don't. In lower-middle-class America at that time, if you weren't Jewish or left-wing you were only vaguely aware of McCarthyism or the suppression of leftists, and the hearings. I remember how they whipped up a big excitement against comic books for causing juvenile delinquency. The only awareness I had was when we had teachers saying that comic books were bad for you: you shouldn't read comic books, you should read real literature.
INTERVIEWER
Could you tell the quality was going down after the Kefauver hearings?
CRUMB
We watched it go down from the early fifties, even before that. The quality of both the art and the narrative was going down and by 1953 we were already looking in Salvation Army stores for old comic books. The covers were much more attractive. The artwork was generally better. Then, after 1955, they really went downhill. There were no good comics after that. All those funny animal comics that we liked declined graphically in quality. The last one that was any good was Donald Duck.
INTERVIEWER
Were you reading daily funnies in the newspaper?
CRUMB
I read a little bit of the daily funnies. Not as much as the comic books. I started collecting comics seriously around 1952. That year, when I turned nine, I suddenly became a fanatic collector of things: marbles, playing cards, matchbooks, bottle caps, The Catholic Weekly. Comic books were just one obsession. I'd walk around the streets with my head down, looking at the ground for objects that I would collect. I'd get excited if I found a playing card in the street. I had some kind of collecting compulsion. I think I was depressed. I had become depressed when I was nine years old.
Charles and I used to look through trash cans on our way home from school, in the alleys. One time we found a fabulous collection of Little Lulu and Walt Disney comics from the late forties through the early fifties—and this was in 1953—except that every one of them was torn in half, clean in half, right across the middle, so each half still had its staples and they didn't fall apart. So we took them all home and we meticulously Scotch-taped them all back together. About fifty comics. We kept those taped copies for years.
INTERVIEWER
Do you still have the comics from your childhood?
CRUMB
Some of them. In the early seventies I found a guy who was selling a complete collection of Little Lulu. I bought the whole thing. I was also interested in Dick Tracy starting when I was eleven. It was a great strip. And it had a very black and weird psycho-vision of the world, which was fascinating, negative and creepy. I'd cut out the strips every day and paste them in big scrapbooks. I did that for about six months, cut the daily strips out. That was the only way to get them.
Ernie Bushmiller's Nancy was one of my favorites, because it was really easy to read. I liked Peanuts for a while in the late fifties through to the early sixties. It was a well-written strip, a literary strip, the drawing was minimal. In my late teens, I got into Jules Feiffer. He did one of the first personal and psychological, adult comics. I found that inspiring. There was neurotic introspection in those strips.
INTERVIEWER
Who else in comics did you like?
CRUMB
I greatly admired Walt Kelly. I got interested in him when I was eleven, reading Pogo. He did comic books that were more lightweight for kids, and he also did a daily comic strip that was very adult, full of all kinds of cultural references that kids wouldn't necessarily know. For a while he also did these special books for Simon and Schuster. They fascinated the hell out of me, I loved his drawings. They were beautiful. I still have a collection of the Walt Kelly daily-strip books. They're great, he was really good with words. And in the early-and midfifties Walt Kelly had a character in the strip that looked like Joe McCarthy, this dark, sinister character called Simple J. Malarkey.
Kelly kind of burned out, he became an alcoholic—he just wasn't interested anymore. A lot of cartoonists fall victim to burnout. It's so much work and you have to crank it out in this kind of industrial way, every day. I could never do that.
The earlier generations that drew comics didn't see themselves as artistes, you know. They were cigar-chomping newspaper men. A lot of them hung out at the newspaper offices, or even worked there. They were part of that world more than they were artists. They didn't care about what happened to the original art. A lot of them didn't even own their characters, they worked for the syndicates and the newspaper chains that owned the characters.
EC Comics was located in downtown New York, which is now Soho and Tribeca, but at that time was just an area of small businesses in these dingy lofts, low-budget industries like the candy business, prosthetic limbs, comic books, and sleazy magazines. The comic industry had a kind of sleaze about it. The guys who ran it were not well-educated or refined individuals. Comics were somewhat disreputable; they were the lowest of the low in those days. Even other cartoonists, like The New Yorker cartoonists, really looked down on comic books: newspaper-strip artists considered comic books contemptible. The pay was really low. In those days, artists were embarrassed to admit that they worked in the comics industry. When William Gaines, the publisher and one of the editors at EC, was up before the Kefauver hearings, he was obviously the sleazy guy, he spoke with a Brooklyn accent. His rationale for defending crime comics just didn't hold up at all. The sophisticated senators cross-examining him just completely crushed him. He kept putting his foot in his mouth.
INTERVIEWER
Did you read the tough-guy strips?
CRUMB
I could never get interested in that stuff when I was a kid. Now I can admire some of the stylistic aspects of Milton Caniff, who drew Steve Canyon—beautiful black-and-white work. Alex Raymond, who drew Flash Gordon in the thirties—I admire his drawing technique, but the action heroes and superheroes never interested me at all. Even as a kid I had no interest in Superman or all those Marvel comics. Furthest I could get with science fiction was EC. They specialized in crime, horror, science fiction, and war comics. They're beautifully drawn and their adventure comics are better written and have more depth than most. I came to like those later in my teens, but by the time I was interested in them they were finished. Mad was the only EC survivor after the Kefauver hearings killed off EC completely. It was transformed into a magazine in 1955.
INTERVIEWER
How did you feel about Mad?
CRUMB
I remember the first time I ever saw Mad, I saw the first issue on the stand in late 1952, I was nine years old, I didn't get it. "It's Melvin"? What does that mean? What the hell? And then I didn't see it again until I saw issue number eleven, which is the one where they did a takeoff on the cover of Life magazine. That just blew my mind, that drawing by Basil Wolverton, this lewd send-up of Life magazine. Oh my God, I couldn't believe my eyes! That was so subversive to me at ten, eleven years old, and from then on I looked at Mad, but we couldn't bring it home. My mother would not have allowed it in the house, these lewd, sexy girl drawings.
INTERVIEWER
So did you hide it?
CRUMB
We looked at it on the newsstands until I was fourteen, when I first actually started buying that stuff and bringing it home. I remember when I first saw Harvey Kurtzman's Humbug magazine in 1957, I couldn't believe my eyes, it was so strange. This powerful artwork that satirized American life and it was beautifully drawn and obscure and strange. That was one of my major escapes from reality when I was a kid, Harvey Kurtzman's stuff.
I followed Kurtzman's career as closely as I could, while he was still doing comics and magazines. He was such a colossal commercial failure, it was so tragic what happened. He ended up working for Playboy, doing that Annie Fanny thing, which was OK but nothing like his earlier stuff. He was really hampered by Hugh Hefner, who interfered in that Annie Fanny strip constantly; butted in and made all kinds of changes on tracing paper over the penciled roughs that Kurtzman had done. Very demoralizing. After we became friends I was with Kurtzman one day and he was weeping with vexation over all of these corrections that Hefner was demanding. It was a terrible sight to behold and I resolved to never let that happen to me.
INTERVIEWER
Were you producing strips as a kid in Delaware?
CRUMB
I was. I always loved the format. Charles and I imitated real comics. We'd draw our own comics, and we had little subscription blanks on the back.
INTERVIEWER
Did anyone subscribe, did any of your friends want copies?
CRUMB
There was really no way to make copies.
INTERVIEWER
So each was unique?
CRUMB
Yeah, I just drew them in pencil, you know. I made hundreds. Charles and I each made hundreds of those homemade comics. I still have some of them.
INTERVIEWER
It must have been amazing to discover the mimeograph.
CRUMB
Well, I remember the first time I did a comic strip on it, I was in seventh grade and seeing that printed was really a thrill. There were fifty copies of it. Wow! The power of print! And then when I was fifteen my brother and I did kind of a Mad imitation called Foo and we intended to print it, then sell it. We had jobs and we paid to have it printed on a Xerox machine where my father worked, and he ran off three hundred copies for us. It was very crudely printed, early Xerox where the blacks don't fill in solid black. But even that was a thrill to see. But we couldn't get people to buy it, it was devastating. We ended up going around door-to-door in this big tract-housing development in Dover, Delaware, near the Air Force base, and lying to the people, telling them it was an art project for school. That was the only way they would buy it.
INTERVIEWER
What were you charging?
CRUMB
Ten cents. We'd hand it to them or they would say, Let me see that, and they'd look at it and say, What is this? Well, it's a comic book we drew ourselves. Foo, what does that mean? They didn't get it, and they didn't want to buy it. Some people would interrogate us, You sure this money's going to the school, who's your art teacher over there? We told them the name of the art teacher, we said yeah, it's for school. Nobody ever called the school. But, it's a fucking dime, come on! Two guys selling these comics they drew themselves, these people they didn't give a shit, it didn't impress them at all. It really traumatized us about the comic-book business. We could do the drawing fine, pretty good and professional for our age, but the business end of it, boy, that was rough. We ended up burning most of them in the backyard.
INTERVIEWER
Were those early homemade comics political in any way?
CRUMB
I did stuff about teachers and about school. But about government stuff—no. We basically drew funny animal comics. Our model was the clean, wholesome Disney comics and Andy Panda and Little Lulu. They didn't comment on politics. Not directly, anyway.
Comics seemed so washed up to me by the end of the fifties that even though I had been drawing comics—already, my whole life, hundreds of them—I'd kind of given up on the idea of being a comic-book artist professionally because it seemed finished. I was trying to figure what else I could do for a living, how to become a commercial artist. But I kept drawing comics out of momentum. I loved the medium so much I just kept doing them. I didn't even know what I was going to do with them but I had these books full of comic strips.
INTERVIEWER
When did you become aware of the counterculture?
CRUMB
We first got signals about the beatnik scene in Jules Feiffer's comic strips. I only read books reluctantly, I was a visual guy and a music guy. I loved music, I was already collecting old records, avidly. When I was seventeen I read a book, Jazzmen, that was published in 1939. There was a chapter about collecting 78s, the author talked about going door-to-door in black neighborhoods. So I tried that in Dover. I went door-to-door in the black section of town, asking for old records. It was a very bold thing to do considering how shy I was. But I got good records that way. Some of the people I visited lived in old, unpainted houses, and still didn't have electricity. I'd go in there and they'd have a wind-up phonograph sitting in the middle of the parlor and there on the turntable would be a 1920s blues record. They'd say, That what you're looking for? And I'd say, I'll give you ten cents apiece, and they'd usually sell them. Sometimes they'd have boxes of 78s under the couch or under a bed. I got to be known as the Old Record Man. The best cache of records I got was from an old guy who cleaned basements for a living. He didn't know anybody wanted them until I showed up. He had really rare blues records. That's how I discovered the old blues. It was unknown to me, it sounded very strange at first, but at the same time there was something very attractive about it, the way it grabbed you and got in under your skin, with cadence, with rhythm.
INTERVIEWER
Did you ever think of going to college?
CRUMB
No way. No resources.
INTERVIEWER
So Cleveland became your university?
CRUMB
Yeah, Marty Pahls discovered me and my brother through Foo magazine, which we advertised in other early comic fanzines. Pahls wrote and said he was impressed by Foo, so I struck up a correspondence with him. That was my introduction to the larger world outside the family and Delaware. Through early comic fandom. Marty Pahls invited me to come live with him in Cleveland after he graduated from Kent State in 1962. My first few weeks in Cleveland, the Cuban missile crisis was going on. Marty and his friends really believed we were doomed, that it was World War Three. They were in deep despair. I didn't know how serious it was. I wasn't politically astute, I didn't follow the news, so it didn't strike me as profoundly as it did them. Marty Pahls also introduced me to a lot of literature. But when I was still at home that year after high school, Charles pushed me to read stuff, like Kerouac's On the Road, and Salinger's The Catcher in the Rye. I started to become a reader then. It was hard for me, I read very slowly, falteringly.
INTERVIEWER
What did Marty introduce you to?
CRUMB
He pushed all kinds of stuff on me. He would read James Joyce and shit like that. I couldn't make my way through that stuff but he got me to read more. Charles tried to get me to read Tolstoy. He was really big into Dostoyevsky, and Dickens. I tried to read nineteenth-century novels, but it was hard for me. I was also discovering old visual stuff, books of eighteenth-century engravers and cartoonists like Hogarth, Gillray, Cruikshank, Thomas Rowlandson. Gillray's stuff is so vulgar, it's great. There was very little published, but I was interested. I love Thomas Nast, he was a real inspiration. I first saw him in history books, they would print a couple of his cartoons in history books. I was prowling around in libraries, in used bookstores, I got very interested in nineteenth-century graphic styles, engraving.
INTERVIEWER
Is that where you got your cross-hatching technique?
CRUMB
Oh God, yeah. Nast was the greatest of the cross-hatchers. He was inspired by John Tenniel, the English artist who illustrated Alice in Wonderland.
Tenniel did great political cartoons for Punch. I also found Ernest Shepard, who illustrated The Wind in the Willows and Winnie the Pooh. In the late fifties, you could buy big, beautifully printed nineteenth-century books of engravings really cheap, nobody was interested in them. I became steeped in the old times. I was so eccentric when I was seventeen, eighteen, I used to walk around town wearing an Abe Lincoln frock coat and a stovepipe hat that I'd found in some junk store, defying people to ridicule me or think me eccentric. I was a teenage social outcast. At the time it made me feel very depressed, and rejected by girls. Later I realized I was actually quite lucky because it freed me. I was free to develop and explore on my own all these byways of the culture that, if you're accepted, you just don't do. I was free to explore the things that interested me.
INTERVIEWER
Did you find inspiration in contemporary art at all?
CRUMB
Not really. I got very interested in commercial art and illustration of the twenties and thirties. Norman Rockwell's illustrations for The Saturday Evening Post, science-fiction cover artists, also pulp-magazine covers and graphics. I had no connection to the fine-art world. On Sunday Marty would say, Let's go to the art museum, but his main purpose for going there was to pick up girls. I couldn't do that, I never picked up a girl anywhere in my life. So it was kind of devastating going to the art museum with him. Marty was also a student of the history of Cleveland, so he liked to take these expeditions. We'd take these arduous bus rides way out to some godforsaken part of Cleveland. He loved old trolley cars and so we'd go and look at these historic sites or the place where the Bamboo Gardens ballroom used to be, which was now a laundromat—he wanted to see that.
INTERVIEWER
A lot of that got into your art later—marginal neighborhoods with old telephone wires hanging over the sidewalk.
CRUMB
Aline says, You still live in the Cleveland of the mind. Probably never would've left Cleveland if it wasn't for the search for a girl I could talk to.
INTERVIEWER
What was your life like in Cleveland?
CRUMB
We lived on the edge of a black neighborhood, near Euclid and 105th Street, which was a strip of nightclubs and shoeshine parlors and barbershops and bars. There was a lot of music and black nightclubs, and there was a lot of prostitution on the strip there.
INTERVIEWER
Were you drawing those things around you?
CRUMB
I actually didn't do that naturally; I was too shy to go out and draw on the streets, but I met this young woman who was my age named Liz Johnston, and she would take her sketchbook around and just draw in public, and she encouraged me to do it and to go with her—Come on, let's go out and draw from life—and so I started doing that with her, and I liked it.
INTERVIEWER
When did you get hired by American Greetings?
CRUMB
When I got to Cleveland I was determined to find a job and not go home, it was too depressing at home. I was determined to do anything for a job. I went to the Ohio state employment agency, and there was an old guy, I'll never forget him. I went into his office and he said, What can you do, what are your skills, what've you got to offer? I said, Well, I'm an artist, I draw. I felt stupid, I didn't even bring any samples of my work to the employment agency. I didn't think it possible to get an art job, I didn't even think of that. You're an artist? I said, Yeah. Well, are you any good? Yeah, I think I'm pretty good. Well, we've got this greeting-card company here in town, let me give them a call. He called up the personnel department at American Greetings and he said to the guy on the phone: I've got a kid here you can't believe how talented he is, he's the best I've ever seen, I've seen nothing like this. I was flabbergasted. So he hangs up and says, I got you an appointment, take your work over there day after tomorrow, and good luck. So I took my work over there and they hired me. But they hired me to do color separation; I had no idea that I'd been hired to do color separation. It was strictly mechanical work. And there was a four-month training period, which was really hard.
The color-separation department had a hundred cubicles in a big room, where artists sat making tedious, precise color separations of these stupid card designs—with cute puppy dogs and flowers and stuff. It was very demanding, very technical. It was killing me. I was about to quit, but around my light table I had a lot of cartoons I had drawn to save my sanity, and some people from another department saw them and they hired me to design cards. I couldn't believe my good fortune. Suddenly I was making a lot more money and the work was ten times easier. They just wanted the simplest neutered little cartoon characters on those cards.
INTERVIEWER
Were you keeping sketchbooks throughout this time?
CRUMB
I was drawing prolifically. I lived out my youth on paper, basically. I am a bookmaker. I see blank books, I want to fill them—notebooks, sketchbooks, blank pages. I never conceived of any of it being published, it was totally for my own edification. I had ideas for comic strips that I had sketched down. And later it all got published, much to my amazement.
INTERVIEWER
So how did you finally find publication?
CRUMB
Well, the hippie revolution happened. In 1964 I first got laid, I met my first wife, Dana, and all these protohippies in Cleveland. A lot of them were Jews from Cleveland Heights, Shaker Heights. They started taking LSD and urged me to try it, so Dana got some LSD from a psychiatrist, it was still legal in '65. We took it and that was totally a road-to-Damascus experience. It knocked you off your horse, taking LSD. I remember going to work that Monday, after taking LSD on Saturday, and it just seemed like a cardboard reality. It didn't seem real to me anymore. Seemed completely fake, only a paper-moon kind of world. My coworkers, they were like, Crumb, what's the matter with you, what happened to you? Because I was just staring at everything like I had never seen it before. And then it changed the whole direction of my artwork. Other people who had taken LSD understood right away what was going on, but the people who hadn't, my coworkers, they didn't get it.
INTERVIEWER
How did it change your artwork?
CRUMB
I had been working along in this modern adult cartoon trend, very influenced by the modern, expressionistic, arty quality of work by Jules Feiffer, Ronald Searle, Ralph Steadman. Then, on LSD, I got flung back into this cruder forties style, that suddenly became very powerful to me. It was a kind of grotesque interpretation of this forties thing, Popeye kind of stuff. I started drawing like that again. It was bizarre to people who had known my work before. Even Kurtzman said, What the hell are you doing? You're regressing!
INTERVIEWER
How did you get to know Kurtzman?
CRUMB
I had gone to work for Help! magazine in the summer of 1964. I had sent him some cartoons. They had a section where they'd print cartoons by amateurs. Kurtzman liked my cartoons so much that he wrote back to me. I still have the letter he wrote to me in 1964 saying, Send us more of this stuff. I did.
INTERVIEWER
Were those drawings with text?
CRUMB
They were actually pantomimes, Fritz the Cat pantomime cartoons. Terry Gilliam was working there as Kurtzman's assistant. He invited me to come to New York and help Gilliam out, so I spent a couple months in the summer of 1964, working with Terry Gilliam. Then I got married in September and went to Europe. When I got back to Cleveland in the spring of 1965 Terry Gilliam was leaving and Kurtzman invited me to come to New York and take his place as the assistant editor and I jumped at that. I admired Kurtzman so much, he was my hero, in his presence I was like a lovesick kid.
I arrived in New York in the summer of 1965, all set to go to work at Help! Dana and I had rented an apartment, and I reported to the office Monday morning. Kurtzman was standing in the hallway looking all shot down, and guys are taking the desks out of the office, I said, What's going on? He said, The publisher decided to fold the magazine, it's over. Then he said, Don't worry, I'll find you work. He felt guilty, because he had invited me and here I am, in New York. So he introduced me to this guy at Topps Bubble Gum Company in Brooklyn. I ended up working for them doing cards and promotions. A lot of good artists worked for Topps over the years. Art Spiegelman worked for them for a long time—he invented Garbage Pail Kids for Topps. They made a fortune off him.
INTERVIEWER
How long were you in New York?
CRUMB
I stayed there nine months and tried to make it as a commercial artist. It was too competitive for me. There were just too many really driven, ambitious career-oriented artists there. I couldn't handle it. I went back to Cleveland after nine months. I was still taking LSD and I just wasn't up for the rat race at all.
INTERVIEWER
Did you consider yourself part of the radical counterculture?
CRUMB
Marty was very political. I got dragged along. I wasn't that passionate about it. I agreed with it, but at the political demonstrations I would get very nervous when people started chanting in unison. I didn't like that. I usually disliked those smash-the-state kind of guys, even though I agreed politically with them. I took LSD, I said "groovy" and "far-out," but I was kind of a detached observer.
INTERVIEWER
How did you find yourself in the middle of it?
CRUMB
In January of 1967, in a bar, I met two guys I knew who were going to San Francisco. I said, Can I go with you? and they said yeah. I was stuck in Cleveland at age twenty-three with a dreary job and a needy, insecure young wife. I was desparate to bust out, and here was my chance. So that night I went with them, left my wife, didn't say anything, left the job. All I had with me was a sketchbook and some pocket change. Three days later we arrive in San Francisco in this old beat-up car.
They knew some guy in North Beach and we camped out in his tiny apartment. I wandered over to Haight-Ashbury—I'd been told it was a happening place. I was sitting in this place called the Psychedelic Shop, thinking, What am I gonna do, I've got no money, I've got nothing. Just then this guy I knew from Cleveland wandered in and saw me and said, Crumb! What're you doing here? He took me to his house, and I stayed there for a few weeks. Then I felt guilty about my wife, I called her up, she came out—she had some money in the bank that we'd saved—and we got an apartment and I started doing some cards for the greeting-card company again, freelancing. Then I started doing comics for these underground papers. They would take anything, they weren't very fussy.
INTERVIEWER
They were just small papers around San Francisco?
CRUMB
I started doing these psychedelic cartoons and they caught on really fast. Other underground papers started reprinting them. There was no money in it, but it was just a thrill to see anything of mine in print. They started getting printed in all the underground papers, and then a guy from Philadelphia named Brian Zahn proposed I do a whole comic, and that's how Zap Comix happened. That was my dream, to make my own comic book, and I couldn't believe what this guy offered. He said, I'll take what you make, the whole comic book, and I'll pay for it. I said, Wow. I very quickly turned out two issues of Zap Comix. Zahn didn't come through, but a guy named Don Donahue published the first issue.
INTERVIEWER
So you had no problems coming up with story ideas?
CRUMB
That was no problem at all. It just poured out of me in those days.
INTERVIEWER
Were you still interested in LSD?
CRUMB
I was taking LSD periodically, every couple of months. I was in a strange state of mind, influenced by these visions.
INTERVIEWER
And you were rendering it as you were seeing it?
CRUMB
I was trying to draw it in my sketchbook, and that began to coalesce into these comic strips that were stylistically based on grotesque, vulgar humor comics of the thirties and forties.
INTERVIEWER
How did you come up up with ideas for major figures like Mr. Natural?
CRUMB
All of those characters came out of that crazy visionary period that I couldn't shut off. It was spontaneous, but I was so crazy, I was really out of my mind, it was like schizophrenia. It was like what produces art by crazy people in a madhouse. Anything could be an influence, anything I heard. I was in Chicago in early '66 and the radio was on, there was some tune playing, it was a black station, and this announcer said, That was Mr. Natural. I just started drawing Mr. Natural, this bearded guru-type character in my sketchbook, it just came out. I said, Hey, that's kind of good, and then played around with that some more, this faux-guru character.
INTERVIEWER
And how about Fritz the Cat?
CRUMB
Fritz the Cat was earlier, that was from the prepsychedelic period going back to my late teens. I started drawing some comic strips with Fritz the Cat in those homemade notebooks. He started out based on a pet cat we had at home, and then he gradually evolved into the cocky, smart-assed character of the published strips. In the strips of the twenties and thirties you can see an evolution; the characters start out undeveloped, and then over the years they develop rich personalities. There's an evolution and then a peak period and then a burnout. I eventually killed Fritz off in 1972, after the animated film came out. The film was terrible. I didn't want this character to exist anymore in the world.
INTERVIEWER
At Zap, you were editor in chief, and artist, and writer of dialogue.
CRUMB
And publisher, and folder, and stapler, and seller on the street. Everything.
INTERVIEWER
Did it sell well?
CRUMB
At first it didn't. We took them around to all the shops on Haight Street and they'd say, We don't sell comic books, this is a psychedelic-poster shop, you know. A comic book? They didn't have anything to do with comic books. But it caught on fast. Zap Comix caught on and then other artists started coming out of the woodwork who wanted to draw comics, hippie comics, and the whole thing blossomed into a movement—underground comics.
INTERVIEWER
Did anyone make money enough to survive or did you have other jobs?
CRUMB
There was no money in it for anybody. In those days you could live really cheaply, but we struggled. A lot of us lived on welfare. There was no money in comics at all. Even to this day very few people actually make a living. It's a lot of work and for very little money and very little glory for most people. I'm one of the few that have actually been a success, financially.
INTERVIEWER
How did you get to draw an album cover for Janis Joplin?
CRUMB
She liked the comics. She was around, and she came to me and asked me to do that cover. I liked Janis personally, that's why I did it. I wasn't crazy about their band. But Janis was a very talented singer.
INTERVIEWER
That must have been a big leap forward in terms of recognition, right?
CRUMB
For a while I was most well known for that, and for "Keep on Truckin'." That was a drawing that came out of LSD trips, and the words came from a Blind Boy Fuller song from 1935. I drew it in my sketchbook and then for Zap. It sort of caught the popular imagination. It became a horrible popular thing.
INTERVIEWER
When did you decide to leave San Francisco?
CRUMB
When the Fritz the Cat movie came out I got a check for ten thousand dollars from Steve Krantz Productions and Dana immediately wanted to go and look for a house to buy out in the country, and we found this place that was three hours from San Francisco, in Potter Valley, California. But I was spending a lot of time in San Francisco still. I had a girlfriend by that time. I was living a really crazy life in those days and I was running around a lot. It's amazing that I got any artwork done. I was still very prolific in the early seventies.
INTERVIEWER
That is a signature of your career—no matter the ups and downs, you were always cranking it out.
CRUMB
I finally ground to a halt in 1973. My life was such a mess, such a chaos, what with the girlfriends, and the first wife, I kind of had a breakdown. I never went back to that pace again. The rest of the seventies I was very confused and lost. The inspiration of the LSD wore off. A lot of people were left adrift then, washed up on the beach.
INTERVIEWER
So how did you fix that?
CRUMB
I still had the urge to create. I was a fucking persistent dog. In my sketchbooks I started writing all this agonizing self-reflection about what I should be doing. Should I continue to try to do comics? I had a band and they really wanted me to go full-time because I had a name that could actually make something happen. It was a ridiculous idea, that we had a chance of becoming a commercial pop band. To think we could make a career in music just because of my name. Absurd, foolish notion. But we were young and foolish.
INTERVIEWER
Is that when you started doing the Charley Patton art?
CRUMB
I did some album covers. I was still collecting 78s through all this. And Nick Perls offered to give me 78s of blues records for the album cover art. He had a small record company, Yazoo, that reissued old-time blues on LP. I was always and ever a whore for some good 78s!
INTERVIEWER
It's almost the antithesis of your early work—just really simple black-and-white portraits of musicians from the twenties.
CRUMB
All those portraits were done with a kind of reverence. I wanted to proselytize and evangelize for the music. I used to play old records for anybody who came into my house. After a while you realize that it just doesn't grab most people. So I stopped.
INTERVIEWER
When did you feel you had turned a corner?
CRUMB
I never saw it as turning a corner. I just kept working and I was never sure what I was doing. I was never as cocksure again after that first LSD inspiration. Especially with fame and reputation. You become very uncertain, you have to follow your own act. I never did get that kind of spontaneous cocksureness back again. It's like going from being the observer to the observed. I had been used to being invisible when I was young. After I became well-known, it was very hard to be anonymous in the world. Of course, at first I liked all the attention. Suddenly, good-looking girls were interested in me! Wow! I couldn't believe it.
INTERVIEWER
The film about you, Crumb, was the pinnacle of being observed.
CRUMB
Devastating.
INTERVIEWER
But it was also a very sympathetic portrait.
CRUMB
Terry Zwigoff was my friend for twenty years already. Terry is sympathetic and shares some of my interests. Also, he is a 78 collector, a lover of old music and old comics. He is sharp and a good editor, and shares my vision and shares my negativity. He understood me and knew my world pretty well.
INTERVIEWER
Were you happy with how it came out?
CRUMB
Happy is not the right word. I thought he did a good job, but it's excruciating to watch. It's a very intimate movie, because I just opened up to him. Opened up my life to him, because he's my friend. I never thought the film would be a big success. I thought maybe a few people would see it in art theaters. Who knew it would be so widely seen? Who knew that Aline's mother would see it? Or my relatives in Minnesota? They all hated me after they saw that.
INTERVIEWER
The film showed some pretty graphic cartoon images of sex.
CRUMB
Very bizarre sexual fantasies. I had the compulsion to draw my sex fantasies and foist them on the public.
INTERVIEWER
That was just a working out of something?
CRUMB
Yeah, I guess. When I first started doing it in '68 or '69, the people who had loved my work before that, some of them were shocked and alienated by it—especially the women, of course. I lost all the women. I'm not antifeminist. I like strong, independent women, like the matriarchs of Genesis—they ordered the men around. The sex-fantasy thing was a whole other side of myself, and when that started coming out, I could no longer be America's best-loved hippie cartoonist. Also the racial stuff: the racist images that I used. That also shut a lot of people off about my work. The feminists despised me. I had a couple of defenders among them whose defense of my work was: He's just being totally honest about the male mentality. He's revealing the thoughts that most men are walking around harboring about women all the time. I have to agree with that. I just revealed myself.
INTERVIEWER
What led you to be so open?
CRUMB
Well, maybe it was the LSD that inspired me to use comics to reveal my inner self, but along with this spiritual or positive side, there was a dark side, which I kept hidden until a certain moment. Seeing S. Clay Wilson's work was a big breakthrough, because he just drew anything that came into his head, any violent, crazy, sexual thing. I saw that and I said, OK, anything goes, I'm just going to show it all, and reveal the dark side, everything. Sometimes I try to psychoanalyze those old comics, like the Big Ass Comics that I did in 1969 or '70, those sex-fantasy stories, and figure out what they're really about. There are these big, powerful female bird monsters that have predatory heads with big sharp beaks and powerful female bodies and the hero, the protagonist, is a little funny cartoon guy and he's got to deal with this whole society of these big female bird monsters. There are no males, they're all female, there's attraction and yet also fear. They're powerful and predatory. Give me twenty years on the couch with Freud and I'll figure it out. I don't know. You could even see how it's a larger metaphor, the story of the struggle of the little guy with these big, powerful, attractive, predatory creatures. A whole society of them and they are there in power, and they're organized, and they're of one mind.
INTERVIEWER
This accompanied the emergence of R. Crumb as a character in your comics.
CRUMB
I used myself as a character in the introductory page of the first few issues of Zap Comix, showed myself in a wacky cartoon, R. Crumb, the cartoonist.
INTERVIEWER
That's an interesting development, the comic-book artist becoming a character in the comic.
CRUMB
Justin Green and Aline were the first ones to come along who made purely autobiographical comics. Aline was the first woman in the world to do that.
INTERVIEWER
How did that affect you?
CRUMB
It affected me very strongly. It inspired me to be even more personal, to be autobiographical. At first, I was uneasy about that and I couched my personal experiences in other characters: Fritz the Cat, and Flakey Foont, Eggs Ackley. I never did it as extensively as Justin Green or Aline.
INTERVIEWER
You've collaborated with Aline on strips for The New Yorker. How did that start?
CRUMB
I was asked by one of the art editors, Françoise Mouly, Art Spiegelman's wife, to submit both covers and comic strips to them. I don't remember how it came about that all the strips ended up being collaborations with Aline. I guess maybe, probably, it was that I didn't feel comfortable doing solo strips for The New Yorker because of all the obvious restrictions and limitations—no explicit sex, etcetera—but, hell, the pay was good, and it's easy to do those strips with Aline without feeling too terribly confined. But I began to feel compromised after an editor there rejected a cover I did for them and would give me no explanation, and so I'm through working for The New Yorker. I refuse to work for anyone under those circumstances, no matter how much they pay. I saw what that did to Harvey Kurtzman's confidence as an artist, and resolved when I was still in my twenties to never let myself get into a trap like that.
INTERVIEWER
When you do an autobiographical story, do you feel that it has to have elements of a successful comic, like a punch line or a resolved ending, or can you just tell an ordinary story?
CRUMB
I'm driven by those entertainment formulas. You tell a story and it needs to resolve. I like the idea of not knowing how you're going to end, or figuring out a resolution as you approach the end. I used to work that way a lot, not know how I was going to end something, but I was so steeped in comics that it always worked out intuitively.
INTERVIEWER
Do you ever work backward? Do you know the end panel and then work your way to the front?
CRUMB
No, but a lot of times I'll get an idea for a story based on one drawing in a sketchbook—sometimes a story, or a character, or an idea starts as a mood, an atmosphere, a feeling.
INTERVIEWER
So you're carrying around a sketchbook all the time.
CRUMB
I used to, I don't anymore.
INTERVIEWER
Do you punch the clock? Do you say, I'm going to work from two until five?
CRUMB
No, I could never work regularly like that. I work in erratic spurts. Once I get rolling on something I tend to be more regular. Getting started is like getting a rocket off the ground. You need the most energy and the most push to get started; once you're up there and you're going then it's easier to keep it going. Sit down and pick up where you left off, you know. Getting going is always tough.
INTERVIEWER
You've taken what was a medium of, like, thirty pages of flimsy, low-quality paper with a paper cover and now you've conquered the hardcover-book format.
CRUMB
Reluctantly. I love the old, cheap comic-book format so much because the format itself is a statement. It keeps you from becoming too pretentious. I like that about it. Keep it cheap and low-grade, keep it accessible and then you're not required to be overly artistic or have a deep, profound meaning. All that stuff that can make you very self-conscious. I got dragged into hardcover books.
INTERVIEWER
But I think your fans are happy that those hardcover books exist because you would have to be a maniacal collector to get all of your stuff otherwise. It's basically impossible to find back issues of the East Village Other, but you can buy The R. Crumb Handbook and see your greatest hits.
CRUMB
Yeah, that's true. And also, the whole context of cheaply produced comic books is gone, basically. All those newsstands, that kind of distribution is gone.
INTERVIEWER
What is your next project?
CRUMB
Aline and I are going to do a collaboration book next. That's real easy to do, compared to Genesis. You just draw yourself over and over again. Aline's easy to work with because she's like a Jewish stand-up comedian. It comes pouring out of her, like Phil Silvers or Don Rickles. It writes itself, with her around.
INTERVIEWER
Do you ever do painterly exercises like still lifes with fruit or landscapes?
CRUMB
No, I never did that. But when Kurtzman felt guilty about me after Help! magazine folded, he offered, If you can learn to do watercolor, you can do background for Little Annie Fanny. So I busted my butt for a couple of weeks and really learned that tight watercolor technique that they used in the Little Annie Fanny strips. Kurtzman looked at it and he said, Yeah, this is good but I've been thinking about it and you're so good in your own right that you should just continue to work on your own stuff. I was kind of disappointed, but he was right. You should pursue your own things.
INTERVIEWER
Why did you move to France?
CRUMB
Aline engineered the whole thing. I just woke up one day and I was living in France. I came to have this phobia about life in America and I like France. It seems like a better society to me, at this time in history anyway.
INTERVIEWER
Do you see yourself as an expatriate?
CRUMB
I don't see myself as part of a tradition but apparently I am. Henry Miller kept coming to France during the thirties. He first came in 1929. There's a letter that he wrote—when he was leaving America again to go live in France—that completely denigrates American culture. He says there's no culture in America, that it's nothing but tall buildings and wheat fields. Whatever America produces is worthless. And, I'm thinking, Jesus, the guy lived through one of the richest periods in American culture. He was a young man in the twenties and he went out to dance halls, he enjoyed what there was to see and do in New York. But he didn't think it was of any value, he completely revered European culture, which, I guess, if I'd been around then, I probably would have too.
INTERVIEWER
Are you becoming more French living here?
CRUMB
No, I'm an outsider. I will always be an outsider.