Interviewed by Lewis MacAdams and Linda Wagner-Martin
Issue 44, Fall 1968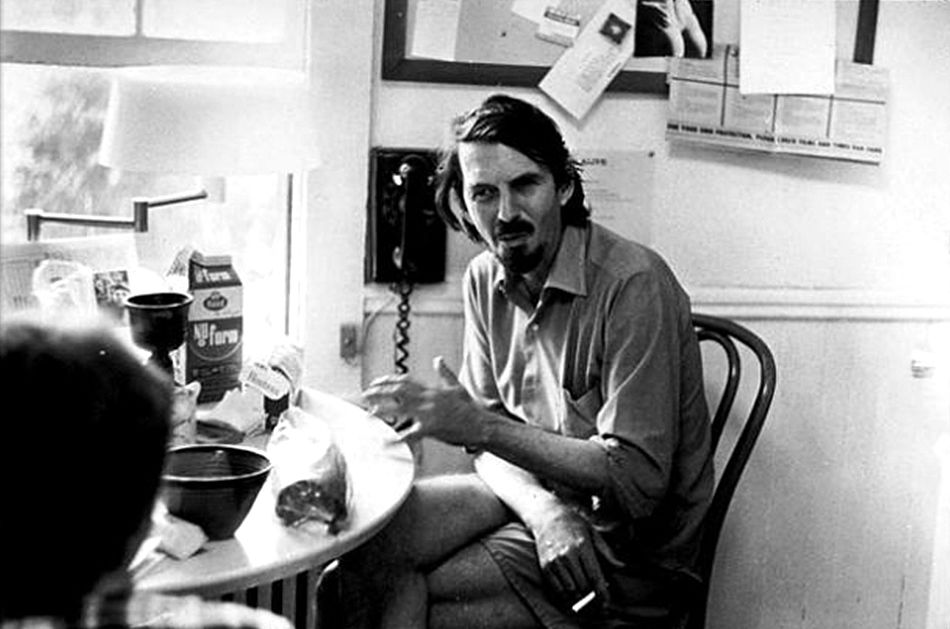 Robert Creeley, ca. 1972. Photograph by Elsa Dorfman
This is a composite interview. It combines two separate discussions with Robert Creeley—held at different times, and conducted by two different interviewers: Linda Wagner and Lewis MacAdams, Jr. The questions specifically devoted to the poet's craft were put to Robert Creeley by Linda Wagner. She refers to the exchange as a "colloquy"—a term that Creeley insisted on because (as he put it) her questions were "active in their own assumptions … We are talking together." She began the exchange at the 1963 Vancouver poetry sessions, continued it at Creeley's 1964 Bowling Green, Ohio, reading, and finished it in August 1965, at the poet's home in New Mexico.
MacAdams interviewed Creeley in the spring of 1968 in Eden, New York, a few miles from Buffalo where Creeley once spent the winter months teaching. "The first session was a failure," MacAdams said of the interview. "Both of us were tired, and although Creeley was polite and voluble, I asked a bunch of dumb questions. The interview ended in the dark, everybody drunk and slightly morose. Then we adjourned to his driveway to shovel snow. We tried again two weeks later. The snow had stopped, the sun was out, and the Creeley house was full of his friends, among them the poets Allen Ginsberg, Robert Duncan, and Robin Blaser. After breakfast the two of us went upstairs to his study, a big sunny room looking out across a long wooded valley to Lake Erie. The study had once been a nursery; the framed photographs of Charles Olson and John Wieners and of Creeley's wife, Bobbie, are set off by pink wallpaper, covered with horses and maids."
INTERVIEWER
What do you think was the first impulse that set you on the course to being a writer?
ROBERT CREELEY
As a kid I used to be fascinated by people who, like they say, "traveled light." My father died when I was very young, but there were things of his left in the house that my mother kept as evidences of his life: his bag, for example, his surgical instruments, even his prescription pads. These things were not only relics of his person, but what was interesting to me was that this instrumentation was peculiarly contained in this thing that he could carry in his hand. The doctor's "bag." One thinks of the idiom that is so current now, "bag," to be in this or that "bag." The doctor's bag was an absolutely explicit instance of something you carry with you and work out of. As a kid, growing up without a father, I was always interested in men who came to the house with specific instrumentation of that sort—carpenters, repairmen—and I was fascinated by the idea that you could travel in the world that way with all that you needed in your hands … a Johnny Appleseed. All of this comes back to me when I find myself talking to people about writing. The scene is always this: "What a great thing! To be a writer! Words are something you can carry in your head. You can really 'travel light.'"
INTERVIEWER
You speak a great deal about the poet's locale, his place, in your work. Is this a geographic term, or are you thinking of an inner sense of being?
CREELEY
I'm really speaking of my own sense of place. Where "the heart finds rest," as Robert Duncan would say. I mean that place where one is open, where a sense of defensiveness or insecurity and all the other complexes of response to place can be finally dropped. Where one feels an intimate association with the ground underfoot. Now that's obviously an idealization—or at least to hope for such a place may well be an idealization—but there are some places where one feels the possibility more intensely than others. I, for example, feel much more comfortable in a small town. I've always felt so, I think, because I grew up in one in New England. I like that spill of life all around, like the spring you get in New England with that crazy water, the trickles of water everyplace, the moisture, the shyness, and the particularity of things like blue jays. I like the rhythms of seasons, and I like the rhythms of a kind of relation to ground that's evident in, say, farmers; and I like time's accumulations of persons. I loved aspects of Spain in that way, and I frankly have the same sense of where I now am living in New Mexico. I can look out the window up into hills seven miles from where the Sandia Cave is located, perhaps the oldest evidence of man's occupation of this hemisphere. I think it dates back to either 15,000 or 20,000 BC. and it's still there. And again I'm offered a scale, with mountains to the southeast, the Rio Grande coming through below us to the west, and then that wild range of mesa off to the west. This is a very basic place to live. The dimensions are of such size and of such curious eternity that they embarrass any assumption that man is the totality of all that is significant in life. The area offers a measure of persons that I find very relieving and much more securing to my nature than would be, let's say, the accumulations of men's intentions and exertions in New York City. So locale is both a geographic term and the inner sense of being.
INTERVIEWER
Do you credit any one writer—ancestor or contemporary—with a strong influence on your poetry?
CREELEY
I think Williams gave me the largest example. But equally I can't at all ignore Charles Olson's very insistent influence upon me both in early times and now. And Louis Zukofsky's. The first person who introduced me to writing as a craft, who even spoke of it as a craft, was Ezra Pound. I think it was my twentieth birthday that my brother-in-law took me down to a local bookstore in Cambridge and said, "What would you like? Would you like to get some books?" I bought Make It New and that book was a revelation to me. Pound spoke of writing from the point of view of what writing itself was, not what it was "about." Not what symbolism or structure had led to, but how a man might address himself to the act of writing. And that was the most moving and deepest understanding I think I have ever gained. So that Pound was very important to my craft, no matter how much I may have subsequently embarrassed him by my own work. So many, many people—Robert Duncan, Allen Ginsberg, Denise Levertov, Paul Blackburn, Ed Dorn. I could equally say Charlie Parker—in his uses of silence, in his rhythmic structure. His music was influential at one point. So that I can't make a hierarchy of persons.
INTERVIEWER
How about communicating with other writers when you were beginning?
CREELEY
I started writing to Ezra Pound and William Carlos Williams about a magazine I was involved in. That's how I got up courage to write them. I would have been too shy just to write them and say, "I think you are a great man." To have business with them gave me reason. Pound wrote specifically, but he tended to write injunctions—"You do this. You do that. Read this. Read that."
INTERVIEWER
Did you do everything he said?
CREELEY
I tried to. I couldn't do it all. He would send books at times which would be useful. The History of Money by Alexander del Mar, which I read, and thought about. He was very helpful. It was very flattering to be taken at all seriously by him. Williams was always much more specific. At times he would do things which would … not dismay me, but my own ego would be set back. I remember one time I wrote him a very stern letter—some description about something I was going to do, or this was the way things were, blah blah. And he returned me the sheets of the letter and he had marked on the margin of particular sections, "Fine. Your style is tightening." But I had the sense to know such comments were of more use to me than whether or not he approved of what I had to say. He would do things like that which were very good. While Pound would say, "Would you please tell me how old you are? You refer to having been involved in something for forty years. Are you twenty-three, or sixty-three?"
INTERVIEWER
At this point, were you raising pigeons in the country?
CREELEY
As a kid I'd had poultry, pigeons and chickens and what not. I'd married in 1946 and after a year on Cape Cod, we moved to a farm in New Hampshire where I attempted so-called sustenance farming. We had no ambitions that this would make us any income. We had a small garden that gave us produce for canning. It made the form of a day very active and interesting, something continuing—feed them, pluck them, take care of them in various ways. And I met a lovely man, a crazy, decisive breeder of Barred Rocks. He was quite small, almost elfin in various ways, with this crazy, intense, and beautifully articulate imagination. He could dowse for example, and all manner of crazy, mystical businesses that he took as comfortably as you'd take an ax in hand. No dismay, or confusion at all. A neighbor in New Hampshire would lose money in the woods. So he'd just cut a birch wand, and find it. The same way you'd turn on the lights to see what you're doing. I remember one of these neighbors of ours, Howard Ainsworth, a woodcutter, was cutting pulp in the woods on a snowy day. But he had a hole in his pocket, and by the time he had discovered it, he'd lost a pocketful of change. So Howard simply cut himself a birch stick and he found it. It was nearly total darkness in the woods. He only remarked upon it, that is, how he'd found it, as an explanation of how he'd found it. I mean, it never occurred to him that it was more extraordinary than that.
INTERVIEWER
How did it occur to you?
CREELEY
I was fascinated by it—because it was a kind of "mysticism" which was so extraordinarily practical and unremoved. He had this crazy, yet practical way of exemplifying what he knew as experience. He used to paint, for example. Once he showed me this picture of a dog. He said, "What do you think of this? It's one of my favorite dogs." It was this white-and-black dog standing there looking incredibly sick. And I said, "Well, it's a nice picture. But." And he said, "Yes, it died three days later. That's why it looks so sick." He delighted me, you know, and I felt much more at home with him than with the more—not sophisticated—because I don't think any man was more sophisticated in particular senses than he, but, god, he talked about things you could actually put your hand on. He would characterize patience, or how to pay attention to something.
INTERVIEWER
Do you think you work better in the isolated places you seem to frequent—in New Hampshire, Mallorca, New Mexico?
CREELEY
That seems to be my habit, although having been a teacher for some years I can make it with a number of people and find a place with them. But my dilemma, so to speak, as a younger man, was that I always came on too strong with people I casually met. I remember one time, well, several times, I tended to go for broke with particular people. As soon as I found access to someone I really was attracted by—not only sexually, but in the way they were—I just wanted to, literally, to be utterly with them. I found myself absorbing their way of speaking. I just wanted to get in them. And some people, understandably, would feel this was pretty damned exhausting—to have someone hanging on, you know, like coming at you. I didn't have any experience of how it was really affecting the other person. I mean, I think that a lot of my first wife's understandable bitterness about our relationship was the intensity that she was having to deal with. I mean everything was so intense and involved always with tension. My way to experience emotion was to tighten it up as much as possible, and not even wittingly. Just "naturally." Allen Ginsberg makes a remark that when I get to town nobody sleeps till I'm gone. I can't let anybody sleep because I don't want to miss anything. I want it all, and so I tend at times, understandably, to exhaust my friends—keep pushing, pushing, pushing. Not like social pushing to make a big noise, but you know, I don't want to miss it. I love it. I so love the intensity of people that I can't let anything stop until it's literally exhaustion.
INTERVIEWER
I've heard a lot of stories about your fighting in those earlier days.
CREELEY
That's when the confusions of how to be with people became so heightened I would just spill. It had to do with drinking, which I did a lot of in those days. And pot. We were smoking pot pretty continuously by about … let's see … I first had use of marijuana in India, where I was in the American Field Service. We were in a barracks at one point—about forty men, all ages. I think almost everyone in that barracks was turned on almost all day long. We were in Central India. There was literally nothing to do. It was an incredibly awkward climate for us. I mean it was very hot and so we'd sit there sweating—drinking was impossible—and getting very damned sick. I had a friend from Southern California who suggested one day that there was an alternative. He said, "Try this." There was nothing mystical. It was very, like, "Here, have an aspirin." So the barracks switched and everything became very delightful. The food was instantly palatable and life became much more interesting. So much so that I remember returning from England on the Queen Elizabeth and this friend and I continued smoking a lot of pot on ship. In fact, we used to go into the toilet. A lot of people depended on this toilet, and he and I would get in there and turn on, then sort of sit around. Outside there'd be this great mass of people standing and waiting, banging to get in there. They thought we were homosexuals—a consideration aided by the fact that one night, I remember, I staggered back into the room where there were these tiers of bunks, and trying to get into my bunk I climbed into the wrong one. We used to get up on the boat deck too, which was restricted. That North Atlantic—it was absolutely silent and isolated, seeing that whole sea in a beautiful full moon. Just beautiful.
INTERVIEWER
You were talking about fighting.
CREELEY
Well, see, with drinking I had the sense I was drinking in the frustration of social ineptness. Even to this day if I drink—I mean up to a point it's extremely pleasant and relieving and relaxing for me—there comes an inevitable point where my whole feeling turns into irritation, frustration, and that's when I fight. I mean, I don't think I ever fought anyone except in that condition—fighting out of just sheer frustration and a feeling of absolute incompetence and inability. Also people seemed very belligerent during the forties and fifties. We used to get into these ridiculous fights.
INTERVIEWER
I heard you had a fight with Jackson Pollock once.
CREELEY
Yes, a great meeting. Because he obviously was having the same problem I was, intensively, with a vengeance. I'd been in the Cedar Bar talking with Franz Kline, and another friend of Kline's, and Fielding Dawson probably was there. We were sitting over at a corner booth, and they were talking and drinking in a kind of relaxed manner. But I, again, you know, very characteristic of me, I was all keyed up with the conversation and I'd start to run to get the beer, or whatever we were drinking, and it wasn't coming fast enough. I'd go up to the bar, have a quick drink, and return to the table and pick up the drink that by then had come, and I was getting awfully lushed, and excited, and listening, and I was up at the bar getting another drink, when the door swings open and in comes this very, you know, very solid man, this very particular man, again, with this intensity. He comes up to the bar, and almost immediately he made some gesture that bugged me. Something like putting his glass on the bar close to mine, that kind of business where he was pushing me just by being there. So I was trying to reassert my place. The next thing we knew we were swinging at each other. And I remember this guy John, one of the owners, just put his hand on the bar and vaulted, literally, right over the bar, right between us, and he said, like, "Okay, you guys," and he started pushing at both of us, whereupon, without even thinking, we both zeroed in on him, and he said, like, "Come on now, cut it out." Then he said, "Do you two guys know each other?" And so then he introduced us, and—god! It was Jackson Pollock! So I was showing him pictures of my children and he was saying, "I'm their godfather." Instantly affable, you know. We were instantly very friendly. And he was very good to me.
In those days, I remember, in the Cedar Bar, I had a big wooden-handled clasp knife, that in moments of frustration and rage—I mean I never stuck anybody with it, but it was, like I'd get that knife out, you know, and I don't think I tried to scare people with it, but it was like, when all else failed, that knife was … not simply in the sense I was going to kill somebody, like a gun, but I loved that knife. You could carve things with it, make things, and so on. And so, I'd apparently been flourishing it in the bar at some point, and I remember he took it away from me, John did, and he kept it and said, "You're not going to have this knife for two weeks." And then he finally said, "Look, you can't come in here anymore," and I said, like, "What am I gonna do? Where am I gonna go?" So he would finally let me in if I drank ginger ale only. Because I used to stand out front and look in the window. Then he would let me come in and sit, as long as I was a good boy and drank only ginger ale. And finally he let me have the knife back, because that knife was very—well, I've still got one like it.
INTERVIEWER
When you first took LSD did you have any problem?
CREELEY
I had a momentary one, when I remember at one point I did enter the dualism which is "yes-no," that binary factor. I felt it was going to be absolutely awful. I had just said something such as "this is the case" and I suddenly had an intensive experience of "this is the case—this is not the case—this is the case …" It was like seeing a vast checkerboard—that kind of alternating situation. Then I just, by grace of something, stepped out of it. Just stepped out. In the second experience with it, last summer, blessedly that never occurred. All through that second LSD experience I had Donovan's "There Is a Mountain." I had a pleasant younger friend, and we'd taken it about two in the morning. We had a fire burning, and we were in a place in New England. The day broke clear and fresh and dewy, and there was all this moisture in the trees and the grass—these spider webs of moisture, and it was just idyllic. The whole tone of the house changed. The children had obviously neither concern nor interest nor knowledge that we were on LSD, but somehow the feeling went through the whole house, so that the girls walked down to a store, maybe a mile away, and bought us a chocolate cake. They also spent about an hour and a half that morning making a necklace of pinecones which they gave Bobbie, my wife. The cats and our dog were, you know, almost ravenous for us. The cats were crawling all over us. It wasn't just our hallucinating and thinking they were; they were with us every moment—intensively, rubbing up against us and purring. Then the fire in the fireplace, that light, beautiful light; then seeing the dawn come up back of us as the room began to transform into the day … So that "The Finger" is directly, you know, that information. I remember the business of this beautiful, primordial experience of woman, in the guise of my wife; but equally her image floating between the moments of birth—as girl-child to the most cronelike, the most haggish. Just crazily—all the guises of woman. All that Robert Graves, for example, in rather didactic fashion tries to say is the case. I mean, he's right, certainly he's right. But it's not a hierarchy. It's an absolute manifestation throughout all realms of existence in this woman figure, and yet that woman is woman. She's unequivocally woman. It was absolutely delightful. I thus jiggled a world before her made of my mind and I thought, "That's the delight."
INTERVIEWER
What do you think is the effect of hallucinatory drugs on the creative process?
CREELEY
Terrific! That's at least what I'd like to say. Things had been so uptight, almost for a year—writing, really our marriage as well, just a stale sense of effort and also confusions of feeling older. I think a lot, and at times I can box myself in with all the rationale of army logistics. It can get to be a hopeless logjam. So anyhow the LSD just wiped that out—and fears and tentativenesses and senses of getting lost or of being endlessly separated from the world, all that just went. I can't claim perhaps so simply that writing was thereby opened but I do know the past year has felt a very active one in consequence. The thing is, it's information—extraordinary and deeply relieving information. Just as if one were to hear that the war was over, that some imminent peril and/or bitter waste of time had stopped. Of course, there's no need to be told this over and over; that is, I don't myself feel much need to take the drug every day. It's a vision of a life, all life—and obviously that's a lot to be given by anything or anyone, and so one's not done with it, so to speak, in a day.
INTERVIEWER
When did your interest in painting start?
CREELEY
Well, through Pound's agency I'd come to know René Laubiès, who translated some of Pound's Cantos into French. The first published translation of them into French. And Laubiès was an active and interesting painter. In fact, I saw the first Jackson Pollock I ever really saw in Paris at his gallery, Paul Fachetti's gallery. Up to then my relationships had been primarily with other writers. But I liked Laubiès extremely. It wasn't really the painting as something done that interested me. It was the painter, or the activity of painting I was really intrigued by. About that time I began to look at things. And then, because I was an American living in Europe, having left the New Hampshire farm, I was particularly intrigued by the Americanism of certain painters, like Pollock, obviously, and other friends, like Ashley Bryan, and particularly John Altoon, who becomes very, very important to me because his energies were made so incredibly manifest in his work—images of my own reality so to speak. And then Guston was extremely good to me. I mean, he was very good to me in the sense that he was generous with his interest and time. I was fascinated by the condition of life these guys had. Not simply that they were drinking all the time, but that they were loners and peculiarly American, specifically American in their ways of experiencing activity, with energy a process—like Pollock's "When I am in my painting." Duncan in his notes on Maximus makes very clear the relation to painting that he'd felt in San Francisco with the group there—Clyfford Still and Diebenkorn and the whole roster of painters he had as friends. In writing, everything was still argued with traditional or inherited attitudes and forms.
And then in the middle fifties, the painters, without any question, became very decisive for me personally. And not only for me. I was thinking about this when I saw John Ashbery the other day. At one point Ashbery gave his own sense of the New York School. He said, "Well, first of all, the one thing that we were all in agreement with was that there should be no program, and that the poem, as we imagined it, should be the possibility of everything we have as experience. There should be no limit of a programmatic order." And then he went on to qualify why painters were interesting to them. Simply that the articulation—the range of possibility—in painting was more viable to their sense of things. And I thought, "That's literally what I would say." That's precisely the imagination of the activity I had. All of us are now roughly in our early forties, and what's striking is that each one of us used precisely the same grid of initial experience and proposal. John was obviously coming to it by way of the French surrealists, where he found, not only playfulness, but a very active admission of the world as it's felt and confronted. It came from other places, too. I was finding it in jazz, for example. And that's why Charlie Parker and Miles Davis and Thelonious Monk and those people were extraordinarily interesting to me. Simply that they seemed to have only the nature of the activity as limit. Possibly they couldn't change water into stone. But then again, maybe they could. That's what was intriguing.
INTERVIEWER
Well, when did you start writing about painters?
CREELEY
I wrote a note about Laubiès for the first issue of the Black Mountain Review, which I think is the first note of that order I wrote. Then through the association with Black Mountain, I became very intrigued by Guston and by the visual, what's seen in the world and how all that can be a complex. I'd been so involved with the economy of words, the experience of sound and rhythm, that suddenly it was like having things open again. I wasn't in any sense knowledgeable as to whether this scene had some continuity historically. Nor could I use the vocabulary of the usual art critic. But I could, in Olson's sense, give testament, bear witness to this, to extend an invitation to come. You can see the relevance. We were making things. Not only of our own imagination, which was after all finally the point, but we were making things in the materials particular to our own experience of things, just as John Chamberlain was experiencing the materials in his world, namely those car parts, and seeing how the imagination might articulate that experience. I was trying to make do with the vocabulary in terms of experience in my world. Neither one of us had history. I remember Duncan, a lovely moment when we first met—he and Jess and Harry Jacoby had come to Mallorca. I was in a rather dense and difficult time in my marriage. Ann was away for some reason—down in the city shopping. We lived in a little house outside of the city. You got there by a trolley and the four of us were going back into the city to find them a pension where they could stay. We were standing in this trolley with all the people banging around us. I remember Robert—we were all standing holding straps and he looked—turned to me at one point and says, "You're not interested in history, are you?" I kept saying, "Well, I ought to be. And I want to be. But I guess I'm not. You know, I'd like to be but, no, that's probably true." That history, as a form of experience, is truly not something I've been able to be articulate with, nor finally engaged by. Art may be, as Williams might say, the fact of something, but I did not have that alternative experience of accepting it as part of a historical progression in time.
INTERVIEWER
Would you describe something of the Black Mountain poets—Olson, Duncan, and the others—and something of those days?
CREELEY
I was first in touch with Olson by way of Vincent Ferrini. That is, Vincent was a friend of Cid Corman, and it really is Cid's magazine Origin, started in Boston in the early fifties, that makes the center for all the subsequent Black Mountain school. I didn't meet Olson until I went to teach at Black Mountain in 1954—which job saved my life in many ways, and certainly changed it altogether. Living in Mallorca, despite the ease and beauty of the place, I'd begun to feel I was literally good for nothing—so Olson's offer of a job, and equally his giving me the magazine to edit, changed that subject completely.
By the time I got to the college, things were pretty tight. There can't have been more than twenty or twenty-five students, and every day it seemed was a kind of last-ditch stand. I remember at one point there was the possibility of some wealthy man in some place like Charleston sending his mentally deficient son to us for the benefits of a college education in exchange for a donation— and after much soul searching, we agreed. He was to give us word of his own agreement by having a plane fly over the college, God knows why—but anyhow we spent at least three days, all of us, wandering around the place with eyes to the sky. I do remember the damn plane never showed up.
There was another fund-raising business that consisted of Stefan Wolpe, with me as secretary, writing letters to people like the Guggenheims and Doris Duke—which Stefan would begin with, "I bet you got a lot of money lying around you don't know what to do with," and I'd then try to turn it into socially appropriate English. But nothing ever came of that either—except for one of the Guggenheims, who'd apparently just inherited another bag of gold, sending Stefan a check for ten dollars with a note saying when her affairs were more in order, she'd try to do better. De Kooning one time made a lovely remark about it all, to wit, "The only trouble with Black Mountain is, if you go there, they want to give it to you."
But for me it was all a revelation, and the people were terrific. For example, it was there I met Ed Dorn, Mike Rumaker, Dan Rice, and many, many others. Jonathan Williams I'd met earlier in Mallorca, and Fee Dawson was then in the army in Stuttgart—but again the point is, the intensity and particularity of the people comprising, like they say, the Black Mountain scene, was absolute delight. I suppose the only problem was, in fact, how did one find an alternative—which obviously had to come.
INTERVIEWER
What are the common characteristics of the Black Mountain group?
CREELEY
I'd almost say—the loner quality each seems to have. There really isn't a common idiom, so to speak, as in the New York group, for example. I think there was a common feeling that verse was something given one to write, and that the form it might then take was intimate with that fact. That's what I at least meant by, "Form is never more than an extension of content."
INTERVIEWER
When did you meet Ginsberg?
CREELEY
In 1956—after leaving Black Mountain, it must have been in early January or so, then stopping in Albuquerque with friends to pull myself together, then going on to San Francisco where Ed Dorn and his family were. I was trying to get out of my own habits. My marriage had finally ended altogether—and I was sick of what I knew, so to speak. So anyhow I decided to go west. I got to Ed's place about four in the afternoon, and he and Helene drove me around a little. I remember we got very drunk or I at least did—and Rexroth had invited me over for dinner. I can remember vomiting all over the sidewalk, just before I went in, something like an hour or so late. Then later that same night, after Ed had taken off for a job he had as a baggage clerk at Greyhound, suddenly Allen appeared. He was working at the same place only on an earlier shift. It's so characteristic of Allen to be there like that, that is, to come so directly to what interests him. And I was God knows flattered—we talked most of the night about Olson and the scene at Black Mountain. And he told me what was happening in San Francisco. Later, I remember walking around the city with him and Phil Whalen, with Allen inevitably carrying the big black binder notebook, reading us "Howl" every time we sat down or stopped for something to eat. It was really a beautiful time—everything was so open, just poised on its own energies.
INTERVIEWER
You speak of corresponding with Williams and Pound. Did you correspond with your contemporaries? What sort of letters?
CREELEY
Insistently. I think at one point Olson and I were writing each other on the average of once every other day. Mayan Letters would give you some sense of it. The fact I was then so far away from everyone meant I depended on letters for a very necessary kind of conversation. Later, living in France, I had Denise Levertov and her husband, Mitch Goodman, to talk to—but more often than not there was really no one immediately available who shared the concerns I was having. Too, I very much needed a practical "feedback" and letters served that fact. For example, in the early fifties Paul Blackburn and I wrote each other constantly, and he'd give me a very close reading of the poems I'd send him—not just about what he thought they meant, but a literal line to line, word to word, sense of how he took the verse to be moving. So letters were very important to me, and I remember at one point, in Mallorca, calculating I was spending a full eight hours a day writing them. I think it was Williams who said once in a letter that they served as a kind of rehearsal of what it was we were to do.
INTERVIEWER
You have said that poetry is "the basic act of speech, of utterance." Are you implying that self-expression is the poet's motivation, or is there more to be said about his desire to communicate, his interest in possible readers?
CREELEY
I don't think that "possible readers" are really the context in which poetry is written. For myself it's never been the case. If one plays to the gallery in that way, I think it's extraordinarily distracting. The whole performance of writing then becomes some sort of odd entertainment of persons one never meets and probably would be embarrassed to meet in any case. So I'm only interested in what I can articulate with the things given me as confrontation. I can't worry about what it costs me. I don't think any man writing can worry about what the act of writing costs him, even though at times he is very aware of it.
INTERVIEWER
Communication per se, then, isn't a primary motive for the poet?
CREELEY
It is for some; for others, it isn't. It depends on what is meant by "communication," of course. I would be very much cheered to realize that someone had felt what I had been feeling in writing—I would be very much reassured that someone had felt with me in that writing. Yet this can't be the context of my own writing. Later I may have horrible doubts indeed as to whether it will ever be read by other persons, but it can never enter importantly into my writing. So I cannot say that communication in the sense of "telling someone" is what I'm engaged with. In writing I'm telling something to myself, curiously, that I didn't have the knowing of previously. One time, again some years ago, Franz Kline was being questioned—not with hostility but with intensity, by another friend—and finally he said, "Well, look, if I paint what you know, then that will simply bore you, the repetition from me to you. If I paint what I know, it will be boring to myself. Therefore I paint what I don't know." Well, I believe that. I write what I don't know. Communication is a word one would have to spend much time defining. For example, can you make a blind man see? That has always been a question in my own mind. And if it is true that you cannot tell someone something he has no experience of, then the act of reading is that one is reading with someone. I feel when people read my poems most sympathetically, they are reading with me. So communication is mutual feeling with someone, not a didactic process of information.
INTERVIEWER
A side issue here, perhaps. Does an artist's "sincerity" have any influence on the quality of his work? Can a poet write good poems about a subject if he has no feeling about it?
CREELEY
I don't see how. If one respects Pound's measure of "Only emotion endures," and "Nothing counts save the quality of the emotion," then having no feelings about something seems to prohibit the possibility of that kind of quality entering. At the same time, there are many ways of feeling about things; it may be that—as in the case of poems by Ted Berrigan—one is made to feel by the fact that there is no attachment of subjective feeling to the words. It's a very subtle question. I remember one time Irving Layton wrote a very moving poem, "Elegy for Fred Smith." Later Gael Turnbull, very impressed by the poem, said to him, "You must feel very badly that your friend has died, because your poem concerning this fact is very, very moving." And Irving then explained that there was no man named Smith; he simply wanted to write this kind of poem. But you see, he wanted the feeling too; he wanted to gain the way one might feel in confronting such a possibility. There wasn't, as it happened, a real fact that provoked this poem, but there was certainly a feeling involved. And it was certainly a "subject" that Irving had "feeling" about. Of course, this issue of sincerity in itself can be a kind of refuge of fools. I am sure that Senator Goldwater was sincere in certain ways, but that shouldn't protect him from a hostile judgment. The zealot is often sincere. But I mean sincerity in the sense that goes back to Pound, that ideogram he notes: man standing by his word. That kind of sincerity has always been important to me—to what I'm doing.
INTERVIEWER
Undoubtedly there are pitfalls, too. Edgar Guest was probably as sincere as anyone writing today. Why wasn't Guest a Williams?
CREELEY
Again, you see, we have a simple answer. If we do believe that "Nothing counts save the quality of the emotion," then we have a clear measure for qualifying Guest—the emotion in Guest is of very poor quality. It's so generally articulated and so blurred with assumptional sentiment that it's a kind of mess. It's too general. So that would be the difference between him, I would feel, and someone like Williams who has the virtue of a much more complex and intimate and modulated quality of feeling—and is much more articulate in the area of that feeling, and not only gives evidence of it, but allows its evidence to be felt by the reader.
INTERVIEWER
This matter of the readers being allowed to feel their way through the poem, the active re-creation of experience. I'm not alone, I think, in feeling excluded from some modern poetry. I was reading the other day a poem by Gary Snyder, "How to Make Stew in the Pinacate Desert":
Now put in the strips of bacon.
In another pan have all the vegetables cleaned up and peeled and
sliced.
Cut the beef shank meat up small …
If technique is the rationale for Snyder's poem, have we gone too far with the present emphasis on technique?
CREELEY
The context of the poem is very relevant; perhaps I know too much about it. For example, it is addressed to two friends. What Gary's doing here is literally giving them a recipe for stew, and his way of speaking is evident. A tone or mode or kind of speech is occurring. Yes, you can literally take this poem as a recipe for how to make stew, but in this way of saying something there's also an emotional context, a kind of feeling. That, to my mind, is the significant part of this poem. It's the kind of address and the kind of feeling that is engendered by it; and it's the way the words go, literally, that is to me the most intimate aspect of this poem as poem. Now, what can we call it? Technique? Sure, there's technique in that the poem is articulated and held, in the way the words are placed in lines. There's a speed offered in the way the line is going there. But I don't think that he has gone too far, any more than I felt that the actual record of drilling that occurs in Williams's Paterson was going too far. It seemed to be very prosaic, but it gave an extraordinarily vivid sense of how far one did have to dig down to find what was intimate and vital to one's own needs. Just as the water was only to be found after having gone through all those levels, the very character of that report gave a real sense of what it is like to try to find something in an environment that is so covered, so much under the accumulation of refuse, and waste, and tedium, and misuse. So that I would rather not talk in that way of "technique" as something extensible or separate. And I would have respect for this particular poem of Gary's. Again I fall back on Pound's "Only emotion endures." This particular emotion is of an address to friends meant as a warmth which all three shall share, therefore anyone. In that possibility I find the most interest.
INTERVIEWER
Is the remarkable amount of obscenity in contemporary poetry the result of the letdown of barriers—or is it a reflection of the day's mood and temper?
CREELEY
One time Duncan was at a poetry workshop in Arizona, just after Naked Lunch had been published, and, as he said, the people were still writing poems about the moon and the rather indomitable onrush of the spring. That is, no one really rushed to say "fuck" just because it seemed now possible to do so in print. But then because one did want to be able to involve a total fact of persons, not just discrete edges thereof, it was a great relief I think to be able to do so. No doubt it's me, but I do think sexual mores have become much more relaxed in the last few years—and obscenity, or better, the words we call obscene, have a very real energy. So one wants use of them as there seems occasion. I really dig, for example, Peter Orlovsky's journals that Ed Sanders has published sections of—not just for what they tell me of Peter but for what they make known to me as literal details of sexual event.
INTERVIEWER
How long does the writing of a poem take for you?
CREELEY
For me, it's literally the time it takes to type or otherwise write it—because I do work in this fashion of simply sitting down and writing, usually without any process of revision. So that if it goes—or, rather, comes—in an opening way, it continues until it closes, and that's usually when I stop. It's awfully hard for me to give a sense of actual time because as I said earlier, I'm not sure of time in writing. Sometimes it seems a moment and yet it could have been half an hour or a whole afternoon. And usually poems come in clusters of three at a time or perhaps six or seven. More than one at a time. I'll come into the room and sit and begin working simply because I feel like it. I'll start writing and fooling around, like they say, and something will start to cohere; I'll begin following it as it occurs. It may lead to its own conclusion, complete its own entity. Then, very possibly because of the stimulus of that, something further will begin to come. That seems to be the way I do it. Of course, I have no idea how much time it takes to write a poem in the sense of how much time it takes to accumulate the possibilities of which the poem is the articulation.
INTERVIEWER
Your surroundings during the time both of accumulating and writing—how significant are they?
CREELEY
Allen Ginsberg, for example, can write poems anywhere—trains, planes, in any public place. He isn't the least self-conscious. In fact, he seems to be stimulated by people around him. For myself, I need a very kind of secure quiet. I usually have some music playing, just because it gives me something, a kind of drone that I like, as relaxation. I remember reading that Hart Crane wrote at times to the sound of records because he liked the stimulus and this pushed him to a kind of openness that he could use. In any case, the necessary environment is that which secures the artist in the way that lets him be in the world in a most fruitful manner.
INTERVIEWER
What is your concept of the creative process per se? Would you agree with Williams's description of it: theoretical know-how plus "the imaginative quota, the unbridled mad-sound basis"?
CREELEY
Yes. One can learn a lot both by reading and by what you've accumulated by writing yourself. But then it's up to these occasions that come without much announcement and declare themselves quite apart from one's intentions. All the understanding of process possible doesn't ever guarantee their occurrence. And one curiously never does know just when or why or how or in what guise they will be present.
INTERVIEWER
No one can learn to write poetry, then? This total involvement of the poet—experiences, knowledge, technique, emotions—one is a poet perhaps by virtue of what he is, not by what he knows?
CREELEY
He's a poet in the sense that he's given the possibility of poetry by what seems to be a very mysterious process indeed. Naturally, all that he knows from his own writing and that of other writers helps to gain him articulation. It's rather like driving. A man who can't drive at all is obviously embarrassed to go down a road. The most "articulate" driver would be one who can follow the road with precisely the right response to each condition before him. The contexts are in some way equivalent.
INTERVIEWER
Do you have the sense of continually progressing—is there a sense in each successive poem of a new adventure?
CREELEY
A "new adventure" possibly—that is, like Melville's sense, "Be true to the dreams of thy youth," which Olson told me Melville had on the wall over his worktable. I don't want to be unromantic about it. But I have never felt I was going anywhere, in writing—not like, "Every day, in every way, I am getting better and better." What I've really loved is the fact that at times I can take place in this activity, just be there with whatever comes of that fact. I live in this house, or with my wife, in just the same way. It's not "getting somewhere" that is the point of it all.
INTERVIEWER
You have spoken of a poem being created almost "in a fit," or in a seizure. Does it ever bother you to think that these attacks may not come? It seems such an American phenomenon to believe that the force of inspiration disappears in time.
CREELEY
It bothers me very damn much—but I've never found a cure for it. I don't know another writer who hasn't faced the same dilemma. But I don't know what one can do about it except hold on. I did realize finally that at times I was perversely enjoying my discontent, that is, I was all but wallowing in the inertia I felt I was stuck with. That's quickly a bore. But it's still true, of my own experience, that no amount of wanting to do something can actually make writing possible.
INTERVIEWER
Well, do you consciously choose your subjects?
CREELEY
Never that I've been aware of. I may make too much emphasis upon that, but I can't remember ever consciously setting out to write a poem literally about something. Well, I can think of an exception. That would be a sequence of poems done to complement Robert Indiana's number paintings—but after roughly a year of frustrated attempts to write these poems, the first five came to me, quite literally, between the hours of five and seven in the morning—a time I've never found possible for writing nor for much of anything else.
For myself, writing has always been the way of finding what I was feeling about, what so engaged me as "subject," and particularly to find the articulation of emotions in the actual writing. So, I don't choose my subjects with any consciousness whatsoever. I think once things have begun—that is, once there are three or four lines, then there begins to be a continuity of possibility engendered which I probably do follow. And I can recognize, say, looking back at what I have written, that some concerns have been persistent: the terms of marriage, relations of men and women, senses of isolation, senses of place in the intimate measure. But I have never to my own knowledge begun with any sense of "subject." I fall back on that point of Olson's—I think it's "Letter 15" in The Maximus Poems where it goes: "He sd, 'You go all around the subject.' And I sd, 'I didn't know it was a subject.'" You see, I don't know that poetry has "subjects" except as some sort of categorical reference for listing in library catalogs. Poetry has themes, that is, persistent contents which occur in poetry willy-nilly with or without the recognition of the writer. These themes are such as Olson once spoke of: war, love between man and woman, friendship, and the care of the earth. But I don't feel that these "subjects" are really the primary indication of the poem's merit or utility in the society in which it is present.
INTERVIEWER
You don't, then, have any "point" to make, to use a common term of reference?
CREELEY
The point I wish to make is that I am writing. Writing is my primary articulation. So when I write, that's what I'm at work with—an articulation of what confronts me, which I can't really realize or anticipate prior to the writing. I think I said in the introduction to The Gold Diggers, well over ten years ago, that if you say one thing it always will lead to more than you had thought to say. This has always been my experience.
INTERVIEWER
To look a little more closely at the "themes," then, in your work: Many seem to deal with love, hate—in short, human relationships. Is this human interaction the dominant interest from an artistic point of view?
CREELEY
Well, I've always been embarrassed for a so-called larger view. I've been given to write about that which has the most intimate presence for me, and I've always felt very, very edgy those few times when I have tried to gain a larger view. I've never felt right. I am given as a man to work with what is most intimate to me—these senses of relationship among people. I think, for myself at least, the world is most evident and most intense in those relationships. Therefore they are the materials of which my work is made.
INTERVIEWER
Then, in general, are you writing about what is personally most important to you?
CREELEY
Yes. People are the most important things in the world for me. I don't at all mean that in a humanistic sense. It's just that they are the most insistent and most demanding and most complex presences offered to me.
INTERVIEWER
In some ways, this kind of subject is different from that of many of Williams's poems, which you admittedly admire. Is there a contradiction here?
CREELEY
Again, remember what Williams does say, "The poet thinks with his poem." When he has a poem such as the "The Red Wheelbarrow," which occurs in that sequence Spring and All, a mixture of poetry and prose in its original version, that poem, and that whole sequence, is a way of perceiving—not decided upon but met, almost in full course, by "divine accident," as Stendhal would say. Williams says that particular sequence moves among the recognitions given him from his perceptions. That's what I am interested in, in those poems—not the literal material evident in the red wheelbarrow, but in how the perception occurs, how he thinks in the context of that relationship. Not simply why he says this, but how he says it, how he gives it credence, how he gives it recognition. We are both doing something quite akin: we're thinking, we're gaining an articulation for ourselves in the activity of the poem. As he says, "In our family we stammer until, half mad, we come to speech." Or he says, "The words made solely of air." This context for poetry is one very intimate and immediately recognizable to myself. So I don't think that you can say, "Well, this man talks about green bottles and this man talks about his wife; therefore, they are not interested in the same things." It's the way these things are perceived in the poem and how they are articulated that is significant, and in that respect I would feel a great debt to Williams and would feel that I had learned much from him indeed.
INTERVIEWER
Since two recent books are prose, The Island and the reissue of The Gold Diggers, could we talk for a while about the differences between poetry and prose?
CREELEY
Well, prose seems to offer more variety in ways of approaching experience. It's more leisurely. One can experiment while en route, so to speak. But still, for me, poetry gives a more immediate, a more concentrated articulation—a finer way of speaking. I don't prefer either. I don't say poetry is more useful for me in this sense, and prose in that sense, and therefore I write a story when I want this effect, and a poem when I want that effect. They come and go. When something has been on my mind for a long, long time and I've been in some sense conscious of it, then very often it will be prose that gives me the chance of articulating what is dogging me with such emotional insistence. I think, for example, of a park in England where I was sitting with a friend, and I was very new to our surroundings. I felt not alien but freshly arrived. We were sitting in this quiet park on a Sunday afternoon, a small sort of intimate family park with walks, not hidden exactly, but arranged so that people moved along through corridors of trees and plants, so that one had a constantly changing vista of persons as they came and went. And there was a kind of old statue, not particularly distinct or admirable but sort of interesting, as if a kind of old person had suddenly been immobilized or concretized. But in any case, that moment, sitting on that bench, talking in this rather random fashion and watching the people and seeing children all ages, impressed itself on my mind. I don't know what I'm going to do with it—or rather, I don't know what it's going to do with me. But that kind of insistence—it's one of the most intense things that I seem to have gained in England. I don't know what it means. I don't understand it. I don't know why—of all the kinds of experience that I had there—that moment suddenly is awfully intense. But at some moment that's probably something that's coming to be written. I feel it now, that it's coming, that I shall work with it. And when I do work with it, I would feel it will probably be with prose because it has such a complexity in it that I'll want to move with it tentatively. Prose may give me a way of feeling my way through such a thing. Poetry is more often a kind of absolute seizure—a demand that doesn't offer variations of this kind.
INTERVIEWER
So prose is very much in your future, as well as poetry?
CREELEY
I must say that as soon as I plan to do more prose, I do absolutely nothing. I had planned to do another novel, because I really enjoyed The Island, having learned in a sense some of the technical possibilities of such a form—that is, having written it—I gained some insight into what technically was possible in a long prose piece. I wanted not to lose it, so I very quickly committed myself to do another novel, which was unwise of me. I even gave the novel a title, and had what I thought was a good occasion (two years I spent in Guatemala had given me a crazily chaotic impression of so many things and persons and acts—such a wild variability of people in such a very curiously primal place—that I thought, this is an ideal thing to work with in prose). But as soon as I planned to do it, I all but stopped. I don't know how I am going to get past that. One day I'll simply sit down and start writing. Until that day comes, talking about it is a little absurd because I simply don't work in that fashion. By planning to do the novel, and by talking about it with my publisher, accepting a small advance and giving it this title and all, I seem—well, one moment last spring, for example, I really got almost hysterical and I called the publisher and said, "Look, I want to pay you back that money. I'm sick to death of the whole program." No, again, you see, Pound is so right. That quote he has from Remy de Gourmont, "Freely to write what one chooses is the sole pleasure of a writer." That is so true. So that as soon as it becomes programmed in any way, in the sense that it isn't momently recognized, it's a very, very problematic context in which to try anything.
INTERVIEWER
Were your short stories written usually in one movement? Like the poems?
CREELEY
Right. Again that's why I say that the kind of economy that Pollock was speaking of was very real to me … when he said, "When I am in my painting …" I remember one time in the fifties a conversation Guston was having with my first wife. She'd challenged him: "If you're painting this way, abstract expressionism or whatever you call it, how do you know when it's done?" She really was suggesting that he was in some way a phony, and that everything he was involved in was in some way phony. He took the question seriously, and gave her a very careful and generous statement of his own experience of painting. His resolution was that you know when it's done when you are both looking at and involved with what's happening, and you can't see any place where further activity is permitted. I mean, where everything has happened. And I knew that was precisely how I felt about writing, that when I couldn't say anything more, that was the end. You continued writing and/or speaking until no further possibility of continuing was there. And I thought this was what these particular men as Kline, or as Guston, or as de Kooning—not de Kooning so much because his formal procedure was rather different, but Pollock, absolutely—that they were not so much "experimenting," but that they were delighted and moved and engaged by an activity—permitted an experience of something—and that they were with it as long as it was possible to be. And at some point it ended. I mean it stopped, and they were thus pushed out or made to stop too, and that was it.
INTERVIEWER
There exists at the moment a large group of young poets writing what have been called by some "Creeley poems." Short, terse, poignant—at their best. You know, of course, you have tremendous influence on the generation to come. Do you think this influence is good?
CREELEY
I haven't the least idea. That's up to them to demonstrate. At a poetry conference, Robert Duncan—hearing many poems dedicated to himself—said, "My God, do I really sound like that?" There's a kind of horror in seeing what's taken from one's own acts as the significant aspect of them, played back. This kind of active feedback provides a very interesting disarrangement and what people make of my work in this way has sometimes delighted me and sometimes left me very disgruntled. But I don't think it's up to me to decide whether it's good or bad. It will demonstrate its own virtues or failures.
INTERVIEWER
Where can these young writers move in this imitative writing?
CREELEY
Again, I haven't the least sense of where they can go in their poetry. That is very much their own business—as it was mine and remains mine. We return to that sense of Olson's that each of us has his own "kin and concentration." So that for me to propose large rules for all poets would be absurd. I feel simply that all those engaged as poets can take what they will from what I may have discovered or from what those before me have discovered or what men after me will discover. Obviously, there's no end to it, but I believe it should all be handed over and that it can or cannot be used as each person learns for himself.
INTERVIEWER
What is the pattern? Will these young writers stay imitative?
CREELEY
No, they won't. Imitation is a way of gaining articulation. It is the way one learns, by having the intimate possibility of some master like Williams or Pound. Writing poems in those modes was a great instruction to me when I began to "feel" what Williams was doing as well as "understand" it. This imitative phase is a natural thing in artists. I feel it should be encouraged. It is one way to learn, and it's the way I would respect, coming as I do from a rural background where learning how to plow is both watching someone else do it and then taking the handle of the plow and seeing if you can imitate, literally, his way of doing it, therefore gaining the use of it for yourself. But what you then plow—and whether you plow or not—is your own business. And there are, fortunately, many ways to do it.

Author photograph by Gerard Malanga.