Interviewed by Thomas LeClair
Issue 66, Summer 1976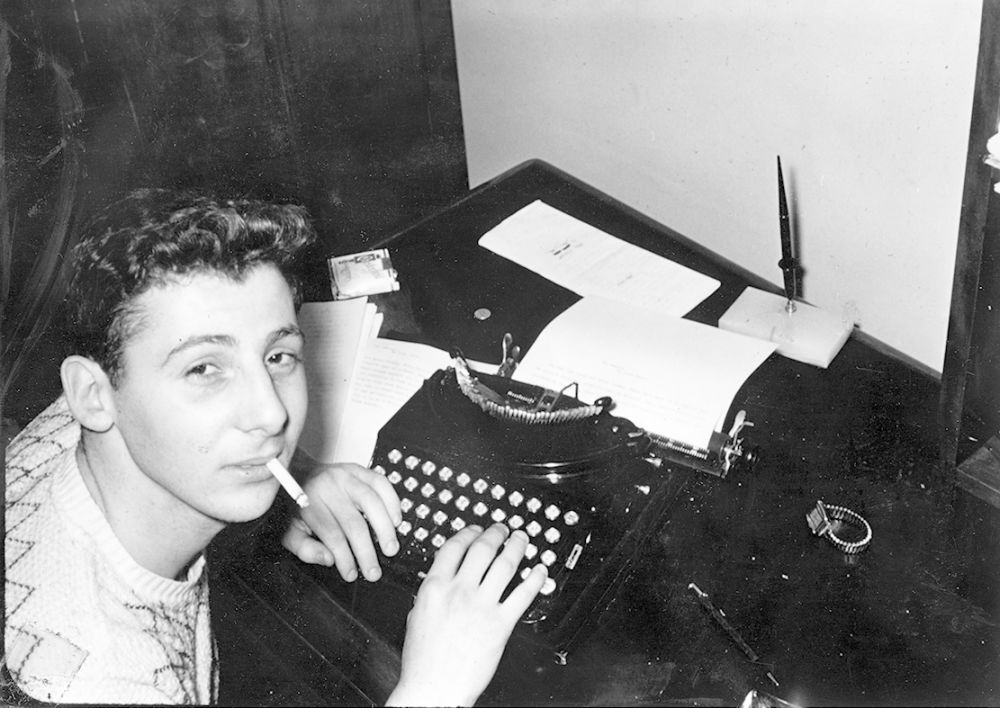 The following interview was taped in September 1974, in St. Louis, without aid of sherry, or sunlight streaming through high windows. Although we did walk through leaf-piled streets to Elkin's office on the Washington University campus, I didn't discard my prepared questions along the way. When the tape broke midway through the interview, Elkin was not upset. Despite these defiances of interview conventions, the three-hour interview demonstrates the wide range of Elkin's perception, candor, and wit.
Elkin is a medium-sized man, forty-five years old. The day of our talk he wore corduroys and a white turtleneck sweater and could easily have been mistaken for a distinguished poet. Physically intense, Elkin shifted about in his chair, sometimes hunching over the microphone like a body puncher, sometimes sitting back with his hands behind his head like a satisfied president. His voice constantly juggled humor and seriousness, but his answers were always direct, without qualification.
Elkin's novels are: Boswell: A Modern Comedy (1964), A Bad Man (1967), The Dick Gibson Show (1971), and The Franchiser, which Elkin was working on at the time of the interview and will be published this June by Farrar, Straus and Giroux; he is also the author of Criers and Kibitzers, Kibitzers and Criers, a collection of short stories (1966) and Searches and Seizures, novellas (1973).
INTERVIEWER
Your father was a salesman. I can't help but wonder if he was a master rhetorician—as many of your characters are—and if the passionate speech that characterizes so much of your fiction has its genesis in your early environment.
STANLEY ELKIN
If not a master rhetorician, at least a master salesman. He sold costume jewelry, and I went with him once on one of his trips through the Midwest. He had a vast territory. He had Michigan, Minnesota, the Dakotas, Wisconsin, parts of Indiana, Illinois, Missouri—an immense territory. I was with him in small Indiana towns where he would take the jewelry out of the telescopes, which are salesmen's cases, and actually put the earrings on his ears, the bracelets around his wrists, and the necklaces about his throat. This wasn't drag, but the prose passionate and stage business of his spiel. The man believed in costume jewelry, in rhinestones and beads, and sang junk jewelry's meteorological condition—its Fall line and Spring.
INTERVIEWER
Is there something of your father in Feldman's father?
ELKIN
Yes, and a great deal in Feldman. Probably more in Feldman than his father.
INTERVIEWER
Your mother's name was Feldman. Do you bestow, as Nabokov does, details of your own life on your characters?
ELKIN
No. There is little autobiography in my work. When I was growing up, we had a bungalow in New Jersey which we visited in the summers. Everybody in that small community was named Feldman and was either an aunt or cousin of mine. I just found it comfortable to use the name Feldman. For a long time before I ever published anything, all my characters were named Stephen Feldman. I hadn't read Joyce, I didn't know about Dedalus. But it didn't make any difference what story it was or what age the characters were. I named them all Stephen Feldman. And then, only later, years later, when I was writing A Bad Man, did the name come to mean anything to me—Feldman the felled man.
INTERVIEWER
You've said that you spent just under 183 years going from freshman to Ph.D. at Illinois.
ELKIN
Right.
INTERVIEWER
Were you writing stories while getting your M.A. and Ph.D.? You were in the army too, weren't you?
ELKIN
Yes, for a couple of years—1955 to 1957. The remarkable thing, remarkable for me anyway, was that I discovered that I could write only after I passed my prelims. I had been writing and chopping away at stuff, at this story or that. I took all the writing courses, but I had no style—or, rather, I did have a style but it wasn't mine. I had William Faulkner's style. I studied a year in bed—never got out of bed for an entire year, had all the books around the bed. I'd get up to teach my classes, of course, but I taught from eight to ten in the morning on Mondays, Wednesdays, and Fridays. Then I'd return to the apartment and get back into bed and not get up until it was time to teach my classes again. But at any rate, I decided to give myself some time to write, and I wrote a story called "On a Field, Rampant." It was the first story that I'd ever written that had what was to become my style.
INTERVIEWER
How much influence does your academic training have on your writing? Do you work into your fiction the intricate patterns of imagery that much academic criticism is concerned with?
ELKIN
Well, it depends upon the fiction. When I was about a hundred pages into Boswell, I suddenly discovered that I had Boswell in a lot of elevators, and because I had been trained in the New Criticism I decided, hey, this is pretty neat! Elevators. Makes a nice pattern. And so I was conscious of the elevator motif and kept moving him in and out of elevators. In a way it works because a great deal of novelistic fiction is about ascent. Since Boswell was a guy on the make and had this sort of excelsior personality, it was quite fitting for him to be in elevators, on up escalators, and to climb stairs. There's one scene in Boswell where he's in a Jewish community in Brooklyn, as I recall, to meet a miracle rabbi, and he can't get past the front door. He is not permitted to climb those stairs and is stalled. Sure, I'm conscious of symbols and patterns in my work. But this is something I've sometimes come onto only after the fact and then made the most of.
INTERVIEWER
You said in your dissertation on Faulkner that he sympathized with the "egocentric will pitted against something stronger than itself."
ELKIN
Maybe that's what I admire, or what I came to admire, in Faulkner without knowing that it is what I was ultimately to be about myself. But I think it is what I am ultimately about. And I think it is true in Faulkner. I think it is truer of me, though, than it is of Faulkner. Faulkner's heroes are often nicer guys than mine.
INTERVIEWER
You also commented on Faulkner's legendizing of character through hyperbole and his repetitive technique. These seem to show up in your fiction.
ELKIN
My editor at Random House, Joe Fox, used to tell me, "Stanley, less is more." He wanted to strike—oh, he had a marvelous eye for the "good" stuff—and that's what he wanted to strike. I had to fight him tooth and nail in the better restaurants to maintain excess because I don't believe that less is more. I believe that more is more. I believe that less is less, fat fat, thin thin and enough is enough. There's a famous exchange between Fitzgerald and Thomas Wolfe in which Fitzgerald criticizes Wolfe for one of his novels. Fitzgerald tells him that Flaubert believed in the mot précis and that there are two kinds of writers—the putter-inners and the taker-outers. Wolfe, who probably was not as good a writer as Fitzgerald but evidently wrote a better letter, said, "Flaubert me no Flauberts. Shakespeare was a putter-inner, Melville was a putter-inner."* I can't remember who else was a putter-inner, but I'd rather be a putter-inner than a taker-outer.
INTERVIEWER
Are there philosophical, religious, or psychological traditions which are especially important to you?
ELKIN
Like most people of my generation, I fell in love with the philosophy of existentialism. There is no particular religious tradition in my work. There is only one psychological assertion that I would insist upon. That is: the SELF takes precedence.
INTERVIEWER
Are there particular existential writers?
ELKIN
Camus. I think he was a wonderful writer. I ate his books up alive in the better restaurants.
INTERVIEWER
Is there a system of ideas within which your fiction could be considered?
ELKIN
No. I'm not a "thinker." For example, I'm working on a novel now called The Franchiser about the man who makes America look like America. He owns a McDonald's franchise. He owns a Fred Astaire Dance Studio franchise. He owns a KOA campsite franchise. He owns perhaps thirty franchises. He trades them like a kid with Monopoly cards. What had appealed to me—what had instigated the novel and in a way has instigated almost everything I've ever written—was the occupation. I don't know what the thing is all about until I start to write it. Then, as I'm writing, I really do invent ideas, make ideas up. Only now am I beginning to realize what this Franchiser business is all about. But there's no thought aforethought.
INTERVIEWER
Reviewers and critics often consider you with the black humorists or the absurdists and with the Jewish-American writers, many of whom are also humorists. Would you care to comment on affinities you might have with writers like Barth, Donleavy, Vonnegut, Heller, Roth, Bellow?
ELKIN
If I have any affinities at all, they are with men like Bellow—and, to a lesser extent, Barth. Certainly not to Roth, who is more a sociologist of the personal than anything else. And not really to Donleavy, whose work I admire very much—but who finally disappoints me because he not only writes the same book over and over again, but the same sentence over and over again or the same sentence fragment over and over again. He uses the same characters; he uses the same rhetorical patterns. I find that his best book is not The Ginger Man but A Singular Man, the book where he finally got it right. Everything else is redundant. Spin-offs from spin-offs as if he learned to write at Mary Tyler Moore's knee.
Barth is wonderful, but the Barth I really admire is back there in the Golden Age of Barth. That is to say, the Barth of The Floating Opera, of The End of the Road, and The Sot-Weed Factor. The Barth who takes himself seriously as a metafictionist is a Barth who bores finally. There's some great stuff in Lost in the Fun House, and I suppose there are nice little pastiches in Giles Goat-Boy, but later Barth really is Barth for Barth's sake.
Bellow I think is a magnificent writer—probably, with Gass, the best writer in America. I just somehow feel on Bellow's wavelength. I don't think that he has a reader in America who digs him more than I do. There has not been a single Bellow novel or story that I have not liked, including probably his weakest books—Dangling Man, The Victim, and Henderson the Rain King. Henderson the Rain King is not really in his mode—it's more in my mode than his—but I like Henderson for its ending, which it seems to me is a paradigm for the endings in a great deal of modern fiction. Henderson is carrying the kid in his arms in Newfoundland or wherever, and he begins to run and dance—dancing, running, leaping, jumping, moving. I find that whole concept very, very exciting. It's the leap of faith; the only way finally to make any sense out of the world is simply by saying "yes" to it, and jump up and down in it.
INTERVIEWER
Writers say yes or no?
ELKIN
Yes, the binary system. What a writer's message is is totally unimportant. Either he is agreeing with life by affirming, or he is saying life is just a bowl of wormwood.
INTERVIEWER
So you haven't changed anybody's life with your fiction?
ELKIN
Certainly not. Nobody does.
INTERVIEWER
What about Faulkner?
ELKIN
He never changed anybody's life either. Auden went to his grave complaining that his poems never saved a single Jew from the ovens, and he was absolutely right.
INTERVIEWER
In your collection Stories from the Sixties, you include stories by Coover and Gass, who are often called experimental in their concern with form and language. Do you have affinities with experimental writers?
ELKIN
I think Gass is the best word-man in America. Coover is a very good friend of mine, and I think "The Babysitter" is a wonderful story, a very successful tour de force, and while a tour de force is its own excuse for being, a little goes a long way. Vintage Coover to me is not the Coover of Pricksongs and Descants so much as the Coover of The Origin of the Brunists, or The Universal Baseball Association, which are superb novels. Bob is such a good writer and has so many gifts to offer the traditional novel that it seems to me that he works against his own best interests when he goes off to play in his laboratory.
INTERVIEWER
You mentioned tour de force. There seems to be a lot of localized tour de force in your work.
ELKIN
But it's not tour de force in terms of fictive strategy; it's tour de force of language and that's, as far as I'm concerned, always legitimate. But look for the language in post-Coover Coover, and it's more difficult to find. There's marvelous language in Pricksongs and Descants but it's subsidiary to the experiment with structure. I tell you this for your own good, Bob. The reason I like Gass so much is that Gass is not fucking around with structure. He is fucking around with language. That to me is legitimate and acceptable, and the furthest out you can go is the best place to be. That's what's so magnificent about Shakespeare. Shakespeare wrote very conventional plays, but the language wasn't conventional.
INTERVIEWER
Do you have a philosophy of language?
ELKIN
It's a matter of feeling one's way. It is not instinctive. It's a question of using a pencil, erasing, creating a palimpsest of metaphor right there on the page. One gets a notion of the conceit and one is inspired to work with it as a draftsman might work with some angle that he is interested in getting down correctly. That's where all the fun of writing is for me.
I don't read much nonfiction because the nonfiction I do read always seems to be so badly written. What I enjoy about fiction—the great gift of fiction—is that it gives language an opportunity to happen. What I am really interested in after personality are not philosophic ideas or abstractions or patterns, but this superb opportunity for language to take place.
INTERVIEWER
Do you have an impassioned statement about the function or purpose of the novelist?
ELKIN
I just made it. He has no social obligations, it seems to me, unless his wife has accepted a dinner date for Thursday.
INTERVIEWER
Do you have some sense of an audience when you write?
ELKIN
I do have an ideal audience in mind. That ideal audience is a man like Bill Gass, or someone like Howard Nemerov, or any other writer who respects language. But other than that, no notion at all of an audience. I don't think any writer does. I don't think that poor Jacqueline Susann had any notion of an audience. I think she was doing the best she could. There is no such thing as prostitution in writing. One writes what one can write. One writes up, though one man's up is another man's basement.
INTERVIEWER
In a New York Times review, Josh Greenfield says that you seem to write with the conviction that the world is winless. Do you agree with this?
ELKIN
Yes, well, we all die, yes? We suffer, correct? The score keeps changing, is it not so? And Mommy holds us on the teeter-totter before we can sit upright on chairs. I don't really care so much about the fact that the world is winless. It is simply a condition that seems true to me. It is just a condition the way a red light is a condition at a traffic crossing. Yet, quite marvelous books have been written about winner worlds. Other people write them.
Indeed, the novel is generally a kind of Christian device where people who are good get their just rewards and where people who are bad are punished. I don't believe that this is the case in life, but it might be a case the novelist wants to make, and great novels have been written making such cases. I don't care so long as the novel is written well.
INTERVIEWER
You've said, "I don't write from memory. I imagine everything." Could you elaborate on the purposes of this approach?
ELKIN
I used to think and I used to tell my writing students that the reason one can't write autobiographically is that one is too close to the material. But that's wrong. I was terribly humiliated when I was in the army, and I tried to get that down into fiction. I constantly failed, and I kept thinking that I was failing because I was too close to it, but that's not why I failed. The real reason I failed is that you cannot write autobiographically; you cannot write from memory. If you write from memory, the chances are that you will say, "Well, because this happened this way, I will use it this way. Because it happened in just such a sequence I will use it in just such a sequence." Now, life is shapeless, but art, as everybody knows, is shaped. If one is writing from memory, one is writing ultimately a kind of shapeless, amorphous slice of lifeism. Besides, I don't remember anything all that exciting ever happening to me.
INTERVIEWER
You've said that you believe in inspiration. Does inspiration work throughout the story to give it structure and form, or does it work mostly in the original conception?
ELKIN
Mostly, in the original conception. I think I said that stories come altogether all at once or they do not come at all, but that's rather an overstatement. I'll give you an example. I was reading Mike Royko's book, Boss, about Mayor Daley. Someplace in that book, he talks about a saloon where cops, detectives, and bailbondsmen hang out. I saw the word "bailbondsmen" in the sentence, and suddenly it stood out—I don't know why. I had nothing to do with bailbondsmen, I had no memory of bailbondsmen, I had never met a bailbondsman. I'd never put up bail for anyone, but I started to think about the implications of the word bailbondsman. Since I begin most stories or novels with an occupation, it struck me that there was a rich lode here, so I knew I was going to write a novella about a bailbondsman. What the novella was going to be about, what the plot was going to be, I had no idea; that was simply a process of inventing as I went along. But the original inspiration—seeing that word on the page and having it trigger the momentum in me—occurred in a swell fell swoop.
Of course, inspiration is an ongoing, continuing process in the composition of a book. One doesn't, for example, plot a joke. Like a lot of what happens in novels, inspiration is a sort of spontaneous combustion—the oily rags of the head and heart.
INTERVIEWER
What is your response to reviewers who, although immensely entertained by your novels, end up saying that the whole is less than the parts? Are you concerned with structure and form the way someone like Nabokov or Barth is?
ELKIN
Although I am immensely entertained by their reviews, I end up saying that the whole is less than the parts. As a matter of fact, I am concerned with structure and form and my novels are structured and formed. There isn't a novel I have written which does not have a very well-defined structure. The Dick Gibson Show, for example, is not a series of isolated episodes; it is a progress. A Bad Man is not a series of brouhaha speeches; it is a structure. Boswell, less so, although there is a structure there too. Boswell was the first long thing I wrote, and I really didn't know quite what I was up to. But I think all my work subsequent to Boswell has been rather tightly structured. Now, if people don't recognize the structure, that isn't my fault. Well, maybe it is my fault, but I hope it's their fault.
INTERVIEWER
It seems to me that the plots of your novels develop through the protagonist's repetition of action. Do your novels develop largely out of what you have called the "physics of personality"?
ELKIN
Yes, and the physics of obsession. Fiction is about obsession, but there is a distinction between obsession and madness. There is no successful mad fiction. Although I have written a story which ends in madness and suicide, it seems to me that novels about craziness are always unsuccessful. They become case studies. The Bell Jar, for example, is a terrible novel. The only thing that gives The Bell Jar any interest at all is the fact that it is autobiographical. We have this greasy interest in Sylvia Plath. If that woman had never killed herself, her books would sell less than mine.
INTERVIEWER
Your characteristic style is, I think, distinguished by its oral quality. Could you comment on the sources of this style? Your father . . .
ELKIN
I was a very attentive listener to my father's stories and to my father's shoptalk . . . this may be the real source of my style. All shoptalk, the specialized jargon of a closed universe, fascinates me. Whenever I hear it, wherever I hear it, I'm thunderstruck.
INTERVIEWER
Do you put yourself in situations where you are likely to hear shoptalk?
ELKIN
No. Not really, but when I am fortunate enough to run across it, I recognize it and listen to it and try to duplicate it in my writing. Now, some of those rhetorical flourishes, of course, are beyond the shoptalk of most people, but it's as though I were giving others free rein to talk as they would if they had my vocabulary. Passion is the secret of shoptalk.
A friend of mine here in St. Louis, Al Lebowitz, who is a lawyer and a novelist, had to argue a case before the Missouri Supreme Court, and he asked me if I would drive him to Columbia, the state capital. I did and we went that evening to a restaurant in which there were all of these pols. We were sitting close enough to them so that we both stopped talking ourselves and just listened to these guys talking and it was marvelous. It wasn't just the language of anecdote but the language of impassioned partisan anecdote. Unbelievably beautiful—almost a kind of poetry. What other writers get from geography—regionalism—I get from shoptalk.
INTERVIEWER
It seems that your narrators or heroes are professional rhetoricians. There's con man Boswell, salesman Feldman, disc jockey Gibson, lecturer Preminger, and bondsman Main. Are they displacements of the artist?
ELKIN
I wish I could talk like these characters—I can't. Sometimes in class, if I'm particularly good that day, I can go about twenty-seven seconds, not quite a sixth of a round. But it's the way I would like to be able to talk, and I guess the reason I write fiction—I hadn't ever thought of this before but this is a true answer—is to give myself an opportunity to talk that way.
INTERVIEWER
You said in some comments on Faulkner that comedy is a "quick inconsequential passion."
ELKIN
Inconsequential is the operative word there. Consequence to me is when the bone doesn't heal, when the germ does not do what the penicillin wants it to. Consequence is pain. There can be no consequences in comedy. Tom and Jerry chase each other; Tom falls off the Empire State building and shatters like a dish. In the next loop he has reconstituted himself. Now, I don't laugh at Tom and Jerry, but in a simplistic way, that's the model for all comedy. Nothing bad may happen. There is safety in comedy.
INTERVIEWER
Would you discuss the function of the comic in your fiction?
ELKIN
There is a nightclub and television comedian named George Carlin. His routine is the Hippy Dippy Weather Man, and most of his jokes are jokes about the television industry. He makes fun of commercials; he makes fun of format. I have yet to laugh at George Carlin because his humor is institutional humor. It is backstage humor. Green Room. It seems to me—and this is a very difficult thing to phrase properly—that noses are funnier than the particular crotchets of network vice presidents. I told you an anecdote yesterday about my friend Herbie Bogart. We were in Max, Indiana, a small town, stopped at a red light and this hick came down the street with a piece of straw in his mouth, and Bogart said to me, "Look at that Bozo," then opened the window and said, "Hiya Bozo." That, to me, is absolutely hilarious. I can't really explain why it's hilarious, but one thing it has going for it is that it's not institutional, not backstage. It's comedy of the streets. Not just of that red light and crossroads in Max, Indiana, but the vernacular comedy of street, avenue and U.S. 41. It's a rare joke that is funny. Only situations are funny.
INTERVIEWER
What is black humor? Are you a black humorist?
ELKIN
I can't even tell you what black humor is. black humor is a term invented by Time magazine. But I'll tell you what kind of humorist I am—and I don't think I am really a humorist. It seems to me that there is only one modern joke: the joke of powerlessness. And Charlie Chaplin me no Charlie Chaplins. The grand joke of modern fiction is the Lucky Jim joke of making faces behind the professor's back. Now, the grand jokes of A Bad Man or The Dick Gibson Show—whatever I've written—are the jokes where the character in trouble, confronted with a force much stronger than he is, mumbles under his breath something that is absolutely devastating to the authority which threatens him. But the fact that he has to mumble it under his breath, you see, is what makes it funny. Had he shouted it at the aggressor, at the warden, or what have you, it wouldn't be funny. I am thinking of a specific line. When Feldman is closeted with the girl, Mona, in the warden's-party section of A Bad Man, he thinks Mona may be the warden's wife. Oh, God, he thinks, suppose they catch me with the warden's wife. Yet the woman is very attractive to him. She says to Feldman, "One of the things that always bothered me about you stick-up guys and murderers and thugs is the fact that when you're driven up to the police station in a police car, you always hold your hats over your faces. Why do you do that?" And Feldman says, "Yeah, well, we like the way they smell." Feldman is not really answering her question: that is the answer of powerlessness.
INTERVIEWER
Are there any conventions which especially appeal to you and that find their way into your fiction?
ELKIN
No. But I believe in the big things, the traumas that no writer invents that change all preexisting alternatives for the character. Divorce: a guy goes home and sees his wife packing a suitcase. He says, "Going on a trip, are you?" She says, "Yeah, and I've already burned your suitcases so you ain't coming with me. We are now not going to be married anymore." This means that the guy has to change his priorities. Or he comes down to the English office and Professor Madsen calls him in and says, "You were going to teach at one o'clock today? Well, don't bother; you're fired." So no matter what this guy's life has been before the world leaned on him, he now has to make adjustments. Now, at the beginning of A Bad Man Feldman is arrested for things that happened way before the novel began, so he has to make certain kinds of adjustments. He is going to a place where Feldman cannot be Feldman any more. The same thing is true—more or less—in every book written, not just by me but by anybody.
If these big things that change priorities come too quickly and too often, the book will of necessity be a melodrama, a soap opera. On the other hand, there are things which the writer invents. I am thinking of the bone shop, for example, in Charles Dickens' Our Mutual Friend, where one of the characters goes down into this subterranean old dark shop and there are drawers all around the walls of the shop. He finds the knucklebone of the third finger of the right hand and kneecaps and the left anklebone. Every bone there is catalogued and stored. I am sure that no such shop existed in life, that Dickens invented it. If I were to use it, it would be a case of pure plagiarism. That's something that is spontaneously generated by the writer. If a book has nothing but those spontaneous generations, the result will not be melodrama but chaos. That's why I criticized Coover before because Pricksongs and Descants is nothing but invention piled upon invention with no—I don't like the word—trauma to give the thing stability.
INTERVIEWER
I have some questions now about themes or ideas I find in much of your fiction. You have Dick Gibson say, "The point of life was the possibility it always held out for the exceptional." The heroes in your novels have a tremendous need to be exceptional, to transcend others, to quarrel with the facts of physical existence. Is this a convention—which we've just been talking about—or something very basic to your whole view of life?
ELKIN
It is something very basic to my view of life, but in the case of that character it becomes the initial trauma which sets him going. It becomes his priority. Dick Gibson goes on to say that he had believed that the great life was the life of cliché. When I started to write the book, I did not know that was what the book was going to be about, but indeed that is precisely what the book gets to be about as I learned what Dick Gibson's life meant. Consider the last few pages of the book:
What had his own life been, his interminable apprenticeship which he saw now he could never end? And everyone blameless as himself, everyone doing his best but maddened at last, all, all zealous, all with explanations ready at hand and serving an ideal of truth or beauty or health or grace. Everyone—everyone. It did no good to change policy or fiddle with format. The world pressed in. It opened your windows. All one could hope for was to find his scapegoat . . .
Now, everything that follows this is a cliché:
to wait for him, lurking in alleys, pressed flat against walls, crouched behind doors while the key jiggles in the lock, taking all the melodramatic postures of revenge. To be there in closets when the enemy comes for his hat, or to surprise him with guns in swivel chairs, your legs dapperly crossed when you turn to face him, to pin him down on hillsides or pounce on him from trees as he rides by, to meet him on the roofs of trains roaring on trestles, or leap at him while he stops at red lights, to struggle with him on the smooth faces of cliffs . . .
and so on. The theme of the novel is that the exceptional life—the only great life—is the trite life. It is something that I believe. It is not something that I am willing to risk bodily injury to myself in order to bring to pass, but to have affairs, to go to Europe, to live the dramatic clichés, all the stuff of which movies are made, would be the great life.
INTERVIEWER
But what if one were aware that they were clichés? Isn't that what causes so much despair in contemporary fiction—that characters can't live a life of clichés?
ELKIN
Dick Gibson is aware that they are clichés. What sets him off—what first inspires this notion in him—is his court-martial when he appears before the general and says that he's taken a burr out of the general's paw—something that happens in a fairy tale. When Dick realizes what has happened to him, he begins to weep, thinking, oh boy, I've got it made—I'm going to have enemies, I'm going to be lonely, I'm going to suffer. That is the theme of that book.
INTERVIEWER
Do the characters in your novels, then, have rather conventional notions of what exceptional is?
ELKIN
Yes, I think so.
INTERVIEWER
James Boswell says that there are "only two kinds of intelligence, the obsessive and the perspectual" and goes on to praise the obsessive while living an obsessed life. Could you comment on this interest in obsession?
ELKIN
It's my notion—and I suppose it's a lot of writers' notion—that the thing which energizes fiction is the will. In the conventional fiction of the nineteenth century, it is the will to get out of one class and make it up into another class. We're no longer so interested in that since everybody more or less has the things that he needs. The conventional drive toward money has been replaced. At least it's been replaced in fiction, and what we read about now—and what I write about—are people whose wills have been colored by some perfectly irrational desire. In the case of Boswell, it is the will to live forever. In the case of Dick Gibson, it is the will to live the great life which is the trite life. In the case of "The Bailbondsman," it is to know the answers to questions that no one can know. In the case of Ashenden in "The Making of Ashenden," it is the desire to find an absolutely pure human being—someone as pure as himself. In the case of Feldman, it is to sell the unsalable thing and to make the buyer pay as much for it as possible. Now these are options that define the characters and that the characters choose as options to define their lives. Their obsessions drive them. Feldman has all the money in the world. He doesn't need to make more. My characters—with the exception of Boswell, who marries money—are well-off. This liberates them to do the kinds of things which people don't really do in real life but which they do do in fiction—to follow their own irrational—but sane—obsessions which, achieved, would satisfy them. Alas, these guys never catch up with their obsessions.
INTERVIEWER
Their obsessions also give you an interesting perspective on the world, don't they?
ELKIN
Yes. I let them stand back and take potshots at the world and make commentaries on this or that, but I am not so much interested in those potshots. It's just that I admire their intelligence. I find it impossible to write about dumb people. While they may be misguided in terms of their obsessions, they are not unintelligent and, by permitting them intelligence as I permit them wealth, I have it both ways.
INTERVIEWER
It seems to me that the metaphor of economics is important in your fiction—Boswell's "turnover, turnover, turnover," Feldman's "unsalable thing," the give-and-take on Dick Gibson's programs, the buying of time in "The Bailbondsman." Does this sound reasonable to you?
ELKIN
Yes. A man named Dave Demarest has said that the major fact in my fiction is the transaction. I would agree with him. Feldman someplace says a sale lost is lost forever, irrecoverable. A profit not made is a profit never to be made—and is irrecoverable. My people do buy and sell, if that's the question you were asking. And I myself in my own personal life am not so much a seller as I am a buyer. I love to buy things. I love being in stores. I love things themselves. I love having money to spend and buying things which are not perhaps the most utilitarian things in the world and may even be vulgar. Department stores, not museums, are the first place I go to in a new city, and I love the position of purchase. My characters tend to be salesmen although, as I talk to you like this, it occurs to me that perhaps I should write a novel about a purchaser instead of a seller.
INTERVIEWER
Would you comment on the germination of Boswell?
ELKIN
A man named Phil London used to teach here at Washington University. Phil was at my house one evening and was telling me how Boswell got to meet Voltaire. He had sent Voltaire letter upon letter, and Voltaire ignored them. Boswell was having none of this, so he travels to Ferney, and he knocks on the door and tells the servant, "My name is James Boswell and as I happen to be in the neighborhood and have been writing your master, I am here to meet him." The servant goes upstairs and tells Voltaire that this nut is at the door, and Voltaire, who had been besieged by all these letters, none of which he had answered, comes down and gives an audience to Boswell. Boswell says, "Hi, Voltaire!" Now, London did not tell the anecdote as I told it to you, but that's in effect what happened. It struck me as being so funny that I thought a modern Boswell, on the make for all the great men of his time, might be the source of an amusing novel.
INTERVIEWER
Why did you decide to make mortality the driving fact of his life?
ELKIN
That's the driving fact of my own life. There isn't a day that goes by that I don't think, "Jesus Christ, how many more months do I have left?" or years, I hope. I am totally preoccupied with death. I mean my own death. Barth, for example, has said that he comes from very good stock and expects to live a long time. Bill Gass thinks that one of the reasons he takes so much time writing his novels—it took him ten years to write Omensetter's Luck—is that he has an infinite amount of time left to him. I don't believe that I have an infinite amount of time left to me. Probably I would be a healthier man if I did believe it.
INTERVIEWER
Is this a matter of concern to you as a writer, as it was to Faulkner: that idea of making a scratch on a stone?
ELKIN
I know what you're talking about. No, I don't think I am making scratches on stones by writing. Whatever happens to me in my career I hope happens before I die. And screw the libraries.
INTERVIEWER
Would you comment on your attitude toward Boswell and especially toward his way of dealing with his own death—hero worship?
ELKIN
He doesn't give a damn for the great. He cares only that the great give a damn for him. He has a good deal of trouble trying to determine just who it is he actually knows. I once met Faulkner at the University of Virginia and shook his hand, but I don't know Faulkner. Boswell determines the only way you can know a person is if the person has said your name, and that's the solution that he finally zeros in on. If someone has said his name, Boswell knows him. Now that means that Boswell is not interested in other men's greatness. He is interested in his own. The idea is to get as many great men to say James Boswell, James Boswell, James Boswell, as possible.
INTERVIEWER
Very near the end of the novel Boswell starts thinking about enclosing all other people; he wants to internalize them . . .
ELKIN
That's in the penultimate chapter of the novel. The death of everybody else in the world is what validates Boswell's life. He grows immense, becomes the ultimate bodybuilder, by destroying other bodies. Boswell is no sycophant; Boswell is a total egocentric.
I like him because he has the energy of ego. I think his is a jerky way of living one's life, but I think a novelist has to like his characters. If you establish a distance between yourself and your character, then that distance is magnified once it gets around to the reader and the reader is, in effect, looking at a character across the Grand Canyon and can't possibly care for him. So, all characters, all protagonists, are ultimately sympathetic. If they aren't the novel fails, becomes silly. This is precisely the failure of Alison Lurie's The War Between the Tates. Miss Lurie clearly despises her characters.
Boswell is a perpetual outsider, and the only thing that gives any vitality to his life is trying to get inside those doors and up those goddamn stairs. At the end of the novel, he could have knocked down that barrier, could have produced credentials that would demonstrate that he's Boswell, could have gotten into The Club. But once he's done that, then, by God, he has to die because he's got nothing left to do. Since the thing that keeps him alive is running scared, he has to start all over again. So "Down with The Club."
INTERVIEWER
Would you comment on the Johnson-Boswell parallels?
ELKIN
I actually did read all the Boswell journals that were available at the time. I found that there was a kind of serendipity because I was reading the journals after I had already conceived of and begun to write the novel. I found that he had an illegitimate child, as does my Boswell, and that he was married to somebody named Margaret. I had already named my Boswell's wife Margaret when I discovered that the original Boswell's wife's name was Margaret. I also made him come from St. Louis because Boswell came from Edinburgh and it seems to me that St. Louis is to America what Edinburgh is to Great Britain.
INTERVIEWER
Would you tell us how A Bad Man began?
ELKIN
Again, with a friend. Al Lebowitz was telling me about a lawyer here in St. Louis who had been caught out in some shady deal and had been sentenced to a year in jail. It struck me—what must it be like for a man of the upper-middle class to have to spend a year with pickpockets? The mixture of classes is a very attractive theme. There is a basic fascination in the situation—what it must be for a man who never split a Republican ticket in his life, as Feldman says, to be thrust into a jail with lowlifes. But that itself would not make a novel, so I upped the ante philosophically and asked what would it be like for a man to be sentenced for his character? To do time for his character? You see, Feldman is perfectly innocent of the charge that actually gets him into jail. It was a machine error—an error in the IBM accounting system. They don't put him in jail for doing those favors. They put him in jail for something that, in fact, he is innocent of. And the real thing he is in jail for is his character, as the warden knows. Yet Feldman is not the bad man in that novel. The bad man is the warden. Feldman ain't exactly a sweetiepie, he is capable of all kinds of cruelty in the name of energy. But as far as I am concerned, the real son of a bitch in the book is Warden Fisher.
INTERVIEWER
What about the setting? It's no real prison.
ELKIN
No, it's no real prison. As one character says, "It's a whole country of penitentiary we got up here." After I was about 150 pages or so into the novel, I tried to get into a prison to see what a prison was like. That's very hard to do, unless you commit a crime. I wanted to see how far off I was, so I went through the Walpole State Penitentiary in Massachusetts, and it was one of the most boring afternoons I have ever spent in my life. I am surprised that men can come out and still be sane creatures because they have absolutely nothing to do. I was in one room, for example, where the prisoners were all assigned to bristle brushes. That would be perfectly terrific if it weren't for the fact that they had a brush-bristling machine in the room that could bristle a hundred brushes a minute. They had these ninety prisoners and just this one machine, so eighty-eight of the prisoners are sitting around the walls of the room and just two prisoners get to work the machine for an hour, and then the others get to work the machine. They aren't allowed to talk to each other. Though I was very bored with that prison experience, I went back thrilled with the notion that my prison was so much better than their prison. If I were a penologist, I would make the prisons more like mine because at least the prisoners wouldn't get bored.
I was aware of the Kafkaesque tone of some of this stuff, and I wanted to short-circuit that by suggesting that Feldman was aware of it, too. That's called cheating. I tell myself this for my own good.
INTERVIEWER
Did you do research for The Dick Gibson Show, or have you been a longtime radio . . .
ELKIN
I'm a radio listener. I have more radios in my house than you could imagine. And I was just saying to Joan yesterday, "By God, Joan, there's a new radio out. We've got to get it. It gets nothing but television stations." You weren't upstairs when you were at the house yesterday, but I have every conceivable kind of radio, and I listen. I really listen to the radio.
INTERVIEWER
In The Dick Gibson Show did you set out to qualify the romantic heroes in Boswell and A Bad Man?
ELKIN
No, but in fact that's what happens. Dick can't stand anybody's obsession but his own, which is largely the plight of myself and yourself, probably, and everybody. He's opened a Pandora's box when he opens his microphones to the people out there. When they find the platform that the Gibson format provides, they just get nuttier and nuttier and wilder and wilder, and this genuinely arouses whatever minimal social consciousness Dick Gibson has. The paradox of the novel is that the enemy that Gibson had been looking for all his life is that audience. The audience is the enemy. Dick builds up in his mind this Behr-Bleibtreau character. That Behr-Bleibtreau is his enemy. That's baloney paranoia. The enemy is the amorphous public that he is trying to appeal to, that he's trying to make love to with his voice. Dick Gibson is a bodiless being. He is his voice. That's why the major scene in the novel is the struggle for Gibson's voice.
INTERVIEWER
Who is Behr-Bleibtreau? There is a suggestiveness to his name that I can't articulate.
ELKIN
Neither can I. I used to know a guy named—Bleibtreau. Hyphenating the name made it more sinister than just Bleibtreau itself. You know, you could almost put Count in front of it.
INTERVIEWER
Is that why Dick thinks that Behr-Bleibtreau is the enemy—because there is this suggestion of cliché?
ELKIN
That's right. Behr-Bleibtreau is a charlatan—that's what he is. He has this theory of the will that is alluded to in the second section of the novel. And he is a hypnotist, exactly the kind of guy who Gibson sees as out to get him. Of course Behr-Bleibtreau isn't out to get him. When Gibson thinks it is Behr-Bleibtreau calling him from Cincinnati, it isn't. It's just Gibson's own paranoia that creates the conditions for Behr-Bleibtreauism.
INTERVIEWER
Is radio in the novel an index to social change, perhaps the devaluation of language?
ELKIN
That was not my intention. I could make a case that once upon a time there were scripts, a platform and an audience out in front of Jack Benny and Mary Livingstone, that radio then was a kind of art form and now it is an artless form in which you get self-promoters and people with theories about curing cancer by swallowing mosquitoes or something. Language, since it is occurring spontaneously rather than thought out, is devalued. But actually, in real life, modern radio talk shows are much more interesting than The Jack Benny Program ever was because you are getting the shoptalk of personality.
INTERVIEWER
Dick is a professional word man, and by the end he is reduced nearly to silence. Is this your "literature of exhaustion" that Barth talks about, a comment on the futility of language . . .
ELKIN
No. Certainly not.
INTERVIEWER
He does say less and less as the novel moves along.
ELKIN
Right. And the other people say more and more. That is intentional. But Dick makes an effort to get his program back from the sufferers. He starts hanging up on people. Then he gets the biggest charlatan—Nixon—at the end. Wasn't I clever to invent Nixon before Nixon did?
INTERVIEWER
In bringing together so many stories and storytellers, did you have a thematic unity in mind?
ELKIN
I had in mind, as a matter of fact, The Canterbury Tales, particularly in that second section where the journey to dawn is the journey to Canterbury. Although there are no particular parallels, when I was sending out sections of the novel to magazines, I would call the sections "The Druggist's Tale" and so on. There is that choral effect of the pilgrims to Canterbury.
INTERVIEWER
Do you still write short stories, or do you feel your gifts are best suited to the expansiveness of the novel?
ELKIN
The last story I wrote—probably the best story I ever wrote, "A Poetics for Bullies"—was written for The Saturday Evening Post in 1964 (although the Post rejected it and Esquire picked it up). They wanted to do a children's issue, and they asked me to write a story about kids. Joan had made a bow and arrow for my son Philip. A kid who lived behind us said to Philip, "I can do magic; I will give you two arrows where there are one." The kid then broke the arrow, and that gave me the initial idea to do a story about bullies. Actually, it is a companion piece to "On a Field, Rampant," the first story I wrote that I felt was any good. The character in the earlier story is unnamed but thinks he is a king, and he really is the John Williams of the bully story.
INTERVIEWER
Are the stories in Criers and Kibitzers collected consciously as studies in heroism?
ELKIN
No. Collected consciously as studies of complaint and utzing, a Yiddish word for troublemaking, getting people to do things they don't want to do. There are two kinds of people, according to the title: the troublemakers and the troubled.
INTERVIEWER
"The Bailbondsman" is my favorite in Searches and Seizures. Alexander Main seems to me to be the representative Elkin man.
ELKIN
I would agree with that—because he gets the best of other people. And he is a great salesman. He talks people into taking bond, or he decides not to give them bond, purely on whim. He is truly a master not only of himself but of absolutely everyone else who comes in contact with him. He is a scholar, and he is a rat bastard. But I admire him for his rhetoric. I, myself, am closer to Main than any other character.
INTERVIEWER
Could you comment on the immense power of your protagonists within their novels? Does it reflect the novelist's power over his characters?
ELKIN
I don't think it has anything to do with the novelist's power over his characters, but it is clearly a pattern in my fiction. To have each protagonist his own novelist—if that's what you mean—yes. Each protagonist moves the other characters around as though they were pawns, or tries to.
INTERVIEWER
Do you read academic criticism on your fiction?
ELKIN
On mine, yes. But I don't read it on anybody else. If you write an article about me, believe me, I'll read it because I am profoundly interested in myself.
INTERVIEWER
If you were going to write an essay on your own work . . .
ELKIN
I did. I did write an essay on my own work when I wrote the introduction to Stories from the Sixties. That contained most of what I think about writing.
INTERVIEWER
If you were going to write this essay in a somewhat less indirect form than that introduction, what would you talk about?
ELKIN
I couldn't do it . . . I suppose it would be a retaliatory essay. Some reviewers, particularly Christopher Lehmann-Haupt, are hung up on this notion that I do routines, that I do shtick. I do not do shtick. What I do are organized routines and connected shtick—shtick upon shtick upon shtick until we have a piece of carpentry. I am not a stand-up comedian, and what I would try to do in such an essay would be to demonstrate the form that exists in the novels. Reviewers write about the hilarious passages—who gives a shit about the hilarious passages? Hilarious passages are easy to write. There are passages that aren't so hilarious that I like much more. And metaphor: Feldman is talking about a girl lifeguard in a white bathing suit, and he says that he sees "the dark vertical of her behind like the jumbo vein in shrimp."
INTERVIEWER
What kind of a mind does a writer have that "the jumbo vein in shrimp" is present and available for him to get down on the page?
ELKIN
I don't have it here in my office now, but if we were over in my carrel, where I do my writing, you would see a J. C. Penney catalogue, an enormous 1974 J. C. Penney catalogue and its big supplement. Now this guy in the new novel, The Franchiser, has a Radio Shack franchise. He is describing what these radios, phonographs, and stereos look like. A speaker is black as a domino, some damn thing like that. Of course I invent that, but I invent that by studying the photographs of those speakers. I try literally to look at what I am writing about. In "The Bailbondsman," I didn't make up a single thing in the descriptions of teeth. All those teeth are right there to be seen in the Victoria and Albert Museum of Natural History. I went with a pad and pencil and copied down the shapes of those teeth. I'm not a very good artist, but I could get the rough structure and by God there was a tooth with three holes that looked exactly like a goblin's face. It would look like a goblin's face to you. There was another thing that looked like a piece of cork. That's the only thing it looked like. So it's not a question of making imaginary leaps or having a third eye. It's a question of using the two eyes I have—and looking hard and close at things.
INTERVIEWER
Is that what you try to teach your writing students?
ELKIN
Yes. That kind of observation can be taught. I also try to teach them how to recognize a situation, what legitimately is a situation and what isn't. Those are the only things that can be taught. I can't teach a person style. I can't teach him to write, in terms of language. But I can teach them that things look like other things.
* The quote actually reads, "Flaubert me no Flauberts. . . . Shakespeare and Cervantes and Doustoievsky [sic] were great putter-inners—greater putter-inners, in fact, than taker-outers and will be remembered for what they put in."
Author photograph by Nancy Crampton