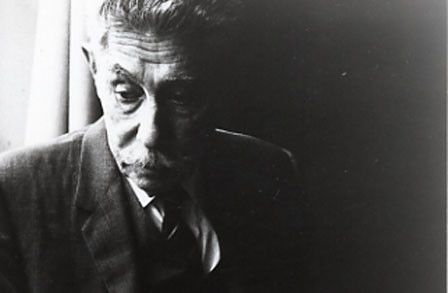 Rowland Scherman
John Hall Wheelock passes his ninetieth birthday in September 1976. Born in Far Rockaway, New York, he was brought up in the neighborhood now occupied by Rockefeller Center, not far from the present location of Charles Scribner's Sons, where he worked as an editor for many years. He spends his summers in the lowland sea-country of Long Island's South Fork—in the background of much of his work—in a house to which he has returned for at least some part of every summer of the past eighty-seven years.
His first publication was a poem in the Morristown School paper in the year 1900. He has published twelve volumes of his poetry; in 1962, the year after the publication of The Gardener and Other Poems, he was awarded the Bollingen Prize. The eight-volume series which he edited, Poets of Today, 1954-1961, gave first book publication to twenty-four new poets, James Dickey, Robert Pack and May Swenson among them. He has also written a prose book, What Is Poetry? (1963). In 1970 he published By Daylight and In Dream: New and Collected Poems, 1904-1970. He continues to publish poems in The New Yorker, The Atlantic Monthly, The Southern Review, and elsewhere. A new volume of poems will be issued in late 1976 under the title Address to Existence. He is a member of the American Academy of Arts and Letters, a director and former chancellor of the Academy of American Poets and an honorary consultant in American Letters to the Library of Congress.
When we called on him in his New York apartment, the front door was ajar, as he had told us it would be. He was waiting in the dark in a straight-back chair at the end of the hall, silhouetted in gray afternoon light from the living room beyond; he was dressed formally in a vested suit and tie. He is somewhat stooped and walks slowly, using a cane, but he rose immediately to greet us, and insisted on helping us hang up our coats. He ushered us into the living room and without further ado began to talk about his long life and poetry.
INTERVIEWER
Do you think America could ever produce a poet who would appeal universally to readers with many different levels of erudition? Do you think that such a poet would have to have a strong aural quality?
WHEELOCK
I think it was a Spanish poet—it may have been Calderón—who said that all his life he had been like a swimmer who could only use one arm, because with the other arm he had to hold his poems up over the waters. The things that he really cared about. It's strange, but we live in a world which is even more alienated from poetry than it used to be; most people don't care or know anything about poetry. Most civilized, cultivated people know something about painting, they go to galleries; they know something about music, they go to concerts; but no one cares or knows anything about poetry except the poets themselves. Since the poets don't expect anyone else to read them, many of them have devised a way of communicating with one another through their poems, and readers often find such poetry difficult. Prose is, of course, easier.
INTERVIEWER
How would you define the difference between prose and poetry?
WHEELOCK
Robert Frost once made a witty definition of poetry. He said: "Poetry is what gets lost in translation." Since every word in a poem is precious, every syllable counts, and every pause gives a certain effect, it's difficult to translate poems, because different languages make different sounds, and words with the same meaning may differ in their associative auras. In fact, so often a great poem is just sheer good luck because the language permits certain effects to be made by someone with long discipline in the use of language, who has a flash in which the words and ideas just fall in a particular way. If you have the instrument in good order, and you've worked at it for a long time, and are disciplined by long practice, even by a lot of five-finger exercises, work that was thrown away—you may be blessed by having things happen that are a little beyond you. "Chance aids the ingenious artist," as Proust has said.
INTERVIEWER
Do you have an example out of your own experience?
WHEELOCK
I learned it very early in life. Once, when I was in college, I went to the theater to see Richard Mansfield acting in Richard III. In the tent scene, when Richard is lying there, with the ghosts—various people he's murdered—speaking to him, I heard one of these voices say, "Sleep on, I lie at heaven's high oriels." I thought, God, what a wonderful line; I wish I'd written it.
It can bother you that you haven't. So, I made up, while I was sitting in the theater—I was with my friend Van Wyck Brooks—a short poem which was eventually published in The Harvard Monthly. I used a Latin title, "De Coelo." The epigraph was "Song on a line from Shakespeare." Well, I began to get letters from people who wanted to know where this line occurred in Shakespeare. Among them was George Lyman Kittredge, a noted Shakespearean scholar and my professor in English. He looked it up in the Shakespearean concordances. No such line occurs. In fact, there isn't any line in Shakespeare that begins, "Sleep on . . ." So, when I published my second book in 1912, I simply took out the epigraph. But I know that I heard that line! In that theater! One reason I know it was not my line is I consulted a dictionary to find out that an oriel was a window in a balcony that you could look down from. I had sensed that it was some kind of window, but I didn't know. I looked it up, afraid that it might be the wrong kind of window and wouldn't fit into the poem. Now I have taken that line on as my own, yet no one can convince me that I didn't hear it.
INTERVIEWER
This would suggest that writing poetry involves some sort of mystical property.
WHEELOCK
Well, making a poem is like having a love affair with yourself. Artists are, in a sense, communing with the "anima," which is the feminine principle in a man, and what is born of this is not a living creature, but a work of art. Of course, some of the best things that you do seem utterly hopeless at their conception. It's hard work on them that brings them around.
INTERVIEWER
Has this been consistently true of your writing, that you had to devote a lot of work after the original conception of the poem?
WHEELOCK
Oh, yes. The Library of Congress has many of my manuscripts of the last thirty years; sometimes there will be as many as fifteen or sixteen versions of a poem. Of course, there is such a thing as carrying it too far. John Butler Yeats, the painter, the father of William Butler Yeats, would start out painting a springtime landscape in April but was so critical that summer would find him still working on it, which required changing it to a summer landscape, and eventually it would end up as a snow scene. He ruined his paintings by working over them too long. You can do the same with a poem. You've got to be the judge of when to stop.
INTERVIEWER
May I ask why you are a poet?
WHEELOCK
I can't think of myself as not wanting very much to be a poet. Of course, "poet" is rather a sacred word, isn't it? Wasn't it Robert Frost who said that no one has a right to say, "I'm a poet" because "poet" is a word of acclaim?
INTERVIEWER
Do you feel that your poetry has an available audience? Is this an important consideration?
WHEELOCK
I'll be ninety this September and it's obvious that a man reaching ninety is not likely to be in full accord with the taste of this period. My poetry is primarily a poetry of feeling. Feeling has been rather played down by modern poets, partly as a result of what the world has been through with its depressions and wars. The nerve of feeling has been exhausted. The modern reader will not tolerate a direct attack on his emotions. It seems that even the driest expression of emotion in poetry presents obstacles to readers in key with the mood of these times. So that time, a good deal of time, will have to pass, before my work comes into more general recognition again.
INTERVIEWER
Which writers have influenced you most?
WHEELOCK
Well, I've been fortunate enough, in the course of a long life, to have accumulated memories of writers that go back quite far. I even saw Walt Whitman . . . though being a baby I was not aware of it. My father held me up on a ferryboat—I don't know whether it was going to New Jersey or coming to New York—and said: "Do you see that man?" He turned my head—my mother was with him—toward Whitman, who was standing in the bow of the boat, and he said, "That is the great poet, Walt Whitman." Apparently—as my father described it—I refused to look at him, and kept turning my head the other way. I have no memory of this great occasion, not being then equipped to receive the spirit of Walt Whitman, although I suppose for a moment his image was in my eyes.
The sight of Whitman must have made a great impression on my mother. She was a passionate lover of poetry, and saw to it that my brother and I learned poems by heart, every week a new poem. I took a dislike to poetry at the beginning, when as a six-year-old I was supposed to memorize poems by Longfellow with such lines as "All are architects of fate, / working in these walls of time." But the practice gradually infected me with a feeling for poetry which increased as time went on. When I was at Harvard in 1906, I was so influenced by Swinburne that I kept after my father, saying that I wanted to go over to England to see him. My father wasn't very well-off that year—it was a recession year—but he said, "Well, since you're so persistent you can go, but you'll have to go steerage; I can't afford to send you even cabin class." I said, "Well, that's fine with me," and I went over in the steerage and it wasn't bad at all. But I made the pilgrimage stupidly; I didn't get a letter of introduction. All I knew was that Swinburne was living with Theodore Watts-Dunton—a much lesser poet but quite well known as a critic—in "The Pines" in London, in a part of the city called Putney.
So I just went over and hung around "The Pines" for several days. I waited for I forget how many days, and then one August afternoon Swinburne appeared—this very short man wearing a turban—an odd idea, it was very hot—and I was disappointed because he was so short, almost giving the effect of being a dwarf—and he was talking to himself. At that time he must have been about seventy, and, of course, to me, as a youth, he seemed very old. As he came near me I thought I was going to faint, because my heart began palpitating so rapidly that I didn't know whether I'd be able to make it, I mean walk the rest of the distance without fainting. But I did, and as he passed me I touched his coat with my hand, and I hardly dared look at him. You must remember that I'd been reading Swinburne devoutly and knew many of his poems by heart. He had a very powerful influence on any poet, particularly a young poet, because he has such a marked style; I think after Pope probably the most marked style of any English poet. So, seeing the source of all this verbal magic and music, the poetry that so intoxicated me, was almost like, well, seeing God. I survived it, however, and passed him, and I went back to my room in a small, inexpensive hotel and lay down on the bed and just thought about it all the rest of the day. I went back for several days in the hope of seeing Swinburne again, thinking that I might even have the courage to say a word to him. I'd written him many letters, and also I'd written poems and an essay about him, which came out in The Harvard Advocate, and I had sent these to him. But, of course, I added in all my letters, "I would never forgive you if you answered this. Do not answer it, please." The thought of his being bothered to answer it—it was real hero worship.
There are one or two other writers I can think of who were a strong influence. Several years after graduating from college, when I was living in New York, Edwin Arlington Robinson, to whom I had sent a copy of my first book, The Human Fantasy, invited me to come to his apartment. I say his apartment—he was very hard up all his life but he had warm friends, and during the summers he was usually living in the empty apartment of some friend who was out of town. Actually, it was in the apartment of another contemporary, a poet, Louis Ledoux, that I went to see Robinson that evening. A lean, introverted, shy, aloof man. It was very flattering that he had asked me. He sat down at one end of the room and offered me a seat at the other. Everything was swathed in these sheets put over furniture in apartments in summer. The first remark he made was, "I can't offer you a drink or a cigarette because I have none." But we had an interesting talk that influenced me, excited me, because here was a man who by that time had published two remarkable books. Theodore Roosevelt, then president, had taken notice of the second book—The Town Down the River, I believe—and had written an article about it in the magazine that he was connected with, The Outlook.
INTERVIEWER
You were an editor at Scribner's from 1926 through 1957—during the time of its great prominence under Max Perkins . . .
WHEELOCK
When I moved upstairs from the bookstore to become a junior editor, Max Perkins was head of promotion. Max was a man of great individual eccentricities, and a great talent, as it turned out, as an editor. Among his peculiarities, at that time, was the fact that he always worked standing up at a tall lectern; he never seemed to get tired. Also, he often wore a hat indoors. This protected him to some degree. He had a great many people to see and often at inconvenient times; he could always say: "I'm sorry, but I was just going out," and they would see he had his hat on.
Odd, but Scribner's seemed to have a premium on individualists. One of Perkins's associates was Charles Dunn, a very perceptive editor; he never would take an increase in his salary; he never would dictate a letter or write jacket copy for a book, see a book through the press, or do any of the other duties that fall upon editors. He devoted himself completely to reading manuscripts. He was the first to read the manuscripts that came in. A big pile of them was put in front of him where he sat with his feet on the desk, smoking a pipe. He had such a real sense, not only of literary values but also of what could be sold, that he was a most valuable man; he remained there during most of my editorial career.
But it was Max with whom I worked most closely. For many years I was his lieutenant. My office was moved next door to his, and we had an effective voice in choosing manuscripts. It was a fortunate time when talents were coming along, and we managed to find many books. When Max and I agreed that a book should be published, the process then was to go to Mr. Scribner's office—all the editors would be assembled there—and tell him that this book was one that we recommended. Sometimes he would go along with us, and sometimes not. This Mr. Scribner was Charles Scribner II. His brother, Arthur Scribner, was the other member of the firm, but Mr. Charles Scribner was the dominating one.
INTERVIEWER
Did Mr. Scribner ever turn you down on books that later became important?
WHEELOCK
Yes. Once or twice books were turned down by Mr. Scribner because he was jealous of keeping his imprint free from anything that seemed unworthy or tasteless. He was a man of great courage; he would take chances, but there were some things that he was adamant about. When Scott Fitzgerald's first book, This Side of Paradise, came in, Mr. Scribner, after reading it, simply did not want his imprint on it. Only our great determination—and that of some of the other editors—that the book should be published made Mr. Scribner change his mind, and only on the condition that Fitzgerald cut and rewrite the book in certain sections. Even then, Mr. Scribner was not quite sure.
The story of The Sun Also Rises is more striking. At a meeting in his office, Mr. Scribner said that he did not care to have his imprint on the book. There was a long silence. Max could be very silent and not feel that he had to talk, not even to relieve embarrassment. Max was standing. Mr. Scribner, who was seated at his desk, looked up at him and said: "Max, you haven't said anything. I'm turning the book down. Haven't you got something you'd like to say?" Max finally said, "Yes, I'd like to say this: That if we are going to turn down such a talent we might as well go out of the publishing business. We cannot go on publishing Richard Harding Davis, Thomas Nelson Page, George Cable, Henry Van Dyke, and other worthies. If we're going to be publishers, we have to move along with the talents of the time, even though they may offend . . . well, even though they might offend our kind of taste." Finally Mr. Scribner asked Max: "Will Hemingway change some of the four-letter words? Take them out?" Max said, "Yes, he will take some of them out, I'm quite sure." "Which words will he take out?" said Mr. Scribner. Whereupon Max hastened to his office, got a piece of paper, came back and wrote down the words. Mr. Scribner looked at him (he had a very mischievous sense of humor) and he said: "Max—if Ernest knew that you couldn't say those words, that you had to write them down, he'd disown you!"
INTERVIEWER
I suppose you must have seen a lot of Thomas Wolfe.
WHEELOCK
Max, of course, saw more of Thomas Wolfe than I did. In fact, Wolfe absorbed so much of Max's time, and indeed of the time of everyone connected with the editorial department, that Mr. Scribner felt he'd have to let him go because other authors resented the excess attention Thomas Wolfe was getting. He slept in the office; he lived there, he was a tremendous talker; he would go from one office to another with this endless flow of language. He was an impetuous, impulsive man who in his normal state of mind, which was most of the time, could be very charming. But when he had a drink or two (and he was rather inclined to drink more as he tired from his tremendous labors), he could be really paranoiac, and almost manic. But the feeling that Max Perkins had for Wolfe as a writer was extraordinary . . . I always felt there was more to the relationship: Max had no son; and he had a strange attitude about women which is hard to reconcile with his courtesy and his affection for his wife, but the fact was he regarded women as inferior; he seemed in some ways to resent them. He could be very severe with his wife. They had five daughters, so he sat down to breakfast with six women. He really longed for a son and he made Tom his son. As you know, Tom in the end betrayed him. Well, "betrayal" perhaps is the wrong word. But in his paranoiac state of mind, he conceived the idea that Max had ruined his books by playing so large a part in editing them and helping him. Max had objected to certain points of view in Look Homeward, Angel which reflected Tom's interest in communism . . . involving Eugene, the hero of the book, in communist and liberal movements at a time when, according to the background framework of the novel, no such things were going on. Because of this Tom got the idea that Max was an old Tory and was taming his book and had ruined it. He wrote letters to Max that were really dreadful. They were not found until after Max's death because Max was so ashamed of them he had hidden them in his desk. But, as you know, on his deathbed, Tom wrote that famous letter to Max which made all the difference. He admitted that Max was the one who had made his work possible, and he asked forgiveness and said: "Let's think of the day we walked over Brooklyn Bridge together, and the book had been published, and the first reviews were coming in, and the world with all its glory and beauty lay before us, and we were happy. That's the way I think of you now. I've met the dark man, and I don't think I was too afraid of him. But I know I have to go and I wanted you to get this before that happened."
INTERVIEWER
Did you work with poets as an editor?
WHEELOCK
We had a very fine list of poets at Scribner's . . . Louise Bogan, Conrad Aiken, John Peale Bishop, James Dickey, May Swenson, Allen Tate, and so on. In varying degrees they could be as touchy as Wolfe was with Max. I remember after years of friendship with Louise Bogan she called me up one day at the office and said, "I have a bone to pick with you. Appear, please, at the Child's restaurant at 72nd Street . . ." So I hurried over there, and she belabored me with the most fantastic nonsense: "You never bring me in to Scribner's except by the back door," she said. I said, "I don't know what you mean. There's only one door. You get off the elevator and you're in the editorial department." "Well, you never introduced me to Mr. Charles Scribner." I said, "We don't introduce authors to Mr. Charles Scribner. He's a very busy man and he doesn't specialize in poetry or poets, and he hasn't the time to be introduced to authors." "Well, just the same . . . you always brought me in by the back door. You were ashamed of me." I said, "Louise, I don't feel in the mood for quarreling today. If I were going to quarrel with anyone, I think I'd like to quarrel with William Carlos Williams, or maybe with Rolfe Humphries." But her sense of humor had deserted her, and she left Scribner's. She went to a very good outfit run by a man named Cecil Hemley—the Noonday Press. She never came back to us. My wife and I were very fond of Louise and saw a good deal of her, but she never got over taunting me about our "quarrel." We'd be up at the Academy and she would be introducing me, and she'd say, "Mr. Wheelock used to be my editor, but we quarreled," to make me feel silly, you know. She loved to tease. She was partly Irish . . . but then, so am I. So we managed to get along.
INTERVIEWER
Did you write at night after you worked your day as an editor?
WHEELOCK
Yes. I had to, or felt that I had to. I couldn't resist the desire to make poems, so I made them at night, I made them on weekends. But as an editor, there's no limit to the work. So after I became senior editor, for many years I didn't publish a book and I hardly ever wrote a poem. Yet those twenty years of editing stand as a divide between my lesser work, and my best.
Before I became an editor, I just wrote whenever I got a chance, at night and on vacations. I learned early to do my work in my head. For many years I had a vacation of only two weeks; I would work during that time, walking along the beaches of Bonac and composing poems in my head and all the time revising them, too, in my head. I wouldn't write down any of them. When I got back to the city, I would write them down when I had the chance.
I know my poems by heart. All the various revisions of them. You work so hard over them, you know, that you never can forget them. I used to give readings from time to time—I can't do this now—but while I would always have the book there in case I lost my way through nervousness, I rarely had to use it. At night, when I can't sleep, I can say poems over endlessly. Not mine, necessarily, but any poems that come to mind. It's a great resource. Yet most poets today are visual. Marianne Moore told me that she didn't know any of her poems by heart. Robert Frost knew most of his. But some of the best poets couldn't recite any one of their poems.
INTERVIEWER
Do you try to write every day now?
WHEELOCK
Oh heavens, no. I never did try to do that. Certain things will start a poem in you. It could be something no more important than the sound a broken radiator makes in a room, the knocking of water against pipes, or a murmuring sound, a steady sound . . . the sound of grasshoppers and cicadas in the autumn in the countryside . . . these things will start the feeling of a poem, though the poet doesn't know what's coming or what it's going to be. Or an incident. I was in the street the other day. I walk with some difficulty now, with a stick. A boy rushed into me by mistake shouting, his head back this way . . . rushed right into me so that his arms came around me like this. Almost knocked me over. I thought about that random momentary encounter between two strangers, and in it the possibility of a poem. I didn't know what kind of poem it would be, but I made a note of it in my notebook.
INTERVIEWER
I gather music has been an influence, a source of inspiration.
WHEELOCK
Oh, music is to me the supreme art . . . a revelation of reality. In music you get glimpses of something that you can't put into words, not even in poetry. In fact, music is a bad influence on a poet because listening to music lulls your critical sense. In the euphoria and exaltation of listening to music you are apt to start a poem, which sounds fine until the music stops, and then it is nothing; your critical sense comes back. Music, perhaps, comes nearest to reality . . . The mathematical relationships within the universe made audible. All the arts tend to that, but in music it seems to succeed, at least for me . . . I don't see how anyone could listen to a Bach fugue without feeling that he's coming as close to reality as possible.
INTERVIEWER
Does the poet have any advantage over the musician?
WHEELOCK
If a poet is really good he can give you a moment of reconcilement to the tragic nature of things. Poetry, as with all the arts, enables us to reexperience. Most of us pass through life in a state of semi-anesthesia, with life itself blotted out by the business of living. We shut out life itself in order to carry on and survive, and the function of the arts is to pierce that shield and make us suddenly reexperience something that we've always known but haven't been experiencing anymore. Shelley said it when he described poetry as stripping the veil of familiarity from things. It can only be done obliquely or by implication. A certain musical phrase, or combination of sounds by Beethoven, will arouse feelings of intense sadness which would not have been aroused if Beethoven had just put his head down and cried.
INTERVIEWER
Have you been aware of a change in your themes as you have grown older?
WHEELOCK
Yes. I've written a great many poems about age, and about the experience of growing old, and being old. That is natural in going through the experience. I didn't write poems about it until "Song on Reaching Seventy," which seemed to me at the time a vast age. One has no conception, in youth, of what it will be like to be very old—no conception whatever.
INTERVIEWER
It doesn't affect your wanting to write . . .
WHEELOCK
No, it doesn't. Of course, as you get older, the urge to write is less because making poems is tied up with what you experience. As you get old and can't go out very often, being confined to one or two rooms, and all your friends are dead . . . or most of them . . . you see few people . . . you see less of the world . . . there's less experience; and consequently less of what you do with experience.
INTERVIEWER
What's your reaction to today's school of the absurd, to the prevalent cynicism?
WHEELOCK
This age is a little bit like the age of Queen Anne or the time of Dryden, when the same state of mind prevailed. Cynicism, disillusionment, and wit take the place of feeling. But I, myself, don't feel cynical or disillusioned about life. It has been a tremendous experience. To be conscious is a great privilege, and it's only maintained by the most enormous effort . . . think of the work that the heart does, and all the other organs, coordinated like an orchestra to maintain this little thin film of consciousness; the cessation of any of these activities or any of them getting seriously out of order, and consciousness is gone. I think about growing old a great deal. In one of my longer poems, "Night Thoughts in Age," I record the thoughts of an aged man sleeping in a room which he had occupied as a child and then later as a boy, and as a youth and as a grown man, and feeling the beauty of the place and the presence of all the beloved people, no longer alive, who had lived there.
Everything is in flux. Our places are taken by others. The generations can't be poured into one life span. It almost seems as if time was an invention to make it possible to provide space for more to come, and with them their poetry.
Author photograph by Gerard Malanga