Interviewed by Quentin Vest, William C. Woods
Issue 78, Summer 1980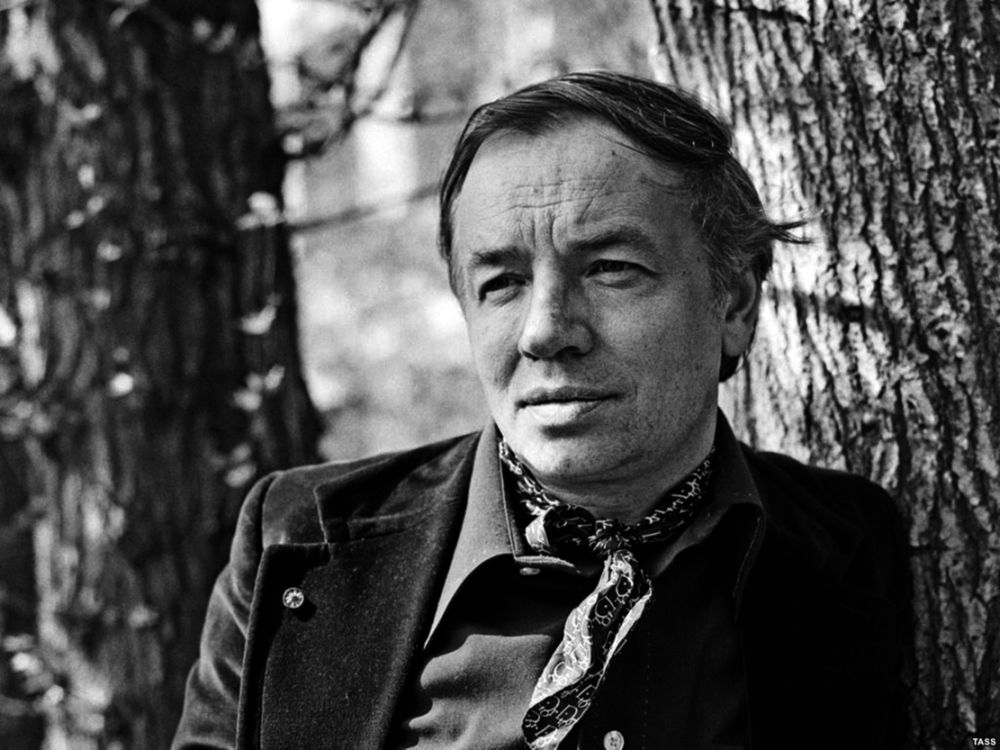 In 1963, Nikita Khrushchev personally warned Andrei Voznesensky to get out of Russia. The warning came too late. Public readings by writers including Voznesensky and Yevtushenko had already grown to the point that huge stadiums could hardly contain the audiences clamoring to hear the new poetry. Voznesensky's reply was something new as well.
"I am a Russian poet," he announced, "and I am not going anywhere."
Since that moment, neither the Russian public's love affair with Voznesensky's poems nor the suspicions his work arouses in conservative Soviet circles has abated in the slightest. Although he has been in and out of official favor with his government, it is now an international audience which sponsors his devotion to poetry and his belief in its powers to change the world's spirit.
Inevitably, his art has become as cosmopolitan as his fame; his Russian themes and sources flow easily into poems about strippers and soft drinks; from his visits to Europe and America over the last fifteen years, his poems are filled with references to Marilyn Monroe, blue jeans, Paris motorcycle gangs (which he calls "hellhounds with pisspots on their heads").
He is a small man—about the size of a Beatle—with firm Slav features. When he reads, his voice is equal to every music his language offers, and he whips his poems toward the audience with a right arm like a tweed cobra; he delivers his lines with a passionate, almost frightening intensity. During performances, crowds have been known to rush the podium to touch the cuffs of his trousers; after them, poetry groupies seek the kind of backstage benediction Dylan Thomas used to like to give. His name shows up in literary journals while his face appears in fashion magazines. He is a legend in Russia; he is recognized in small airports in the American South.
In the dark, in the huge sports arena,
fourteen thousand great bards are packed tight.
Now I, the last poetry reader,
will step into the glare of the lights.
INTERVIEWER
In 1963, you and Yevtushenko and some of the other poets were Russia's equivalent of the Beatles.
ANDREI VOZNESENSKY
Yes. That was when rock and roll was forbidden in Russia. Suddenly young people who were longing for that kind of thing started coming to our readings in sports stadiums and applauding for us as if we were rock stars. We would find ourselves reading poems for 14,000 people. Now those who want to hear folk music or rock music can have it, and I'm happy to see poetry separating itself from that.
INTERVIEWER
With so many rock bands in Russia now, can you say whether the death of Elvis Presley had very much impact? Is he taken seriously?
VOZNESENSKY
Certainly not seriously. But for many young people he was a symbol of mass involvement with rock, of the internal rhythm of the human being.
INTERVIEWER
One reason I asked is because you became famous when you were very young, and in the West, people who get famous early in life, for example Presley or the Beatles, find it impossible to continue later on at their original levels of energy.
VOZNESENSKY
Yes. It's very strange to me to be talking about my own fame—certainly I am known, yes. I don't worry so much about being popular. In the beginning, you see, we were a group, an angry group of younger poets like Akhmadulina and Yevtushenko and myself. It is a Russian tradition to listen to poetry, but before us there had been no big audiences. A poet didn't sell many copies of a book of poems. If a poet sold a thousand copies, he was very happy. Then we began these readings, and the audiences grew—at first small audiences, and then several hundred people, and then finally as many as 14,000 in a stadium; it was like a sport. For me, it was a little boring. Because it's impossible for 14,000 people in a soccer stadium to hear you. It's impossible to speak intimately.
INTERVIEWER
Is there a Russian Bob Dylan?
VOZNESENSKY
There are several.
INTERVIEWER
I ask because at least some of Dylan's work is accorded the status of poetry—
VOZNESENSKY
Certainly; but as I said, I'm now more interested in the distinctions between poetry and rock.
INTERVIEWER
Is there any similarity between the audiences that would go to hear Dylan and yours in the Soviet Union?
VOZNESENSKY
It is impossible to compare American with Russian audiences. In Russia I don't need advertising. They put a small piece of paper on a door somewhere announcing a reading and that's enough; in Russia everybody talks to everybody else, word gets around, certainly in Moscow, and everybody comes, even if they don't like poetry, just to look at you. But here, for example, if you stop somebody's car and say, "A Russian poet wants to read," you hear, "What? A Russian poet? Read a book? What?"
INTERVIEWER
Even so, you have been very fortunate in having your works translated into English by some of our best writers.
VOZNESENSKY
Yes, I work with them. I especially like translations by W. H. Auden, Stanley Kunitz, and William Jay Smith. But many others, too—all are very good. I've learned a lot of new English words that way. I learned some new words on this tour. Speeding!—I like this word. I didn't know it before. And I always knew the word fuck off, but I didn't know fuckup. So on this trip, I have two new knowledges: Speeding and fuckup. Fuckup I like very much.
INTERVIEWER
You tell a fuckup to fuck off.
VOZNESENSKY
Certainly, yes.
INTERVIEWER
You've sold a great many records in Russia. How many recordings have you done? What are they like?
VOZNESENSKY
I've made four records of me reading my poems and seven albums reading with singers and music. I prefer the ones where I am simply reading by myself. My new album will be ready for release when I get back to Russia. It's three records, actually. One will be of all my pop songs—all my poems that have been made into songs—and another will be me reading my poems. On one of my records we did an interesting experiment. The composer Rodion Shchedrin, the husband of the famous ballet dancer, Plisetskaya, put my voice together with some old Russian music—not folk music but perhaps for a funeral: voices weeping, choir, bells ringing, and lots of noise like today's cities; I recite my poems against this background. I'm like another instrument for him. I'm not a singer, but he uses my voice like an instrument. Sometimes I improvise, and the orchestra tries to follow me. It's most interesting when I'm fighting against the orchestra. I get loud, they get loud, and then they kill me. That's very symbolic of how today's terrible technology, how it kills the soul. They get so loud, that I open my mouth, but no one can hear me. Maybe sometimes I scream dirty words, but nobody understands because it's impossible to hear me. Great noise. And sometimes they accompany me very politely and I fuck them. It's very interesting. It's not just voice and music.
INTERVIEWER
When you write what you call pop songs, do you try to reach the same audience . . .
VOZNESENSKY
No! When I write, I don't think about the audience. I write poems, and then somebody sings them. We have a lot of small groups, as you do here. In Moscow alone we have four or five thousand, maybe ten thousand, small rock groups. And they take your poems and they become songs, and some of them get popular. Two of my poems won prizes last year as songs. One was called "Don't Disappear"; the other was a sort of gypsy rock song. Right now I'm working on a rock opera, based on my long poem, Story Under Full Sail, which is about a young American girl of fifteen and a Russian about forty. It's set in the beginning of the nineteenth century in California. She waits for him for sixteen years and becomes the first nun in San Francisco. The Virgin Mary is one of the characters both in the poem and in the rock opera. The composer I'm working with combines rock music and old Russian church bells and a Russian Orthodox choir—something very new.
INTERVIEWER
I wonder if you think there is a connection between poetry and alcohol, or drugs, or more specifically between poetry and what Rimbaud called derangement of the senses.
VOZNESENSKY
There is some connection. But if you drink a lot it's not so good, because it's instead of. I see more of a connection with sex. Flesh and blood. When you are tired after sex, it's very hard to make a reading. I'm not an actor. I only try to repeat my way of writing poetry, you see. I remember my feelings, and I remember the circumstances. If I sometimes change the style of one or another poem, it's because I'm not a machine, I'm not a robot. Giving a reading gives me physical pleasure. And when the audience is good to you, you get to read better; they are coming to you and you to them—another example of the connection between sex and reading. But I tried marijuana here, as an experiment, when I was very close to Allen Ginsberg.
INTERVIEWER
Other drugs too?
VOZNESENSKY
Allen once gave me one he said was a little bit like LSD but something new. It was a white drug and I became very ill after. It was very strange. I took this drug when I was staying at the Chelsea Hotel; Allen gave me this drug and went away. I spent most of the day in a blackout. But I later had to get up and go read in Town Hall. I was a little high. I thought, "People will think I am drunk." I was in a strange mood. For the first time in my life I forgot my lines, and didn't know why I was there. But when I saw the audience and after Robert Lowell (I think) introduced me, my old reflexes began working again. I was like a reading machine. It was very difficult for me to come on to the music of poetry because of this drug experience. I read the first poem by instinct; the second poem was hard but then it got better and better as the poetry took over and the drug went away. And I forgot about the drug. One doctor told me that it was very good; I was destroyed after the reading; I was not longing for more drugs. Drugs don't help poetry. When you try to write on pot, you think it's very good, but you are false because you have no real feelings. You think it is very good, but later when you read it, it's bullshit.
INTERVIEWER
Do you like Ginsberg's poetry?
VOZNESENSKY
Yes, I like his "Howl." I love "Howl" and "Kaddish." He came to see me in the Soviet Union, and people thought he was mad. He went to Mayakovski's grave and fell down crying and weeping and praying to him. He is very interesting. I feel he is a type of guru. We had a very good reading together on a ferryboat in New York. I read my poems and he read translations. But I'm very sad that at another reading, somebody I don't know personally said, "Please don't ask Allen to come to the stage, because so-and-so will be upset, they don't approve of him." I was upset and I repeated this to Allen who said, "Oh, Andrey, don't start anything please. I'll be here in the hall, in the auditorium. I'll be happy." But I like to read together with him, because he is a great performer. We read in a church once, for Bangladesh.
INTERVIEWER
Stepping into the middle of our literary wars must seem strange to you.
VOZNESENSKY
It is a little bit strange, yes. But you see, I'm not a chauvinist. I would not say only good words about my country, only good words about our poets. There's a lot of backstage intrigue among some of our poets. They too are jealous of one another. And I hate this jealousy. You ask one of our poets about another, and he says, "Oh, no—he's not—well, he's nice of course—but he's a piece of shit." I hate it.
INTERVIEWER
Have you ever been jealous of another poet?
VOZNESENSKY
I'm honest. When I was young, I didn't like to have someone else get more applause than me onstage. And now—maybe I have too much pride, because I like really good work—when a cheap poet has a cheap success, I think it is sad. Because it is against poetry. Our level is very high. You know my poetry; maybe it's strange for you that it appeals to a thousand, maybe to a hundred thousand people. It is very complicated and I am not sure that they all understand it. The majority don't understand poetry. But they understand the spirit. Like in a church. Not all the people who come to church understand the words, but they understand the sense. Here it is too easy now to go to an audience, for example, and take off your trousers and get applause. But in Russia our audience is serious, and if you make cheap poetry, maybe with jokes, it will not be so popular. We've educated them, you see!
INTERVIEWER
You've spoken about the connection between poetry and sex, and poetry and drugs. How about between poetry and athletics? Jack Kerouac once said that he thought of writing as an athletic accomplishment. He was talking about the physical exhaustion, I guess.
VOZNESENSKY
Well, I lose weight during a big reading, like after playing basketball or volleyball. I put it back on later. Sometimes in Russia I read for several hours, with maybe a small break, and next day I am exhausted. At a reading I get more and more physically involved. In Russia sometimes you read for three hours straight, and then they want more; you have to stop because they close the concert hall, and so afterwards you go to a party to drink and read more poems. We don't have parties like the ones you have here, where everybody stands around and shakes hands. We sit and drink, and later they ask you to read poetry and you read until morning. It is a Russian specialty. More people come in, and you read again. I don't mean nonstop, but all night, you know.
INTERVIEWER
Do you think your background in architecture has a great deal to do with your poetry?
VOZNESENSKY
Yes. The essential question in either case is one of structure. When I first began writing, I was condemned as a formalist. In Russia, that's a dirty word, certainly according to socialist critical dogma at that time: Pasternak was considered a formalist. But I had to think of structure, of form. I think it's man's duty to be accurate. Man can't just be blah, blah, blah, without end. When you make a building, the form must be sound—sound forever. And I think it is the same in poetry. Yes? It is like architecture. You need a style as much as a bathroom. If the construction is good for your time, it will be good for all time.
INTERVIEWER
Is there anybody in particular you trust to tell you when a poem's no good?
VOZNESENSKY
Not really. I test my work on friends, but I never do as they advise me. Poems have their own fates, like children. You have only to give birth to them. Certainly, you struggle for them: to publish, to get them read and heard. But I'm a little fatalistic about the destiny of a given poem.
INTERVIEWER
Do you feel separated from a poem, once you've completed it?
VOZNESENSKY
Yes. Although I can make a new connection in a public performance, particularly with my most recent work. That's why I feel sad not to have been able to read my very new poems on this tour; there's been no time to have them translated. In a performance in Russia, I read for two or three hours without a break; the first hour is all new stuff. After that, the audience sends up requests. Sometimes they send up questions—they try to turn the reading into a press conference, which I don't like, though some of my friends like that kind of thing. Yevtushenko likes it very much. He loves public meetings, speeches, discussions. I don't like to mix that up with readings. It breaks the mood, like jokes after church.
INTERVIEWER
You never bring a book or manuscript onstage. Do you memorize everything?
VOZNESENSKY
That's the way I write. I write without paper. I walk around, composing and revising, thinking out variants until the poem is finished. But once I type or write something (sometimes I dictate) I don't like to change it. With rainy weather you get a rainy mood, and you can never repeat such a mood or such weather. If you change your poem the next day, it will be eclectic. So I try not to. Of course, sometimes that doesn't work. Not all lines, not all images, survive their season.
INTERVIEWER
Sometimes when you perform the same poem—a very famous poem like "Goya," say—over and over again, does it lose meaning for you? Or change meaning?
VOZNESENSKY
I never read "Goya" in Russia anymore. And I try not to read it here. Still, I think it brings me luck because it was the first poem I read in the West. And, yes, it does change. A poem like "Master Craftsmen"—the one with all the Russian bell sounds in it—changes even more. American bells aren't Russian bells. The readings at public performances are different than what are on the records. Onstage, I'm another person, I do everything by instinct—maybe in Russia more than here, because here the program is more rigid. I'm always afraid to give a dead performance, to make a dead thing. In Russia, I never know what poem I'll read. Even here, I never know what mood I'll be in. Readings are irrational, instinctive, gut. They melt analysis and intellect from the printed poem. Not like when you read the page—then you have time for intellectual analysis.
INTERVIEWER
You say that audiences in Russia sometimes try to shift readings away from poetry. Into what? Into politics?
VOZNESENSKY
Whatever. The point is that a poetry reading is not a press conference.
INTERVIEWER
Have you had to field a lot of political questions on this American tour?
VOZNESENSKY
Not so much. Perhaps they've wanted to protect me. In any case, whatever I want to express politically, I express in my poetry. A poet can't give you opinions—he can only give you a way of thinking, a method. Isn't it more important to teach people how to think than tell them what to think? My poetry is complex, but I like to think that it is a key that opens up other questions: to sexual life, social life, political life. It's more important that I do that than that I answer, as a poet, specific political questions—like, say, should Sadat go to Israel. Certainly, I have my opinion about that as a man. But as a poet, we have only to give a key. A crystal of harmony.
INTERVIEWER
Then you're saying that poetry is a way of training the mind?
VOZNESENSKY
If you want to change the world's spirit, I will go so far as to suggest that only poetry can do this. Many people think that everything is sold out today—politics, religion—they see a worldwide bankruptcy. Once people believed that drugs would change the world, but your experiment with drugs is finished. People were destroyed. Very sad. I think the answer is in poetry. I am a believer.
INTERVIEWER
Are there moments when you're afraid you won't be able to write anymore?
VOZNESENSKY
Yes. I am afraid. Because I am full of Russian superstition. You have the same myths in your country: a poet writes only when he is young and sexy and he's got it all together. I'm afraid that one day it will stop coming, because for me it all depends on gut, on instinct. Yes, certainly I am afraid that one day I will stop like many poets long before my time. Where is wood? I want to knock on wood.
INTERVIEWER
But you had for yourself the example of Pasternak. You knew him when he was very old, and he didn't stop.
VOZNESENSKY
Pasternak was fantastic. He was a great poet. He stopped writing poetry because of Stalin. That was before the war—he said he didn't want to write any more poetry. But he couldn't say that openly. There's a story; I don't know all the details. The sense of the story is that after Stalin declared that Mayakovski was the greatest Soviet poet of the age, Pasternak wrote Stalin a letter. This was a very dangerous thing to do, but Pasternak was careless about his safety. In his letter he said that if Stalin believed that Mayakovski was the greatest poet of the age, that was very good; but he, Pasternak, would now drop a burden from his shoulders: the fate of Russian poetry. After that, he only did translations, the Shakespeare plays. And he refused to take part in his own anniversary celebrations. He refused all honors, everything. Pasternak never wrote any primitive, official poems, and yet he was not arrested. Perhaps it was because of that letter people say he wrote to Stalin. It was rumored that Stalin said that Pasternak was a holy fool and should be left alone. Then, during the war, it was as if Pasternak had been born again. He began to write great poetry, in a new style for him, very classical. I had first met him when I was a child, a boy of fourteen. Perhaps Pasternak's example helps me in my life.
INTERVIEWER
When you're not on tour, when you're at home, do you have a regular working schedule?
VOZNESENSKY
Never.
INTERVIEWER
You wait for it to happen?
VOZNESENSKY
I don't schedule. Nobody does. In Russia, everything is improvisation. Nobody can tell where he'll be on Friday night. Let me give you an example. When I came to America, I wanted very much to visit my dear friend Robert Lowell's grave. We drove out from Boston in the late afternoon—a dinner had been arranged for that evening. It was dark by the time we found the grave in the forest. I was with a young poet from Boston, and I said to him, "Please, I'm sorry, excuse me, it is impolite, but leave me alone, go to your car, I want half an hour alone." Then I began to write poetry. Later I asked him to find a phone and call the people and tell them we wouldn't come to dinner. They were all friends of Lowell's and they were very upset with me. But how could I have gone to a dinner party and broken the mood of that encounter? Even if I hadn't been writing a poem, I couldn't have gone to a party after that visit to his grave.
INTERVIEWER
In America, many poets earn their living by teaching. Are there a lot of Russian poets in universities?
VOZNESENSKY
No. Which is good and bad. It's possible for good poets to make a living as poets, but also for bad poets to go into it as a kind of business, for money. There are several thousand Russian poets living by their literature. It is too many—too many. I don't mean they're living well, but they're not teaching or doing anything else. We're paid by the line . . .
INTERVIEWER
As are American poets—at a rate that hasn't changed since the time of Edgar Allan Poe. We're overcrowded, too. The Directory of American Poets looks like the L.A. phonebook. There are more people claiming to be poets than there are buying books of poetry.
VOZNESENSKY
In Russia, the same problem. Poetry is as popular as rock music is here. Everybody writes poetry. Everybody wants to be a poet. It's frightening. It might be possible for a nation to have ten or twenty gifted poets. It might be possible to have a hundred. But several thousand? The mathematics are alarming. But I don't know. Maybe there will come a time on earth when everybody can write poetry. A genetic change. After all, we all carry the gene of poetry.

Author photograph by Gerard Malanga.