Interviewed by Marina Warner
Issue 79, Spring 1981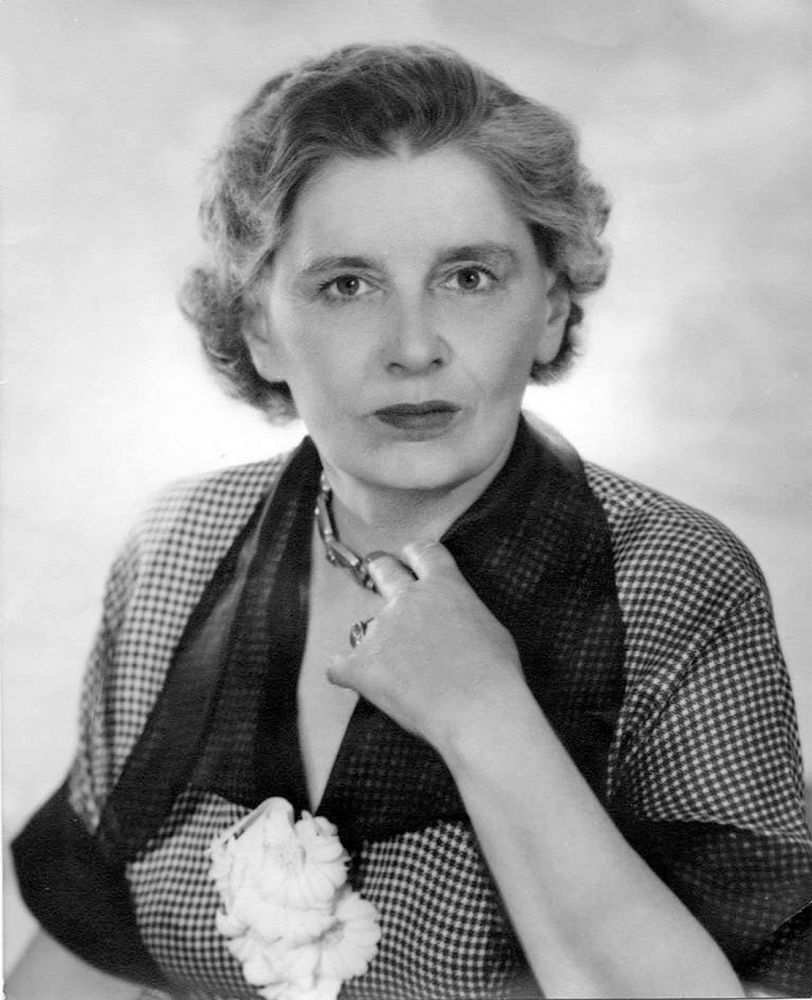 Rebecca West, ca. 1983. Photograph by Madame Yévonde
In Rebecca West's hallway hung a drawing of her by Wyndham Lewis done in the thirties, "before the ruin," as she put it. But her brown eyes remained brilliant and penetrating, her voice energetic, and her attention to all things acute. She was wearing a bright and patterned caftan when we first met, a loose blouse over trousers the second time. Cataracts meant she had two pairs of spectacles, on chains like necklaces; arthritis had made a stick necessary. Her hair was white and short; she wore beautiful rings. Her voice had kept some of the vowel sounds of the Edwardian period, and some of its turns of phrase: "I can't see someone or something" meant "I can't tolerate." She said words of foreign derivation, like "memoirs," with the accent of the parent language. We sat in her sitting room, a room filled with drawings and paintings with a wide bay window looking out on some of London's tall trees. Their leaves, which were turning when we met, almost brushed against the windowpanes.
INTERVIEWER
In your novel, The Fountain Overflows, you describe the poverty of the educated class very beautifully. Was that your background?
REBECCA WEST
Oh, yes. I'll tell you what the position was. We had lots of pleasant furniture that had belonged to my father's family, none that had belonged to my mother's family, because they didn't die—the whole family all went on to their eighties, nineties—but we had furniture and we had masses of books, and we had a very good piano my mother played on. We were poor because my father's father died, when he and his three brothers were schoolboys. Their mother was a member of the Plymouth Brethren and a religious fanatic with a conscience that should have been held down and, you know, been eunuchized or castrated. She refused to keep on, to accept any longer, an annuity, which she was given by the royal family. And nobody knows why she was given it, and she found out the reason and she didn't approve of it, and she refused it, and they were poor forever after. The maddening thing was nobody ever knew why she said to Queen Victoria, "I cannot accept this allowance." It was hard on my father, who was in the army, because you needed money to be an officer. He was a ballistics expert. He did quite well in various things.
INTERVIEWER
He was a professional soldier?
WEST
No. Not all his life. He left the army after he got his captaincy. He went out to America and he ran a mine and wrote a certain amount, mostly on political science. He wrote well. He had a great mechanical mind and he drew very well. He did all sorts of things, and he'd had a fairly good training at Woolwich, a military academy. We were the children of his second marriage and he could no longer make much money. He went out to Africa and just got ill there. He came back and died in Liverpool when I was twelve or thirteen.
INTERVIEWER
Was he a remote and admirable figure, as the father is in The Fountain Overflows?
WEST
Oh, he wasn't so cracked as the father and he didn't sell furniture that didn't belong to him and all that sort of thing. That was rather a remembrance of another strange character.
INTERVIEWER
You've written very movingly, in several of your books, on how cruel natural death is, how it is the greatest hardship, as opposed to some of the more violent deaths that you've also written about. Was it a very traumatic experience for you, as a child, when you lost your father?
WEST
Oh, yes, it was terrible . . . The whole of life was extremely uncomfortable for us at that time. We had really got into terrible financial straits, not through anybody's fault. My mother had had to work very hard, and though she was a very good pianist, she was out of the running by then, and when she realized that my father was old and wasn't going to be able to go on with things, she very nobly went and learned typewriting. Do you know people are always writing in the papers and saying that typists started in the last war, but they've been going on since the eighties and the nineties and 1900. Well, my mother did some typing for American evangelists called Torry and Alexander and she took over their music. They toured in England and my mother whacked the "Glory Song," a famous hymn—you still hear it whistled in the streets—out on the grand piano on the platform. It was a very noble thing to do. She wasn't well and she wasn't young, and then we came up to Scotland. My sister was studying medicine. My other sister had a scholarship at Cheltenham, which was rather useless to her; she was very brilliant indeed, and amusing as well.
INTERVIEWER
Which sister was that?
WEST
That's Winifred, who was more or less like Mary in The Fountain Overflows. Then there was myself, who had to go and try to get scholarships, which I usually did, at the local school. My mother ran a typing business, and I assisted her, which was amusing and which gave me a quickness of eye, which has been quite useful. She used to type manuscripts, particularly for the music faculty in Edinburgh. There was a German professor she'd known all her life. He used to send along pieces and I remember still with horror and amusement an enormous German book of his on program music with sentences like "If the hearer turns his attention to the flutes and the piccolos, surely there will come to his mind the dawn rising over the bronze horses of Venice." There is a lot of rather good idiom of writing I can summon up, if necessary, about music in the post-Wagnerian period, which was very, very lush.
INTERVIEWER
Were you brought up to play yourself?
WEST
I played, but not well. From an early age—but it was not detected for many, many years—I've had difficulty about hearing. Finally, I lost my hearing almost entirely in this ear. I got pneumonia in it, which I think is rather chic. Then I thought I'd got my hearing back slowly, but really I'd learned to lip-read and, it's an extraordinary thing, young people—if they lose their hearing young—learn lipreading unconsciously, lots of them. It's quite common. I did that without knowing—when I got double cataracts, I suddenly found my hearing going and I said, "Goodness, I've gone deaf at the same time as my eyes are going wrong," but my aurist, who's a very nice man, said, "No, you haven't. Your lipreading power is breaking down," which was very disappointing, but, on the other hand, I was amazed at the ingenuity of the human animal. It did strike me as an extraordinary thing.
INTERVIEWER
In your home, was the atmosphere for women very emancipated because you were left alone?
WEST
Oh, yes. We were left alone. We had an uncle, who was very preoccupied. He was principal of the Royal Academy of Music, Sir Alexander MacKenzie, and he didn't really think anything of any woman but his wife. He was very thoughtless about his own daughter, who was an actress who acted very well in the early Chekhov plays. He treated her very inconsiderately and made her come back and nurse her mother and leave her husband in Paris, and the husband, after six years, lost heart and went off with someone else. We were very feminist altogether, and it was a very inspiring thing. Who is that man, David Mitchell, who writes silly hysterical books about Christabel Pankhurst? What is he? Who is he?
INTERVIEWER
He's now writing a book about the Jesuits.
WEST
The Jesuits? How does he know about the Jesuits?
INTERVIEWER
You thought his book on Christabel was hysterical, did you?
WEST
Absolute rubbish and nonsense. He writes about how she went to Paris and how she didn't go down to the cafés and meet the young revolutionaries. But how on earth was she to find out where they were? Because, you see, the Bolshevik generation was not yet identifiable. How would she find out any of the people, who hadn't really made their mark? It was an obscure time in the history of revolution. It was a time when very remarkable people were coming up, but they weren't visible yet. She did know the people like Henri de Rochefort very well. Mitchell also says she took a flat and had a housekeeper, who was also a very good cook, and didn't that show great luxury? Well, if he'd asked anybody, he would have found that, in those days, you couldn't take a furnished flat or house in Paris, nor, so far as I know, in most parts of France, unless you took a servant, who was left by the owner. All the furnished houses I ever had in France, modest as they were, had somebody that I had to take with the house.
INTERVIEWER
But you yourself broke with the suffragette movement.
WEST
I was too young and unimportant for that to mean much. I admired them enormously, but all that business about venereal disease, which was supposed to be round every corner, seemed to me excessive. I wasn't in a position to judge, but it did seem a bit silly. [Christabel Pankhurst headed a chastity campaign for women.]
INTERVIEWER
Christabel, in her later phase, became the equivalent of a misogynist. She became very, what would the word be, misanthropic against men only, didn't she?
WEST
It wasn't quite that. She fell curiously into a sort of transatlantic form of mysticism, where there is a sort of repudiation of sex. Do you ever read anything about Thomas Lake Harris? He was an American mystic. Curious thing—you repudiated sex but you had a "counterpart," and you usually could get a counterpart by getting into bed with somebody else, with whom your relations were supposed to be chaste, but when you lay in his arms, you were really lying in the counterpart's arms, and—isn't it a convenient arrangement? That was one sort of pattern of American mysticism and dottyism. Christabel got caught up with that vagueness—though not with counterparts. If you read Harris's sermons—somebody took them down and I had a look at them—they were all very queer like that, disguised sexuality, but I wouldn't say the worse for that.
INTERVIEWER
You have written that there is a great difference between a male sensibility and a female sensibility, and you have a marvelous phrase for it in Black Lamb and Grey Falcon.
WEST
Idiots and lunatics. It's a perfectly good division. [The Greek root of "idiot" means "private person"; men "see the world as if by moonlight, which shows the outlines of every object but not the details indicative of their nature."] It seems to me in any assembly where you get people, who are male and female, in a crisis, the women are apt to get up and, with a big wave of the hand, say: "It's all very well talking about the defenses of the country, but there are thirty-six thousand houses in whatever (wherever they're living) that have no bathrooms. Surely it's more important to have clean children for the future." Silly stuff, when the enemy's at the gate. But men are just as silly. Even when there are no enemies at the gate, they won't attend to the bathrooms, because they say defense is more important. It's mental deficiency in both cases.
INTERVIEWER
But do you think it's innate or do you think it's produced by culture?
WEST
Oh, I really can't tell you that. It's awfully hard. You can't imagine what maleness and femaleness would be if you got back to them in pure laboratory state, can you? I suspect the political imbecility is very great on both sides.
I've never gone anywhere where the men have come up to my infantile expectations. I always have gone through life constantly being surprised by the extreme, marvelous qualities of a small minority of men. But I can't see the rest of them. They seem awful rubbish.
INTERVIEWER
In many of the political things that you've written, it would be impossible to tell that you were a woman, except that here and there you sometimes produce a comparison to do with a child or something, which may betray a certain feminine stance, but, in fact, you have overcome completely this division between idiot and lunatic. You're not an "idiot" at all. You don't think only of the personal angle.
WEST
I think that probably comes of isolation, that I grew up just as I was without much interference from social images except at my school.
INTERVIEWER
What were they at school?
WEST
We had large classes, which was an ineffable benefit, because the teachers really hadn't time to muck about with our characters. You see, the people who wanted to learn, sat and learned, and the people who didn't, didn't learn, but there was no time, you know, for bringing out the best in us, thank God. I had some magnificent teachers, actually, a Miss MacDonald, who taught me Latin irregular verbs.
INTERVIEWER
Did you have a classical training?
WEST
No, no. I had no Greek. They didn't teach any Greek for the reason that our school took on from a very early school, at which they had followed Madame de Maintenon's school at St. Cyr, where the children were taught Latin but not Greek. Why do you think I wasn't taught Greek?—Because Madame de Maintenon thought girls shouldn't learn Greek in case they fell into the toils of the heretical Eastern Orthodox Church, which is rather funny, considering we were all good girls at Edinburgh. Very curious bit of history, that.
INTERVIEWER
And this tradition reached as far as Scotland?
WEST
Well, you see, the man who was the begetter of our school had been to St. Cyr, and he just took the whole thing on.
INTERVIEWER
What did your mother expect you to be? What images did she set up for you?
WEST
There was a great idea that I should be an actress because a woman called Rosina Fillipi had seen me act in a play and she thought I was terribly good as a comedian, as a sort of low-comedy character, and she said, "If you come to the Royal Academy of Dramatic Art, I will look after you and you can get a job." I'm the only person I ever heard of who wanted to go on the stage not because I was stagestruck but it just seemed to be the thing to do. I loved the theater. I still love it, but I had no stagestruck feeling. I felt how nice if people would give me a part. I went to the Royal Academy of Art, where there was a man called Kenneth Barnes, who ran it, who had got his job because he was the brother of the Vanbrughs, Irene and Violet Vanbrugh, if that means anything to you. He couldn't understand what Rosina Fillipi had seen in me and he made me very uncomfortable. I didn't stay out the course.
INTERVIEWER
But you chose the name of a dramatic character—Rebecca West.
WEST
Yes. Not really for any profound reason. It was just to get a pseudonym.
INTERVIEWER
It really wasn't profound? You don't think unconsciously it was?
WEST
People have always been putting me down in any role that was convenient but it would not, I think, naturally have been my own idea. I've aroused hostility in an extraordinary lot of people. I've never known why. I don't think I'm formidable.
INTERVIEWER
I think that your hallmark is that you have always disliked people who wanted approval. You like the heterodox.
WEST
I should like to be approved of, oh, yes. I blench. I hate being disapproved of. I've had rather a lot of it.
INTERVIEWER
And yet, in your writing, there is quite a strong strain of impatience with people who do things because society approves of it.
WEST
Oh, yes. I think I see what you mean. Oh, that's Scotch, I think, yes, Scotch, because—oh, yes, and it's also a bit of my mother and my father. My father was educated by Elysée and Eli Reclus, two famous French brothers, early geographers; my cracked grandmother, the religious maniac who refused the family fortune, had hired them because they were refugees in England; she thought that, as young Frenchmen in England, they must be Protestants who had escaped from the wicked Catholics' persecution. They were actually anarchists and they'd escaped, run away from France because they'd seized the town hall—I can't remember which town it was—in the course of an émeute against Louis-Napoléon. They were very sweet. They said, when they found out the mistake, "Oh, well, we must be careful about teaching the children." They taught them awfully well. My father was a very, very well-educated man, and so were all his brothers.
INTERVIEWER
What did you read at home as a child? Who were the early formative influences?
WEST
Oh, pretty well everything. We read a terrific lot of Shakespeare, which my mother knew by heart and so did my father—and a lot of George Borrow. Funny thing to read, but—really early Victorian England was quite familiar to me because of that. Oh, lots—I can't think. My mother and my sister, Winifred, who was much the cleverest of us, she read frightfully good poetry. She taught me a lot of poetry, which I've all forgotten now, but you know, if I see the first line, I can go on.
INTERVIEWER
Would you acknowledge Conrad or anyone else as an influence on you?
WEST
Well, I longed, when I was young, to write as well as Mark Twain. It's beautiful stuff and I always liked him. If I wanted to write anything that attacked anybody, I used to have a look at his attack on Christian Science, which is beautifully written. He was a man of very great shrewdness. The earliest article on the Nazis, on Nazism, a sort of first foretaste, a prophetic view of the war, was an article by Mark Twain in Harper's in, I should think, the nineties. He went to listen to the Parliament in Vienna and he describes an awful row and what the point of view of Luger, the Lord Mayor, was, and the man called George Schwartz, I think, who started the first Nazi paper, and what it must all lead to. It's beautifully done. It's the very first notice that I've ever found of the Austrian Nazi Party, that started it all.
INTERVIEWER
What was your first conscious encounter with fascism?
WEST
A lot of boys, who stopped my sister and myself and took her hockey stick away from her. The thing was they weren't doing it as robbery but it was fun and good fellowship, and they were the boys together. That was the first. They were just street children. We had a brick wall and an alley behind it and we used to come up half the alley, if we were going into the house of some neighbors, and there these boys caught us in the alley and they took it away; but we fought them and screamed and shouted and got back the hockey stick.
INTERVIEWER
That was when?
WEST
That must have been—I was born in 1892—about 1903, or, no earlier than that, just in this century perhaps.
INTERVIEWER
Yes, so, before the First World War, you saw the seeds of fascism.
WEST
No, no. I just saw violence. There was the race thing and sacred Germanism and all that, but the enemy before the First World War you can't really compare with fascism. It was the imperialism of Germany and the supremacy of the army, but that isn't exactly fascism. I think you could say, there was more fascism, but of an intellectualized kind, in France. The crux of the Dreyfus case was that it didn't matter whether Dreyfus was guilty or not, you mustn't spoil the image of the army. That was more or less fascist.
INTERVIEWER
But do you feel, with your strong sense of justice and of pity, that our wars have remained as terrible, or do you feel that we have learned?
WEST
I don't know what you've learned. I'll tell you I think the Second World War was much more comfortable because in the First World War women's position was so terrible, because there you were, not in danger. Men were going out and getting killed for you and you'd much prefer they weren't. My father was always very tender about armies, having been a soldier. The awful feeling for a small professional army was that they were recruited from poor people who went out and got killed. That was, do you know, very disagreeable. There was a genuine humanitarian feeling of guilt about that in the first war. It was very curious, you see. There I sat on my balcony in Leigh-on-Sea and heard guns going in France. It was a most peculiar war. It was really better, in the Second World War, when the people at home got bombed. I found it a relief. You were taking your chance and you might be killed and you weren't in that pampered sort of unnatural state. I find the whole idea of a professional army very disgusting still. Lacking a normal life, they turn into scoundrels. As Wellington said, they're despised for being scoundrels and it's not their fault and they die like flies and have the worst discomforts.
INTERVIEWER
And yet a conspired army, as fought in Vietnam—You laugh?
WEST
Well, I can't help thinking that the whole of the Vietnam War was the blackest comedy that ever was, because it showed the way you can't teach humanity anything. We'd all learned in the rest of the world that you can't now go round and put out your hand and, across seas, exercise power; but the poor Americans had not learned that and they tried to do it. The remoteness of America from German attack had made them feel confident. They didn't really believe that anything could reach out and kill them. Americans are quite unconscious now that we look on them as just as much beaten as we are. They're quite unconscious of that. They always have talked of Vietnam as if by getting out they were surrendering the prospect of victory, as if they were being noble by renouncing the possibility of victory. But they couldn't have had a victory. They couldn't possibly have won.
INTERVIEWER
But when you say they're beaten as we are, in what way do you mean we are beaten?
WEST
Only as regards world power. We can't put our hands out and order things to happen a long way away. Oh, I think we're also beaten in other ways—in industry. I think the war between the public and the unions is very difficult and I don't see where its solution lies.
INTERVIEWER
Have you ever seen a society about which you really felt: Here is society that works for the benefit of its citizens without harming others?
WEST
No, I think the earth itself is slightly resistant to routine. You might come to a place which was favorable, because of a discovery of minerals that could be mined more easily, you know, "place mines," as they call the ones on the surface, and you'd think that was very nice and they would get on with it. Then round the corner you'd find there was a dispute about water rights. Humanity wasn't obviously a made-to-order thing. It's a continual struggle, isn't it?
INTERVIEWER
Have you ever been tempted at all to any religious belief?
WEST
Oh, yes. It all seems so damned silly and incomprehensible, there might as well be a silly and incomprehensible solution, don't you think? I'd be quite prepared for anything to happen, but not very respectfully, I think.
INTERVIEWER
I think you might stand up to God.
WEST
No, not exactly that, but I don't think there would be a God who would really demand it. If there is a God, I don't think He would demand that anybody bow down or stand up to Him. I have often a suspicion God is still trying to work things out and hasn't finished.
INTERVIEWER
Were your parents at all believing?
WEST
My mother was, in a sort of musical way, and I think my father accepted it as part of the structure, but didn't do anything. We always went to church and enjoyed it. I don't feel the slightest resistance to the Church except when it's a bad landlord or something like that. I don't see why people feel any écrasez l'infâme. I know much infâme-ier things than religion, much more worthy of being écrasez-ed.
INTERVIEWER
What can you remember as being a moment of great happiness?
WEST
Extremely few. I had a very unhappy time with H. G. Wells, because I was a victim of a sort of sadistic situation. Partly people disapproved of H. G. so much less than they did of me, and they were very horrible to me, and it was very hard. It was particularly hard later, people being horrid to me because I was living with H. G., when I was trying as hard as I could to leave him. It was really absurd, and now I think it's rather funny, but it wasn't funny at the time. Then I had a short time of happiness on my own and a time of happiness with my marriage [R. W. married Henry Andrews in 1930], but then my husband got ill, very ill. He had meningitis, this thing that's always struck at people near me, when he was young and then he got cerebral arteriosclerosis, and after years it came down on him. He was in a very unhappy state of illness for a good many years before he died, but we had a great many good years together. I was very happy.
INTERVIEWER
Have any of the men you've known helped you?
WEST
The men near you always hinder you because they always want you to do the traditional female things and they take a lot of time. My mother helped me to work because she always talked to me as if I were grown-up.
INTERVIEWER
Do you feel men did not want to help you as a writer?
WEST
Oh, yes! So many men hate you. When my husband was dying I had some very strange dialogues. People were very rude just because they'd heard I was a woman writer. That kind of rudeness is as bad as ever.
INTERVIEWER
Would it have been easier to have been a man?
WEST
It certainly would have been.
INTERVIEWER
Are there any advantages at all in being a woman and a writer?
WEST
None whatsoever. You could have a good time as a woman, but you'd have a much better time as a man. If in the course of some process, people turn up a card with a man's name on it and then a card with a woman's, they feel much softer towards the man, even though he might be a convicted criminal. They'd treat the man's card with greater tenderness.
INTERVIEWER
You don't think there's been an improvement?
WEST
Not very much.
INTERVIEWER
Everyone is still very curious about your love affair with H. G. Wells.
WEST
Why, I can't see why. It was a very long time ago, and it wasn't interesting. Why would I have brought it to an end if it had been interesting? It wasn't.
INTERVIEWER
What did your husband, Henry Andrews, do?
WEST
He was unfortunately put into a bank. He should have been an art historian. He got out of the bank in the end because he was too ill. He did a bit in the war where he was in the Ministry of Economic Warfare and very good. He was a delightfully funny man. He said very funny things, and he was very scholarly and he was very generous and he was very kind. There were all sorts of pleasant things about him.
INTERVIEWER
You could talk to him.
WEST
We talked a very great deal, but it's extraordinary the really tragic and dreadful things there are in marriage which are funny. I've never known anybody to write about this. My husband would insist on going and driving a car, and he'd never been a good driver. Like all bad drivers, he thought he was the best driver in the world and he couldn't drive at all at the end and it was terrible. I'm one of the few women who have been driven on the left side of a bus queue, on the near side of the pavement. It was awful. Well, that really made my life poisoned for years. All the time I never thought I would live to the end of the year. I thought he would be sure to kill me here or there. And he meant no harm.
INTERVIEWER
You weren't able to tell him this?
WEST
I told him and he wouldn't believe me. Two doctors said to me it could be so bad for his ego values, if he was not allowed to drive a car. Doctors tend to be chumps. I have had two or three marvelous doctors. I have a marvelous doctor now, who's very nice, very funny and very clever, but some of my worst enemies have been doctors, I can assure you.
INTERVIEWER
You have actually been quite ill yourself, haven't you?
WEST
Well, I had an attack of TB when I was a schoolgirl. Everybody did in those days. It simply meant that you got a shot of TB in your youth and you didn't get it later on. It was rather dramatic. What was awful was that I got it at the same time as my great friend, Flora Duncan, who was at school with me and whom I liked enormously; she died of it years afterwards in the most dreary way. She went with her aunt to stay in a hotel from which she was coming to lunch with me—this was just after I was married—and she pulled down the window and the bit where her left lung had gone thin started to hemorrhage; and she was dead in a few hours. They couldn't stop the hemorrhage. It has sometimes inconvenienced me, but as I've lived to be eighty-eight, I can't say I've really suffered very much from it. At the time it gave me a lot of time to read.
INTERVIEWER
When you look back on all the books that you've written, is there one that you like best?
WEST
Oh, no. They don't seem to me as good as they might be. But I really write to find out what I know about something and what is to be known about something. And I'm more or less experimental. I wish I could have written very much more, but to be absolutely frank, for twenty-five years, you see, I've had this disastrous personal trouble. You don't easily get over it if someone near to you is constantly attacking you in public. Do you know Anthony [West]?
INTERVIEWER
I've met him once. He's writing about Joan of Arc, he told me.
WEST
What on earth about Joan of Arc?
INTERVIEWER
He believes that she was a princess, a bastard princess.
WEST
Why? What an extraordinary idea.
INTERVIEWER
A lot of people do.
WEST
What! This is new to me. Who might she be?
INTERVIEWER
She's meant to be the result of an incestuous adulterous match, the queen and the queen's brother-in-law, Louis d'Orléans.
WEST
I wish he'd turn his mind to other problems than bastardy. Alas. He's writing about six books, he told me. But I wonder why this. Whose theory is this? I never heard of it.
INTERVIEWER
Oh, it's a very old one. It was produced in 1810 by Pierre Caze in a play. Instead of accepting that Joan of Arc was exciting for spiritual reasons, you say she was exciting because she was a royal princess—which is a practical solution.
WEST
Nonsense. Have you seen Princess Anne? Can you imagine, if she appeared and said, "Save England," or whatever, that it would work? What a wonderful idea.
INTERVIEWER
What are you working on now?
WEST
I've been looking at old photographs—Rangoon in the last century. Goodness, some are absolutely beautiful. It's funny how photographs were better in the past than they are now.
INTERVIEWER
Why are you looking at Rangoon?
WEST
In what I'm writing now, I'm describing my husband's mother's life. She went out to Rangoon and lived there in vast, great big rooms each the size of a gymnasium, and full of cluttered little tables.
INTERVIEWER
She was the wife of an official, was she?
WEST
No, she was the wife of a man who had a job in Wallace Export-Import. They exported Burmese teak and they imported machinery. I've got masses of photographs I have to give to the Institute of Machinery but I never get round to it, showing the machines, as they came in. They had the largest army of elephants ever. There are beautiful photographs in this book of things like a lot of elephants crossing a wide river in a sort of floating island. She was a lady of very mixed ancestry, my husband's mother, and after Rangoon, she came back to Hamburg. Her mother was a Miss Chapman, who was related to the Chapman family that T. E. Lawrence belonged to. They lived in Lancashire, and then she married a local alien, a member of the hereditary Teutonic Knights of Lithuania. She had various children in Lithuania, and then her daughter came to live in Hamburg and married Lewis Andrews, who was working in this firm in Rangoon, and ultimately became my mother-in-law.
INTERVIEWER
What are you writing about her?
WEST
It comes into my memoirs. Poor widow. She took her son [Henry Andrews] out with her to Hamburg and kept him too long. It was 1914 and the war came. Eventually she was sent back to England, but he was sent into a camp. He was there all through the war, in Ruhleben [the civilian POW camp at Spandau]. It was very sad. It did spoil his life, really. He was nineteen. It was very tough. But these young creatures were highly educated; he wrote quite clever letters to Romain Rolland.
INTERVIEWER
How far have you got with your memoirs?
WEST
I've nearly got my father and mother to the end of their respective careers. It's been supernatural, which is always encouraging. Do you know, my mother was always saying that the scenery in Australia was so extraordinarily beautiful, and my father did some very nice pictures of Australian landscapes. Suddenly, a man started sending me picture books of Australia. He said, "I've always liked your books, and I wanted to send these to you." So extraordinarily dead-on: pictures of what Australia was like when my parents were there in the last century.
INTERVIEWER
Are you taking only a section of your life in your memoirs?
WEST
Well, I hope to cover most of it, but still, I've only just begun it really and I must really get on with it. I haven't read anybody's memoirs for ages except Coulton's [medieval historian, author of Five Centuries of Religion], which I liked very much. He wrote a life called Fourscore Years. Hated Catholics. When did you read him?
INTERVIEWER
I read him on the Virgin Mary.
WEST
You know, I don't really appreciate the Virgin Mary. She always looks so dull. I particularly hate Raphael, Raphael's Madonnas. They are awful, aren't they?
INTERVIEWER
Are you working on anything else?
WEST
I'm doing a book for Weidenfeld on the 1900s, but it's not a long book. I'm not approaching the 1900s chronologically. I've started by doing a lot with the paintings of Sargent, and with some beautiful photographs. But that period in America has been done and done and done, and it's hard to be fresh. They've really dealt with nostalgia too fiercely. I begin with the death of Gladstone in 1898, and more I cannot tell you.
INTERVIEWER
You have lots of paintings. Have you written about them?
WEST
To a certain extent, yes. My husband bought the ones over there, but these I bought. It was lovely that I could buy them when they were cheap. They didn't cost me very much, even the Bonnard, and I think that's the best picture that Dufy ever painted. I have a passion, too, for Carol Weight, the man who painted this one, because I think he paints the contours of the land so beautifully. And that's by Vuillard, the woman over there, Madame Marchand. She committed suicide in the war, alas. She was a Polish Jewess, a friend of Colette's and a lot of other people.
INTERVIEWER
You have a high opinion of Colette, don't you?
WEST
Yes. I didn't like her very much as a person and I think she was repetitive and I hate all her knowing nudges about men, but I think she was a good writer on the whole and she was very good on landscape. She did a wonderful book called Trio. She was really more egotistical than you could possibly imagine, and she was outside a lot of experiences in a most curious way. I was taken to see her in Paris with a man who was a judge at Nuremberg. She didn't pick it up at all.
INTERVIEWER
You were in Paris again recently, I believe?
WEST
To film The Birds Fall Down, yes, for the BBC. It was quite fun. It was uncomfortable in many ways and I was so horrified by the cheap food in Paris. It was so bad. Terribly bad. The film turned out to be visually very beautiful. Sometimes it seemed to me a little slow. Some of the dresses are lovely.
INTERVIEWER
Have you had other books adapted?
WEST
No, people always buy them and then find they can't do them, so that I've gained financially but otherwise hardly ever. A man called Van Druten, who's forgotten now, did The Return of the Soldier as a play and it wasn't really good, though some of his plays were. I can't remember who acted it, or indeed anything about it.
INTERVIEWER
You've never written for the stage yourself?
WEST
I've had so little time to write. Also, theatrical people can't be bothered with me. I wrote a play in the twenties which I think had lovely stuff in it, Goodbye Nicholas, and fourteen copies were lost by managers, fourteen, that's really true, and I just gave up. One of them, who lost three, was a man called Barry Jackson, who was at the Birmingham Repertory Theatre; after we'd had a terrific apologies and that kind of thing, about a year later he met me in the bar of some theater and said, "Rebecca, why have you never written a play?" They are like that.
INTERVIEWER
What was the play about?
WEST
Oh, it was about Kruger, the financier, who committed suicide. It just showed you how they did the fraud and what they thought about it. It was sound enough, but nobody was interested in it at all. Then I lent it to an old friend of mine. I'm sorry to say he used a lot of it, without acknowledgment, in a play of his, an American man.
INTERVIEWER
Who was that?
WEST
I won't tell you, but it was very naughty. But never mind. His play died a death too. I would like to write old-fashioned plays like de Musset's. I think they're lovely. I think de Musset's essay on Rachel and Malibran is one of the loveliest things in the world. It's lovely about acting and romanticism. It's beautifully written and it's quite wonderful.
INTERVIEWER
Rachel is quite important to you, because you wrote a beautiful thing in your lecture on McLuhan about her.
WEST
Oh, not my beauty, not my beauty, it's Valéry's, who wrote the beautiful thing and who loved Rachel. Isn't it a beautiful thing? The ear of the lover took down what his beloved Rachel was saying and commemorated the secret of it. It's really wonderful. It's about as nice a form of immortality as anyone could have, isn't it? I fell on the essay, when I was quite young, and then I read it again because Malibran [Maria-Felicia García, d. 1836] was the sister of Madame Viardot [Pauline García, d. 1910] who is, you know, the lady who is supposed to have been the mistress—but I think the duties were light—of Turgenev. Turgenev lived in the house of Madame Viardot nearly all his life, and she brought up his illegitimate daughter. She was an opera singer but she had a dreadful time getting jobs at the opera because she and her husband were anti-Bonapartist and the Bonapartists had command of the opera. She was a great girl, and it's a very terrible thing: all her life she wrote compositions but nobody has ever played them. She was terribly busy. There's a description of her as "too busy" in the letters of Brahms and Clara Schumann. The Garcías were people who had two odd genetic streaks: one was for longevity, the other was for music. The first García bumped his family all over the Americas and all over Europe as a musical troupe. There were several in the family; the brother taught at the Royal Academy of Music in London, where my uncle was principal, and he used to give children's parties. I remember going to a children's party and being kissed by the old gentleman who was the brother of Malibran. He lived to be a hundred and one. I think his descendants transplanted themselves to somewhere in the north of England. The life of the family has all sorts of odd things embedded in it. You know how in du Maurier's books, how in Trilby, she vocalized to the music of Chopin's Nocturnes and people say that's so absurd. But Viardot did it and it apparently came off and Chopin himself liked it.
INTERVIEWER
Did you used to go to concerts a lot?
WEST
Yes, I used to and I used to listen on the radio. I can't do even the radio any longer. It doesn't seem to respond, as the Americans say.
INTERVIEWER
You said once that all your intelligence is in your hands.
WEST
Yes, a lot, I think. Isn't yours? My memory is certainly in my hands. I can remember things only if I have a pencil and I can write with it and I can play with it.
INTERVIEWER
You use a pencil, do you, when you write?
WEST
When anything important has to be written, yes. I think your hand concentrates for you. I don't know why it should be so.
INTERVIEWER
You never typed?
WEST
I did, but not now. I can't see in front and behind a typewriter now with cataract-operated eyes. If you have the spectacles for the front thing, you can't see the back, and I can't do with bifocals. I just get like a distracted hen. I can't do it. Hens must wear bifocals, if one looks closely. It explains it all. It's so difficult dealing with ribbons too. I can only write by hand now. I used to do a rough draft longhand and then another on the typewriter. I'm a very quick typist. When I had mumps I was shut up in a bedroom, because both my sisters had to sit examinations. When I came out, I could type.
INTERVIEWER
Do you do many drafts?
WEST
I fiddle away a lot at them. Particularly if it's a fairly elaborate thing. I've never been able to do just one draft. That seems a wonderful thing. Do you know anyone who can?
INTERVIEWER
I think D. H. Lawrence did.
WEST
You could often tell.
INTERVIEWER
How many hours a day do you write?
WEST
I don't manage much. When I write uninterrupted, I can write all day, straight through.
INTERVIEWER
Did you find any of your books especially easy to write?
WEST
No. It's a nauseating process. They're none of them easy.
INTERVIEWER
Have you ever abandoned a book before it was finished?
WEST
I've abandoned work because I've not had time. I've had a worrisome family thinking up monkey tricks to prevent me finishing books, and I had a terrible time when I was young and in the country, because I had no money, and no reference books, and I couldn't get up to London and to the London Library, where I had a subscription.
INTERVIEWER
There is a great diversity in your work. Did you find it difficult to combine criticism and journalism and history and fiction?
WEST
I did, really. My life has been dictated to and broken up by forces beyond my control. I couldn't control the two wars! The second war had a lot of personal consequences for me, both before and after. But I had enough money at that time, because I had a large herd of cows and a milk contract. I had to take some part in looking after the cows, but the dear things worked for me industriously. At one time I had to write articles because I had to put up a lot of money for family reasons. Everyone has to pay for their families every now and then.
INTERVIEWER
Who are the writers you admire? You commented recently that Tolstoy was most overrated.
WEST
I'm a heretic about Tolstoy. I really don't see War and Peace as a great novel because it seems constantly to be trying to prove that nobody who was in the war knew what was going on. Well, I don't know whoever thought they would—that if you put somebody down in the wildest sort of mess they understand what's happening. The point's very much better done, I think, by Joseph de Maistre. He wrote a very interesting essay in the late eighteenth century, saying how more and more people would not be able to know what was happening to them in wartime because it was all too complicated. He was in a very complicated state himself because he came from Aspramonte, which is a village on a hill near Nice. The people of Aspramonte were of the original Mediterranean population. They wore long hair all through the centuries, the conservative hippies. He was descended from a family who went round getting mulberry leaves for the silkworms. He got into the service of the king of Sardinia. He was sent as an ambassador to St. Petersburg. He wrote Les Soirées de St.-Pétersbourg, which is marvelous descriptive writing. He did a very good thing about hanging. He was for it, but his essay demonstrates the painfulness of ever considering whether you do hang people or not. I don't know how he became a diplomat for the king of Sardinia. I'm very often curious about people in history; they turn up in the oddest places. They strayed like goats in a road, but from class to class.
INTERVIEWER
Do you admire E. M. Forster?
WEST
No. I think the Indian one [A Passage to India] is very funny because it's all about people making a fuss about nothing, which isn't really enough. I can never understand how people read Proust at the same time. But they did. You can read Proust all the time. There is a book of that period that I do like very much, and that is They Went by Norman Douglas. It's about the king of a legendary country. I've read it several times and I've always found it beautiful.
INTERVIEWER
Are you interested in T. S. Eliot's writing?
WEST
Goodness! T. S. Eliot, whom I didn't like a bit? He was a poseur. He was married to this woman who was very pretty. My husband and I were asked to see them, and my husband roamed around the flat and there were endless photographs of T. S. Eliot and bits of his poetry done in embroidery by pious American ladies, and only one picture of his wife, and that was when she was getting married. Henry pointed it out to me and said, "I don't think I like that man."
INTERVIEWER
What about the work of Somerset Maugham, whom you also knew?
WEST
He couldn't write for toffee, bless his heart. He wrote conventional short stories, much inferior to the work of other people. But they were much better than his plays, which were too frightful. He was an extremely interesting man, though, not a bit clever or cold or cynical. I know of many affectionate things he did. He had a great capacity for falling in love with the wrong people. His taste seemed to give way under him so extraordinarily sometimes. He fascinated me by his appearance; he was so neatly made, like a swordstick that fits just so. Occasionally his conversation was beautifully funny and quite unmalicious. I object strongly to pictures of Maugham as if he were a second-rate Hollywood producer in the lavish age. His house was very pleasant and quiet and agreeable.
INTERVIEWER
Some critics think that sex is still written about with great awkwardness. Why is this?
WEST
I would have thought that was completely true of Kafka, who couldn't write about sex or value its place in life. I think there's an awful lot of nonsense in Lawrence when he writes about Mexican sacrifices and sexual violence. Their only relevance was to the Mexicans' lack of protein, as in the South Sea Islands. Funny, that's a wonderful thing. I don't know why more people don't write about it: how the whole of life must have been different when four-footed animals came in. They had just a few deer before, but not enough to go round, and so they prevented the deer from becoming extinct by making them sacred to the kings. It's much more interesting to write about that than about sex, which most of your audience knows about.
INTERVIEWER
Have you ever worked closely with a publisher who has suggested ideas to you?
WEST
No. I write books to find out about things. I wrote Saint Augustine because, believe it or not, there was no complete life in English at the time.
INTERVIEWER
Have you never had a close relationship with an editor, who has helped you after the books were written?
WEST
No. I never met anybody with whom I could have discussed books before or after. One doesn't have people on one's wavelength as completely as that. And I very rarely found The New Yorker editors any good.
INTERVIEWER
They have a tremendous reputation.
WEST
I don't know why.
INTERVIEWER
When you read, do you just follow your imagination completely?
WEST
Well, I've had eighty-five years to read in.
INTERVIEWER
I wondered whether you made book lists?
WEST
Yes, I do, but I'm often disappointed. I do think modern novels are boring on the whole. Somebody told me I ought to read a wonderful thing about how a family of children buried Mum in a cellar under concrete and she began to smell. But that's the sole point of the story. Mum just smells. That's all that happens. It is not enough.
INTERVIEWER
This is a new Ian McEwan, isn't it? I thought you, in your book on Augustine, made a marvelous comment which applies to him and to some of the other fashionable novelists now. You say that Augustinianism is "the ring-fence, in which the modern mind is still prisoner." I think that Ian McEwan is very Augustinian in his sense of unmovable evil in human life.
WEST
Yes, but he doesn't really do very much with it, does he? This thing just presents you with the hairs along people's groins and the smell, and very little else.
INTERVIEWER
Do you feel this relates to your feeling about the will to die in people, that this kind of very black outlook on the human body and human emotions is part of the suicidal streak that you've written about in both individuals and in society?
WEST
Oh, I suppose it is. It's very far-fetched, isn't it? One rarely recognizes the smell of Mum under the concrete, does one? I don't know. I cannot see the abysmal silliness of a lot of novels. Did you read a book called The Honey Tree? By Janice Elliott. If you didn't read it, it's no use talking about it. It's all about people who take a house and fornicate all over it, and they all have children, and their swollen bodies are a great source of satisfaction to Mrs. Elliott, and paternity does all sorts of things to men which I doubt, don't you?
INTERVIEWER
Perhaps. I believe you admire A. L. Barker.
WEST
Enormously, but I'm the only person who does, so far as I can make out. I think she's the best novelist now writing, not always, but I think The Middling is a magnificent novel. And A Source of Embarrassment, about the woman who knew she was going to die. This last book, The Heavy Feather, is so good I can't believe it, and nobody likes it. And they are wrong. I am exaggerating, of course. Lots of people do admire her, but not enough.
INTERVIEWER
What are the particular qualities that you think she has that others at the moment haven't?
WEST
She really tells you what people do, the extraordinary things that people think, how extraordinary circumstances are, and how unexpected the effect of various incidents. There's a terribly good thing in The Heavy Feather, where a woman goes home and there's a railway accident. The train is just jarred and the poor woman is sitting with a suitcase over her head. The suitcase falls on top of the woman sitting opposite her and kills her. This woman has been saying how happy she is and how all her children love her and how ideal her life is. Then the other, when she gets home, finds she's taken the woman's suitcase instead of her own, and it's got the address and she goes to take back the suitcase and try and get her own from the husband, who turns out to be Hindustani. The woman was white, and he's living there with a Hindustani girl and they're both terrified because they have been waiting for this white woman, who had no children and wasn't adored and was utterly miserable. The people come off the page to tell you what this would be like. You feel: Now I understand this better. And she also has in the book very good heterosexuals and very good homosexuals—with the different quality quite marked.
INTERVIEWER
Yes. Would you place her as high as the women writers that you have said overcome the problem of being female in their writing? I am thinking of Madame de Sévigné, Madame de La Fayette, Jane Austen, Willa Cather, Virginia Woolf, Colette.
WEST
Oh, she's almost better than anybody, I think. She's much better than Iris Murdoch, I think. But then Iris Murdoch I like enormously except when she begins to clown and be funny, because I don't think she ever is very funny. She writes curious books on goodness. Have you read her philosophic works? I can't make head or tail of them. They're better written than anything else she writes. They are so strange. She says that one has to study what goodness is by looking at good people. She says that the trouble with good people is that, if they're men, usually very little is known about them because they're so obscure, and, as for women, goodness is rarely found in women except in the inarticulate mothers of large families, which is just such an idiotic remark, you can't believe it. Is she pulling one's leg? One hopes so. But even so, why?
INTERVIEWER
Do you have a high opinion of Ivy Compton-Burnett?
WEST
She had her own stereotype, and wrote too many books exactly like each other in form. But it was a damn good form. At the time of a rising in South Africa, when it seemed that the colored races were going to burst forth and one was afraid that the white suburbs were being set on fire, I managed to get in happy nights reading the novels of Ivy Compton-Burnett. But it was very funny that people believed in her story of herself. She was a nanny, and you had only to meet her to see it; all her stories are nanny stories, about how awful the family is. She was very, very clever. You'd have to be very tasteless not to see she had something unique to give her age . . .
INTERVIEWER
How do you feel about Doris Lessing?
WEST
I wish I knew her. I think she's a marvelous writer. There's a peculiar book about European refugees in Africa, but it fascinates. It's beautifully done, the play side of philosophy. They were talking about all their ideas and it was as if the children were trying to go into a shop and buy things not with coins but with butterscotch or toffee apples. It's very curious. Yes, she's the only person who absolutely gets the mood of today right, I think. An absolutely wonderful writer. She wrote a picaresque novel, The Children of Violence, I thought was very fine. Who got the Booker Prize? Does anybody know? [Iris Murdoch won it for The Sea, The Sea, after this meeting.]
INTERVIEWER
Do you follow prizes?
WEST
Not very much. I was on the Booker Prize Committee twice. It almost drove me mad. I think they give people prizes too late. This is a sad thought. They've been heard of as failures and they have become conditioned to failure, so it is rather wide of the point. It's nice for them, though.
INTERVIEWER
Do you feel that public taste has declined as expressed in things like prizes?
WEST
People in England read books. I have read Mr. McEwan, and I read new books all the time, whether I review them or not, but you see, most people in America are reading the same books over and over again. They read Scott Fitzgerald and Hemingway and James Joyce and Nabokov, and they haven't moved on anywhere for years.
INTERVIEWER
John Gross says in his book on the English man of letters that we are now as far from Joyce as Joyce was from George Eliot, but in terms of the progress of literature, we haven't moved at all.
WEST
Yes. It's curious. People have no desire to read anything new. It is bad that English is taught in universities. It's bad over here, where it's sometimes not badly taught, but over there, where it's horribly badly taught, it simply stops the thing in its tracks.
INTERVIEWER
Because people always look back on the past?
WEST
They don't even look onto the past. They look onto the certified past. There really were beautiful writers in America like G. W. Cable, who wrote about the South in the middle of the last century. It's very rich, rather Balzacian sort of stuff about the South, New Orleans and so on. But nobody reads him now.
INTERVIEWER
Why do you think English is so badly taught in America?
WEST
It's an absurd error to put modern English literature in the curriculum. You should read contemporary literature for pleasure or not read it at all. You shouldn't be taught to monkey with it. It's ghastly to think of all the little girls who are taught to read To the Lighthouse. It's not really substantial food for the young because there's such a strong feeling that Virginia Woolf was doing a set piece and it didn't really matter very much. She was putting on an act. Shakespeare didn't put on an act. But Orlando is a lovely original splash, a beautiful piece of fancy. Leonard Woolf had a tiresome mind. When you read his books about Malaya, and then the books of the cadets who went out there, he's so petty, and they have such an enthusiasm and such tolerance for the murderous habits of the natives. But he was certainly good to Virginia. I couldn't forgive Vanessa Bell for her awful muddy decorations and those awful pictures of Charlotte Brontë. And I hated Duncan Grant's pictures too. The best thing that was ever said about Bloomsbury was said by a lovely butler of mine. At dinner one evening, they began to talk of Faulkner's book in which someone uses a corncob for the purposes of rape. They were being terribly subtle, and doing this and that gesture over the table. The butler came into my son Anthony's room and asked, "Do you know where they keep the Faulkners? It seems they're very saucy."—Virginia Woolf's criticism was much better than criticism others were writing then.
INTERVIEWER
Amongst critics, do you admire Cyril Connolly? Or Malcolm Muggeridge?
WEST
Connolly? What an extraordinary thing to ask! He was a very good editor of Horizon, but he wasn't an interesting person. As for writing, he was fond of it, as you might say. But he didn't know much about it, did he? I've got no opinion of Muggeridge. He's very nice and friendly. Whatever have I read of his in the past? I can never think Christ is grateful for being alluded to as if He were a lost cause.
INTERVIEWER
Did you want to write about trials?
WEST
Not at all. I had done it once or twice, when I was very hard up, when I was young, just to get some money, and so I learned how to do them, and then I used to sit and listen to William Joyce [Lord Haw-Haw, hanged 1945] when he was broadcasting. Then I arranged to go to his trial because I was interested in him. A man called Theobald Matthew, who was director of public prosecutions, though not a prosecuting sort of person, said, "I wish you'd report a lot of these trials because otherwise they will go unnoticed because there is so little newsprint." He said, "Really, if you will consider it as war work, it would be extremely valuable." So I did that for one book [The New Meaning of Treason, 1947] and then I did it for another [A Train of Powder, 1955]. Most of the people in intelligence didn't agree with my views. I don't know whether it had any effect on them at all. Someone asked me recently how did I think intelligence had found out John Vassal? [British spy, jailed in 1963]. It seemed to me such a silly question. He had it tattooed on his forehead. I never know how people don't find out spies.
INTERVIEWER
Are you interested in espionage still?
WEST
I won't say I'm interested in spies, but they do turn up in my life in quite funny ways. There was a man called Sidney Reilly, who was a famous spy, a double agent. My mother-in-law was very upset because my husband married me instead of the daughter of a civil servant. My husband's mother thought she was a nice Catholic girl, who'd be so nice for my husband, and it always tickled me because it gradually emerged that this girl was the mistress of this very famous and very disreputable spy. It was a wonderful thing to have in your pocket against your mother-in-law. My mother-in-law was an enormous, huge woman, and extremely pathetic. She had had her life broken up so often. By the First World War, and then the Second. Between the wars she was perfectly happy going to tea at those old-fashioned tea places they had—Rumpelmayer's. But her other son was very ill and he went out to Australia and he had a weak lung, and she went to see him and she got caught by the war there. If you like Rumpelmayer's, you wouldn't want to be in Australia for six years.
INTERVIEWER
Do you enjoy reviewing for the Sunday Telegraph?
WEST
Yes, I do. I do. I would feel awfully cut off if I didn't review; I think it's such a good discipline. It makes you really open your mind to the book. Probably you wouldn't, if you just read it.
INTERVIEWER
Oh, yes. It concentrates one, yes. I thought your review of Christopher Isherwood's Christopher and His Kind was dazzling. You demolished him.
WEST
I was so horrified by the way he treated the little German pansy. Also I thought it must have been so disgusting for the people in the village on the Greek island. I know Greeks love money, but I think a lot of money would have to pass before you'd be reconciled to Isherwood making such a noise.
INTERVIEWER
When I read your review, I was completely convinced by your argument, that it was an extraordinary sort of obliviousness that comes from class privilege.
WEST
Well, I didn't want to make a butt of him. Do you know, a bookseller's assistant said to him, "What do you think of Rebecca West's review of your book?" and he is alleged to have said such a lovely thing: "I shall think of some way of turning it to my advantage." You can't think how bad reviewing was when I first started to review, so dull and so dreadful. Nobody good but Lady Robert Cecil, one of the Salisbury family.
INTERVIEWER
But your reviews were absolutely sparkling. I love the essay you wrote about The Uncles.
WEST
Oh, Bennett was horrible about it. He was a horrible, mean-spirited, hateful man. I hated Arnold Bennett.
INTERVIEWER
But you were very nice about him.
WEST
Well, I thought so, and I think he was sometimes a very good writer. I do think The Old Wives' Tale is very good, don't you? He was a horrible man.
INTERVIEWER
Was he in a position to make things difficult for you then?
WEST
Yes. He was not nice. He lived with these two women, the Frenchwoman to whom he was married and also the woman who was with him when he died. He was always telling other people how tiresome these women were. It was all very, as people say, unchivalrous.
INTERVIEWER
English writing hasn't really produced the kind of giants it produced in the twenties. The stagnation of English writing since then is extraordinary. Joyce, Virginia Woolf, Wells, Shaw: all these people were writing, and who have we got to compare now?
WEST
I find Tom Stoppard just as amusing as I ever found Shaw. Very amusing, both as a playwright and as himself. But I'm not now an admirer of Shaw. It was a poor mind, I think. I liked his wife so much better. He was conceited, but in an odd way. Usually, you know, it's people shouting to keep their spirits up, but he really did think he was better than most people. I thought that book on Yeats's postbag was so good, letters that people wrote to Yeats. Did you read that? It's absolutely delightful. It's got delightful things like a very nicely phrased letter from a farmer, saying that he understands Yeats writes about supernatural matters and can he recommend a reliable witch? You know, charming things like that.
INTERVIEWER
Did you meet Yeats?
WEST
Yes. He wasn't a bit impressive and he wasn't my sort of person at all. He boomed at you like a foghorn. He was there one time when Philip Guedalla and two or three of us were all very young, and were talking nonsense about murderers in Shakespeare and whether a third murderer ever became a first murderer by working hard or were they, sort of, hereditary slots? Were they like Japanese specialists and one did one kind of murder, another did another? It was really awfully funny. Philip was very funny to be with. Then we started talking about something on the Western Isles but Yeats wouldn't join in, until we fussed round and were nice to him. But we were all wrong; what he liked was solemnity and, if you were big enough, heavy enough, and strong enough, he loved you. He loved great big women. He would have been mad about Vanessa Redgrave.
INTERVIEWER
Is your Irish birth important to you?
WEST
Frightfully, yes. I loved my family. I have a great affiliation to relations of mine called Denny. The present man is an architect, Sir Anthony Denny. He's exactly like Holbein's drawing of his ancestor, Anthony Denny, which I think is a great testimonial. Anthony Denny lives up in the Cotswolds and he and his wife are most glamorous people in a very quiet way. They have two charming sons, one of them paints very well, and they adopted a child, a Vietnamese child. Tony went out to see his brother, who had fever there, and he was walking along a quay and one of the refugee babies, who was sitting about, suddenly ran up to him and clasped him round the knees and looked up in his face. So he just said, "I'll have this one"—and took him home. It was a most lovely reason. The Dennys did nice things like that. And then my father used to speak about this cousin in Ireland, in the west of Ireland, called Dickie Shoot. Dickie Shoot beggared himself by helping people.
INTERVIEWER
I always think it's astonishing how much literature Protestant Ireland has produced.
WEST
I don't think they're very poetical people or sensitive people really, but what a lot of literature they've produced compared with the Scotch, who I think have really deeper emotions. It's most peculiar.
INTERVIEWER
Shaw. Wilde. Whatever one thinks of their quality, there they are. Samuel Beckett. All from Protestant Irish stock.
WEST
You know, an Irish priest said a most beautiful thing to me the other day, and I absolutely loved it. He looked at those books and said—a very old man he is, he's older than I am, he must be over ninety—and he said to me, "What are you doing with all your books, when you're dead? You must have planned for them." I said, "I'm giving those Oxford dictionaries to the grandson of Oscar Wilde, Merlin Holland." And he said, "Oh, how beautiful that makes it all. It's rather as if it hadn't happened." I said, "What do you mean?" He said, "Well, your family lives in Fitzwilliam Square and Wilde's people lived in Merrion Square and it's such a natural thing to do for a family in Fitzwilliam Square to give their Oxford dictionary to the son of a family living in Merrion Square." Almost as if it hadn't happened. He couldn't have added a word to it. I love Merlin. I went to see him out in Beirut with his mother, which was rather a trial. She's Australian in a big way but you know, it was so extraordinary, the glimpse I had of her. He was very fond of a ballet dancer, and we went out to lunch. We went up to her house, and after dinner Mrs. Holland, who is plump and sixty-something, got up and she turned on one of the records, Swan Lake, and danced to it, as she'd learned to, and she was quite beautiful. Obviously she should have been a dancer.
INTERVIEWER
Do you think it has become easier for women to follow their vocations?
WEST
I don't know. It's very hard. I've always found I've had too many family duties to enable me to write enough. I would have written much better and I would have written much more. Oh, men, whatever they may say, don't really have any barrier between them and their craft, and certainly I had.
INTERVIEWER
What inspired you later to write your great book on Yugoslavia? Was it the contact with the people?
WEST
What I was interested in really was wandering about with Henry. I wanted to write a book on Finland, which is a wonderful case of a small nation with empires here and there, so I learned Finnish and I read a Finnish novel. It was all about people riding bicycles. But then, when I went to Yugoslavia, I saw it was much more exciting with Austria and Russia and Turkey, and so I wrote that. I really did enjoy it terribly, loved it. I loved writing about Saint Augustine, too. I like writing about heretics, anyway.
INTERVIEWER
You consider Augustine a heretic, do you?
WEST
Oh, no, he wasn't a heretic. Most of his life he wasn't at all a nice man, but that's quite a different thing. I like to think about people like the Donatists, who were really suffering agonies of one kind and another because the Roman Empire was splitting up and it was especially uncomfortable to be in Roman Africa. But they didn't know anything about economics, and did know about theology. Theology had taught them that if you suffered, it was usually because you'd offended God: so they invented an offense against God, which was that unworthy priests were celebrating the Sacraments. So that satisfied them and then they went round the country, looting and getting the food and the property they wanted because they said that they were punishing heretics. I think it's wonderful that in the past people overlooked things that now seem to us quite obvious, and thought they were doing things for the reasons they weren't, and tried to remedy them by actions. Perhaps there's some quite simple thing we'll think of someday, which will make us much happier.