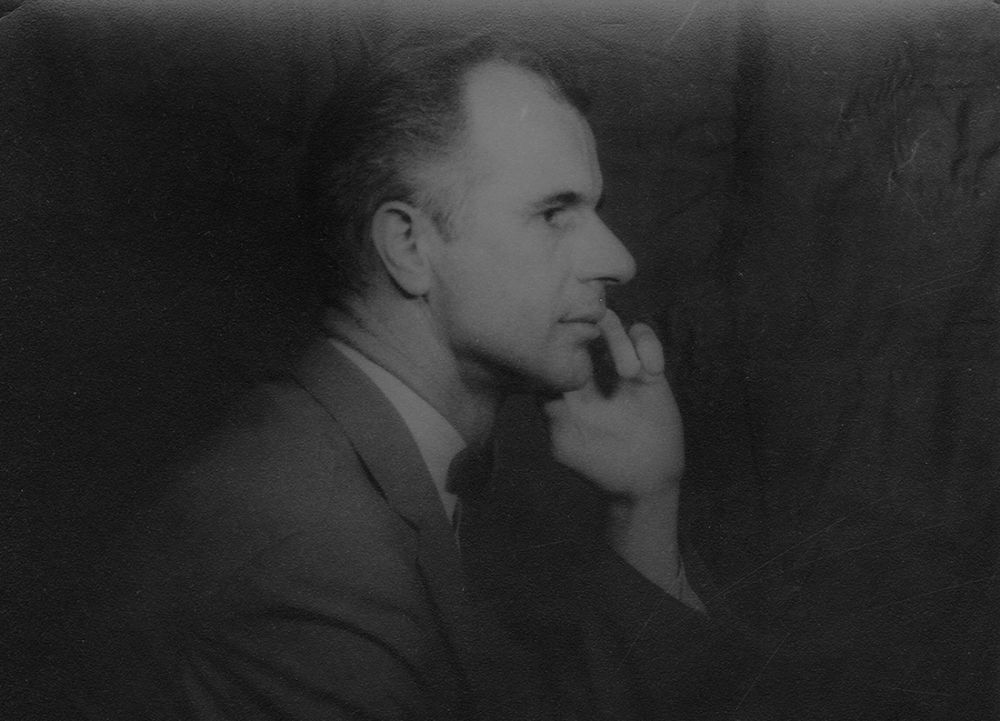 Photograph by Carl Van Vechten
Early in his career—"before," he says, "I was really even a writer"—John Hersey decided to restrict his public expression to the medium in which he was most comfortable; that is, to the written rather than the spoken word. He has kept to his decision. This is only the second interview he has ever granted; the first was with Publishers Weekly in 1984.
Since retiring from his professorship at Yale three years ago, Hersey and his wife Barbara have divided their time between homes in Martha's Vineyard, Massachusetts, and Key West, Florida. I visited them shortly before their annual move south, in typical autumn weather on the island—clear, bright, and unexpectedly cold. He and I talked on a glassed-in porch, carpeted and comfortably furnished, which afforded a spectacular view across Vineyard Haven Harbor; his study, directly upstairs from where we sat, offers the same lovely distraction. The ferry which runs to and from the mainland passes in front of those windows, its horn blasting, every half hour or so. Also visible, moored just offshore, is the small gray boat aboard which Hersey frequently goes fishing and does what he calls his "back-of-the-head work."
The Herseys were extremely hospitable during my three-day stay; but in the four-odd hours when the tape recorder was running, there was no small talk and no break. Unused to, and a little distrustful of, the process, he clearly felt it demanded his full concentration. He spoke very slowly, and paused frequently, looking out across the water as if trying to envision his words upon a page before releasing them. The house was absolutely silent; we were never interrupted, most likely by design.
INTERVIEWER
How long did you live in China?
JOHN HERSEY
I was eleven when we left China. My father contracted encephalitis on a trip into the back country on famine relief work; that turned out to have a sequel of Parkinson's disease, and he had to retire. So we came home in 1925.
INTERVIEWER
Was that the first time you had ever been to America?
HERSEY
No, most missionaries got furloughs every seven years, and an earlier furlough of my father's coincided with the First World War. When I was three, my father was assigned by the YMCA to go to France to help with the Chinese Labor Corps. There were nearly two hundred thousand Chinese coolies who were taken to France to dig trenches and unload ships and relieve troops from the front. While he was there, my mother and my two brothers and I came to this country. We lived in Montclair, New Jersey, for a little more than a year. It was a segment of my life so different from the childhood I had known, and subsequently knew, that I do have some odd visual memories of Montclair—for instance, of finding some old newspapers in the attic of the house we were renting and taking them out to sell to various neighbors. A few sharp pictures stay in my mind. And then in 1919 we joined my father and went back to China, around the world the rest of the way.
INTERVIEWER
What sort of schooling did an American child in China receive?
HERSEY
I went first to a British grammar school that was right next door to us. It was run on old-fashioned English lines. The headmaster was a strict character who had a whip in his office, used on bad boys, which we were all quite aware of. On the other hand, there was a motive to learn and to do well there; my oldest brother went right through that school, and his name was carved in wood up on the wall, in the inscriptions of honors winners there, for me to look at and think about. I was only in that school for a couple of grades. After that I went to a new American school, which had only about thirty students. That school got me started on languages—we studied French in the early grades—and on an early interest in music; I remember we had opera records played to us. I played the violin then. My father, when he was with the coolie corps in France, had bought a three-quarter-size violin. He found a White Russian refugee in the city who was a violinist, and Paul Federovsky gave me lessons. He later came to this country and played with the Boston Symphony for the rest of his life. In later years I used to go and see him frequently, after his concerts. And he never forgave me for giving up the violin in favor of writing, which he said anybody could do. He was a very gifted man, and in those China years he excited me enough to make me think I wanted to be a concert violinist. There was a period before I went to college when I practiced four to six hours a day; I was serious about it. I gave it up in college, making a choice between that and writing, and I haven't dared to touch the violin since then. My son Baird gave me one for Christmas about eight or ten years ago, and I never opened the case.
INTERVIEWER
Do you think the kind of formative reading you did, both in and out of school, was any different than it might have been had you grown up in America?
HERSEY
It may have been, I suppose. There was a certain amount of reading that many American boys would have done: Ernest Thompson Seton, the Terhune books. Animal stories of one kind or another, I remember I loved. There were also some semi-inspirational things—Lamb's essays, books about mythological heroes—the common currency of that sort of world; I guess those things pushed me eventually toward other kinds of reading, about heroes or their equivalents, in works by writers I came to admire later on, Malraux and Silone. Much of my early reading was commonplace. My father was a shy, studious, contemplative man, and I spent a lot of time in his study in our house in China. I was into The Book of Knowledge all the time, and later the Encyclopedia Britannica. I was allowed to play, I guess you would say, on his typewriter at a very early age. My mother kept scrapbooks of everything any of her children did all their lives, and among my scrapbooks are newspapers that I wrote on the typewriter at the age of six, The Hersey Family News, with ads offering my older brothers for various kinds of hard labor at very low wages.
INTERVIEWER
You mention in The Algiers Motel Incident that there was a class system in China of which you were always aware . . .
HERSEY
It was my natural world, and I can't say I consciously questioned that world, though I did have feelings of dislocation and discomfort every once in a while. It was a world in which I was a foreigner, a member of a minority, but the dominant minority. We lived in the British Concession, where the Chinese were not supposed to live, though some wealthy Chinese rented houses from foreigners there—some who had been thrown out of the government, perhaps some who were afraid of being beheaded if they were at large, and some who just liked the idea of luxuries, living like foreigners. I rode to school in a rickshaw, paid a human being very few coppers for pulling me there, and sometimes when I was feeling lazy I would ride home from school, too, and get the coppers from the cook's bag in the kitchen. We had three servants—cook, number one boy, and coolie, in that order—though my father was paid very little, something like $200 a month. Even considering how much more valuable dollars were then, by American standards we were poor. Yet there we lived in a rather fine two-story house, with servants' quarters. As I say, that was my natural habitat, so I didn't really question much of it at the time. Though beggars in the streets, and some of the coolies who were beasts of burden in the British concession, did trouble me. I remember once going home from school, I came on a water cart—water was brought from the river to sprinkle on the dusty streets to keep dust down so the foreigners wouldn't be troubled by it. It was a terrifically heavy burden when a two-wheeled wooden cart, with a rectangular cask of probably ten cubic feet, was filled with water. A coolie had stopped his cart, that day, propped the shafts up with a stick. I had never seen the inside of one of these things, and was barely tall enough to look over the edge; I reached up and grabbed one side to take a look, and upset the cart. The water spilled, and the coolie's labor of hauling it all the way there from the river was lost. He was not supposed to shout at a white child, but I understood why he did. His rage at me was something I have never forgotten.
INTERVIEWER
Did that system change the way you looked at American society?
HERSEY
I've considered myself a foreigner all my life, in ways. I was born a foreigner. I grew up bilingual; no matter that my spoken Chinese was that of an eleven-year-old—it was native to the ear. When we came back to this country, the ambiance here was so different from the one I had grown up in that from late boyhood until, say, college, I felt I was a little different. Those early years got me somewhat in the habit of thinking of myself not exactly as an outsider but as someone who came from another culture. I think that's affected my adult years, though I feel very much an American now. Still, my prevailing interest has been in the world as a whole, and in the place of a person in a larger setting than one defined by national boundaries.
INTERVIEWER
It must really have seemed another world to go from China to Hotchkiss and Yale.
HERSEY
I went first to a local high school in Briarcliff Manor, New York, for two years. Hotchkiss had taken in a number of missionaries' sons; I was admitted there on a scholarship. The scholarship boys cleaned classrooms, waited on tables, and were in one sense in a separate social class. But that seemed to me to be perfectly normal; in fact, in ways I saw it as an advantage. Waiting on tables, you were at the nerve center of gossip and understanding—you knew everybody, what they were like, what they were about. I didn't feel that the work was demeaning in the least. A great teacher in my life was the headmaster of the school, George van Santvoord, a man of enormous erudition. Van Santvoord was an eccentric, and a model of great value in a school that might have seemed to build pressure for conformity. Quite the contrary, he encouraged dissent and independence. He had a crude Socratic method of his own; he used to sneak up on you in the school corridor when you were talking freely and foolishly with other boys, and you'd feel his hand come into the crook of your elbow, and then he would ask you an odd question. The first question he asked me, when I was a homesick child at the very beginning of my stay there, was, "What was Stradivarius's first name?" I didn't know. The second question, some days later, was, "Is it true that eeny, meeny, miney, moe is counting in Chinese?" I knew that it wasn't, and I counted to him correctly in Chinese, and that gave me a great boost. What I didn't realize at the time, though I do now, was that he had known both that I played the violin and that I had been born in China. He had given me an identity by asking me these questions, something I very badly needed at that point.
INTERVIEWER
Were the violin and writing already competing when you were there?
HERSEY
Yes, to some degree. There were teachers there who started me thinking about writing. One was Gordon Haight, who would later become the world's leading authority on George Eliot. Another, a teacher named John McChesney, an eccentric like the headmaster, got me at a period when I was wasting my eyes on Galsworthy and put The Sound and the Fury in my hands—this was in 1930, when Faulkner was so far relatively unknown. I did play the violin; I played in a string quartet with, among others, John Hammond, who was later a catalyst in introducing black jazz musicians to the recording world—the patron saint of recorded jazz of the thirties and forties.
Want to keep reading?
Subscribe and save 33%.
Subscribe Now
Already a subscriber? Sign in below.