Interviewed by Jonathan Dee
Issue 100, Summer-Fall 1986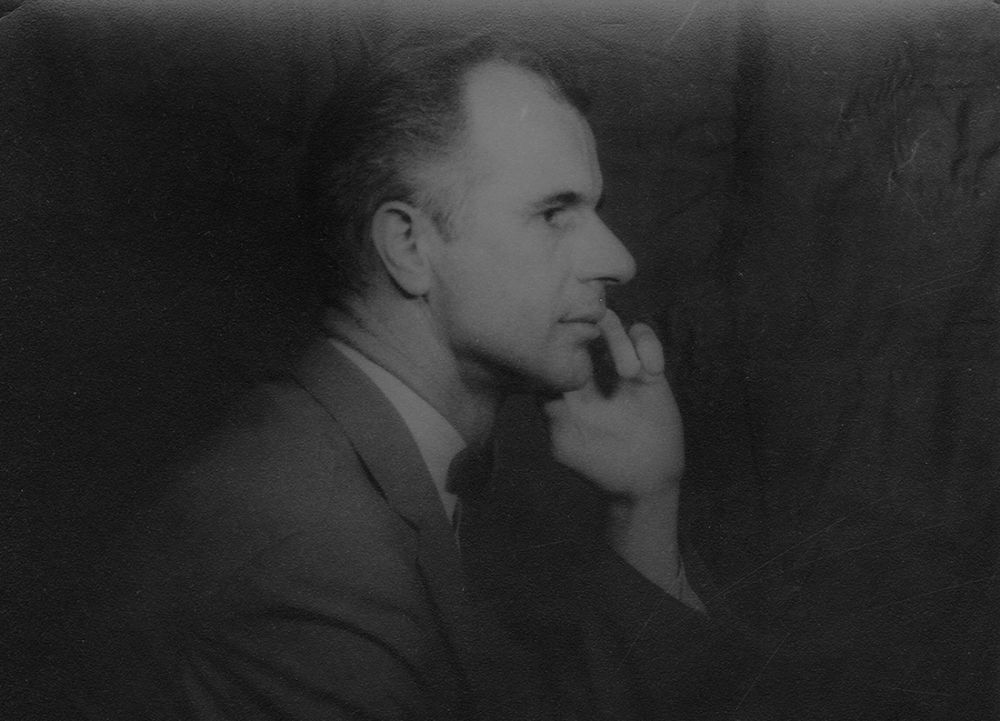 Photograph by Carl Van Vechten
Early in his career—"before," he says, "I was really even a writer"—John Hersey decided to restrict his public expression to the medium in which he was most comfortable; that is, to the written rather than the spoken word. He has kept to his decision. This is only the second interview he has ever granted; the first was with Publishers Weekly in 1984.
Since retiring from his professorship at Yale three years ago, Hersey and his wife Barbara have divided their time between homes in Martha's Vineyard, Massachusetts, and Key West, Florida. I visited them shortly before their annual move south, in typical autumn weather on the island—clear, bright, and unexpectedly cold. He and I talked on a glassed-in porch, carpeted and comfortably furnished, which afforded a spectacular view across Vineyard Haven Harbor; his study, directly upstairs from where we sat, offers the same lovely distraction. The ferry which runs to and from the mainland passes in front of those windows, its horn blasting, every half hour or so. Also visible, moored just offshore, is the small gray boat aboard which Hersey frequently goes fishing and does what he calls his "back-of-the-head work."
The Herseys were extremely hospitable during my three-day stay; but in the four-odd hours when the tape recorder was running, there was no small talk and no break. Unused to, and a little distrustful of, the process, he clearly felt it demanded his full concentration. He spoke very slowly, and paused frequently, looking out across the water as if trying to envision his words upon a page before releasing them. The house was absolutely silent; we were never interrupted, most likely by design.
INTERVIEWER
How long did you live in China?
JOHN HERSEY
I was eleven when we left China. My father contracted encephalitis on a trip into the back country on famine relief work; that turned out to have a sequel of Parkinson's disease, and he had to retire. So we came home in 1925.
INTERVIEWER
Was that the first time you had ever been to America?
HERSEY
No, most missionaries got furloughs every seven years, and an earlier furlough of my father's coincided with the First World War. When I was three, my father was assigned by the YMCA to go to France to help with the Chinese Labor Corps. There were nearly two hundred thousand Chinese coolies who were taken to France to dig trenches and unload ships and relieve troops from the front. While he was there, my mother and my two brothers and I came to this country. We lived in Montclair, New Jersey, for a little more than a year. It was a segment of my life so different from the childhood I had known, and subsequently knew, that I do have some odd visual memories of Montclair—for instance, of finding some old newspapers in the attic of the house we were renting and taking them out to sell to various neighbors. A few sharp pictures stay in my mind. And then in 1919 we joined my father and went back to China, around the world the rest of the way.
INTERVIEWER
What sort of schooling did an American child in China receive?
HERSEY
I went first to a British grammar school that was right next door to us. It was run on old-fashioned English lines. The headmaster was a strict character who had a whip in his office, used on bad boys, which we were all quite aware of. On the other hand, there was a motive to learn and to do well there; my oldest brother went right through that school, and his name was carved in wood up on the wall, in the inscriptions of honors winners there, for me to look at and think about. I was only in that school for a couple of grades. After that I went to a new American school, which had only about thirty students. That school got me started on languages—we studied French in the early grades—and on an early interest in music; I remember we had opera records played to us. I played the violin then. My father, when he was with the coolie corps in France, had bought a three-quarter-size violin. He found a White Russian refugee in the city who was a violinist, and Paul Federovsky gave me lessons. He later came to this country and played with the Boston Symphony for the rest of his life. In later years I used to go and see him frequently, after his concerts. And he never forgave me for giving up the violin in favor of writing, which he said anybody could do. He was a very gifted man, and in those China years he excited me enough to make me think I wanted to be a concert violinist. There was a period before I went to college when I practiced four to six hours a day; I was serious about it. I gave it up in college, making a choice between that and writing, and I haven't dared to touch the violin since then. My son Baird gave me one for Christmas about eight or ten years ago, and I never opened the case.
INTERVIEWER
Do you think the kind of formative reading you did, both in and out of school, was any different than it might have been had you grown up in America?
HERSEY
It may have been, I suppose. There was a certain amount of reading that many American boys would have done: Ernest Thompson Seton, the Terhune books. Animal stories of one kind or another, I remember I loved. There were also some semi-inspirational things—Lamb's essays, books about mythological heroes—the common currency of that sort of world; I guess those things pushed me eventually toward other kinds of reading, about heroes or their equivalents, in works by writers I came to admire later on, Malraux and Silone. Much of my early reading was commonplace. My father was a shy, studious, contemplative man, and I spent a lot of time in his study in our house in China. I was into The Book of Knowledge all the time, and later the Encyclopedia Britannica. I was allowed to play, I guess you would say, on his typewriter at a very early age. My mother kept scrapbooks of everything any of her children did all their lives, and among my scrapbooks are newspapers that I wrote on the typewriter at the age of six, The Hersey Family News, with ads offering my older brothers for various kinds of hard labor at very low wages.
INTERVIEWER
You mention in The Algiers Motel Incident that there was a class system in China of which you were always aware . . .
HERSEY
It was my natural world, and I can't say I consciously questioned that world, though I did have feelings of dislocation and discomfort every once in a while. It was a world in which I was a foreigner, a member of a minority, but the dominant minority. We lived in the British Concession, where the Chinese were not supposed to live, though some wealthy Chinese rented houses from foreigners there—some who had been thrown out of the government, perhaps some who were afraid of being beheaded if they were at large, and some who just liked the idea of luxuries, living like foreigners. I rode to school in a rickshaw, paid a human being very few coppers for pulling me there, and sometimes when I was feeling lazy I would ride home from school, too, and get the coppers from the cook's bag in the kitchen. We had three servants—cook, number one boy, and coolie, in that order—though my father was paid very little, something like $200 a month. Even considering how much more valuable dollars were then, by American standards we were poor. Yet there we lived in a rather fine two-story house, with servants' quarters. As I say, that was my natural habitat, so I didn't really question much of it at the time. Though beggars in the streets, and some of the coolies who were beasts of burden in the British concession, did trouble me. I remember once going home from school, I came on a water cart—water was brought from the river to sprinkle on the dusty streets to keep dust down so the foreigners wouldn't be troubled by it. It was a terrifically heavy burden when a two-wheeled wooden cart, with a rectangular cask of probably ten cubic feet, was filled with water. A coolie had stopped his cart, that day, propped the shafts up with a stick. I had never seen the inside of one of these things, and was barely tall enough to look over the edge; I reached up and grabbed one side to take a look, and upset the cart. The water spilled, and the coolie's labor of hauling it all the way there from the river was lost. He was not supposed to shout at a white child, but I understood why he did. His rage at me was something I have never forgotten.
INTERVIEWER
Did that system change the way you looked at American society?
HERSEY
I've considered myself a foreigner all my life, in ways. I was born a foreigner. I grew up bilingual; no matter that my spoken Chinese was that of an eleven-year-old—it was native to the ear. When we came back to this country, the ambiance here was so different from the one I had grown up in that from late boyhood until, say, college, I felt I was a little different. Those early years got me somewhat in the habit of thinking of myself not exactly as an outsider but as someone who came from another culture. I think that's affected my adult years, though I feel very much an American now. Still, my prevailing interest has been in the world as a whole, and in the place of a person in a larger setting than one defined by national boundaries.
INTERVIEWER
It must really have seemed another world to go from China to Hotchkiss and Yale.
HERSEY
I went first to a local high school in Briarcliff Manor, New York, for two years. Hotchkiss had taken in a number of missionaries' sons; I was admitted there on a scholarship. The scholarship boys cleaned classrooms, waited on tables, and were in one sense in a separate social class. But that seemed to me to be perfectly normal; in fact, in ways I saw it as an advantage. Waiting on tables, you were at the nerve center of gossip and understanding—you knew everybody, what they were like, what they were about. I didn't feel that the work was demeaning in the least. A great teacher in my life was the headmaster of the school, George van Santvoord, a man of enormous erudition. Van Santvoord was an eccentric, and a model of great value in a school that might have seemed to build pressure for conformity. Quite the contrary, he encouraged dissent and independence. He had a crude Socratic method of his own; he used to sneak up on you in the school corridor when you were talking freely and foolishly with other boys, and you'd feel his hand come into the crook of your elbow, and then he would ask you an odd question. The first question he asked me, when I was a homesick child at the very beginning of my stay there, was, "What was Stradivarius's first name?" I didn't know. The second question, some days later, was, "Is it true that eeny, meeny, miney, moe is counting in Chinese?" I knew that it wasn't, and I counted to him correctly in Chinese, and that gave me a great boost. What I didn't realize at the time, though I do now, was that he had known both that I played the violin and that I had been born in China. He had given me an identity by asking me these questions, something I very badly needed at that point.
INTERVIEWER
Were the violin and writing already competing when you were there?
HERSEY
Yes, to some degree. There were teachers there who started me thinking about writing. One was Gordon Haight, who would later become the world's leading authority on George Eliot. Another, a teacher named John McChesney, an eccentric like the headmaster, got me at a period when I was wasting my eyes on Galsworthy and put The Sound and the Fury in my hands—this was in 1930, when Faulkner was so far relatively unknown. I did play the violin; I played in a string quartet with, among others, John Hammond, who was later a catalyst in introducing black jazz musicians to the recording world—the patron saint of recorded jazz of the thirties and forties.
INTERVIEWER
How did you wind up working for Sinclair Lewis? It seems an unusual first job.
HERSEY
I had applied for a job at Time magazine; my brother roomed with Henry Luce's brother Sheldon at Hotchkiss, and that gave me an opening. Luce promised me a job after graduation, but then I was offered a Mellon Fellowship to Clare College, Cambridge, and I decided to take it; I asked Luce if I could still have the job when I got back. He said I could. When I did get back, though, he seemed to have forgotten his promise. So I applied for a job in the regular way; I was given something called a Time Test, which consisted of their handing you all the research a writer would have writing a Time story, and asking you to write what you thought would be the appropriate story based on the material. I took the test, and after that could never get past a certain Miss Schultz, secretary to a man named C. D. Jackson, who was an assistant to Luce. So I began looking elsewhere. I heard about the job for Sinclair Lewis through a friend who worked at the Herald Tribune, and applied for it, and worked for him for several months, beginning in the late summer of 1937.
INTERVIEWER
What did the job entail?
HERSEY
He had just finished a novel called The Prodigal Parents, and my first job was to read the manuscript and tell him what I thought of it. The novel was about the relationship between some parents and their college kids. It wasn't very good, but I didn't have the courage to do anything but correct him on some lapses in student slang. Mainly, though, I took dictation and retyped his work. It was a wonderful summer for me. I didn't know at the time that he had been a heavy drinker. The reason I got the job at all was because he had gone off on a tear with a man named Florey, then his factotum, and the pair had disappeared; Lewis's wife, Dorothy Thompson, who wrote for the Herald Tribune, began calling inns all along the coast, thinking he would have wandered off that way somewhere. She finally called one in Old Lyme, I believe, where he was in the throes of delirium tremens. She went and got him, and, finding that Florey had been drinking with him, she fired Florey. So Lewis needed someone. I called him, and he invited me to come up to the Essex House on Central Park South, where he was staying. We talked for a while about Yale, and about the American Legion, which was having a convention in New York at the time, one thing and another, and then he suddenly said, "Excuse me, I have something else I have to do." And I thought oh, that went badly, and went back to reading Gone With the Wind, which I was in at the moment. But he called me the next morning and asked me to come up. This time he talked about being married to a columnist, about women in general, again one thing and another, and again dismissed me. He called me the next morning. As we were talking, the phone kept ringing; it was clear he didn't like the phone. He came back from one call, and said, "John"—by this time he was calling me by my first name—"there's a young man downstairs in the lobby who's applying for a job as my secretary. I have to shave and change, do you mind interviewing him for me?" That was the signal that I had been hired—being asked to interview someone applying for the job I thought I was applying for. I was able to tell Lewis that the young man was a good stenographer but I didn't think he'd really work for him. Lewis gave me a month to learn Gregg shorthand, and to convert from hunt-and-peck to the touch system in typing. And then I took my first dictation from him.
INTERVIEWER
Was he a model for you in any way?
HERSEY
He was past his important work—this was a couple of years after It Can't Happen Here. But he was wonderfully important to me; I was able to see the life of a man totally given over to writing. Even though he was not producing important novels anymore, he was so gripped by what he was doing that it was very impressive to me. He would get up in the middle of the night, cook up some coffee, and work for two or three hours and then go back to bed. He led an irregular life, but a life that was passionately devoted to his work. I was exposed to someone who lived for writing, lived in his writing, in a way. That summer he became interested in theater, and was writing what turned out to be a very bad play about a mythical Balkan kingdom. He wanted to learn everything about the theater. There was a summer-stock company in Stockbridge, Massachusetts, where we were, and every night he would have the casts over to his house. He was like a student trying to learn fundamentals; he would ask them how you get people on stage and off stage. His utter wholeheartedness was an important example for me.
INTERVIEWER
He must also have been an example of the darker side of the writer's life.
HERSEY
Yes, he was a very troubled man. He was on the wagon then, and wanted to be in Stockbridge in order to be near the Riggs sanitarium. He wasn't under treatment, but he felt safe being near the psychiatrists, in case he tumbled. He was haunted in ways, it was clear; at the same time, he wanted to please, he was very entertaining and outgoing, and he compensated for some of his dread and pain, I think, by being charming. I have gathered that it was another story when he was drinking; I understand—though I never saw him that way—that he could be nasty when he was tight. But he was wonderful the summer I was working for him. When he moved back to New York, after several months up there, he didn't need me as much as he had in the country, and he encouraged me to leave him and make a million dollars, so as to be free to write whatever I wanted. With a war brewing, he thought making toy soldiers would be profitable, and he sent me to F. A. O. Schwarz and other stores to study their lead-soldier lines. But I decided I had no gift for moneymaking—an insight the years have confirmed—and I chose to try Time again. I took the Time Test again, and this time, having been nettled by what had happened before, I wrote a piece that was as far from Time's style as I could make it be. I wrote a twenty-four-page essay on how rotten Time was.
INTERVIEWER
That one got past Miss Schultz?
HERSEY
I was hired the next day. My first job was as writer for "Milestones," "Miscellany," "People," and "Animals": four different columns, each of which now, I assume, would be the work of at least three people. Thirty-five dollars a week, and hard work. Time was in an interesting phase; an editor named Tom Matthews had gathered a brilliant group of writers, including James Agee, Robert Fitzgerald, Whittaker Chambers, Robert Cantwell, Louis Kronenberger, and Calvin Fixx—the father of the avatar of jogging who died jogging. They were dazzling. Time's style was still very hokey—"backward ran sentences till reeled the mind"—but I could tell, even as a neophyte, who had written each of the pieces in the magazine, because each of these writers had such a distinctive voice. Working for the magazine was, I think, a valuable training because it taught me the importance of what's left out. There were absurd tasks sometimes—very complex and important issues having to be dealt with in two hundred words, so that often you were forced in a way to cheat and lie in order to compress as much as you had to. In the end I differed with Luce on a number of things, in particular his China policy. But on the whole, the training in tightness and concision was something I've come, in retrospect, to value. I also made some friendships that have been important to me over the years. Robert Fitzgerald was a close friend up until his death last year.
INTERVIEWER
But you stayed at Time long enough to be a correspondent for much of World War II.
HERSEY
I went first to China in 1939 and then to the South Pacific after the war began, as a war correspondent with the Navy on the aircraft carrier Hornet. Then on Guadalcanal. And later in North Africa and Sicily, and Russia. I did some writing for Life then as well.
INTERVIEWER
Somewhere in the midst of all that traveling, you managed to find time to write a first novel.
HERSEY
My first book was about MacArthur; I came to dislike it a lot, and asked Knopf, my publisher, to take it out of print in the early years. Then I wrote a book called Into the Valley about the Guadalcanal campaign, and it was after that, when I went to North Africa and Sicily, that I got the material for A Bell for Adano. I outlined the book and drafted a few possible pages of it in Sicily and North Africa. Then I came home and had a vacation from Time for a month, and I wrote the novel on that vacation.
INTERVIEWER
In a month?
HERSEY
Yeah. It was written in a sort of white heat.
INTERVIEWER
Was it that natural a move, to go from writing nonfiction to writing fiction?
HERSEY
I guess I'd been thinking from the very beginning, and had been experimenting a little bit in the pieces I did for Life, with the notion that journalism could be enlivened by using the devices of fiction. My principal reading all along had been in fiction, even though I was working for Time on fact pieces. As I said, Malraux, Silone, John Dos Passos of those years, Hemingway, Faulkner, were all writers who had excited me; the kind of skepticism and challenging of the norms that Van Santvoord had put to me had attracted me to writers who were trying to break the molds in various ways. In Sicily I wrote some Life pieces about people there who interested me very much. I couldn't take their stories in nonfiction beyond the articles I had written; but implicit in what they were like was the possibility of a novel. So I just plunged in. The book almost wrote itself. I was working under pressure of time—I had a month in which to work. I now look back on it as a naive book, and an imperfect one. But the example of Silone, who spent his last years rewriting his novels, has cautioned me against trying to repair A Bell for Adano, to make it better. Silone went around a long curve from left to right, and I think he wanted to take the political errors of his youth out of his early books. But instead he took his youthfulness out of them, and I think damaged them badly. As did Fitzgerald when he tried to straighten out Tender Is the Night. A Bell for Adano, as I see it now, had a value when it came out, flawed as it is, because it presented to the American public, at a time when the war was far from won, the spectacle of an American general who seemed to represent the very things we were fighting against—General Marvin, loosely based on Patton, who was I think rather seriously deranged during the Sicilian campaign.
INTERVIEWER
Didn't you lose the manuscript to the novel at one point?
HERSEY
I had flown back from Europe with a colonel—I've forgotten his name, but let's say it was Wilcox—and I rode in a taxi with him from the airport. I had been in two airplane accidents my last few days in Sicily; one plane crashed when it landed in a bomb crater in the Licata airport, and shortly after takeoff the other ran into the anchoring cable of a barrage balloon, which had inadvertently been put up by the Navy in the takeoff path of the Army field the night before. I had a little Olivetti typewriter that had been badly bent up, and I was bringing it home as a souvenir of the accidents. I was fortunately not very badly bent up myself. I had tucked my draft chapters, and the outline I wanted to follow, in the case of the typewriter. When we got into New York I was so excited about getting home that I left the typewriter in the taxi with Colonel Wilcox. He went on, and I realized of course right after I'd gotten out of the taxi that my work was lost. I called the Pentagon and got a very friendly lady who said she would be willing to look up the Wilcoxes; she found there was one who came from New London and was indeed on leave, and she gave me his address. I called the telephone company and asked for the phone at that address. I rang the number. There was no answer. The telephone information operator, who had stayed on the line, was a wonder. She said, well, I'll get the number of the people across the street. I called them and they said yes, they'd heard that Colonel Wilcox was coming on leave but he wasn't home yet, they thought he was going to be there in a few days. So I waited a few days. I called him, and he said yeah, he'd taken that thing in with him, he was supposed to meet his wife in the Commodore Hotel, and she was an hour late. He was so mad that when she came, he got up and walked out and left the typewriter there. I called the Commodore Hotel and they said yeah, it's here in Lost and Found, come and get it.
INTERVIEWER
How did you hear that the book had won the Pulitzer Prize?
HERSEY
On the tennis court. I was playing tennis with a friend of mine named Richard Lauterbach, who later died of polio; he was then working for Life. We were at Rip's Tennis Courts on 54th Street and Sutton Place. And Rip or his assistant came out of his shed onto the court and said, "I just heard on the radio that you won the Pulitzer Prize." And I said, "Lauterbach, you bastard, you're trying to pull a fast one on me. I know it!" We went on and played the rest of the set, then I went home and found out that it was true. That also happened to be V-E Day, as it turned out.
INTERVIEWER
Were you still at Time when all this was going on?
HERSEY
No, I had left Time by then and had gone up to work for Life. I went to China and Japan a few months after that on an odd assignment for Life and The New Yorker—two magazines that hated each other. But I made separate arrangements with them to do a given number of articles for each one.
INTERVIEWER
Was that the trip on which you interviewed the subjects for Hiroshima?
HERSEY
Yes. I went to China first and did several pieces there, and then went from there to Japan, did the research for that piece, came home and wrote it. It was published in The New Yorker in August of 1946.
INTERVIEWER
Was that why you went to Japan—with the intention of doing that particular story?
HERSEY
Yes. Before I went on the trip I had lunch with William Shawn, who was then the number two to Harold Ross on The New Yorker, and we talked about various possible stories. One that we thought about was a piece on Hiroshima. At that point, what seemed impressive was the power of the bomb, and almost all the reporting had had to do with the devastation it had caused, the physical devastation; it was really in terms of the destructive power of the bomb that Shawn and I envisioned the story. But as I thought about it in advance, while I was working in China, I thought more and more that I wanted to try to do something about the impact on people rather than on buildings, on the physical city. One of the assignments I worked on for The New Yorker involved a trip on the LST—a Landing Ship for Tanks—which was transporting Chinese troops from Shanghai to the north to fight against the Communists. I was horrified on that trip by the way the American naval officers treated the Chinese. This reaction may have been some kind of reverberation from the sense of dislocation I'd had as a child in China, I suppose. Anyhow, I was very upset and feverish by the end of the voyage, I thought from anger, but it turned out I had a mild case of the flu. I was taken on a destroyer from there back down to Shanghai. Some crew members brought me books from their library, one of which was The Bridge of San Luis Rey by Thornton Wilder. Reading that, I sensed the possibility of a form for the Hiroshima piece. The book is about five people who were killed when a rope suspension bridge over a canyon in Peru gave way, and how they had happened to find their way to that moment of fate together. That seemed to me to be a possible way of dealing with this very complex story of Hiroshima; to take a number of people—half a dozen, as it turned out in the end—whose paths crossed each other and came to this moment of shared disaster. So I went to Hiroshima and began right away looking for the kinds of people who would fit into that pattern. I went first to some German priests, because I'd read a report to the Holy See on the bombing by a German Jesuit who had been there. One of the priests—Father Kleinsorge, about whom I wrote in the Hiroshima piece in the end—spoke some English, and he began to introduce me to others. Through him I met the Protestant minister, Tanimoto, who spoke very good English, having studied at Emory University before the war. And both of them then introduced me to still others. I must have talked to forty or fifty people, trying to find the ones that would work for what I wanted to do. I narrowed it down to the six I finally wrote about, and got their stories. I spent about three weeks doing that, and came home and wrote it, in about a month, I guess.
INTERVIEWER
Was this designed from the beginning to be a piece which would take up a whole issue of The New Yorker?
HERSEY
It was originally intended as four separate pieces to be run in four successive weeks. One of the problems in handling it serially was that of giving enough clues in the second installment about what had happened in the first so that the reader who hadn't read the first would be able to pick up on it. But not so much as to stop someone who had read the first from wanting to read the second. That difficulty led Shawn finally one day to say, "Look, we just can't, we'll have to do this all in one week." He took the idea to Ross, who a few days later called me and said that he wanted to give an entire issue to the account. So we then went back and untangled it all—made it consecutive, for one issue.
INTERVIEWER
Was the Wilder book a model in terms of style as well? That flat style that characterizes Hiroshima?
HERSEY
Not really. Wilder's was a much more ornate and meandering style than mine would be. My choice was to be deliberately quiet in the piece, because I thought that if the horror could be presented as directly as possible, it would allow the reader to identify with the characters in a direct way. I've thought quite a lot about the issue of fiction and journalism as two possible ways of presenting realities of life, particularly such harsh ones as we've encountered in my lifetime. Fiction is the more attractive to me, because if a novelist succeeds, he can enable the reader to identify with the characters of the story, to become the characters of the story, almost, in reading. Whereas in journalism, the writer is always mediating between the material and the reader; the reader is conscious of the journalist presenting material to him. This was one of the reasons why I had experimented with the devices of fiction in doing journalism, in the hopes that my mediation would, ideally, disappear. I believe that the reader is not conscious of the writer of fiction, except through the author's voice—that is, you are conscious of the person behind the work. But in journalism you are conscious of the person in the work, the person who's writing it and explaining to you what's taken place. So my hope was, by using the tricks and the ways of fiction, to be able to eliminate that mediation and have the reader directly confronted by the characters. In this case, my hope was that the reader would be able to become the characters enough to suffer some of the pain, some of the disaster, and therefore realize it.
INTERVIEWER
What were some of the tricks of fiction that you tried to employ?
HERSEY
Well, there's the whole issue of point of view, presenting each of the characters from his viewpoint. There are six points of view in the book, and each section devoted to Tanimoto, Miss Sasaki, Dr. Fujii, and so on, enters into each survivor's state of mind without representing his thoughts—it's all done in terms of action, of what happened to them, what they saw, heard, and did. The reader looks at what is happening through the eyes of each of these characters, as he would in reading through a point of view in fiction. Then there is the means of building suspense in fiction: the writer takes a given episode up to the verge of some kind of crisis, and then cuts away from it to another scene, making the reader want to get back to the first to learn the outcome. One of the other fictional elements in Hiroshima, I feel, is the way in which time is opened up. The first passages are very tight in time, and then time gradually pulls out as you go through the story, to a more—not to a casual pace, but to a pace which one hoped would open out into a sense of a long and terrible future—which has since indeed come to pass.
INTERVIEWER
What was the initial reaction to the piece at The New Yorker?
HERSEY
It was a very big step for them to devote the entire space to a single piece. This meant that they gave it wonderful editing. It was the first experience I had had with editing as careful as that. At Life, they had a lot of confidence in their writers, sometimes to the extent that—well, I know of articles I wrote for Life which no single editor read from beginning to end. On the Hiroshima piece, I must have spent ten hours a day for twenty days with Ross and Shawn on it. Ross's kind of editing was to put hundreds of questions in the margins of the proofs—The New Yorker puts things in galleys the minute they arrive, so the editors can see them as New Yorker pieces, I guess. Ross wrote many, many queries. A typical query of his was this: I had written of ruined bicycles near the epicenter of the bomb as "lopsided bicycles." Ross's query was "Can something which is two-dimensional be lopsided?" As Shawn and I came to this, we realized that Ross was right, it couldn't. That happened late one evening after we'd been working for hours, and so we both said, let's deal with that tomorrow morning. So I went home, thought about it, and decided that the only word I could use in place of "lopsided" would be "crumpled." Got in the next morning before Shawn; the galleys were on his desk and he'd written "crumpled" in the margin already. That was an example to me of the way he becomes the writer he's dealing with. I see Shawn as a kind of editorial Zelig; it's a wonderful gift he has, to be able to think in the vocabulary of the writer he's editing and to find a way of dealing with the text that's exactly appropriate to that person.
INTERVIEWER
Were you prepared for the reaction to the piece when it finally appeared?
HERSEY
The reaction was explosive, simply because this was such an unprecedented thing for the magazine to do; to have this heavy thing take up a whole issue of a magazine which normally carried lots of humor, cartoons, light pieces, and so on. It caused a sensation. That's all been paraded in one way or another. It was broadcast over networks, and reproduced in a lot of newspapers, so it did get a lot of readers right on the spot. And has had a lot, over the years; I get letters all the time now from kids at school who are reading it, being exposed now. Now it has a different significance, because these are young people who are vaguely fearful of "the bomb" but have never had any way of imagining what that fear stood for.
INTERVIEWER
Was it something like that feeling, that a new generation has never known the bomb's effects, that led you to go back to Hiroshima recently, to write the book's new concluding chapter?
HERSEY
I had corresponded with Tanimoto over the years, and he had told me a little about what had happened to each of the other five people. It was quite clear that the shadow was longer than the one year about which I had written in the original piece. The shadow was much, much longer. So I thought there might be some value in going back to find out what had happened to the six over the time since 1946. Though these six people were by no means representative of a cross section of Hiroshima's population, the kinds of consequences of the bombing that they suffered were probably fairly true of the way the shadow fell on everyone.
INTERVIEWER
What evidence did you have that, as you say in the postscript's last sentence, "the world's memory . . . had grown spotty"?
HERSEY
Well, let me put it another way around to begin with. I think that what has kept the world safe from the bomb since 1945 has not been deterrence, in the sense of fear of specific weapons, so much as it's been memory. The memory of what happened at Hiroshima. I think that an argument can still be made that it would have been better to demonstrate the bomb somewhere else, rather than dropping it on a city. That might have brought an end to the war. Yet I wonder whether we might not have experienced another use of the bomb, since then, if there had been only a demonstration on a desert island. The demonstrations at Hiroshima and Nagasaki were so powerful that we have been able, so far, to extrapolate from them what it would be like to have a much bigger bomb dropped on a center of population. But if memory had been fully active, fully functional, we would long since have had some agreement on the use—or rather the nonuse—of these weapons, some curbs on their manufacture and deployment. For some, the memory is certainly still there; but it seems to me very spotty in the centers of power. A Caspar Weinberger or a Richard Perle, it seems to me, must never have grasped the meaning of the Hiroshima bomb, the way they go on about a future with bigger and better nuclear weapons. In the Soviet Union, there's probably very little memory of it. The control of information there is such that I wonder how many really know what happened in Hiroshima. Then, you have to remember that two generations have come along since the bombs were dropped. A very large number of citizens of this country, of every country, have no memory at all of what happened. The memory isn't even there.
INTERVIEWER
What do you think is memory's role in the creation, rather than the effect, of literature? I guess this is a question that has more to do with fiction . . .
HERSEY
A writer is bound to have varying degrees of success, and I think that that is partly an issue of how central the burden of the story is to the author's psyche. The things that have worked best for me have been the things that really mattered in some deep way to me. Another way of saying this is that a measure of whether a book works or not is the degree to which the author's memory is fully drawn into the undertaking. I don't mean by that that the substance of the book has to come from what the author remembers; but it seems to me important that the fiction should have the kind of relationship to the writer's memory that dreams may have. The dream material doesn't often seem to have any direct source in the person's life, but it must have been constructed from what the writer remembers. So I think a measure of the power of a work lies in the depth of the memory that is drawn on to fabricate the surface of the work.
INTERVIEWER
We've talked about the use of fictional techniques in nonfiction; but you are known as well for your use of nonfictional devices in your novels. The first manifestation of that was The Wall, the novel that followed Hiroshima.
HERSEY
I wrote most of a first draft of The Wall from the universal point of view, that of an all-knowing author—1,085 longhand pages—and then realized that since I hadn't experienced any of the life in the Warsaw ghetto, the novel needed an authority I couldn't bring to it. And so I gave the book then to Noach Levinson, and rewrote it, or he did, in diary form. I had heard about a mass of documents called the Ringelblum Archive—they later were translated and published here, but long after The Wall—which suggested the archival device I used. But I wasn't breaking any ground; the epistolary form has been used for a long time.
INTERVIEWER
I read one criticism of The Wall that maintained that the book suffered mainly from its author not being a Jew. Whether or not that's valid, it must have crossed your mind during the writing.
HERSEY
Oh yes. I had had, as a child, quite a lot of Old Testament tossed my way, and I spent the better part of a year and a half reading not only about Judaism, but as well writings by people like Sholom Aleichem and Peretz and Buber. All that I could get my hands on, to try to identify as much as I could with what it meant to be a Jew. I think that, to the extent I was able to overcome being a non-Jew, the sources must have been in the childhood I was talking about, in having been a foreigner in the culture in which I lived. And so, I was able to try, at any rate, to identify with what it meant to be a Jew in the circumstances of Warsaw in those years.
INTERVIEWER
It must not have been an easy decision, to rewrite something as long and ambitious as The Wall almost from scratch. Did you have any colleagues, any writer friends whose opinions you could solicit in these matters?
HERSEY
I didn't have much experience of that kind of friendship and help, and I'm not sure how widespread that is in American life—or was; it may be more common now than it was then. My readers were family and friends rather than writers. I don't think I had as much editing as I would have liked to have on my books. My experience working with Shawn and others on magazine pieces suggested ways in which I might have had a more searching editing of the books. On my last book, The Call, I did get wonderful editing from Judith Jones at Knopf. I've had a wonderful relationship with her; she is, I would say, one of the few remaining editors who fulfill the whole range of the editor's function. But for many years, I was overtrusted by Knopf.
INTERVIEWER
What is that "editor's function"?
HERSEY
One of the things that has been bad for American publishing was the invention of the person called a copy editor, an expert who knows grammar and can spot inconsistencies: a technician of text. Many copy editors are very good at what they do, but the creation of that function has taken away from the principal editor a basic interest in the text. Most editors, with some notable exceptions, have become packagers now, rather than close editors. And I think that publishers are more interested in acquisitions from their editors than they are in developing to the fullest extent the craft of each writer they deal with. Publishing has changed in my years. I've worked since the era of Alfred Knopf Sr., who had as contemporaries people like Alfred Harcourt, Horace Liveright, Charles Scribner Sr., all essentially book men. In the case of Knopf, he was dazzled by authorhood; he cared more about his relationship with authors than he did about his relationship with books. His concern was the full career of the writer. He lost many authors, he was crusty, many writers moved on to other firms. But Knopf's concern was always for the growth of the person as a craftsman. Now—again with some worthy exceptions—the heads of firms are more apt to be businessmen. That's been a loss, I think.
INTERVIEWER
It is notable that you've been with Knopf through forty-odd years and twenty-one books.
HERSEY
All my life. I've had a very happy relationship with them.
INTERVIEWER
If we can talk a little bit about how you write: I understand you are a great fan of the word processor. Does it change the way you write in any way?
HERSEY
I was introduced to the idea very early. Alvin Eisenman, the head of the design department of the Yale School of Art, came to me in 1972 and said that a young electrical engineer, Peter Weiner, was developing a program called the Yale Editor on the big university computer, with the hope that there would be terminals in every Yale office. They were curious to see whether it would work for somebody who was doing more or less imaginative work, and they asked me if I'd be interested in trying it. My habit up to that point had been to write first drafts in longhand and then do a great deal of revision on the typewriter. I had just finished the longhand draft of a novel that was eventually called My Petition for More Space, so I thought, well, I'll try the revision on this machine. And I found it just wonderfully convenient; a huge and very versatile typewriter was what it amounted to. It could remember what I'd done, and help me find mistakes, and so on. If I used an out-of-the-way word and had a dim memory of having used it a hundred pages earlier, I could simply type the word and ask the machine to find it, and there it would be, in its context, right away, instead of my having to riffle through a hundred pages and spend two or three hours looking for it. It was simply a time-saver. It took about a month to get used to looking at words on a screen, almost as if in a new language; but once that was past, it seemed just like using a typewriter. So when these badly-named machines—processor! God!—came on the market some years later, I was really eager to find one. I think there's a great deal of nonsense about computers and writers; the machine corrupts the writer, unless you write with a pencil you haven't chosen the words, and so on. But it has made revision much more inviting to me, because when I revised before on the typewriter, there was a commitment of labor in typing a page; though I might have an urge to change the page, I was reluctant to retype it. But with this machine, there's no cost of labor in revision at all, so I've found that I've spent much more time, much more care, in revision since I started using it.
INTERVIEWER
Some writers think that what one starts out to write will come out differently if one uses a word processor. Not "corrupt," necessarily, but different . . .
HERSEY
I don't think so. You know, the classic question that the ladies in the audiences of writers' lectures ask—or used to ask, in old days—was, "Do you write with a pencil or a typewriter?" I think every writer becomes habituated to a way of working that may matter to him a great deal. Disturbing the rituals surrounding writing may be very confusing, very difficult. I think there are a lot of things that are annoying about modern computers, particularly the ones that are interactive and keep giving you cute questions to answer as you work. That kind of thing would madden me. But I have a very simple, old-fashioned, "dedicated" word processor that doesn't inflict any of that on me. I think of it as a useful tool.
INTERVIEWER
You mentioned Silone and Dos Passos and Faulkner as some of the writers who excited you when you were starting out. Are there any contemporaries that you especially admire?
HERSEY
I think I'll duck that one. I wrote book reviews in the very early days, before I had become a writer, in a sense; but when I felt that I had become one, I drew back from judging my contemporaries. I think I'd rather not do that. I'll talk with you about that some other time.
INTERVIEWER
When you set out to write a novel, where does it begin for you? What comes first?
HERSEY
I think the first impulse comes from some deep emotion. It may be anger, it may be some sort of excitement. I recognize in the real world around me something that triggers such an emotion, and then the emotion seems to cast up pictures in my mind that lead me towards a story. To give you an example, the impulse to write The Wall came from seeing some camps in Eastern Europe when I was working as a correspondent in Moscow for Time. We were taken first to Estonia, and there we saw a camp where the Germans had had orders to kill everybody before they left; they had done it in a crude and awful way, making the prisoners build their own pyres before shooting them. We went later to Poland, and though the Warsaw ghetto itself was completely razed, we saw a couple of camps where the same thing had happened, the Germans had been ordered to kill everybody. In each case, there had been a few survivors to talk to. This came at a time when the West had not yet known very much about the Holocaust; there had been some vague rumors of the camps, but we had no real pictures of them. To see these bodies, to hear from the people who survived, created a sense of horror and anger in me that made me want to write. I thought at first to write about one of the camps like Auschwitz, and I did a lot of research on that; then it appeared to me, later on, that the life in the ghettos was at least something like real life for a long time, and so would, I thought, lend itself better to a novel. But it was the sense of distress, fear, anger that I felt seeing those camps that got me launched on that work.
INTERVIEWER
Do you always know where you're headed once you begin?
HERSEY
No, I don't. I work by all sorts of methods. In some cases I've wanted to have the whole book outlined before I started. In others I have simply begun writing and let the story take me where it would. A Single Pebble was an example of the latter. I had thought through The Wall pretty thoroughly before I started writing. But it's almost invariably been the case, when I've tried to plan through to the end, that I've had to modify the plan very sharply as the characters became—if they became—real to me, and began behaving in ways I couldn't control quite so easily.
INTERVIEWER
In the introduction to The Writer's Craft, you say that the writing of imaginative literature seems to require "an altered state of consciousness." How would you characterize it in your case?
HERSEY
When the writing is really working, I think there is something like dreaming going on. I don't know how to draw the line between the conscious management of what you're doing and this state. It usually takes place in the earlier stages, in the drafting process. I would say that it's related to daydreaming. When I feel really engaged with a passage, I become so lost in it that I'm unaware of my real surroundings, totally involved in the pictures and sounds that that passage evokes. So I think it's a kind of dream state of some sort, though it has baffled most people who've tried to analyze just what takes place in the creative process. Even Freud, who gave up on almost nothing, seemed to have given up on that. It remains mysterious; and it's probably a good thing that it does. It may be that the mystery is among the things that attract those of us who write.
INTERVIEWER
Your novels vary greatly in style and subject matter, sometimes taking on various nonfictional disguises—the unearthed diary in The Wall, or the transcript of legislative hearings in The Child Buyer. What is the relationship between that kind of variance and the consistency of the fictional "voice" you speak of?
HERSEY
The voice is the element over which you have no control; it's the sound of the person behind the work. I suppose there are some more or less conscious elements in voice; that is to say, a self-conscious manipulation of rhythm that may become habitual. But even the rhythms, it seems to me, stem from personality rather than from something acquired or mechanical. They're the tremblings of individuality. A person whose mind blurts will blurt in prose, and a person whose mind flows will flow in prose. Even writers who have experimented can't avoid this—a model would be Faulkner, who tried so many different ways of solving fictional problems, yet the voice was always clearly Faulkner's. He was helpless in that respect; his voice was his voice.
INTERVIEWER
At the risk of asking another back-of-the-lecture-hall question: do you keep to a regular schedule, and has it changed since you stopped teaching?
HERSEY
As I said, I think there's a great deal of habit in writing, and I have worked to the same schedule ever since I cut away from Time and Life. During the years when I was teaching, I didn't try to do any new work in term time. On The Call, for example, which took me six years to write, I would spend the time when I was teaching doing the research for the next chunk of the novel, and the rest of the year doing the writing work. It was one of the reasons why I taught just one term of the year, to be free the rest of the year to do my own work.
INTERVIEWER
Some writers say they find the teacher's life constricting. That didn't seem to be the case with you.
HERSEY
I backed into teaching. I had thought that it would be constricting, most of my working life. In the early sixties we'd been living in the suburbs of New York, in Southport and Weston, and were thinking about trying city life. We looked at New Haven, and heard about a house on the market there, that belonged to Yale. I asked Kingman Brewster, whom I had known, if we could look at it. He said yes, and we did and found it too big for us. A week or so later, at a social gathering of some kind, Brewster took my wife and me aside and said, "I think I can solve your real-estate problem. There's a house on Park Street," which happened to be the Master's House of Pierson College, "and you're welcome to take that if you take on the job of being Master." I had no idea what that meant; but within a couple of hours, my wife and I said, let's shake our lives up and try it. So we lived in Pierson for the last five years of the sixties, a wild time. And I was truly shaken up by it. I found being around the young rejuvenating, and often trying: very difficult times, the sixties. But I enjoyed it a great deal. And then after I left I found that I'd become addicted to the company of the young. So I began, first very tentatively and then with growing pleasure and enthusiasm, teaching a couple of seminars every year.
INTERVIEWER
Was that as rewarding, or as trying, as your role as Master?
HERSEY
I found the struggles of students who were trying to find themselves as writers fascinating and very moving. I think that their struggles somehow had echoes in my own continuing struggles. A writer never really finds his voice, but is always striving, I think, to find it. This is one of the reasons I've had a horror of repeating myself. I believed that if I ever concluded that I knew exactly what my voice was, I would stagnate. The writer grows, has experiences, feels joys and pains that somehow accrete and change him, so that the voice that was appropriate when I wrote A Bell for Adano was not appropriate when I wrote The Call. What I'm saying is that I think I learned from students that the struggle that was so intense in their case was still appropriate for me.
INTERVIEWER
What aspects of writing did you try to teach, or feel could be taught?
HERSEY
It's simply a matter of helping the student to set gifts free. That's about all you can hope for.
INTERVIEWER
A hot topic now among writers and academics is the value of graduate writing programs—some say they not only don't help, but actually hurt the young writer.
HERSEY
There's long been argument among writers about whether they should let themselves be captured by the academic world, whether they don't stultify there, and so on. I have always had the view that it really doesn't matter what a writer does; the argument that you should go out and meet raw life, work on the crew of a freighter, take part in revolutions and whatnot, doesn't seem to me valid. What matters is how a writer responds to the life around him. When I arrived in Pierson that first term, I had thought of the university as an ivory tower, and had been afraid that if I was incarcerated there I would stagnate. But in the very first term we had every human manifestation that I could think of except for murder. And we almost had that, from time to time. We did have violent death, and suicide, and rape, and everything in degrees up to those traumas. So the life is around you wherever you are, whatever you do, and it's a matter of how keenly and sensitively you respond to what's happening.
INTERVIEWER
You said in several places, most notably in Letter to the Alumni, what great hope and expectation you placed in the energy and generosity of the students of that time. Were you disappointed by what you saw in the years following?
HERSEY
There certainly has been a deep shift in the center of gravity of motive among students since the sixties—and not only among students, but in the culture as a whole. The deep impulse that I wanted to try to write about in The Call was, I think, a very American one, of wanting to be useful and helpful in the world. It's not by any means simply a Christian or missionary impulse; it's manifeated in the Peace Corps, and in the kind of response the starvation in Africa has brought. But it seems to me that in the last twenty-five years the impulse of greed has grown in this country, the self-centered drive that makes people primarily fight for their own. The whole swing of the dominant political force toward the right has been, I think, a reflection of and stimulus to this move toward self-centeredness or greed. I find it very distressing.
INTERVIEWER
You taught fiction writing for fifteen years. Did you ever have any sense of seeing trends in the classroom emerge a few years later as trends in contemporary fiction?
HERSEY
Much more the other way around. In the effort to find a voice, young writers will try on various models to see whether they fit. But the gifted students never let themselves be beguiled by fashion. They write out of what they have. One of the things that has been happening in recent years is that the new forms of communication, particularly radio and television, have tended to make people's attention spans shorter. There's a much greater tendency to write in telegrams than there used to be. The pressure is for a kind of tightness, that must be influenced somehow by the 45-second commercial and the evening news. We're bombarded by these swift images— by "we" I mean even writers who don't watch television very much, yet who must be responsive to a readership that largely does. So there's been a great pressure for speed, concision, tightness, that has changed the nature of short stories particularly. But still, writers who have vigor and power form their own way and pay no attention to that sort of thing.
INTERVIEWER
You mentioned mediation in nonfiction, and how, in Hiroshima, you tried to eliminate it. Yet in The Algiers Motel Incident, your account of one event during the Detroit race riots of 1968, you made a very conspicuous entry into the narrative. What was different about that circumstance?
HERSEY
That was the first time I had done that. I tried to face it that the situation of the black in America had a kind of urgency, and put demands on me as a white of a kind that made it impossible for me to withdraw, for me not to be there as a mediator. The whole burden of Ellison's Invisible Man is that whites refuse to look at blacks; and I didn't want to be, couldn't afford to be blind in that respect, and so had to, I thought, come out in the open. Much as one may try to disappear from the work, there is a kind of mediation that takes place in journalism, no matter what. By selecting 999 out of 1,000 so-called facts, you are bringing your own bias to bear. In that case, I thought that the biases that I recognized—to my distress, having thought myself fairly clean in that respect—had to be stated; I had to get them out.
INTERVIEWER
Do you think that that "situation" has been, or is being, resolved?
HERSEY
I think it's been pushed to one side, in a way that is bound to haunt us in the long run. The situation has improved in some ways. I went down, for instance, to Mississippi in 1964, the summer when all the students went down there. I lived with a black farmer who was in great danger on account of my living with him. It was scary to me, but to him it was mortally dangerous. There was that summer the beginning of an effort to register people to vote, and he had the courage to register, and to take other blacks to do so. Everywhere we went, when he drove me around, there was a pickup behind us with a shotgun showing. So it was a very scary thing. We were in Holmes County, the center of which was a town called Tchula. Tchula recently elected a black mayor. So there have been changes, probably more profound in the South than in the North. But the fundamental problems of race and class have not been faced by our society. And I think that we are bound to have to face them sooner or later. The paradox is that trouble will probably come when we have a freer, more liberal administration; the opening up of possibilities will probably create a more dangerous situation. It is a paradox, and an unhappy one, that a repressive administration like this one seems to make the problem go away. But it doesn't. It stores up the powder.
INTERVIEWER
Are we in, do you think, anything like the "age of American repression" you warned of in Letter to the Alumni?
HERSEY
No, but there are signs that it might be in the making. We have a wonderfully healthy constitution, and the one hope is that things may correct themselves every four years, or every eight years. Or every twelve years. The issue would be whether there would be time enough.
INTERVIEWER
You have been cited, to your chagrin, as an "ancestor" of the New Journalism. Yet there seems to be much in it that you disapprove of; as you wrote in your essay "The Legend on the License" in The Yale Review a few years ago, "I am one worried grandpa. The time has come to redraw the line between journalism and fiction."
HERSEY
I think it is true that I was one of many who began to experiment, early on, with ways of using the devices of fiction in journalism. I was certainly not alone in that. It was a valid movement, and one that has opened up journalism a lot. The important thing that was taking place was that journalists were making it more possible for readers to identify with the figures and the events about which they were writing. The fictional mode made it easier for the reader to imagine that these events were happening to him. But eventually two things polluted the so-called New Journalism. The fictional methods tempted some writers to cross the line, touch up their nonfiction—to invent. And then the fictional voice that transferred to journalism became more and more audible; the element of the subjective that appears under the surface of fiction came to the surface in the journalism, so that in the end, the figure of the journalist became more important than the events being written about.
INTERVIEWER
You mentioned doing the "research" for The Call. What do you think is the role of factual, historical research in the writing of fiction?
HERSEY
It's a substitute for memory, I suppose; though I also suppose that Tolstoy in writing War and Peace must have done a lot of reading about a period fifty and sixty years earlier, which he hadn't lived through. Not that I mean to compare The Call with War and Peace. But Flannery O'Connor said in one of her essays that fiction is an incarnational act; you're trying to make flesh and blood of things that are remembered. And in order to do that it's absolutely essential to make the past concrete. There have to be real, palpable objects, things seen, things heard. So either memory or a substitute for memory has to operate to bring those things into the fields of vision and hearing. Research in this case was partly a substitute, partly a supplement, to memory. I had at least a child's memory of the world of China, and I went back four years ago and refreshed my memory. I had gone a couple of times as a journalist in the meantime. But I also needed the memory of others to make the world I was writing about as real as possible. The need for concreteness was put wonderfully by García Márquez, in an interview in your magazine, when he said, "If I say I saw elephants flying, nobody would believe me; but if I say I saw twenty-four elephants flying, they might." There is something about exactness of detail that makes imagined things seem to come true.
INTERVIEWER
One of the notable things about The Call is that your father, Roscoe Hersey, appears as a minor character in it. Was that to discourage people from thinking that the main character, David Treadup, was modeled after your father?
HERSEY
Partly, I suppose; but really to reinforce the verisimilitude. Again, I think of a line of García Márquez's about that: "One word of falsity in journalism destroys the whole, but one actual fact in a fiction may make it seem believable." I think that's what I was after in using my father's name.
INTERVIEWER
Was this a book you had been meaning to write for a while? Had you been saving it in any way?
HERSEY
I suppose in ways it should have been my first novel; usually, a first novel is a trip back into childhood. I'm glad that it came as I am practicing to enter second childhood, rather than when I was coming out of my first one, because I think I could bring more of the experience of my life to that scene of memory than I could have when I was very young. I had never made earlier stabs at the book. Probably it was only with the deaths of my mother and father that I began to think more about them and about the past. I'm trying to think where it welled up from; I can't remember any moment at which I decided that it was time to write that book.
INTERVIEWER
But in A Single Pebble, for instance, you went back to China in a sense.
HERSEY
Yes, and there the missionary figure is displaced by the figure of the engineer. I suppose, in a way—though I've tried to avoid repetition—that there are repetitions of the same figure throughout my books. Major Joppolo in A Bell for Adano, I suppose, displaced the same character. Or perhaps Noach Levinson or Berson in The Wall. But I don't think that any of this is conscious—I've not thought of this sort of connection until now. I tend, when I finish a work, to put it out of mind completely, and go on to something else.
INTERVIEWER
It's fair to say that your nonfiction has had a considerable social impact. What kind of impact do you think your fiction, or fiction in general, has? Does fiction teach?
HERSEY
I believe that writers of fiction have somewhere always a motive of first trying to figure out for themselves how life can be less difficult than it seems to be. Indirectly, they may have a motive of trying to share whatever's learned with a reader. I think that The Wall, being very early in opening up to the American consciousness what had happened during the Holocaust, had a value of revelation, and may have helped people to understand things they hadn't understood before. Since then, many much more authentic works have come from people who lived through the Holocaust, and so the experience has gone deeper, and the understanding has gone deeper for people who've read those works. I don't think I have an impulse to teach in my writing. I do have a deep need to try to understand. In my effort to understand, I may hope that I can help readers to understand more about life, more about the stressful events I'm writing about. But I found the experience of teaching, when I actually did it, very different from the experience of writing. Mainly because in teaching, I'm trying to explore the student I'm dealing with, and in the writing, I'm trying to explore myself.
INTERVIEWER
You are on record in several places as dismissing the idea that the novel is dead. What do you think is its current state of health?
HERSEY
I think it's more alive than ever. Fiction has no boundaries. Just as we're getting farther and farther out into space, I think we're opening up the boundaries of fiction more and more. The fact that we don't recognize three or four giants in the world of fiction now, as we tended to when, say, Faulkner and Hemingway and Fitzgerald and Dos Passos were operating, doesn't mean that there aren't remarkable pieces of writing being done. It's just that there are so many vivid writers going now that it's very hard to say that we have just this handful that matter. The range from the somewhat traditional Bellow to Pynchon and Barth and Barthelme, and to people even farther out on the edges of consciousness than those three, is very great these days. There is a violent competition from other forms of entertainment now; and yet the world of readers doesn't seem to be diminishing proportionately. There are too many books published, and consequently publishing has become a lottery. Many good books disappear, never to be seen again, or possibly not until they're rediscovered many years later, as some novels have had the good fortune to be—as Henry Roth's Call It Sleep was some years ago, for instance.
INTERVIEWER
After the success of Hiroshima, you concentrated almost exclusively on fiction. Was that a conscious decision?
HERSEY
I can't say that it was anything I thought through very deliberately. I was attracted to fiction for the reasons I gave before; I thought that there was a better chance, if what I did worked, to get the reader to experience the material than there would be in journalism. Sometimes, the stuff is too raw and immediate to be dealt with in fiction. There's a need for distance from the material that only time can give; so when something like the Detroit riots came along, I still resorted to nonfiction as a way of dealing with it. Then I wanted to try to experiment some; I've had a horror of repeating myself and running down on that account. So I began to try a number of things, some of which worked and some of which didn't. But they were always challenging and fun to try. I think in ways I was lucky to be hit by an early success—if the Pulitzer Prize and two or three books that did well represented success— because it left me free to do what I wanted to do. You know, I kept talking to my classes about the fact that the writing itself is the only real reward. I think I was able to learn that very early, and so have been able to take pleasure from some kinds of writing that I knew were not going to be accepted in the way that some of the early work had been. I still got pleasure from the doing.