Interviewed by John Kenny Crane
Issue 114, Spring 1990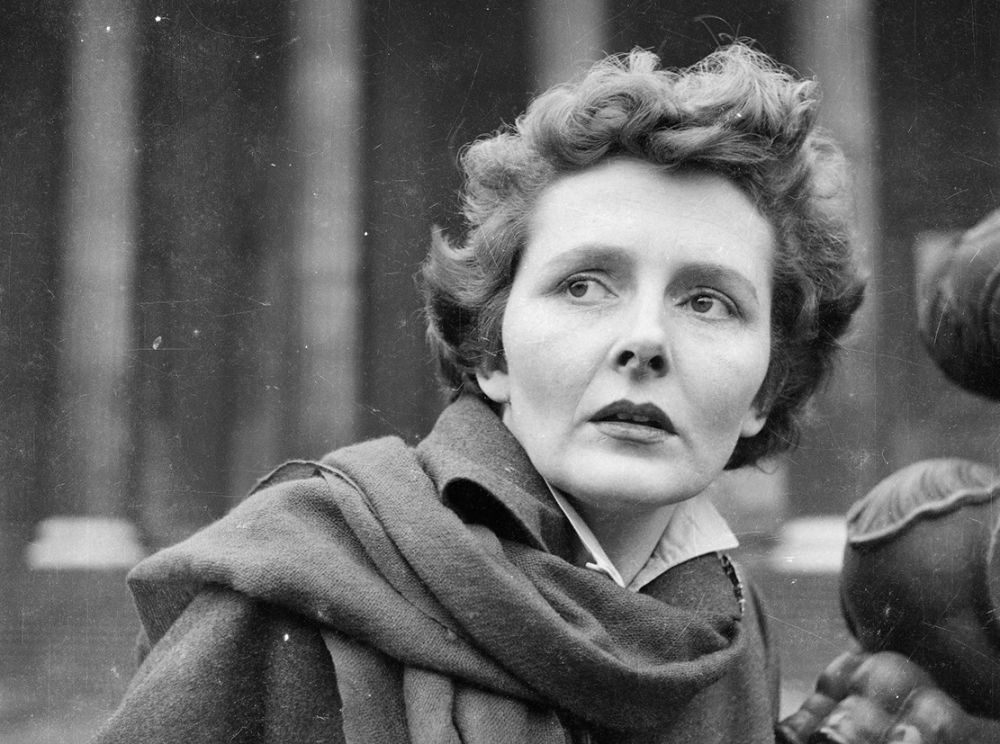 Mary Lee Settle is best known for her five volume series of novels called the Beulah Quintet. It is a monumental work that took twenty-eight years to research and write, and it traces the evolution of the people we have become, from seventeenth-century England to contemporary West Virgina. The five books are Prisons, O Beulah Land, Know Nothing, The Scapegoat, and The Killing Ground.
Settle won the National Book Award in 1978 for Blood Tie, a novel set in Turkey, and the Kafka Prize for Fiction for The Killing Ground. All the Brave Promises, a memoir of her service in the Women's Auxiliary Air Force of the RAF during World War II, has been called "one of the most moving accounts of war experience ever encountered." Her other novels are The Love Eaters, The Kiss of Kin, The Clam Shell, Celebration, and her latest, Charley Bland, was published last fall by Farrar, Straus and Giroux.
She was born in Charleston, West Virginia, spent her early childhood in Pineville, Kentucky, her adolescence in West Virginia, her short education in two years at Sweet Briar College, and her adulthood everywhere—London, Paris, Rome, and Turkey. She now lives in Charlottesville, Virginia.
In 1978 she married William Tazewell. He is a retired newspaper editor who writes a weekly book column and teaches writing at the University of Virginia. Her son, Christopher Weathersbee, lives in Texas.
This interview was begun in Stillwater, Oklahoma, where she was reading at Oklahoma State University. It was carried on by telephone between San Jose, California and Charlottesville, and it was completed in Charlottesville.
Settle lives in a house with a series of pointed roofs that looks like a camp castle. There are two Dalmations. Her workroom, where most of the interview took place, is an aerie that looks out into treetops. The first impression is one of brightness. The colors are primary; the sun pours in. The walls contain objects from a life of wandering that is reflected in her books—fossils called "flowers of darkness" from coal mines, a stone fragment from the Great Rift in Africa, a large photograph of a temple dragon from Kyoto, and, like Merlin's cell in The Once and Future King, the eleventh edition of The Encyclopedia Brittanica. One wall is covered with a much-marked map of Turkey. She is working on a book called Turkish Reflections: A Biography of a Place.
After the National Book Award became the American Book Award in 1981, she started the PEN/Faulkner Award for Fiction, to be judged the same way that the National Book Award had been: by a writer's peers and by leading critics. It will have its tenth anniversary this year at the Folger Library in Washington, D.C. It still retains its original imperative that, in her own words, it be, "an honor in an atmosphere of honor and celebration."
INTERVIEWER
You are best known for the Beulah Quintet, which ends in Charleston, West Virginia. You call it Canona. What was Charleston's impact on you as a child, and what caused you to write about it so frequently?
MARY LEE SETTLE
I was not a child in Charleston. I was an adolescent there. I have never understood why it, of all the landscapes I have written about, is considered the font of my work. Conrad said that there is not a place of splendor nor a dark corner of the earth that does not deserve if only a passing glance of wonder and pity. Like Conrad, I chose exile for a long time, and so it was normal for me to find my places in four continents. I have written about England, Turkey, Africa, and Hong Kong. It is where, for me, the ordinary becomes luminous that I find myself, always surprised, placing a story there.
Kentucky and Florida, where I lived as a child, appear all the time in their disguises. The Beulah Quintet ends in West Virginia, but the landscape of Canona, and certainly its architecture, comes from several Allegheny cities.
It is typical of towns in the Presbyterian belt of the Alleghenies, where there are pockets of what Mencken called booboisie money and snobbery, mixed with elements of places where coal has been, in the past, the black diamond. That, too, reflects time—the time of the coal barons and their coal baron gothic architecture, the time of the first settlement, the time of modern loss and depression—all in the same mythic place that I hope reflects, beyond itself and its locality, a human condition and a shared past. The world of the coal fields is a feudal world, and I saw Canona as its reflection. And I tell you, it is more real to me than Charleston ever was.
Canona is more than Charleston, and as always in fiction, less. Somerset Maugham said that it took at least six human beings to make one fictional character. That is true of landscape as well, I think. We have to make our landscapes, change streets, create new turnings, rebuild or tear down, change time, and even nature, if need be.
INTERVIEWER
But there has to be a personal impact, and you are talking in fictional terms.
SETTLE
I think in fictional terms—memory transmuted by observation and experience. I lived in Charleston for my most sensitive and memorable years, from the time I was ten until I was eighteen, and very little after that. Someone once described the place to me years later as being surrounded by psychic mountains ten thousand feet high. The instinct for anyone of ambition and intelligence, if they are not held there by love—and I wasn't—is to run for your life. I did. I ran to what Lily in The Scapegoat dreamed of when she got on the train in 1912—heaven or New York City—whichever the train got to first. I ran to England and war. Then I ran to dedicated poverty for years after the war, in England and, sometimes, to Paris—wherever there were two or three American intellectual refugees gathered together. We all think we escape and then spend the rest of our lives writing about our prisons. I saw those prisons in time always, and the fact that the ending of the Beulah Quintet is in Canona is only a small part of the landscape. It starts in England, goes to the Endless Mountains, then begins to concentrate on that country from Charlottesville in the Piedmont of Virginia, to the fictional valley I call the Valley of Beulah.
INTERVIEWER
Many people assume that the Beulah Quintet was written in chronological order from Prisons to The Killing Ground. I know it wasn't. Can you talk about the composition of the quintet? I know that at one point it was a trilogy.
SETTLE
I thought at first that I was going to write a modern novel. I never can start a book until I get both a mind's eye vision and the questions that go with it, like the question Faulkner asked himself about why Caddy's knickers were dirty. My vision was of two men in a drunk tank on a Saturday night—one of them hit the other, a stranger. That was all I knew, and then I began the dangerous process of a half-conscious questioning. It is not an intellectual process at all. What was behind the first, what anger, what prejudice, why was one man chosen instead of another, what was the residual fury all the way to the genes? I kept on going back until I stopped first at Hannah Bridewell, an eighteenth-century convict lost in the Allegheny Mountains in 1755. Then I came forward to write the pre–Civil War volume, called Know Nothing. I made the mistake after Know Nothing of trying to come up to the modern world too quickly.
INTERVIEWER
That was Fight Night on a Sweet Saturday. You don't even claim it on your list of books any more.
SETTLE
It was my Stephen Hero, my Jean Santeuil. One was the first draft of A Portrait of the Artist as a Young Man and the other the first attempt at A La Recherche du temps perdu. Both were fumbles. So was mine. I began what was essentially a modern novel with a section about the mine wars in 1907, which was cut. My editor at Viking said nobody was interested in coal mines. I let them cut the section and bring out a truncated book, and I have deeply regretted it ever since, although I shouldn't because it forecast years of writing afterwards. I went through the worst reviews I have ever had, and I thought then that years of work were lost, that the Beulah books were a failure. Then I realized that they simply weren't finished yet. What is the saying about the fortunate fall? "Oh happy sin, oh happy fault." Well, without the short section that had been lost, it was so obviously incomplete that after I had written All the Brave Promises and The Clam Shell, I went back to it. The mistake made me turn the trilogy into the quintet that exists now, at last. I had seen, years before, a Senate investigation into an incident in the mine wars in West Virginia. It was all verbatim—a gold mine of language and attitudes. I used a true incident from it about a massacre by the Baldwin Felts detective agency, during an early strike called by the United Mine Workers. So The Scapegoat was set, as the seed incident was, in 1912. I added Prisons at the beginning, which was about a true incident in the mid-seventeenth century English Civil War that led to the dictatorship of Oliver Cromwell. It was in studying that incident, a revolt of Cromwellian cavalry who refused to fight in Ireland, that I found some of the sources of our language of democracy. Prisons gave me language, and The Scapegoat gave me a whole new understanding of the parents and their effect on their children in the new last volume, The Killing Ground. There is a poignancy, for instance, in knowing that the fairly stern father in The Killing Ground is poor Mooney from The Scapegoat, or that Althea, the sexy, alcoholic sister, is the survivor and the Ancient Mariner of the last book. It gives a depth and an echo to the last volume that Fight Night on a Sweet Saturday couldn't have. After The Killing Ground, I knew it was finished. It had taken, altogether, twenty-eight years.
INTERVIEWER
I have tried to define the genre of the quintet, and I have come up with "psychological/historical novels" as a definition. How would you describe the genre?
SETTLE
Oh lord. Psychological/historical. A label! Why not say an attempt to see the society as a character in its own time? What I tried to do was to become contemporary with the time so that I was empathetic with what people thought was happening, and who they thought they were, rather than using the knowledge that we have as hindsight. This, in a way, is a definition of our time—now we live in a world in which we think we know what is going on, but we can't see the overall picture until we see where we came from to this moment. So if you read the quintet chronologically, you know, as a reader, more of the past of the people in it than they do. You can see its effect on them when they can't. You also, by the definition of the time in which you are reading, know more of their future.
INTERVIEWER
In the last volume, The Killing Ground, which is contemporary, how does this work? How would you relate the understanding of your fictional people in, say, 1960, to our understanding now, twenty years later, of the 1960s?
SETTLE
Remember when Hannah goes up Lacey Creek with the Kennedys in the West Virginia primary in 1960? I am, and you, the readers, are aware that she is looking at the back of John Kennedy's head, but Hannah, at that point, is not really conscious of it. There is a resonance for you and me that she can't possibly know.
INTERVIEWER
You mean Oswald looking at the back of John Kennedy's head. Is that what you are getting at?
SETTLE
Yes.
INTERVIEWER
That's a good example.
SETTLE
I think so. The same kind of thing works throughout the quintet, I hope. All through that 1960 episode, Hannah is as ignorant as a stone. She spends the years between 1960 and 1980 searching for the past and writing about it. Her books are the same as mine—Prisons, O Beulah Land, Know Nothing, The Scapegoat. That, by the way, is the only autobiographical thing about her. She is younger than I am; she was born in 1933. She's an Eisenhower brat. I grew up when Franklin D. Roosevelt was the only president we seemed to have ever had.
INTERVIEWER
I think it was Kenneth Burke who called whatever compulsion it is to get something off one's chest, "the writer's burden." What do you think of as being the first burden that you had to get off your chest and into print?
SETTLE
To recognize that is to recognize that we write the same book over and over. The first obsession is the last for me, and I have just finished what I hope is the final and deepest dive into it, what I hope to God is the last novel to take place in Beulah land. It is called Charley Bland and it is the most profound study of the obsession yet.
Part of it is the inherent quest for freedom, which has become genetic with Americans. Look at the way we move to greener pastures all the time, find them much the same, and blame anything but ourselves. Then, too, and close to it, is the place of men of diffuse talents and good will, and what is asked of them by the world they live in. Death was asked of Johnny Church in the first volume, Prisons; too little was asked of Johnny McKarkle in The Killing Ground at the end. Heroism was taken for granted in Turkey, where Blood Tie was placed, and where Munji lived. It was what he expected of himself. The decision to live with his past, which may be the most difficult demand of all for a Puritan, was demanded of Ewen in Celebration. There is a self-questioning in such men, sometimes a self-defeat. Am I needed? Have I a place where I can be used well? What does society ask of me that I can give? When it asks nothing, or too little, men die on the vine. Once they farmed and explored and led other men into a wilderness. In the modern world, they take up dangerous sports, do funny things, marry too often, drive too fast, take to drink, exploit women in a kind of sexual revenge . . . know, maybe without knowing, that their fatal flaw is to acquiesce to small decencies, and find those glimpses they allow of themselves almost unbearable. It makes them dangerously good at war. But I have learned, in all this exploration of the kind of men I am drawn to, as Hardy was drawn to those great independent women in his Wessex, that they choose their own defeat, and it has been hard for me to face.
INTERVIEWER
The woods and the city are full of them, but would you say they are still in a minority compared to those who wish not to be used well? Who wish just to be let alone?
SETTLE
Oh, you mean the hollow men? There is no wish with them. They work for insurance companies, vote Republican, belong to country clubs, question nothing, and die. Turgenev called them the rich, the happy, and the unjust. The unused and the unjust look the same, all too often. I'm writing about a few of them who are capable of having broken hearts. They are not cynics. I am so tired of cynicism. It seems to me to be a disease of the young, the exhausted, and the lazy-minded.
INTERVIEWER
I want to turn to the matter that most young writers want to hear about from an established writer, and that is how you got published the first time. There is that tremendous first barrier where you supposedly need an agent to get published but you can't get an agent unless you are published.
SETTLE
It's a cloud barrier. I never had a single book sold by an agent, although I have had them negotiate the contracts often. That's what they are for. They are not critics, and they are not editors, and their opinions shouldn't be taken too seriously. Remember, they are out to make money, and they want young writers to imitate what has already been successful. Years ago, I had editorial advice from an agent—supposedly one of the best in London; he said that no "heroine" should be more than eighteen years old, that she should be a virgin, and that there should never be more than one fact to a page. I'm sure there are still versions, maybe more subtle, given by agents to young writers now.
INTERVIEWER
Then how did you get started?
SETTLE
I should tell you right now that the first fiction I ever saw in print was in The Paris Review. I had to keep quiet about what a crossing of the Rubicon it was because everybody else seemed so sophisticated about publishing. I had to do my shouting to the housetops behind doors and late at night and alone!
I also had my first experience of being edited then. Peter Matthiessen wrote me a long letter about style. I only remember one piece of professional advice—that I should not use the word shit and the word sumac in the same paragraph, and I never have since.
My first book, The Kiss of Kin, was sent by an agent to literally every major publisher in New York and London, and refused by all of them. While that was going on, I wrote a second novel, The Love Eaters. While that, too, was being refused all over the place, I began the research and the first draft of O Beulah Land. Then a woman I knew in London who was a literary scout took The Love Eaters to Heinemann, in London, and they bought it. Finally, after ten years of waiting, and after I had already begun what was to become the Beulah Quintet, I had a book accepted.
INTERVIEWER
Do you recall what it was like?
SETTLE
Its publication was a Walter Mitty dream. I had hidden out in a hotel in Paris called the Helvetia, because I was so nervous about the book coming out. I took one book with me, Life on the Mississippi, and read it over and over. I left on the Sunday morning after the publiction date, to face what I thought would be total failure—or worse, silence. Max Steele was a kind of hero to me then, and in many ways still is. He had won the Harper Prize for a wonderful novel called Debby. Just as the train pulled out of Gare St. Lazare, he came running down the platform with the London papers in one hand and a jar of watermelon pickles his mother in North Carolina had sent him in the other. He thrust them in the window and the train pulled out. The reviews were wonderful. Later I had the great satisfaction of holding five cables in my hand from publishers in New York who had refused the book; I chose Harper's, mostly because Max told me to. Harper's and Heinemann took The Kiss of Kin as a second novel. Several reviewers said that for once a writer's second novel is as good as the first.
INTERVIEWER
How tough were those ten years? Could you content yourself with writing and not being accepted into print or did you get tremendously discouraged and think about chucking it?
SETTLE
There was no question of that. It was not, with me, a caprice to choose or lay aside. Anyone who has a choice and doesn't choose not to write is a fool. Don't people know that it's the hardest work in the world? Joseph Conrad said that he had loaded hundredweights of coal all day long on a ship in Amsterdam in the wintertime, and that it was nothing to the energy demanded for a day's work writing. The work is hard, the perks are few, the pay is terrible, and the product, when it's finally finished, is pure joy. If you set out to write for money and fame, as Freud said writers did, then you should sell junk bonds or shoot somebody instead. It's easier.
INTERVIEWER
How did you survive?
SETTLE
First, I made a precarious living as a freelance journalist, so I worked in a professional world, in the meat and potatoes reality of writing and publishing; I was not protected, as young writers are now by the academic world, so there were no surprises. I never dreamed of chucking it. I had far too much of what every young writer needs—a kind of protective arrogance. And I was surrounded by people in London and Paris who hadn't been published yet—where yet was the operative word—and we all clutched to ourselves the fine sustaining illusion that we were better writers than most of the living and some of the dead. As for money, I think that for serious writers, it's a matter of luck. Some have that luck, Some don't. There is a danger in trying too hard to control it. It simply lands on people. Peter Ustinov once suggested a parlor game in London. Everyone was supposed to tell what they would do if they had a hundred thousand pounds. When it was J. B. Priestley's turn, he slowly drew on his pipe, thinking. Then he said, in his Yorkshire accent, Ah 'ave 'undred thasand pounds."
INTERVIEWER
You lived in England for a long time. In the forties and fifties, you had the company of your peers as you worked. Was it any different from what young writers face in this country now?
SETTLE
Not much, really, except that we didn't have the sometimes false hope of large rewards. We clung together as young writers tend to do, to hold each other up. We needed mutual criticism and we passed books back and forth. Here is a sad difference. We read a lot. I don't know of a single young writer I started out with in London who hadn't read every classic novel; and I mean every one. We talked about Daniel Deronda as we talked about the latest book that had come out and been celebrated. This seems to me to be a much healthier atmosphere to write in. I'm talking about people who left school at fifteen, like, by the way, William Faulkner and Katherine Anne Porter. They never faced the academic deadening of writing.
INTERVIEWER
And yet for so many writers, that's their essential means of support these days—the academy.
SETTLE
Yes, and they are damned lucky. I wish they would stop complaining. I've compared it to the essential means of support offered in the early fifties. I seemed then to have two choices—either to have the silver spoon stuffed down my throat so that it choked me, or to escape and live at survival level. Then, I could have been an editor any place. I had been trained in the Office of War Information by some of the best editors in the country. I could have gone to Hollywood; I could have done all of that in the fifties, but I didn't. I've wondered what would have happened if I had been offered the lesser safety of the academy then, instead of after publishing five novels.
INTERVIEWER
Were most of the group you knew then finally published?
SETTLE
No, some died, some quit. It wasn't talent that defeated some of them. It was something else. Talent was two-a-penny. Everybody seemed to have it. And there was despair, of a kind. I remember Eduardo Paolozzi, the sculptor, sitting in the prix fixe in the rue Jacob in Paris, turning a slice of tomato over and over, and saying, Next stop, the river! Years later, Eduardo and I were having dinner at Wilton's, one of the grandest restaurants in London, and we were eating the same thing, tomato salad, poached fish, and white wine, only this time it was not because we were broke, but because we were watching our weight. After dinner, we took a long walk through London and we talked about why some had fallen by the wayside when we hadn't. We decided that it was two things. We never lost our arrogance, and we had an even greater sustaining energy—obsession—that self-demand that makes you stick to it. It's what kept me going for the twenty-eight fairly obscure years that it took to finish the Beulah Quintet.
INTERVIEWER
To what extent have you felt that you've had to yield at least something to the demands of agents or editors? When you turn a manuscript over would you say your mind is closed toward editorial suggestions?
SETTLE
Good God, no! That's amateur. I've had some fine editors. You know in aerial navigation there is a point where lines intersect, called a fix. One of my real tests about whether something needs work is to take a fix on what several readers tell me. If they cross at a single point I know it has to be worked on. Then, too, if I'm tentative about something, and my editor spots it and points it out, I'm grateful. I know that it was right to be tentative. Sometimes an editor can point out a whole concept you haven't thought of. The best editing advice I ever had was from Bob Giroux, who simply, without a note in his hands—I'll paraphrase—said, This is what is wrong with this book: the narrative chronology you have used makes parts of it seem weak. If they were put before the dramatic climax, they would be lyric as you mean them to be. The idea of a dramatic chronology was a revelation to me. I learn slowly. That kind of editing I thank God for—a good editor may spot when something is missing; a bad editor tries to tell you what to put there. Long ago, just after the Second World War, an editor tried to tell me in a letter just how to finish my first attempt at writing a novel. I had made the mistake of showing him half a book—a mistake that, by the way, I have never made since. I left the manuscript in a taxi.
INTERVIEWER
What?
SETTLE
It had been picked over too much. First it was a short story. Cyril Connelly told me to turn it into a novel. I hadn't yet experienced the sad fact that these decisions must come from within. So I tried, with little idea of what I was doing. Then the advice came about how to finish it. I realized that the book had died of too much editorial attention when it was in too early a stage for that. So I abandoned the corpse. That's all. It was unimportant.
INTERVIEWER
Who is the editor that you most wish you had?
SETTLE
The editor I wished I had was Robert Giroux, and now I have him. Another fine editor that I have had is Rob Cowley. I can tell you a third—Roger Shattuck. When he read the first draft of The Killing Ground, he said, Mary Lee, what you need is a big scene, like the agricultural fair in Madame Bovary. I said, A production number? He was right. He was responsible for my writing the whole country club scene at the beginning that reviews all of the quintet that has gone before.
INTERVIEWER
Then comes the next group after the book sees print—the reviewers, the literary critics. Do you put much weight on what any of them say?
SETTLE
I once said that a good review stops me working for three days, a bad review stops me for four days. All you have to remember is that the pup is going to piss on the newspaper, and that everybody except yourself is going to forget them. I see literary criticism as a different thing. More time is taken when it is good, and it should be honored. But they are all talking about something that is already done. I am not conscious of taking anything with me when I begin again, certainly not what has been said, hardly what has been learned. There is only one thing I take to a new first draft that is a comfort: I have finished before and it gives me confidence that I can finish again.
INTERVIEWER
I want to talk about the writing process itself. What is essential? What are good habits? Bad habits?
SETTLE
A long time ago in one of these Paris Review interviews, Ernest Hemingway said you need a built-in foolproof shit detector. He was right, but the shit detector is no good unless you have the energy to use it and the obsession to let nothing stop you. If you lose energy it shows in the work, and if you lose obsession you become a cynical imitator of your past work. Energy, obsession, and a good sustaining arrogance are what is needed, I think.
INTERVIEWER
How do you keep them? Aren't they both burdens and gifts?
SETTLE
Yes, they are, but they can at least be protected. A too early quest for fame can suck away so much energy that a body of work can't be sustained, as many writers have found to their sorrow. Fashionable, lousy habits can do it too. When I was first starting, it was fashionable to be a drunk. If you were drunk all the time, you must have talent. Then there was attempted suicide, which often, I think by mistake, worked. I mention no names, but someone was recommended to me in London with these words: She's terribly talented. She's tried to commit suicide three times! I was fortunate. I had a child to raise, and so I had to get on with a less fashionable, more mundane life. The result has been a body of work that I am justly proud of. It has cost a lot, but at least I have been able to sustain it.
INTERVIEWER
I want to talk about the writing process, that is, you as a writer at work. What is the most productive time of day for you?
SETTLE
Morning. By the time I am deep into a book, it is very early. I once worked late in the afternoon, and then I realized that I was missing most of the human race, so I kept setting my work time back until now it is a joke—the sun and I get up at the same time. I go straight upstairs to my workroom; if I don't, if I stop at all, I'm lost. There are all those vastly important things to do, like the laundry! So I go there, and I meditate, and I wait. Waiting for the voices is for me the most important part.
INTERVIEWER
Tell me about waiting for the voices.
SETTLE
How can I tell about silence? I think that that period of being able to wait until the sound and vision of a book forms unconsciously like a dream, and then is allowed to reach your conscious mind so that you can hear it, see it, and tell about it, is the single moment that separates the fiction writer from all the others who depend on craft, real memory and intelligence. It is not an act of intelligence. Those writers are of great value to me, but only after the initial process. I learn my craft from them, but for myself, I have to wait that time out. It is, when it comes, quite simply, the almost total recall of something that did not happen—at least not that way. I have used helps—like drawing my way into a scene or a person, but none of it really works. Only the waiting, and then they come, the people to be told about and they demand this as strongly as Jacob demanded of the angel that he be blessed. I think that the writer is both Jacob and angel. At first there is Jacob's demand of the angel for the voices and visions to come forth, and then the demand of the angel to Jacob that writers use them to tell the truth. Every book has a voice of its own and you can't impose it, you have to learn to recognize it. I'm talking about fiction. I love to write nonfiction—memoirs, travel—and I can do it with people in the room and the telephone ringing. It is technique and memory. Fiction demands that you take the raw material—what you've observed, or are obsessed by, what you've learned, what you've lived, everything—and you transmute it at some very, very unconscious level. It's alchemy. You are translating it all into something that isn't any of it. It's what I wait for. It has to transcend its raw material, its matrix, and become itself—totally other—and that takes an untold amount of energy that I don't know I've used until it's over. I'm a quarter horse. When I'm finally going I write about a thousand words in an hour. Then I'm totally wiped out, and I garden or fuss around to recover.
INTERVIEWER
What is the maximum number of hours you can write in a day? Fiction, I mean.
SETTLE
Just about that hour until the end, and then I move into a hotel, inn, whatever. Wake up, write, go to sleep, wake up, write, a twenty-four hour schedule. The novel tends to be so powerful by then for me that it takes me with it. I do it so that what energy I have by the end can all go onto the page. I learned long ago, reading Thomas Hardy, that the end of a book can be ruined by letting the writer's fatigue creep into it.
INTERVIEWER
I have read that you won't read any other novels at the time you are writing lest you absorb their voices into your own.
SETTLE
I have too good an ear for language. I'm afraid of picking up other voices. Look at the quintet. There are five different languages in those books, to say nothing of the hundreds of individual voices. And when I am at that level of concentration and, for lack of a better word, stupidity. Proust described the painter Elstir as having the genius to make himself stupid before the canvas. It's an ideal to try for. Maybe that is what I meant by waiting in silence.
INTERVIEWER
Do you resent the revision process once the book has generated its first draft and the major part of your imagining is done? Do you resent having to go back and tinker with it?
SETTLE
No! I love it. When it's out there, apart from me, a thing even roughly formed, I can use my intelligence. I can ask it questions. Is this true? Is this what I mean? Is there too much weight? Too much nervous explanation? Does it balance? And that wonderful slang question—does it fly? For me that means the lightness and connection I seek, all the delicacy and the charm—as in the quality between quarks. Then everything that I've learned, that doesn't consciously help me in the first draft, works for me—it's craft, and it's wonderful. I can do that for hours at a time.
INTERVIEWER
Most American writers write in an essentially American form, the short story. Why don't you?
SETTLE
I'm not good at them. I've won a couple of short-story prizes, but that was an accident. The form doesn't come to me easily at all. You don't chose the form you write in; it's chosen by the content, and until the form comes, the content remains amorphous. I guess I'm used to receiving work on a larger canvas. Except that I still write poetry once in a while. Things come in that form, like brandy, a distillation. Alas, for me it isn't very good brandy. I don't publish it
INTERVIEWER
You won the National Book Award in 1978, and at that point you had been a published writer for two dozen years. Why do you think full appreciation of your work was so slow?
SETTLE
Much of that obscurity was sought. I had an instinct for its protection until I had finished the huge task I had stumbled into. I had long since seen how much time and energy celebrity takes. In this country it is so often mistaken for fame. Fame is earned, but much celebrity is sought, and some, alas, is stumbled on innocently. I think it has destroyed some fine writers—among them Mac Hyman, who was broken by publishers who demanded that he write No Time for Sergeants over again. So his later, and often better, work remained unpublished. The world of celebrity is hermetic. It is also too socially protected from the real world to be good for writers. I saw this when I was very young in London. I was in a situation, working at the OWI in London at the end of the war, where I was surrounded by people who were celebrated; I realized then that those people were somehow cut off from life. The famous only knew the famous, and when you went to a famous house somebody famous always walked in. My instinct, because these decisions are never really conscious, was to avoid this. I did for a long time. I kept disappearing, by necessity. I knew that I would never get the vast amount of work in which I had been caught finished if I tried to live in what Yeats called "the public bog."
It isn't that I have been neglected in this country. I haven't. For many years I have had a very solid and sustaining reputation among writers I respect. I have not had what I call "drugstore paperback" fame that demands of the celebrated that they write the same celebrated book over and over again.
Now I realize that I have gone from obscurity to being a monument without an intervening period of airport and supermarket fame. I would, of course, have enjoyed the money. I don't think this is the fault of readers, but of those in the frightened and timid publishing industry who think they know what "people" want—the same people that they tend to despise. After all, intelligent people eat and fly. About a year ago, I had to go into a bookstore because I had forgotten a book I was planning to read from. I looked in Fiction, and it wasn't there. When I asked the saleswoman she said, Oh, you're in Literature. I said, Why? I'm not dead!
INTERVIEWER
What was the effect of the National Book Award on your career?
SETTLE
It made me sick. It also made my advances seven times what they had ever been before. It should have been wonderful, after all the necessary years of obscurity while I was working on the Beulah Quintet, but it was one of the most unpleasant experiences I have ever had. The envy, the viciousness were appalling. I have always tried to protect myself from that secondrate literary posse that forms in New York when anything generous shows its head. My husband said afterwards that he would rather be invited to a train-wreck than a New York literary cocktail party.
INTERVIEWER
But most writers consider it a great honor.
SETTLE
It certainly is—or should be. I was very happy about being chosen. I thought my years of work had been recognized at last, and I was profoundly grateful for that. I went to New York quite joyfully. I had no idea that I would be, what—I think it was Samuel Butler—called, a lion in a den of Daniels. So much criticism was heaped on the choice that it became a negative, embarrassing media game. I was referred to as Mary Lee Who? by that woofle-haired man who is on television in the mornings. Digby Diehl wrote an article in, I think, The Village Voice, defending the choice, and pointing out that only two people in the Critic's Circle, who were raising such hell, had even read the book. They had had five weeks to do so after the nominations were announced. It all soured what should have been one of the happiest moments of my writing life. That is why one of the ground rules of the PEN/Faulkner Award is that it be an honor given in an atmosphere of honor and celebration.
INTERVIEWER
You live in a university town. Are you drawn to this world?
SETTLE
Wait. Charlottesville is more than a university town; it is the county seat of what someone described as the only county they knew of that was zoned for two thousand acres. There is a balance between town, gown, and county there that you find in few other places. It's been my home for three times in my life, and only once have I been connected with the university.
The university circuit sounds like a vaudeville tour. If I ever said I was drawn to the academic world I lied. I loathe the atmosphere of "school" and have loathed it all my life, but I love the idea of rescuing students from the atmosphere and telling them where, in Thoreau's words, the arsenal is, instead of the damned theory they seem to be filled with. I want to whisper to them, Don't forget that the metaphor for primal energy is a whale, a whale, a whale. I want people to know that there are books and there are voices and they can find them. As for going to places to read, I don't do it often. I go where my friends are, and I have a lot who teach. It's good to see them.
INTERVIEWER
You live near and associate with a number of other contemporary writers. First of all, would you say who they are and what special energy or companionship or whatever you want to call it, you derive from the association with other writers?
SETTLE
Now, I am in the most ideal situation I have been in since we all sustained each other in the early days, when we were "down and out in Paris and London." I have a community of old friends around me, and I hope I help them as much as they help me. I've known Ann Beattie since 1976, and I love what she does. Her voice is one that I recognize: its lightness, its humor, its almost Mozartian twilight. She swears that we met at the University of Iowa, in a bar, and I said, I'm sorry I can't come to your reading, but tonight is my belly-dancing class. I've known George Garret since 1963. I've admired him as I do few other writers, and been fond of him. Roger Shattuck I've known for many years. Alas, he is no longer there. John Casey is in Charlottesville, and so is Douglas Day and Gregory Orr. It was a reading of Greg's that provided me with the first spark of a new novel that I am planning to begin in the fall, and a poem of George Garrett's that has already given me the title. I have it written in large red letters on my workroom wall, waiting for me to finish writing about Turkey. It will be called "Cage of Bone." We all exchange work. I see Charles Wright, and I admire him so much as a poet—there's a special reason; he is from the same mountain world that I am from. So are Peter Taylor and Eleanor Taylor. I understand what they are doing. Fortunately for me, all of these writers are ones that I admire. It's gratifying. We don't see each other all the time, but there's a sense of community in knowing they are here, without the darkness of envious competition. Of course my best writer-friend is my husband; he is a nonfiction writer and critic, and a fine linear editor with an Uzi eye.
INTERVIEWER
These are people that you wouldn't find in the back-biting line at the old National Book Awards.
SETTLE
Not one of them. I wish they had been there.
INTERVIEWER
Can you talk about influences on your writing? Certain of your books are built around classical myths.
SETTLE
Only one, and that was a dare. I wrote The Love Eaters on a bet with James Broughton. We were walking through the ruins of the Crystal Palace Gardens in London having a three-bottle argument on the nature of tragedy. I said it had to be recognized and he said it was inherent. I said, James, if the Phaedra were placed in a modern small town nobody would recognize it. They would say she was menopausal or mutton dressed as lamb. He said, Prove it. So I tried to. Not one critic realized that The Love Eaters was the story of the Phaedra.
INTERVIEWER
What about the Antigone legend in the Beulah Quintet?
SETTLE
I ran across so many references to Antigone as a much-quoted play in the time of the Cromwellian dictatorship in the seventeenth century. It had been translated into Latin, which most educated men could read, by the lyric poet, Thomas Watson. I realized that the Creon/Antigone legend was being fought out there, and still is, wherever there are two political sides. Democracy seems to me to be the balance between them. Creon needs Antigone; Antigone needs Creon—a perpetual attempt at authority, a perpetual turning of the wrist. A democratic metaphor.
INTERVIEWER
Let me try something out on you. I know you admit to Joseph Conrad as an influence. In The Scapegoat I thought I saw Nostromo.
SETTLE
I'm fascinated that you did. I certainly was not conscious of it. My structure for The Scapegoat came from thinking of a trial after an accident. One person remembers it one way, another, another way. All those fragmented memories are put together to get the true story of what happened. That's why you have a jury. Who remembers the truth as a whole? Then, as a counterpoint, my story keeps going back to what was actually happening at the time, juxtaposed with Lily's story of what she remembered, with Althea's, and with Mary Rose's. I see in telling this that if there was a strong literary influence, it was one of my favorite films, Rashomon.
INTERVIEWER
What is it then that you personally feel you must learn from Conrad?
SETTLE
Guts, I think. The way nothing stopped him from writing. Anything could have stopped him. My God, he learned the first words of the language he wrote in for the rest of his life from sailors in Lowestoft, England, when he was nineteen. You can imagine what the words were. From that beginning he turned into one of the great modern stylists. But deep, deep in his mind what he had to draw on was a training in English literature. You know, he was exiled with his father, who was a Polish poet and patriot, to Siberia when he was four or five years old. His mother died in Siberia. His father was translating the whole of Shakespeare into Polish, and the child was his only audience. The first time Conrad appeared in public was as a ten year old, walking behind his father's coffin, alone, as the chief mourner in a huge patriotic funeral in Krakow.
What most people know is that he ran away to sea at fifteen or sixteen and had some adventures and then settled down to write about them. What people don't know is that a French-speaking Pole managed to go through, and pass, the oral examinations to become an English merchant sea captain. Can you imagine how xenophobic three British captains would be when a little Pole walked in looking so dapper that he was called the Count? They kept him longer in that examination than anyone had ever been kept and he walked out a captain. He had become his own dream. I think it is his sheer guts that I admire as much as anything else. His attempt to say what is unsayable and keep on trying until he says it, and his way of writing so that you go beyond the words, as if they were only a veil to get through, to the vision. Do you remember in Typhoon when it's still, and the stars ride up the porthole, just shhoo, like that, and you realize that the ship is listing . . .?
INTERVIEWER
You have talked and written about Proust as well as Conrad. Are you conscious of his effect on your work?
SETTLE
Oh yes, and there are others as well, I hope. I have often used guides for work, not to imitate but to warn. For instance, when I was thinking of All the Brave Promises, which is a memoir of my experiences in the English women's section of the Royal Air Force during the Second World War, I read Proust. I was dealing with material so harsh in a world so harsh, that if I had written harshly about it, you would never have been able to see it with me. In The Clamshell, a story of adolescence, I had to avoid being sentimental about going back to age eighteen. I had to be reminded about the difference, all the time, between lyricism and sentimentality. I read Stendhal, who is romantic but never sentimental. Oh, who else? Hardy to tell me how far things are from each other; Fitzgerald to reassure me that American people can be luminous and tragic, and that I don't, as an American, have to write either for or against. As for Conrad, he is my essential guide for the reasons I talked about before—his pride, his ability to see beyond words, his guts. I can't read them after I have started a first draft, but before that, they have guided me.
INTERVIEWER
No modern writers?
SETTLE
They are modern writers, all of them—innovative, daring. That you have to see in time as well.
INTERVIEWER
You attend to language a lot. Is language, for you, a part of a fictional person more than just the vehicle by which they speak?
SETTLE
Of course. We all have individual voices, personal languages. That is true whether I am writing about the past or the present, the Turks or Americans. But books, and the people in them, have their own voices that are not my voice. There are all the individual voices in Blood Tie, and in the quintet, voices of the past and the present. In Celebration you can hear Noel, loud and clear. I love Pius's voice, slightly ironic and formal at the same time.
INTERVIEWER
Can you talk about Pius? He is certainly a unique character.
SETTLE
Pius busted into that book. What did I know about six-foot-nine Dinkas? Nothing. I knew as little about the Jesuits. I had been reading about Africa because of Ewen going there in Celebration. Much of his story was based on the experiences of several friends and of going to Africa myself, but I needed to know more. One of the books was the memoirs of a district officer in the Sudan. He told about a ten-year-old Dinka boy going to school in Wau, walking sixty-five miles with a bag of dried corn to sustain him on the road, totally naked, with his clean uniform neatly folded on his head so that he would be tidy when he got there. That little boy haunted me. He would stop, he explained, in Dinka villages at night. It was he who led me to the Dinkas. Then I found the work of a Dinka, Francis Madding Deng, a lawyer and anthropologist who has taught at Harvard and who is the Sudanese minister to Ottowa. He had written two anthropological studies of the Dinka. There were also two Africans I had known years ago in London. But all this is hindsight. I didn't make any intellectual decision about Pius. In Celebration, they were all asleep in the Bedford lorry on the road to Faradje, and suddenly a huge black man turned up.
INTERVIEWER
Moving on to politics: I see a strong political sense in what you say. You left the country when Nixon was elected president. How long did you stay abroad and what statement were you trying to make with that gesture?
SETTLE
I didn't like him, and I was ashamed that he was president.
INTERVIEWER
Were you ashamed of your fellow Americans for electing him?
SETTLE
Let's say I think they were misled. A lot was going on because of the Vietnam War that people didn't know about. In 1968, I was teaching a term at Bard College in Dutchess County, New York, which is a conservative stronghold. Bard is a very liberal school, as you know. We were warned not to go out on the public road at night because people were throwing rocks at us from cars. Several students had been hurt.
I was "Sister Anna carry the banner" whenever there was a march in New York against the war. I was a veteran of the Second World War, so I marched with the veterans. That, of course, got me a black dossier. It had been at least dark gray since I began to try to join up in 1941, before we went into the war, and so I was called a premature antifascist. There was harassment, my telephone ringing in the middle of the night, cars driving in and out of my driveway when I was alone, a visit by the IRS in an attempt to keep me from leaving the country, all mindless and scary. It was a very bad time—Operation Chaos was going on, completely secret so that if you mentioned it people thought you were being paranoid, so I said to hell with this, I'm getting out of the country. Like the song says, I ain'ta gonna be treated thisaway.
INTERVIEWER
In Blood Tie and again in Celebration there is a lot of emphasis on expatriation and dislocation. It is clearly something that intrigues you. Why did your characters expatriate, why are they dislocated?
SETTLE
Why do you call it dislocation? It sounds entropic and except for a few of them, it's more positive than that.
INTERVIEWER
I guess I'm asking, what's wrong with home?
SETTLE
Oh, oh! I sense the undercurrent of chauvinism we all have to deal with—even in ourselves. It depends on where home is, and whether you are in a society that will accept you for what you need to be. We Americans exile ourselves by choice, as I did. I went the first time to war, the second time in an instinct to find companionship for what I wanted to do, and then in 1968 as a political gesture. Then there is another, underlying reason, especially for writers. It's cheaper to live outside the country and do the work you want to do, away from that demand for too high a standard of living that we seem to be caught in like a web. I think that where you go is less important than the act of leaving. Once you pull your feet out of your own primitive turf you might as well be any place.
INTERVIEWER
You write a lot of nonfiction. Do you feel that fiction writers are closet essayists yearning to be free to tell the world directly what they have been trying to say indirectly in their fiction?
SETTLE
I can't speak for anyone else. I don't need to yearn to be free to write what I want to. I write it because I enjoy it. It's less demanding. I write travel essays to sing for my supper when I want to go someplace. I write memoirs because they come to me and it's time to remember. The essay on Somerset Maugham and the essay on T. S. Eliot that I have published are part of a book of memoirs that will follow on from All the Brave Promises. There are several levels, I hope, to both of them. In the Maugham piece, I was trying to say something about what it was to be a young writer that I couldn't have said another way. There is true indirection, if you like. In the Eliot piece I was talking as well about London just after the Second World War. Some of the essays will be about places in time—New York in 1939, Paris in the early fifties. I'm writing a second nonfiction book about Turkey, about all the kingdoms, tier on tier. In a way, it's a rest from writing novels, which take a different and more profound level of energy.
INTERVIEWER
Why?
SETTLE
You don't need to make anything up, to conjure. It's as simple as that.
INTERVIEWER
What about the novel called Charley Bland that you have just finished? How does it connect with your other work?
SETTLE
It is, I hope, the last unfinished business of Beulah land. It's a love story, or rather a story about love, which is different. I thought I was finally adult enough to write about love. It's about the most basic triangle there is—the mother-son-woman. I was at dinner in Washington about two years ago, and there was a psychiatrist sitting beside me. He asked me what I was working on, and I said, The most basic triangle. Mother-son-woman, he said. Thank God somebody is working on it, because everybody evades that most essential triangle. Most of my work comes out of it.
INTERVIEWER
What about sex as a part of love? Do you ignore that?
SETTLE
Oh come on! My books are permeated with sexuality. They are bound to be if they are alive. But there is only specific sex when it is true to the person I'm writing about. You know, I think that the obligatory sex acts that publishers want stuck into contemporary novels are as out of place in serious work as that eighteen-year-old virgin the agent demanded in London forty years ago. Times haven't changed. They've flipped. But it's the same old commercial demand. After all, much writing about sex is false. The ecstasy is without words, the physical act is common place, and the athletics slightly ridiculous.
INTERVIEWER
You have created a corpus of work that will not be forgotten. Given that, how would you like best to be remembered by readers, teachers, and critics, who will enjoy your writing, convey it, and probe it for decades to come? I guess writers, when they finally finish their work, get a label or a category.
SETTLE
I'll never be in a category. Categories are a form of critical laziness. The best writers don't fit into any one of them. Try to fit Typee and then Omoo and then Mardi and then Moby-Dick and then The Confidence Man into a category. The category is Herman Melville.
INTERVIEWER
There are those who will reduce them, and you're saying that they should not be reduced. How would you like them seen then?
SETTLE
Ideally, I should like to see the Beulah Quintet read all together and chronologically. The other books should be taken separately, I hope. As for exegesis, explication du texte, and all that, I agree with Conrad who said that the only valid criticism was either to burst into tears or throw the book across the room. I wish we could be more serious about work and less solemn.
INTERVIEWER
Let me ask you a very personal question. You and your husband are very close. I wonder if that kind of closeness between people is achievable for most at a younger age, or whether you have to learn a lot first.
SETTLE
You certainly have to grow up. Marriage is an adult occupation. Alas, people, and I was one of them, get sex and marriage mixed up with each other, and expect too much of both. In a marriage when you're older you learn the value of its dailiness. For twenty years between marriages I lived alone, except off and on, in passing. That kind of life that is supposed to be so free isn't free at all. It has to be perpetually planned, lest you get too lonely. You have to go seventy-five percent of the way; you can't just relax. All the bourgeois domestic days that young women think they are trapped in are to me a glory; and by the way, they can replace that kind of "sought anonymity" that a writer needs. Flaubert said that behind every passionate work of art there was a bourgeois day.
INTERVIEWER
We have covered a lot of ground. It there anything that you wish we had covered that we haven't?
SETTLE
Young writers will read this and I am concerned that they will look for some kind of magic formula. It worries me. I remember going someplace to read where they were so awed by a "professional" writer that they weren't listening to what I was trying to say. I could have been reading the telephone book. I don't like this. I want, in the young, arrogance and a sense of peerage. I don't want hierarchy. Anybody who writes is, in function if not in quality, a peer of anyone else who writes, if they are making a serious attempt to write what is true without whining. We can all learn from each other. It is not an isolated life. Then, I want them to know that it takes a great deal longer than they might be prepared for. There's no formula and there is no such thing as an easy life after fame comes. You are still in a room alone; you are still facing the white paper. There's no difference. And you had better not take your reviews into the room with you. To chase fame or approval is to do something else; it hasn't to do with writing, and I'm not concerned with it. Writing is its own act, not its rewards, not its pitfalls—like the whale is the whale and not its metaphor.