Interviewed by Anne Cattaneo
Issue 125, Winter 1992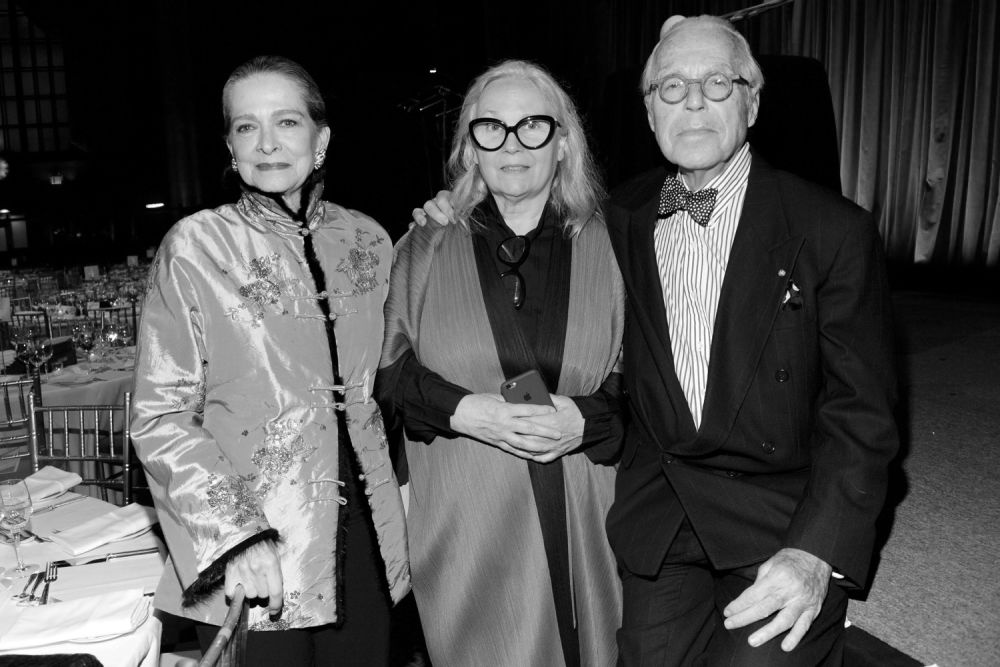 Adele Chatfield-Taylor, Brigitte Lacombe, John Guare. Photograph by Clint Spaulding / © Patrick McMullan / PatrickMcMullan.com
John Guare's career in the theater began at New York's legendary Caffé Cino in the 1960s, during the birth of off-off Broadway theater, the experimental movement that has developed into contemporary American drama. In 1965, Guare was among the original members of the Eugene O'Neill Theatre Center in Waterford, Connecticut. The innovative summer playwrights' festival that began there has come to define the way American theaters develop new plays. In 1968 Guare received the Obie for his play Muzeeka, which was originally produced at the 1967 O'Neill festival. By the early seventies, Guare's work was playing off Broadway with House of Blue Leaves (which won the New York Drama Critics Circle Award for Best American Play) and playing on Broadway with Two Gentlemen of Verona, for which he co-adapted the book with Mel Shapiro and Galt MacDermot and wrote the lyrics. It too won the New York Drama Critics Circle Award as well the 1972 Tony Award for Best Musical. During this period Guare also collaborated with Milos Forman on the screenplay of the Czech director's first American film, Taking Off, which received the Jury Prize at the Cannes Festival.
As playwright in residence at the New York Shakespeare Festival, Guare wrote Landscape of the Body, Rich and Famous, and Marco Polo Sings a Solo. Bosom and Neglect premiered at Chicago's Goodman Theater and played on Broadway, at the Stratford Festival in Canada, and at the Yale Repertory Theater. The Manhattan Theater Club produced Gardenia, directed by Karel Reisz, and the BBC broadcast Women and Water. His screenplay for Louis Malle's Atlantic City received an Oscar nomination and won the New York, Los Angeles, and National Film Critics Circle Awards and the Golden Bear at the Venice Film Festival. Lincoln Center Theater revived House of Blue Leaves triumphantly in 1986 and then produced Six Degrees of Separation, which won the New York Drama Critics Circle Award for Best Play of 1991. Six Degrees also received wide critical acclaim for its London production, which opened at the Royal Court in June 1992, with Stockard Channing repeating her starring role. The Los Angeles, Sydney, Johannesburg, and Istanbul productions opened to brilliant reviews in the space of two weeks in October of 1992. Guare has taught at Yale, New York University, and Harvard. In 1981 he received the Award of Merit from the American Academy and Institute of Arts and Letters, which in 1989 elected him a member.
Guare, who was born in New York City in 1938, has lived for many years in Greenwich Village with his wife Adele Chatfield-Taylor, an historic preservationist who is president of the American Academy in Rome. Their rambling apartment is comfortably worn and packed to the ceiling with books and photographs. A nineteenth-century church steeple stands in view outside the window. At the time of the interview Guare's new play, Four Baboons Adoring the Sun, had recently opened at Lincoln Center. He had just completed a screenplay based on the life of George Gershwin, which is to be filmed by Martin Scorcese. Mary Pat Walsh, his assistant, gave advice to house guests who came in and out. The phone rang and rang. Dogs barked. Even when the interview continued at Lincoln Center, the feeling of life beating at Guare's door persisted—as did the sense that he enjoys, or perhaps relies on, the clamor.
INTERVIEWER
Why do I always feel there's something blasphemous about your work?
JOHN GUARE
I don't know why you feel that way. Are you all right?
INTERVIEWER
There's something dangerous about your work. A Jacobean undercurrent.
GUARE
Hold on!
INTERVIEWER
All right, let's start with this then: you once told me that you thought of playwriting as simply another job in the theater.
GUARE
To stay around any place you love, you have to have a job. In college at Georgetown in the fifties, I got my first theater job checking coats at the National, which was Washington's main theater. I sold orange drinks there at intermission and felt personally responsible for the entire audience's receptivity to what was going on onstage. I ushered at the Shubert in New Haven during graduate school when plays en route to Broadway still went out of town to try out. I worked backstage at summer stock doing jobs from garbage man, to strapping on Herbert Marshall's wooden leg, to fixing Gloria Swanson's broken plumbing in her dressing room with her yelling at me as I worked the plunger. I ran the light board for her show, which involved bringing up all the stage lights surreptitiously when she came onstage so the audience would subliminally think, Gee, isn't everything brighter when she's around? I was supposed to do it very quietly. It was an old light board and very squeaky. I'd bring the lights up one point—and it squeaked. I don't know what the audience felt when they heard that sound—when she came on and left the stage. It was called a "star bump." Knowing lore like that made me feel there was a secret freemasonry to the theater. Then I toured as an advance man for a summer stock package, setting up the show each week in a different theater before moving on to the next. Even with Six Degrees of Separation I felt part of my job as playwright was to go backstage two or three times every week during the run to check the backstage temperature—who's unhappy, who's not speaking, whose costumes are wearing out. You must keep people happy backstage because that affects what's onstage. During a run, the playwright feels like the mayor of a small town filled with noble creatures who have to get out there and make it brand new every night. When a production works, it's unlike any other joy in the world.
INTERVIEWER
So you chose the theater life early on.
GUARE
My parents started taking me to plays early. Plays have a celebratory nature that no other form has. Theater always meant celebration, a birthday, a reward for good grades. I felt at home in a theater. I loved being part of an audience. All the rules—the audience has to see the play on a certain date at a certain time in a certain place in a certain seat. You watched the stage in unison with strangers. The theater had intermissions where you could smoke cigarettes in the lobby and imagine you were interesting. The theater made everybody in the audience behave better, as if they were all in on the same secret. I found it amazing that what was up on that stage could make these people who didn't know each other laugh, respond, gasp in exactly the same way at the same time.
INTERVIEWER
What was the first play you saw?
GUARE
Annie Get Your Gun. Ethel Merman.
INTERVIEWER
I have a theory that there are two kinds of people in the theater . . . those who started out because they went to see Annie Get Your Gun or those who went into it because they read Antonin Artaud.
GUARE
I was reading Artaud during Annie Get Your Gun. A girl, Jane, in our grammar school class was actually in Annie Get Your Gun, and she'd be off Wednesdays for matinees. On holidays, Sister Donalda, the very stern superior, would come to our class and ask Jane to come forward and sing Sister's favorite song; Jane would step to the front of the class and belt out "You Can't Get a Man with a Gun."
INTERVIEWER
So you've always been stagestruck?
GUARE
In the blood. My mother's family was in show business. Her two uncles toured in vaudeville with a bill of sixteen plays they cobbled together from 1880 to 1917 with titles like Pawn Ticket 210, The Old Toll House, and Girl of the Garrison. Lines like the old man coming forward and saying: Twenty five years ago this very night my son left home taking the money he did not know was rightfully his. Oh, if I could only see him again. (Flickering outside the window.) Oh, the same lightning! The same thunder! (Knock knock.) Who can that be!
My grandfather was a cop in Lynn, Massachusetts. In a raid on a Lynn cathouse they found a very small child left by one of the arrested girls. He brought the baby home; he turned out to be five years old and a midget. Little Billy was taken into the act by the uncles for the good reason that he was a great little hoofer and song shouter. The act broke up when little Billy left to join the George M. Cohan Review of 1918; dressed as a tiny soldier, he was one of the cast who introduced "Over There." My mother's real brother, who was known in our family as Big Bill, became an agent for stars like W. C. Fields, Al Jolson, and Will Rogers. Big Bill was called "Square Deal" Grady by Damon Runyon for the "creative" contracts he made with his clients. He was head of casting at MGM from 1934 to 1956. I never saw Big Bill much but his presence and power to discover people figured heavily in my dream life. In fact, the monologue that opens the second act of House of Blue Leaves happened exactly as described: Big Bill was on a major MGM talent hunt searching for an unknown child to play Huckleberry Finn. To escape all these kids, he came to see us. I decided fate had sent him to me: I would be Huck. I packed my bags and went mad and auditioned. He quickly left thinking he'd been set up by my parents. My mother cried. It was horrible. I gave up all dreams of acting at age eight. Playwriting seemed a lot safer.
INTERVIEWER
Did you ever want to write anything else? A novel?
GUARE
In college I was editor of the literary magazine and wrote sensitive short stories overly inspired by Flaubert. Our English teacher actually knew Katherine Anne Porter; he showed her a short story I had written. She told him she would pay fifteen hundred dollars for the first sentence: "After Pinky vomited, Ingrid Aldamine sat up in bed." She liked the rhythm. She didn't mention anything about the rest. However, if I could write one sentence that an actual famous writer would comment on—wow! Those few crumbs were enough for me. But no more stories. I felt I was betraying a higher calling by writing mere short stories or novels. I believed plays to be on a higher and rarer plane. I still do. Novelists were only a couple of hundred years old. Playwrights were thousands of years old. If I was going to be a writer, it had to be plays.
INTERVIEWER
When did you actually discover this?
GUARE
In 1949, I was eleven. My pal, Bobby, and I read a story in Life magazine about two boys spending their summer vacation making a movie of Tom Sawyer. We had no camera but Bobby had a garage. I immediately wrote three plays. Between shanghaiing kids on the block and rounding up puppets, we got together a cast. We then called Life magazine to alert them to this great story. Time/Life, the operator said. We have this great story of two boys spending their summer vacation . . . Again, Time/Life, to whom do you wish to speak? No, you see, these two boys . . . Click!
INTERVIEWER
The operator obviously didn't have a good nose for a story.
GUARE
We lowered our sights and called the local Long Island paper: Two boys are putting on plays and—wait! We're giving all the proceeds to the orphans of Long Beach! Oh yeah? they said. On the last day of our performances, a big black car pulled up to Bobby's garage. A photographer took our pictures; they published a story about an eleven-year-old playwright. For my twelfth birthday, my parents gave me a portable typewriter because I was a playwright; I still use it.
INTERVIEWER
What happened to the orphans of Long Beach?
GUARE
Oh, they were all given lifetime passes to the beach.
INTERVIEWER
Do you think of yourself as a regional writer?
GUARE
Yes. From the region of New York.
INTERVIEWER
Have you always lived in the city?
GUARE
Yes and no. In 1950, when I was twelve, my father suffered an angina. He had to take at least a year off from work so he, my mother and I lived most of the time in Ellenville, in upstate New York, with his elderly aunt who was also quite sick, mentally and physically. It was the McCarthy time. Since the grammar school in Ellenville neither pledged allegiance to the flag nor said the Our Father, the nuns in Jackson Heights in New York City agreed with my parents that it would be better for me not to go to school at all rather than enroll in an obvious commie den. So I stayed enrolled at St. Joan of Arc in Jackson Heights, but I had all this time by myself in Ellenville. Television had not yet come to Ellenville, which was in the low part of a valley. All I did was read. And read. And I wrote. And I walked and walked, lived in my own world, my soul protected from the red menace. I'm the only person I know who benefited from the McCarthy period. In 1950 a play I read about, again in Life magazine (obviously my link to the world), opened on Broadway. It was called The Wisteria Trees. Joshua Logan had taken The Cherry Orchard and set it down South. What a good idea! It made me read The Cherry Orchard. What a great play! I knew about Tennessee Williams, again from a story in Life. I even saw the movie of A Streetcar Named Desire up there in Ellenville at the Shadowland Theater. I started reading Chekhov's plays and loved Three Sisters. I remembered what Joshua Logan had done with The Wisteria Trees. Hmmm. I typed out the first act of my play on my new official playwright's typewriter—everytime those girls moaned for "Moscow," I typed in "New Orleans," hearing the aching, yearning voice of Kim Stanley, whom I knew from television in New York. That was playwriting. Neurotic, misunderstood Southerners trying to get to New Orleans.
INTERVIEWER
It must have been a good lesson, copying out Three Sisters.
GUARE
It taught me about typing. I learned more about basic play structure poring over the original cast albums of shows . . . the brainstorm that the second song was usually the "want" song. And how in Guys and Dolls the need for a spot for the oldest established permanent floating crap game in New York was technically no different than those three sisters yearning to get to Moscow. The need made the story. Creating the arc and completing it.
INTERVIEWER
How long did that period of off-and-on hooky last?
GUARE
Until I went to Catholic high school in Brooklyn. I took a long subway ride each day to Williamsburg, which was simultaneously an old Hasidic and a brand new Latino community. I learned how to conjugate Latin verbs and do Euclidean geometry standing up in a packed morning rush hour. The training of doing homework in a crowded subway is good preparation for working in the theater where rehearsal is the place you do your rewriting—nightmarishly public, even if it's just the cast and crew. I also went to more and more plays. The best thing I ever saw was Tyrone Guthrie's production of Tamburlaine the Great. I still haven't seen anything like Anthony Quayle striding over a map of the world. A body hoisted to the top of the Winter Garden stage and down below a phalanx of archers shooting arrows into it. Marlowe was better than anybody.
INTERVIEWER
You wrote plays in college.
GUARE
A play a year. The songs in House of Blue Leaves written by the failed songwriter were my successes in a college musical in 1960 that started out as a musical of The Great Gatsby but ended up as a version of Singin' in the Rain, called The Thirties Girl.
INTERVIEWER
You went to the Yale School of Drama . . .
GUARE
. . . where I read every play in the library and talked about plays and wrote plays, ushered at the Shubert and learned how plays were rewritten and re-rehearsed; then I'd see them in New York and see how sometimes the rewriting had harmed them.
INTERVIEWER
You studied playwriting; you've taught it. What can you learn from those classes?
GUARE
In a good playwriting course you learn which playwright you write like. And why you admire that writer.
INTERVIEWER
Do all writers become peers?
GUARE
Yes. If you can't be arrogant in drama school, where can you be? You learn to approach, say, Chekhov as a peer. How does he deal with entrances and exits? You study how Chekhov gets somebody offstage; you see how he takes a simple exit in Uncle Vanya, in which Sonya leaves to ask permission to play the piano and builds to Sonya's sudden return—"He says no."—a heart-stopping moment that sums up a life.
INTERVIEWER
And after Chekhov?
GUARE
Irish writers. F. Scott Fitzgerald. I was bowled over by the fact that Lady Gregory's first play was Colman and Guaire. It was a sign.
INTERVIEWER
Why Irish?
GUARE
Because I'm Irish. One hundred percent on both sides.
INTERVIEWER
There's a line in House of Blue Leaves where one character says to Bananas, "What else was I going to name a little Italian girl?" I always assumed you were Italian.
GUARE
That was my attempt to disguise the real stuff in the play.
INTERVIEWER
Parenthesis. Once and for all. How do you pronounce your name? I've heard it Gor, Gar.
GUARE
Grrr. In Ireland it's pronounced somewhere between Gworra and Gorra, but when they came to Vermont, they flattened it out into a sound that rhymes with bare, blare, care, dare, fare, glare, hare, mare, etcetera, etcetera. I was once answering questions after a talk, and a woman asked, Mr. Gwa-ray, would you talk about the meaning . . . I interrupted her. Excuse me, but it's pronounced Guare. She said, very grand, I pronounce it Gwa-ray.
INTERVIEWER
Back to the Irish.
GUARE
I saw a college production of The Importance of Being Earnest at every performance, and so I wrote a play in emulation of Wilde. I wrote an additional act to Plough and the Stars because O'Casey didn't go far enough. Shaw—Heartbreak House is the best. Williams's Orpheus Descending opened in Washington my freshman year, and I went to the first performance. A latecomer fell noisily down the steep balcony stairs during the first act; I yelled out, It's Orpheus descending! and everybody laughed. Oh, if only I could be European or Southern and not cursed with the nothingness of my surroundings!
INTERVIEWER
O'Neill?
GUARE
O'Neill won a Nobel, so he was like a European. It's hard to learn from somebody like O'Neill. He's great in spite of his flaws. His genius has nothing to teach others except to keep writing all your life, and maybe at the end you'll write a few masterpieces.
INTERVIEWER
Shakespeare?
GUARE
We can only learn one lesson from Shakespeare and that's that there are no stage directions. It never says, Juliet (in a melancholy yet noble, quixotic way). The emotions and the intentions must be firmly embedded right in the lines.
INTERVIEWER
And the more moderns?
GUARE
I was very taken with Auden and Isherwood's Ascent of F6 because it took place scaling a mountain. I only knew plays in living rooms. I hated our living room. Through reading F. Scott Fitzgerald and reading about him, I learned about his friend on the Riviera, Philip Barry, also an Irish American. I liked the destructive lives they led and the glamorous wish-fulfillment worlds of Holiday and The Philadelphia Story. I wished I lived in their living rooms with no financial necessities. I liked the rhythm and artificiality of high comedy. And I liked Barry's plays for their mood changes. They could suddenly go pensive. For learning purposes, they seemed more manageable than O'Neill.
INTERVIEWER
More manageable?
GUARE
Barry wrote not only boulevard plays like Holiday or Paris Bound, but far more instructive, nobly failed experiments like Hotel Universe or Here Come the Clowns. I did a thesis on him and learned about the nineteenth-century form comedie larmoyante, "tearful comedy"—noble and brave and smiling through the tears and flattering the audience. Take the closing lines of The Philadelphia Story: "You look like a goddess." "Yes, but I feel like a human being." And how comedie larmoyante grew into the well-made plays of Sardou and Scribe and then how that was turned on its ear by Ibsen whose plays did everything not to make you comfortable.
INTERVIEWER
What else did you learn?
GUARE
Moss Hart said the audience will give you all their attention in the play's first fifteen minutes; but in the sixteenth minute they will decide whether to go on the journey you want them to take. That first fifteen minutes draws up the contract of your agreement with the audience. You can subvert it or play with it, but you must set up the premises for the evening, whether the play is Mother Courage or Getting Gertie's Garter—well, maybe not Getting Gertie's Garter. I once gave a course at Yale on only the first fifteen minutes of a play. The Homecoming. The Cherry Orchard. What the Butler Saw. The information the audience receives in that opening movement, that musical statement, allows us to enter the world of that play.
INTERVIEWER
How important are other aspects of the stage to a playwright?
GUARE
While I was a student at Yale in 1962, I took courses in set design, lighting, and costume from Donald Oenslager and Ernest Bevan. I needed to learn the light in which a play must live. I wasn't any good at the technical bits, but that wasn't the point. I learned the work processes and the range of possibilities of the design people with whom the playwright shares the stage. They provide the visual entry into the playwright's world. The playwright is the person responsible for everything on that stage. If the play doesn't work because of a miscast actor or because of a bad set, or it's misdirected, it's the play that will take the brunt. Anything that happens on that stage is playwriting. So the playwright better know the actors available, the directors, the designers, all of whom deal with the life being created on stage. I once saw a comedy in rehearsal, funny and knockdown, but not until it got onstage did we all realize that the costumes, which had looked so witty on paper, had been constructed in a very heavy fabric that disguised and covered the actors' bodies and de-physicalized them. It was too late and too expensive to change anything. The costumes went on. They got raves. The play was a bust. So the playwright has to look at paintings, listen to music, to say, Yes that's the effect I want my plays to have.
INTERVIEWER
Craft.
GUARE
Yes. I love the part of playwriting that is a craft to be learned continually, the -wright part, like shipwright or wheelwright or cartwright. Whether Aeschylus or George S. Kaufman, a playwright is a writer who understands the technical aspects of knowing how to deliver exposition, how to get a character on and offstage, where to place the intermission, how to bring down a curtain. How to have all the characters' stories end up simultaneously. That's craft, and craft can be taught by emulation. You figure out how your playwright of the moment accomplishes those facts of the theater. You learn to study those playwrights technically, the way a musician does a score, breaking the work down to learn how its composer achieved certain effects. And then, having learned a technique, one can use it oneself.
INTERVIEWER
Strindberg says somewhere the final effect is all.
GUARE
Yes. Learning how to drive your work to that uncluttered final point is a craft. You learn there's no such thing as a perfect play unless it's Life Is a Dream by Pedro Calderón de la Barca.
INTERVIEWER
What other plays?
GUARE
When I was a kid, I saw a play that had a profound effect on me—Time Remembered by Jean Anouilh, with Richard Burton, Susan Strasberg, and Helen Hayes, of all people. It was a straight play that had a pit orchestra—a literal melodrama for which Vernon Duke wrote a wonderful score; it created such an air of magic. I saw it out of town, and I remember Helen Hayes being great. I went every night. Then it came to New York and sort of flattened out. It didn't get very good reviews; I went to see it. Dull, very dull. There was something missing from it. I later read an interview with Helen Hayes that said when she was in Washington, she'd never been more scared in her life. She didn't understand one thing she was doing onstage. She didn't understand the play. She was in a panic every night. Then in Boston, dreading going on, she was waiting in her dressing room when she heard a harpsichord being played on the radio that soothed her, and she said, Oh, that's what my character is, I'm a harpsichord. So, I said to myself, Oh, that's the trouble, she became a harpsichord. I learned that it's better to create panic on the stage because panic is alive. That was a great revelation to me, that experience with Time Remembered.
Durrenmatt's The Visit also had a profound effect on me. To have a play draw you in with humor and then make you crazy and send you out mixed-up! When I got to Feydeau, Strindberg, Pinter, Joe Orton, and the "dis-ease" they created, I was home. Pinter's plays had the rhythm of high comedy trapped in the wrong surroundings; I identified with that. I loved the strictures of farce, besides liking the sound of an audience laughing. I loved Feydeau's one rule of playwriting: Character A says, My life is perfect as long as I don't see Character B. Knock knock. Enter Character B. And Feydeau's hysteria opened the door to Strindberg.
I always liked plays to be funny and early on stumbled upon the truth that farce is tragedy speeded up. Filling up that hunger. Get to Moscow. Get into an adult world. The want becomes a need. The need becomes a hunger and because you're speeding it up so much . . .
INTERVIEWER
. . . it becomes ridiculous.
GUARE
Exactly. The intensity puts it on the edge. The top keeps spinning faster until it can only explode, and if you've got a stageful of people at that psychic, manic state, and an audience in tune with them, then something dangerous might happen out of that hysteria. You want to move the audience into a new part of themselves.
INTERVIEWER
Speaking of Irish, what about Beckett?
GUARE
Beckett's a great writer but a bad influence. Young writers used to think that tramps speaking non sequiturs was playwriting. As a teacher, you want to stop people from writing pastiches of Beckett and thinking that's playwriting. You want them to learn how to admire him, but to know the aim of playwriting is not to become a ventriloquist in someone else's voice.
INTERVIEWER
What about your voice?
GUARE
You have to keep working to find your voice, then have the grace or good sense to recognize it as your voice and then learn how to use it.
INTERVIEWER
How is being a playwright different from being a novelist?
GUARE
A playwright is a writer who only has ninety-nine pieces of paper to tell his tale. You've got to get your story told in approximately two hours. If it's too long you have to learn how to cut without destroying the intention of your work. People think playwriting is just somebody supplying the words. No. Theater is the place where you learn all your lessons in a crowd. Imagine a novelist watching five hundred people simultaneously reading a draft of a novel and then making adjustments based on their immediate responses. Also, you had better know the audience with whom you want to draw up the contract. Peter Brook gave a seminar at La Mama and someone asked him what the prime aesthetic problem was in the theater. He said, Oh, that's easy. When once you've discovered the laugh, it's how do you keep the laugh.
INTERVIEWER
You've had the most traditional route to becoming a playwright. You didn't run off to sea . . .
GUARE
No. I went to California after I graduated in 1963. That last year at Yale I wrote a play called Did You Write My Name in the Snow?, which was seen by people from MCA. I got the offer of a job as a writing trainee at Universal Studios. My uncle finally spoke to me again, the first time since the Huckleberry Finn fiasco. Impressed that I had a master's from Yale and that Universal was interested in me, he got me a job—as a trainee at MGM. Wow! Which job to take! Luckily, I got my draft notice and spent six months in the air force. During that time an aunt in San Francisco asked me to come see her. She was very disappointed in me. What was this about going to work in the movies? What happened to my dreams of being a playwright? I said I had to make a living; eventually I would get back to writing plays. She said I knew nothing about life and I'd get swallowed up. She had planned to leave me ten thousand dollars. Now, she would give the sum to me if I left California, went back to New York, wrote plays, went to Europe, sent her postcards. If I didn't do this, she would leave the money to a dog charity. So I headed back to New York, lived in a rented room in Brooklyn. Off Broadway was beginning—our version of Paris in the twenties. I saw remarkable plays at the Caffé Cino by Lanford Wilson and H. M. Katoukas, who walked around the Village with a parakeet tied to each finger of his hands. Ten parakeets flying all around him. The Caffé was run by a burly Sicilian, Joe Cino, who worked in a steam laundry from seven a.m. to four p.m., then went to his kingdom, his paradise, a café on Cornelia Street decorated with a crush of twinkling Christmas tree lights, religious statues, Kewpie dolls, and blowups of Jean Harlow and Maria Callas, a kind of insane storefront attic. I brought two plays to Cino. He said, Sorry we're only doing plays by Aquarians. I sputtered that I was an Aquarius! He looked at my driver's license. February 5. He weighed my plays in his beefy hands, then checked his astrological charts, and said, You go into rehearsal in two weeks, run for two weeks with a possibility of an extension for a third. I don't know what would have happened to me if I had been a Gemini.
INTERVIEWER
It makes about as much sense as most producers' philosophies.
GUARE
My father came to the Cino to see my play. He was shocked that we passed the hat for money afterwards. A Yale graduate and here I was passing the hat on Cornelia Street! He had an idea. Write a hit musical, then come back to the Cino when you won't have to pass the hat. I told him to get lost. Yet another stupid idea. At about that same time, Edward Albee earned himself eternal playwright sainthood. Out of the profits from Who's Afraid of Virginia Woolf? he and his producers took a lease on a theater on Van Dam Street, and every week for six months of the year from 1963 to 1969 they produced a new play. The plays were not reviewed. Audiences just showed up at the theater to see what was there. They were very exciting times. I once wrote a play called A Day for Surprises on a Thursday and it opened the next Monday.
INTERVIEWER
When did the O'Neill Theatre Center come into play?
GUARE
The O'Neill changed everything for me. In 1965 questionnaires were sent around to various theaters and agents to name promising playwrights, and they picked twenty names, mine among them. They brought us up to Waterford, Connecticut to ask us what playwrights wanted. Well, their plays performed of course, to meet other actors, a theater community, a place to learn what designers do and meet directors . . . give ourselves more tools to work with. That first group included Lanford Wilson, Sam Shepard, and Leonard Melfi. After a long weekend they returned us to New York and dropped us off in Times Square. We all felt we'd never hear from them again, that it was just an artsy version of the Fresh Air Fund. So I forgot about it. I went on living very frugally on my aunt's legacy for four years. I went to Europe, got a job in London, which was then a miracle of great acting and theater—Olivier's Othello, Pinter's Homecoming. Then I hitched from Paris to Egypt.
INTERVIEWER
Your aunt, did you send her postcards?
GUARE
I had made a bargain. Sure did.
INTERVIEWER
Did you write on that trip?
GUARE
I got to Cairo at the end of 1965. My parents sent me news clippings of the day the Pope came to New York. Their long letter told me that while I might be seeing the world I didn't know what I had missed by not being in New York that magical day—a Pope voluntarily leaving Rome for the first time ever to fly across an ocean to plead for peace, and I could miss that! Sitting in Cairo, reading what that day meant to them back on Queens Boulevard, I saw my life and all our dreams and where those dreams had taken us, and I realized I had a subject. I started writing House of Blue Leaves. I read that letter, and everything that had happened to me in my life became accessible. I heard the sound of my life. I was no longer a secret Southern writer. I heard New York for the first time.
INTERVIEWER
By then the O'Neill Theatre Center was in operation.
GUARE
The center was having its first official summer in Waterford, in 1966. In those days they would choose a playwright and assign him or her a date to read a play. I had the first act of House of Blue Leaves, and I played the lead—well, read it. I liked the people who were up there—Bobby Lewis, Alan Schneider, Jose Quintero, Lloyd Richards. I liked the sense of community and festivity. It was all very receptive and intelligent and hip. I found an audience it was great fun to write for. I had a place to write for. I learned about keeping at the business of doing new work in front of audiences, working with actors, learning the way they work, finding the kind of actors who understand the rhythms of your work. That's all a theater company is really: a group of talented people who laugh at the same jokes. You have to learn about design. What kind of visuals your work needs to register. And the audience—you have to keep listening to the audience, not to see what they want, but rather to learn how to make them respond the way you want. The first days at the O'Neill made all this alive.
INTERVIEWER
So you had the first act of a play . . .
GUARE
Because of the response at the O'Neill to the first act of House of Blue Leaves, I got a grant to go back to New Haven as a fellow during Robert Brustein's first year at the Yale Drama School. A TV network gave money and movie cameras to Yale so playwrights could learn how to make movies. Sam Shepard, Ken Brown, who wrote The Brig, Barbara Garson, who wrote MacBird, Megan Terry, and I were the first group. What a remarkable year! Robert Lowell was in residence. Jonathan Miller. Irene Worth. Arnold Weinstein. André Gregory. Ron Leibman. Linda Lavin. Bill Bolcom. I wrote Muzeeka about all those undergraduates I saw around me, so free and happy but wondering what in adult life would allow them to keep their spirit and freedom? How do we keep any ideals in this particular society? Vietnam was starting to become a specter that wouldn't go away.
INTERVIEWER
You didn't go back to the O'Neill after 1968.
GUARE
By 1969 the O'Neill realized that no one would ever leave. So the emphasis changed, and you had to submit a play to be chosen. The play was chosen rather than the playwright.
INTERVIEWER
You had a play done on Broadway.
GUARE
CopOut. It opened and closed. What I expected from CopOut I don't know. The actress—Linda Lavin played the role nobly—had to flee the stage, be shot and fall dead at the theater doors so the audience would have to step guiltily over her corpse in order to leave the theater. She only avoided being trampled on for a few days. I was depressed because the reviews were scathing—"not a review, an obituary" was the tone. I went on the maiden voyage of the QEII because maybe an iceberg would hit it; I went up to the Arctic Circle to escape the pain. All this while, we were having backers' auditions for House of Blue Leaves. The first act was written in one sitting, but it took me nearly five years to write the second act. I knew what the events would be, but I lacked the technical skill to handle nine people onstage, to make the material do what I wanted it to do. But finally we thought we were ready. A friend from the O'Neill, John Lahr, told me about a director from the Guthrie Theater named Mel Shapiro. I saw his work at Lincoln Center on a Vaclav Havel play; I loved it. We got a wonderful cast, went into rehearsal. Blue Leaves was a success. We won the Obie and the New York Drama Critics prize, and my picture was on the cover of the Saturday Review of Literature. Then Joe Papp asked Mel to direct Two Gentlemen of Verona. The production toured around the city parks on a truck in the summer of 1971. Because of the work we had done on farce structure for Blue Leaves, Mel asked me if I would cut and shape Two Gentlemen into ninety minutes. Galt MacDermot was the resident composer that summer. By the time we opened, we had a musical that became a great success and moved from Central Park to Broadway, where it won the Tony Award. So I had a play and a musical on at the same time in New York. I was asked to do more musicals. I knew I should get back to the business of being a playwright. I didn't know quite what to do. I was in a panic. I had no new projects, having spent so much time with Blue Leaves and then Two Gentlemen. Then I remembered what my father had said.
INTERVIEWER
Write a musical hit and back to Cino.
GUARE
The Cino had ended with Cino's tragic, drug-induced suicide. But maybe it was time to get out of New York and start new Cinos. So a few of us, including Mel Shapiro, moved up to Nantucket and started a theater where we did Marco Polo Sings a Solo. I wrote fifteen drafts of that play. Then I realized that I shouldn't spend so much time trying to make something perfect.
INTERVIEWER
Rewriting is an art.
GUARE
Garson Kanin once said, Isn't it funny that not many people know how to write a play but everybody knows how to rewrite a play. That's what you have to be careful about: to whom you listen and whom you close out. And also, strangely, how to keep the radar open just in case somebody, some stranger, does throw something good at you. Answers are easy. Formulating the problem—that's the art. But finally you have to realize there are certain times when, as Valéry says, a work of art isn't finished, it's just abandoned. You have to cut bait and move on to the next work.
INTERVIEWER
Going to Nantucket meant leaving the main source of your work—New York.
GUARE
That's one of the reasons I started writing the Lydie Breeze plays—literally to stop looking around my city, New York, and to draw water out of a different well, a well that was also mine. Living in Nantucket got me in touch with the New England part of my past—my mother was from Lynn, Massachusetts, and my father's family is from Gloucester, Massachusetts and Montpelier, Vermont. If you die in Montpelier, you'll get buried from Guare's Funeral Parlor. My father's grandfather had been a ship captain in Gloucester. My parents were born in the 1890s, and I wanted to imagine myself back in that time and write out of that. A pre-Freudian time. I wanted to make sense out of family myths—overheards and recriminations and family legends and half-understood events that happened before I was born in 1938. When my parents were battling at night, I'd hear my mother say to my father, Your grandfather might have been a slave driver, but you're not turning me into one of his slaves. And I'd put my hands over my ears and stay under the covers. Years later, I wondered what they were talking about, what did that mean? That time in Nantucket awakened a lot of that lost past in me; I was very grateful because a whole new imaginative life began once I got to Nantucket. That's all we wanted to do—arrange our lives to make our unconscious usable.
INTERVIEWER
I believe that there are four plays from this Nantucket well, three of them done.
GUARE
I wrote Lydie Breeze first, but that's chronologically the last. To explain the past of the characters, I wrote another play called Gardenia, which dealt with these people at the end of the Civil War. Then I wanted to write the magical time when these people all met during the war. That play is called Women and Water.
INTERVIEWER
And the fourth?
GUARE
It'll come. It'll come.
INTERVIEWER
Six Degrees of Separation is about to close at Lincoln Center after an eighty-week run, and next week you go into rehearsal with a new play, Four Baboons Adoring the Sun, also at Lincoln Center, directed by Sir Peter Hall.
GUARE
At the moment I'm the luckiest of playwrights. I belong to a theater.
INTERVIEWER
Why do you say "at the moment" so ominously?
GUARE
Isn't that the law of the theater? Not to mention life.
INTERVIEWER
What is the definition of a successful play for a playwright?
GUARE
One that generates a new play. That's all you can hope for. To get on to the next play.
INTERVIEWER
Is there always a next play in mind?
GUARE
There'd better be. On a plane coming back from London in 1972, I got in a panic because I had no new work and said to myself, Before this plane lands I'm going to have the first act of something. I don't care what it is. I can't land without having another play to work on. I wrote the first act, of Marco Polo Sings a Solo. I promised myself that I would never get in a situation again where a project ended and I had nothing to go on to. If it's a success you're stuck with a terrible thing: Oh my god, how am I going to repeat that? Or, if it's a failure: How do I get back in the saddle again? I like to keep a number of projects going at the same time, so the day after opening I've got something in some mid-state to get to and not have to start from scratch.
INTERVIEWER
Do you work everyday?
GUARE
I literally get sick if I don't. I like to work; I like to get up in the morning and go to work.
INTERVIEWER
What does it mean to be a playwright in America?
GUARE
You could give two hundred answers to that. One would involve masochism. Another one: How to avoid suicide and despair. You try to find a way to support yourself that doesn't crush your life. You try to find the best people to work with.
INTERVIEWER
What's your process of writing a play? How does it begin for you?
GUARE
Each play has its own rules.
INTERVIEWER
Landscape of the Body. How did that come about?
GUARE
I lived over by the river in Greenwich Village in the seventies. It was a creepy time because of a lot of murders going on there. One morning I went to a coffee shop up the street and saw four tough kids, aged eleven or twelve, sitting in the booth. Two boys. Two girls. The boys had their sleeves rolled up to show the enrapt girls their forearms covered with an awful lot of gold wristwatches. They leaned forward like conspirators, whispering, giggling, bragging. I couldn't get close enough to hear the words. I went home and wrote down what I imagined they were saying. Later that week, I got knocked down by a speed bike. The cyclist, masked in goggles, screamed over me, You asshole! You broke the chain on my bike! The membrane between life and death seemed so tenuous that it's hard to tell the difference. The collision must have unlocked some buried fantasy because I went home and wrote the play very quickly. It was narrated very merrily by a dead porn star; I wrote a lot of Broadway-style songs for her because they were fun to write.
INTERVIEWER
Do they all happen this quickly?
GUARE
No! With Muzeeka, for example, what was crazy was that I couldn't begin it. The typical trouble is with endings. Not this play. I knew what I didn't want the beginning to be, but I didn't know what it should be. It needed something lyrical. And it had to have weight, but nothing would come. I was living temporarily over a tobacco shop in New Haven. I went to my parents' apartment in New York to get some stored clothes and found a suitcase containing notebooks from two years before when I'd hitchhiked from Paris to Egypt. I opened the journals out of nostalgic curiosity. I read an entry made while hitching out of Rome, caught in a torrential downpour, running for shelter into what turned out to be the Etruscan Museum, staying there a few gleeful hours writing a long riff about wishing I'd been born an Etruscan. After that, I dropped the journal and stopped writing. But where the Etruscan entry broke off was exactly where my play picked up! The 1965 entry fit like a jigsaw into place as the 1967 beginning. Unaware, I had begun writing this play two years before, but hadn't known it until that chance discovery of the notebooks, which I just as easily could have lost or never found. Without making it sound too much like Santa's workshop, I realized the full impact of how our subconscious or unconscious never stops, how we have to keep track of everything. Because we don't know what is going to be of value to us. So, out of fear, I began keeping a journal that I now refer to over and over. In Copenhagen I found this solidly bound two-hundred-and-fifty-page notebook that fits easily into the pocket. I fill up four in a year, then send away for more. I have this vision that one day I will reach into my drawer and feel it's the last volume. When I reach page two hundred and fifty, I'll write in "The End" and keel over.
INTERVIEWER
What volume are you up to now?
GUARE
Volume eighty-two.
INTERVIEWER
Eighty-two times two hundred and fifty? That's roughly sixteen thousand pages.
GUARE
Sixteen thousand indecipherable pages. Korean hieroglyphics. Once I was on the downtown bus writing in my book, and a woman next to me tapped me and said, Excuse me. What language are you writing in?
INTERVIEWER
Are they for publication? Like the Cheever journals?
GUARE
They're not confessional. They're workout books I use every day to keep the buzz going, the buzz that writing gives you, to stop the moss from growing over the brain and blocking that subconscious part, to stop the constant death-desire to self-censor. If I don't have anything to write about that day, I copy passages out of what I'm reading. The papers. A novel. Any writer is a sculptor who makes his own clay and then has to protect that clay in hopes of transformation. The journals are autobiographical. They're about what happens. What did Jean Rhys say? "I am my own novel." I'm my own play.
INTERVIEWER
In spite of these journals your work doesn't seem autobiographical. House of Blue Leaves. Rich and Famous, Bosoms and Neglect.
GUARE
In the journals I can happily be my own hero and victim. But when you translate that journal material into a play, you begin building a new world; and the I becomes just another citizen of that world to be treated with the same objective scrutiny, irony, and disdain. Besides, I don't like autobiographical work where you can tell which character is the author because he or she is the most sensitive, the most misunderstood, the most sympathetic. Everybody including yourself should be fair game.
INTERVIEWER
Do you write with endings in mind?
GUARE
No. If you knew where you were going why would you bother writing? There'd be nothing to discover. I can still remember throwing up when I realized what the ending of House of Blue Leaves would be—that after the songwriter realized the true worth of his work he would have to kill his wife because she saw him as he was.
INTERVIEWER
Can you say something about the kind of actors you'd prefer to see in your plays?
GUARE
I love actors who are performers, who are clowns—meaning they are willing to make fools of themselves, to stride that brink of panic. I feel that Stanislavsky—at least the way he's been interpreted through the Method in America—has been the enemy of performance; I'm not interested in that style of naturalism. How we escape naturalism always seems to be the key. Naturalism is great for television and the small screen. Theatrical reality happens on a much higher plane. People on a stage are enormous, there to drive us crazy. I love actors who can do that.
INTERVIEWER
How do you pick a director?
GUARE
I once asked Lanford Wilson this and he said, Easy. I ask the potential director to tell me the story of my play, and if his story matches up with my story then perhaps we can work together.
INTERVIEWER
What's that letter you keep up there on the wall?
GUARE
It's a Xerox of a letter by William Inge to Jean Kerr. I keep it up there the way St. Jerome kept a skull in front of him, to remind me of the realities of theater. Jean Kerr wrote Inge soliciting funds for a playwriting group. Inge replied, Isn't helping new dramatists a little like helping people into hell?
INTERVIEWER
Did you know Inge?
GUARE
In 1965 I got a job at Falmouth as William Inge's assistant on a new pre-Broadway play. I needed to learn how a play was physically put together by a professional playwright. I never even asked if Inge was any good, but he'd had success and had connected mightily with audiences in the past. Picnic. Bus Stop. If I didn't like his work, the fault was mine. After the opening of the play, Family Things, Etc., later called Where's Daddy?, the critic from the Boston paper had Inge on his TV show as a guest. He read Inge his review of the show with the camera on Inge's face. The review was unbelievably cruel and unexpected. Inge returned to Falmouth, went into his room and never worked on the play again. He committed suicide two years later. I learned if one is going to be a playwright one must develop armor to deal with such horrific occupational hazzards.
INTERVIEWER
There's a line in Rich and Famous where the young playwright reads his review and says, "They don't print this in every copy of the paper, do they?" How do you deal with reviews?
GUARE
I deal with reviews by not reading reviews, and that's a truth. My wife reads them and gives me the gist of them so I know what the quality of my life will be the next year. Get that teaching job.
INTERVIEWER
What's the difference between writing for the movies and writing for the theater?
GUARE
The Dramatists Guild. And how it protects the playwright. In the theater, the playwright holds the copyright—actually owns the play and only leases the right to its use for a specific length of time to the producer. In the movies, the producer holds the copyright. The writer is always only a hired hand. In the movies, the writer is paid up front. In the theater, the writer takes his or her chances. There is a profound difference in knowing the playwright can forego that contractual right if he or she wishes, but it's there to use.
INTERVIEWER
What sort of experience have you had in the movies?
GUARE
It's not that working in movies is whore work and the theater is purity. It all comes down to the people you work with. I admire Louis Malle and had a wonderful time working with him. When Atlantic City was finished, we looked at each other and said, That's exactly what we meant. I've been lucky. I've worked only with people I admired. When the producers of Atlantic City balked at my being on the set every day, Louis Malle gave the classic answer: If you have someone here for the hair, why not somebody for the words? Writing for the movies is like working on a musical. You have to recognize and accept the collaborative aspects before you start. You have to recognize what work the camera will do, what work you must not do. You underwrite a scene in the movies. The camera will pick up textures of reality that in a play would be the business of words.
INTERVIEWER
What's the main obligation of a playwright?
GUARE
I think it's to break the domination of naturalism and get the theater back to being a place of poetry, a place where language can reign. Theater poetry is not just highfalutin language you spray on the event like Fry's Venus Observed. Theater poetry is response to the large event, events that force the poetry. It took me a very long time to realize the mythic size of Ibsen, to see that the mechanics of plot in an Ibsen play function the same way that fate does in Greek tragedy. Truth does not exist merely in the actor feeling the heat of the teacup. Behavioral naturalism belongs to television acting and movie acting. Theater acting should be closer to Cyrano de Bergerac or Falstaff or Edmund the Bastard. Or Ethel Merman. It's about finding truth on the large scale with the recognition of the actor as performer. In real life we're all such performers. Naturalism wants to reduce us. Naturalism always seems to be the most unnatural thing. I really respect the opera notebooks of Stanislavsky where he writes about Mimi having to find her truth on the specific note called for in Puccini's music—not when she decides to feel it.
INTERVIEWER
And novels?
GUARE
A novelist writes a manuscript, gives it to the agent or the editor, who sends it back and forth until the publisher accepts it, and one day the author finds the book in stores. But a play—a playwright has not only that wonderful, brutal period of solitude writing the play, but then the day comes when you're ready to show your work to the theater's equivalent of a publisher, the producer, and the theater's equivalent of an editor, the director. You begin working with the designers who will provide the visual entry that introduces the audience to the world you've made. You start casting and choosing actors—a process much like the painter choosing the necessary tubes of paint and what consistency and what color they should be. Ahh! With a new shade an entire world opens up.
INTERVIEWER
Do you see a theme to your work?
GUARE
Don't make it sound like English 101. Each play is a part of the one long play that is a playwright's life. I know the way each play came out of the previous play. People don't have radical shifts of consciousness in the course of their lifetimes. I can look at a play I wrote at two a.m. in 1963 the night before I went into the Air Force—The Loveliest Afternoon of the Year—and say, Isn't that funny. I'm still dealing with the issues in that play—identity, faith, the desperation it takes people to get through their lives, the lunatic order we try to put on the chaos of life and, technically, how to get the play out of the kitchen sink and hurl it into the Niagara Falls of life.
INTERVIEWER
Now about those Jacobeans . . .