Interviewed by William Young
Issue 129, Winter 1993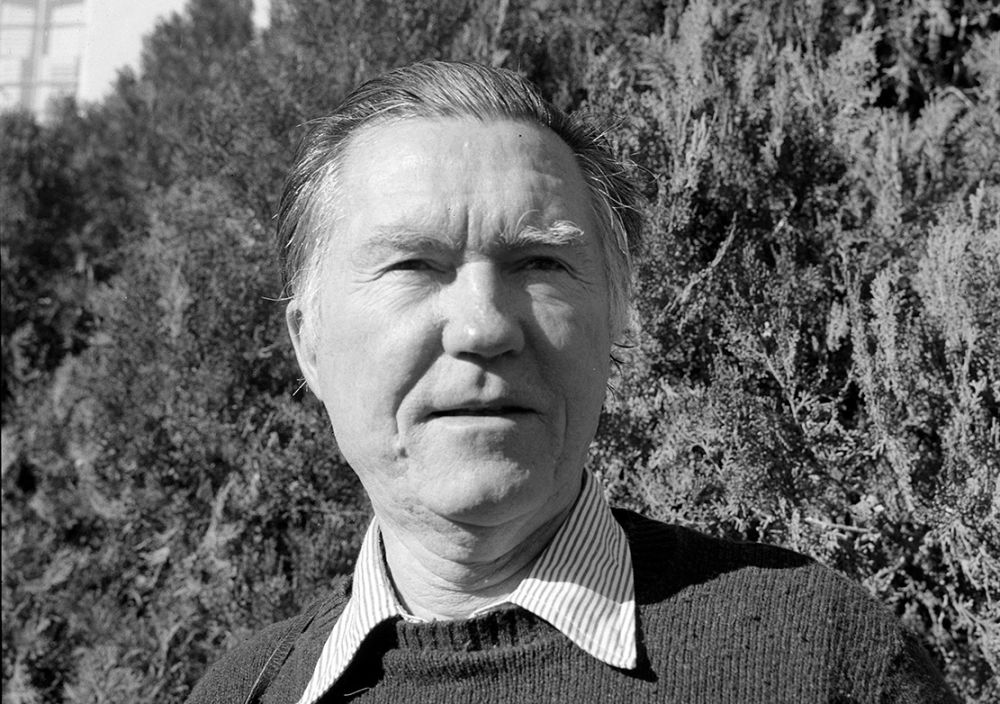 The intimacy of William Stafford's poetry would seem to belie the enormous popularity the poet's work has enjoyed, but in fact it is a product of Stafford's keen ability to discern poetic language in everyday speech and appropriate it for his own work. Stafford, whose first volume of poetry was not published until 1960 when he was forty-six, was born in the small town of Hutchinson, Kansas on January 17, 1914 and died in Portland, Oregon on August 28, 1993 at the age of seventy-nine.
After taking his bachelor's degree at the University of Kansas in 1937, he spent most of World War II in government internment camps for conscientious objectors. He worked as a laborer in sugar-beet fields, at an oil refinery, and for the United States Forest Service. His novel Down in My Heart (1947) is a fictionalized account of his experiences as a wartime firefighter, construction worker, and finally, as a staffer at the Church of the Brethren in Illinois. In 1955 Stafford completed a Ph.D. in literature and creative writing at the University of Iowa. His first volume of poetry was West of Your City. Traveling through the Dark, his third collection (a facsimile manuscript page of the title poem appears with this interview), won the 1962 National Book Award.
Stafford wrote over fifteen books in his thirty-three-year publishing career, making him one of the country's most prolific poets. His books include the poetry collections Stories That Could Be True: New and Collected Poems (1977), An Oregon Message (1987), and Passwords (1991), and two widely read books on the writer's vocation, Writing the Australian Crawl (1978) and You Must Revise Your Life (1986). He served as Poetry Consultant to the Library of Congress in 1970 and 1971, and has received many literary prizes and honors, including the Shelley Memorial Award, the Award in Literature of the American Academy and Institute of Arts and Letters, and a Guggenheim Fellowship.
Stafford taught at Lewis and Clark College in Portland from 1960 to 1978, and until his death, made his home in nearby Lake Oswego. This interview was conducted over two days in an elementary-school classroom in Cannon Beach, Oregon, where the 1989 Haystack Writer's Workshop was taking place. Stafford and his son, the writer Kim Stafford, were there jointly conducting a workshop on writing poetry and lyrical prose. During the conference, Stafford carried a camera around with him, frequently stopping to take pictures. For the interview, we sat in school desks across from each other. Stafford wore a plain white cotton shirt, open at the collar and loose, unpressed cotton pants. He had a broad, somewhat owlish face, his self-effacing manner and appearance in sharp contrast with his fiercely independent nature.
INTERVIEWER
In his essay on James Wright, Richard Hugo wrote, "The luckiest thing that ever happened to me was the obscurity I wrote in for many years." Do you feel similarly about your own late-blooming career as a poet?
WILLIAM STAFFORD
I think I understand what Hugo was getting at: that you are ambitious when you start and if you have a whiff of success you try to rush things; for publication's sake you try to rush it all the more; then the ordinary slumps in popularity and intervals when you're not publishing become overwhelming simply because you haven't gotten used to doing what you have to do as a writer—write day in and day out no matter what happens.
INTERVIEWER
In your poem "A Living," you write there is "a way to act human in these years the stars / look past." What kept you from responding in more extreme ways, more "human" ways . . . did you feel like the stars were looking past you during certain years?
STAFFORD
In that poem, at least, I was thinking about the feelings many people have of tension, of questioning about survival, of the hovering of the atom bomb, all kinds of disquiets that people have in our times. I think I was referring to that more than to my personal experience. In fact, I had early and sustained publication, every bit that I deserved. I never did feel left out for any reason. I felt pretty lucky.
INTERVIEWER
In another essay, Hugo places you among writers he labels Snopeses, a reference to the Yoknapatawpha County family from Faulkner. These writers, he speculates, are basically outsiders and thus are afraid success will cause them to lose touch with other outsiders.
STAFFORD
I understand Hugo's impulse to stay in touch with outsiders. He was a natural outsider. But on the other hand he couldn't be an outsider; he was taken in by everybody; they loved him. He was addicted to sociability, helplessly social. And he was addicted to, or available to, the heartiness of interchange among writers. He enjoyed company and sympathy and liked to extend sympathy. He especially valued that feeling of kinship with people who were failures or outsiders. My own feeling is that I'm not sure what being an outsider amounts to. Maybe some of us should be outsiders. I'm not sure by any means that I deserve to be an insider, whatever that would be. Maybe one feels neglected only if one has an opinion of one's rightful place, and I don't have that opinion. That's up to the world.
INTERVIEWER
Have many of your friends been writers?
STAFFORD

Not very many. Because of living so long and traveling around, I've met many writers, and I enjoy meeting them. Hugo is an example. He used to come and stay at our house. We were always delighted to have him. But in my daily life I don't live in proximity with, or in daily, person-to-person communication with writers at all. When I write, writers don't see what I write, only editors. My family doesn't see it either.
INTERVIEWER
So you don't exchange poems with writers?
STAFFORD
No. Well, it's possible. Hugo has actually written me, in the breezy way he had of ending a letter: What does the earth say, oh sage? I would always write something back to him. In one particular poem, "The Earth Says This," I took up the challenge. But that was very rare.
INTERVIEWER
There's a sense of being at home in the world in your poems. And you've said as much explicitly. The insecurities many writers seem to feel, especially in the twentieth century, seem somewhat absent from your work?
STAFFORD
I do feel at home in the world. I have genuinely felt throughout my life a sense that any acceptance of what I write is a bonus, a gift from other people. It's not something that's due me. When any editor has a place for some of my work, that's fine, but I always send that stamped return envelope. I'm genuinely ready for those rejections. I've always felt that an editor's role is to get the best possible material for the readers of the publication, not to serve the writer, not at all. If they don't want it, I don't want them to have it. So I never have felt that I needed to push this stuff into the world. If it's invited in, then it will come in. If it's not invited in, fine, it will live at home.
INTERVIEWER
Did you always have this sense of belonging to the world? On more than one occasion you've referred to a certain moment riding a bicycle out to the Cimarron River. . . .
STAFFORD
Yes, occasions like that. It was an occasion for the free, clear realization of this prevalent feeling I had. My parents welcomed me; our towns were good places; I liked my teachers; I went to whatever church was around—for the sociability mostly, but also because I took seriously what they were doing. It was only after I was a graduate student, maybe beyond graduate school, that I took seriously writers, like Sherwood Anderson, who were writing about the desperation of the small town. I never felt that. I thought that was the way everybody lived.
INTERVIEWER
Why do you take such an optimistic view? We know what can go on in small American towns—bleak things.
STAFFORD
Optimistic? My view of the small town is realistic, at least it is to me. Every town had great views, an arch of clear sky, a wonderful variety of people, fascinating things going on all the time. And in every town we lived in, there was one great big door ready to open for anyone—the library. And I never met a library I didn't like.
INTERVIEWER
Weren't the times in Kansas during the Depression, when your family had to move around a good deal, difficult for you?
STAFFORD
Well, it was tough in the sense that my father didn't have a job, and we didn't know what we were going to do. We were living partly on what I could earn selling papers and so on, but so far as I could tell that was what being a human being was. I don't know how to get this directly and simply enough, but if you think about it, lots of human beings don't have a job, lots of human beings work in the sugar-beet fields, which I did. There are a lot of happy people working in sugar-beet fields. And I was one of them. You know, you could always crawl into the shade. You had lunch, maybe a peanut-butter-and-jelly sandwich—delicious. The feeling of being alive and relishing your food and drink and company is available anywhere. Some of the most hilarious moments of my life took place while I was interred at a camp for conscientious objectors. Someone would get a box of brownies from home or something, and it was a banquet.
INTERVIEWER
Even though you liked the place where you grew up, you left home eventually.
STAFFORD
Oh well, I went to other places because I was forced to—I was drafted; they made me go. It took World War II to get me out of Kansas. I was going to the University of Kansas graduate school, and the draft board said, Go. First Arkansas, then California, then Illinois, and it ended by my traveling a lot, yes. I'm an illustration of Newton's laws: the object at rest tends to stay at rest unless compelled by some energy to go elsewhere.
INTERVIEWER
Why did you become a conscientious objector?
STAFFORD
Strangely, I didn't become one; I always was one. I thought all right-thinking people would behave that way. In those days, the 1930s, the peace movement was strong in America. In fact, Franklin Roosevelt, to get elected, had to promise no war. The other people changed, and I was surprised. I thought a commitment was a commitment. There were peace people everywhere, in all countries, and I was not about to break ranks with that worldwide fellowship.
INTERVIEWER
In your book Down in My Heart, you write out of a need to continue a conversation with George, a conscientious objector you knew who wound up in prison because of his beliefs. Do you generally feel as though you're entering into some sort of conversation when you write?
STAFFORD
I do often feel that kind of connection with the reader. I like being straight across from the reader, communicating with a peer—not preaching to someone or worshiping someone, but talking to an equal. I don't want to give the impression that this is something I've elected; I just feel that way. I feel the possibility of resentment if I'm demeaned by talking up to someone. And I am apprehensive about patting people on the head. Instead, it's a back and forth with the people in your town, in your street, in the field where you're working, or the camp where you are. Just this afternoon my son, Kim, was talking about the ethical problems of writing a nonfiction piece about another person. I wanted to interrupt and say the obligation I feel is to the people I'm writing to. I don't feel the need to be as careful about people I'm writing about, though it would disquiet me if I were putting out advice or signals that lead someone into ways of life I would consider harmful to them or to others. It would make a difference to me.
INTERVIEWER
Do you have a sense of conversing with dead poets?
STAFFORD
No, I don't. I converse with live poems. It doesn't make any difference—it sounds like a brutal thing—to me whether the authors are alive or dead. It's their poems I'm reading. Thomas Hardy and Wordsworth are appealing to me, and I feel that I am in their presence. I read the best I can get wherever it is. I don't care how long ago it was written.
INTERVIEWER
You don't feel a sense of competition with writers you read?
STAFFORD
No, it's not like that. We all seek out the kind of reading that we are available for, that we are capable of. There are writers from whose work I get only a very thin part of the signal; I'm not getting the full treatment when I read Pascal or Descartes, but I have a taste for it . . .
INTERVIEWER
In an early poem of yours, "Bi-Focal," you write: "So, the world happens twice— / once what we see it as; / second it legends itself / deep, the way it is." Does a good poem, to your mind, give us something of both happenings—that surface and that deep or philosophical side?
STAFFORD
I certainly hadn't thought of it in such a neatly categorical way, but I think that's right. The appetite for reading or listening or learning—seeking out meanings—is an attempt to get beyond superficial, beyond appearances, to realize what is significant. The senses are fallible, and of course our minds are fallible, and I don't have the belief in my ability or anyone's ability to get very far beyond appearances, but again, I have the appetite for it . . . Like, I don't think we ever find out what things are really like, but trying to get nearer is a hunger.
INTERVIEWER
To what extent do religious beliefs influence your work? Do you consider yourself a Christian poet?
STAFFORD
I might describe myself as a religious poet whose vocabulary, reference points, and surrounding culture are phrased in Christian terms. I think I would be whatever religion there was in the society around me; it's not the local content of the religion that possesses me, but the general attitude, the way of living that recognizes more than we know.
INTERVIEWER
There's a sense of great space in your poems. Would you trace that to growing up in Kansas?
STAFFORD
I sometimes have thought about that, yes. In our world at least half of the world was sky; that is the way I've sometimes phrased it to myself. I mean, there's the land, but it isn't as big as the sky. Someone told me a wonderful story about a woman who came out from Nebraska and wanted to see the Pacific Ocean. The motel person said, Yes, you can see it if you walk down to the end of the road. This visitor stood there a few moments on the beach, and then walked back, and the motel person said, What do you think of it? And she said, Well, it's all right, but I can't help but think it isn't as big as I thought it would be. This was the Pacific Ocean! Well, she was from Nebraska, I know about that. That's the biggest thing there is—the sky! It's there, and it's an abiding puzzle, presence, and invitation.
INTERVIEWER
To what extent is poetry autobiographical?
STAFFORD
It doesn't seem to me that my own poems are at all reliable as links to the events of my life. Anyone's poetry could give clues to the writer's life, to the writer's way of living, to general tendencies and attitudes. As the years go by, I sense whole phases of life getting themselves woven into my writing, like a tide—waves are chance things, but the tide has whelming significance.
INTERVIEWER
Are there aspects of your childhood that you think may have contributed to your becoming a poet?
STAFFORD
There are emblematic things. For instance, my father worked for the telephone company. He told me about hearing when he was a kid that there was a new invention that enabled you to talk to someone far away. And he climbed up on the roof of his family's house and called out to people far away—trying to do long distance without the telephone. It was only much later that I thought that's a wonderful sort of symbol for his attempt to get in touch. I had the same feeling. You know, I'd like to get up on the roof of the house—sort of like the barbaric yawp—to get in touch. My father had that feeling and that confidence—misplaced maybe—but he had it and I had it too. Stanley Kunitz once said to me that he had advised Robert Lowell not to go to the White House when Johnson was president, and I think Stanley saw a little flickering expression on my face while he was talking. So he said, You wouldn't go, would you, Bill? And I said, Yes, I'd like to talk to Johnson. I had the feeling of confidence that the language can take us somewhere. I would like to talk to anyone willing to talk.
INTERVIEWER
Do you think the poetic line in America is somewhat more horizontal than vertical, that there's openness and expansiveness that is distinctly American?
STAFFORD
I'm not sure I'm following you on this but I'd like to try. The resources in language and the adventures in writing are available to us—I don't want to echo Wordsworth on this—in the language we use everyday, though it is not necessarily that of ordinary people in whatever circle we inhabit. We may not be with ordinary people (I'd like to be with extraordinary people, myself), but it would be the language they use not when they are writing but when they are talking, when they are saying things like, Pass the butter. Bonuses in language are not literary bonuses; they are available to everyone who flourishes the language every day with people who are their peers in communication. It would be a mistake to try to heighten or lower my place in the language that comes to me. Instead, I try to accept whatever fluency and fluidity is possible at my level of understanding with my kind of people. To do it artificially, to try to hype myself into being a better writer by doggedly reading better literature, is also a mistake. I learn to use the language by the pleasures it gives me when I am able to swim in it or maneuver in it or interchange in it with the people around me.
INTERVIEWER
Another Northwest writer, Raymond Carver, is known as someone who has written about the people around him, the people he grew up with, and is considered something of "a poet of the ordinary." Do you think there's anything to growing up west of the Mississippi that encourages such an approach?
STAFFORD
I know Raymond Carver's work very well, and knew him, and I see the point of what you're saying, but I have a feeling that Carver was deliberately—when you consider his ability—doing the language of partly handicapped people, of people who were limited in their understanding. This was his genius; he got the poignancy of their lives out of the level of language. But as for myself, I would like to associate the degree of fluency in language that I'm capable of. I'm not looking for literary effects by cultivating a kind of language from above. I'm looking for straight across communication, as I said before.
INTERVIEWER
Not cultivated from below either.
STAFFORD
Nor from below. I got a charge out of some of Raymond Carver's writing, but I don't feel comfortable myself in cultivating the language of a group I'm not naturally with.
INTERVIEWER
Do you feel a special affinity for a certain poetic tradition?
STAFFORD
I suppose so. Generally, I like a tradition that is fairly serious, that is sustained . . . strangely, in view of my own production, I like big works. I like long things. Most influential for me has been prose. All kinds of big prose things. I worshipped George Eliot. I like big novels. And I like nineteenth-century British novels very much. Starting with Sir Walter Scott.
INTERVIEWER
Why have you never taken on a long poem?
STAFFORD
All of my writings are one long production. I break off pieces, smaller or larger, and send them out. Sometime I will get around to welding the pieces together. It's as if I am distracted in building a big house; I hurry over to prop up a wall with one piece of writing, then have to drop everything to save a joist somewhere else. This is just the feeling I have, not a claim. I'd like to connect big pieces together and have epics.
INTERVIEWER
In your own reading do you often return to poets of the nineteenth century?
STAFFORD
I can't say that I have recently. When I was starting to teach, say in the fifties, I had a volume of the collected works of Wordsworth that I read religiously from end to end, including the prose. And got a lot out of it. I liked it. I loved it in fact. But I've read so many of those nineteenth-century poets that I've gone on to other things these days.
INTERVIEWER
Are there any American writers you are especially fond of?
STAFFORD
The short answer has to be no. For some reason, I find myself (except for rapid scanning of many current things) attracted to distant and often past writers—Kierkegaard, Pascal, Nietzsche, George Eliot, Jane Austen, Tolstoy. A good thing about reading is that you can rove. You don't have to be provincial, no matter where you live.
INTERVIEWER
Do you see yourself in a particular line, in a naturalistic or romantic tradition?
STAFFORD
I can't tell. Could be. But I feel enticed by all kinds of topics. I don't feel as though I'm in a bag.
INTERVIEWER
You've said you believe that language is social. Is this related to your interest in Wittgenstein's ideas about language?
STAFFORD
Oh yes, everything makes a difference in reading: the kind of ink it's in, where it starts on the page, everything. I feel like a scanner programmed to pick up whatever is on the page when I read. Wittgenstein has an abiding interest in language, so it's natural that a writer would be interested in what he said. I certainly am. But that's just as a human who is curious. I don't read these people in order to write. I don't do anything in order to write. I don't believe in reading so that I'll be well-read and a better writer. It seems a fake thing to me to read a novel in order to become a better writer. It turns into something that's not a novel. Besides, a novel is something you read by your appetite. That has to be true for anything I read; if I don't have the appetite for it, then it's not for me. I don't do it as a duty. And I don't want anyone to read me as a duty, for heaven's sake.
INTERVIEWER
Quite a lot of attention has been paid recently to Northwestern writers such as yourself, Carver, Hugo. Was Robin Skelton's Five Poets of the Pacific Northwest a catalyst in bringing attention to writers from this region of the country?
STAFFORD
When that book came out, I was glad to be one of the five and felt good about the others who were in the book. On the other hand, I think the book itself was probably more of a recognition of something that had already happened; it didn't bring anything new to pass. In some ways it was a long overdue book. That sounds grandiose, but it didn't occur to me at the time that it was going to do anything special for us anywhere else but in that region.
INTERVIEWER
Do you think there is any accounting for the Northwest renaissance of the last twenty-five years or so?
STAFFORD
I don't have a feeling either of renaissance or its opposite. Our country is so fluid for travel and access that a regional recognition is more a matter of convenience than it is any kind of valid movement. There are simply more people in the Northwest than there used to be, so there are probably a few more writers.
INTERVIEWER
So you don't think there is a special meditative quality to the Northwest that might contribute to writing?
STAFFORD
Well, I have to take a breath when I respond to that because I don't like to plunge into water I haven't checked the depth of. As a matter of fact, I don't think there is anything especially meditative about Northwest writing. But maybe I'm so near to it that I don't feel the current; I just go bobbing along with everybody else.
INTERVIEWER
Did you feel Theodore Roethke's influence once you moved to Oregon?
STAFFORD
Strangely, it's hard enough for me to be definite about that. It was only later, after I'd been writing for a long time, that I read any Theodore Roethke at all. He was influential with so many at the University of Washington, and it's assumed that everyone in the Northwest is influenced by Roethke. I guess I sort of sneaked in by the side door and didn't know what was going on.
INTERVIEWER
Do you see his influence in the work of other Northwest writers?
STAFFORD
Many do tell me they are influenced by him. Surely Roethke must have given people around him a surge of confidence and ambition about the language, about how it can dance and live by extreme claims of relationship and feelings.
INTERVIEWER
Did you get to know him?
STAFFORD
I met him a couple times; you know, short conversations.
INTERVIEWER
Were your years at the University of Iowa the first time you were among a group of writers?
STAFFORD
Yes. I had always been interested in reading and writing and had met writers, but I can't remember people other than newspaper reporters and a few teachers who were regular writers. I wasn't really in a community of writers until I reached Iowa.
INTERVIEWER
Was that a good two years?
STAFFORD
I liked it. I always say, I served happy time at Iowa. It was rich with a variety of writers. We were made to feel that writing was a worthy thing to do. That was most encouraging. I've heard many kinds of reactions to Iowa, but my own reaction was quite positive. I enjoyed it.
INTERVIEWER
It wasn't too incestuous? Everyone wasn't expected to write a certain kind of poem?
STAFFORD
Well, it was only later that I began to hear that that was what happened. That happens at any writers colony, where people influence each other. Looking back, I do see in the workshop there were certain prevalent opinions, but they were not by any means all Paul Engle's. There were others there who were quite opinionated.
INTERVIEWER
I remember a statement of yours about not being interested in master-disciple relationships.
STAFFORD
Yes, I have a feeling that art is something you do yourself, and that any time you turn the decisions over to someone else you're postponing, at best, your own development. The atmosphere of the workshop should be that of trying out one's own work and accepting the signals from others but not accepting the dictation of others because that is a violation of the spirit of art. Art can't be done by somebody else, it has got to be done by the artist.
INTERVIEWER
Has Oregon been a good place for you? A good place to get your work done?
STAFFORD
I think it has been a fine place for me. I have no negatives about it—I even like the rain. But it's also been good in the way that obscurity was good for Hugo. Whenever I've traveled to a place where there are many writers and the reverberation is intense—say New York City—I have felt some need to get away. It is just that if I stayed, my urge toward sociability would lead to many distractions. In the Northwest you're at Yaddo all the time. You don't have to get a grant to be in a place where you won't be troubled by the distractions. Some writers feel they have to escape to this by getting a grant. I hope this doesn't divert any money from the Northwest, but that's a feeling of mine: being in the Northwest is like one long Guggenheim.
INTERVIEWER
Even more than sight, sound seems central to your poems, for instance in "Owls at the Shakespeare Festival." Is there a relation between sight and distraction?
STAFFORD
Yeah, that's interesting to me. Sound is something I'm very conscious of. And maybe that's part of the Northwest; there is a mossy, deadened sound here. So you listen more carefully—you're an owl. You don't have to put on earmuffs to keep from damaging your hearing. It's nice and quiet, so you listen. But in a way that's a metaphor too. It is an alertness of sense in a world where senses are never enough—any of the senses. I thought maybe you were going to say smell. I feel I'm really a good smeller, and I value that, although on the other hand, I look at a bloodhound and realize I've got a ways to go. So, whatever the senses in my poems, I am consciously aware of the limits of human beings and of the mistake we make if we assume what we are receiving is everything that's there. I feel that we need to hear more, see more, smell more, feel more.
INTERVIEWER
James Dickey made a comment about your saying amazing things in your poems without raising your voice, as though you were "murmuring." But were you ever tempted to raise your voice?
STAFFORD
No, I was not. I have always felt that a raised voice was a mistake, in the sixties or anytime. And in a way this is congruent with other parts of my life like the conscientious objection in World War II. I thought that, yes, I would like to go talk to Johnson, not stand outside hurling insults. Somehow communication implies hearing as well as saying; it implies listening; it implies understanding. And intellectual life in general implies a lot of intake, not just output. So that seems congruent with other parts of my life, to be murmuring. A murmur's enough.
INTERVIEWER
Was there a way in which the sixties changed your life or your poems?
STAFFORD
The sixties changed my life because it made poets very popular; poets traveled around the country. It enhanced the kind of popularity that had been growing. Economically, my life has greatly benefited from the popularity of writers and readings and workshops. The flourishing is manifested at workshops too. Many people come, having realized that writing is an access route to their deeper selves. I've felt and heard others talk about this fact, that many people who come to workshop sessions are like refugees from that world out there—the reverberating world.
INTERVIEWER
Have poetry readings changed the landscape of contemporary poetry?
STAFFORD
Yes, I think so. Recently I've come to realize that for many people, the reading of their own poems to a group is a kind of breakthrough. It's a kind of achievement of participation in society. Apparently that's important. I didn't feel it myself, partly because readings didn't become popular until after I'd been writing for a long time. By then my pattern was already set, and I didn't feel elation about reading. I just felt that if they were ready to hear it, I was ready to read it. If they want to pay me, great; it means I'll travel well.
INTERVIEWER
When you do give a reading do you feel a responsibility to read "Traveling through the Dark"
STAFFORD
No. I don't think I've read that poem for twenty years without it being requested. I don't feel I'm avoiding it, but it's not the kind of poem that especially interests me. Teachers tell me, and I believe them—I'm not trying to claim anything for it—that it's a good conversation starter in a class. I'm glad for that. But it isn't the kind of poem that I feel took me anywhere; I know how to write that kind of poem. I'm more interested in the ones I don't know how to write.
INTERVIEWER
Have you shifted from technique-centered verse to voice-centered verse in the course of your career?
STAFFORD
In the early fifties, I think it was, someone asked me to review a book about William Carlos Williams . . . and so I did, I read the work, thought about it, and I didn't think I was learning anything. I was already on that stream, I felt very much at home. Back home in Kansas in the thirties we would read Spoon River Anthology, which are brief, sort of prosy, vignettes of human beings; we delighted in them. It's a strange thing, the pessimism delighted us. I mean, "Petit, the Poet" and so on. Anne Rutledge and her stiff-arming of degenerate sons and daughters and so on . . . We liked that, and we thought that was just; it didn't depress us because it was so much fun to read. Well, as I say in one of my later poems about my mother and me, how we loved our town, how we chewed on its hard, tough rind and loved its flavor. There is feeling in some of the early, nontechnical, nonmetrical, nonrhymed language—language the way you hear it—that we liked.
INTERVIEWER
Did you make a conscious decision to change the way you wrote?
STAFFORD
I don't think any other way ever occurred to me than to write the best I could. Intellectually, I saw that one could try to be Swinburne, if one wanted to, and I did some things like that, but I always felt the satisfaction in writing was in entering the realm of communication with an equal use of the language of common people.
INTERVIEWER
You do take up traditional forms occasionally, though not as often as, say, Philip Larkin, with whom you share an interest in both narrative and the use of the vernacular.
STAFFORD
Yes, and I love his tough rind, his tough flavor. He seems quite bleak to many people, but I don't disagree with his point of view at all. Somehow I feel OK about it. The world is such a zestful place, even in its bleakness. Sometimes I've thought about what it would be like living in a country that said, We're going to send you to Siberia. My feeling would be, Well great—Siberia, that's that place where, you know, all sorts of things happen. I suppose this is perversion, but I think I'm the kind of person who thrives on surmounting obstacles, the camp-in-the-snow type.
INTERVIEWER
But many people were sent to Siberia to die or to live out their lives in exile.
STAFFORD
Oh yes. There are extremes we cannot survive, extremes that crush the spirit, or almost do. That almost is important to me; we can continue to make distinctions wherever we are. Some concentration camps are better than others; I even got a whiff of that during World War II. Sometimes we danced in the barracks.
INTERVIEWER
To go back to poetic form, you've mentioned the importance of prose for you as a writer. Perhaps prosaic qualities allow a toughness foreign to a Swinburnian style. Yet many of your poems scan and rhyme. How does a poetic form announce itself to you?
STAFFORD
I think two ways. It is quite possible for me to shift gears and decide to write a form. It has never seemed to me like a very difficult thing to do. But then sometimes I find myself, in my daily writing, drifting into an area where I feel the form hovering near what I've already naturally started to write. I'm quite capable of cultivating it. But for me the line break is something that's discovered as you move across the page; with any line you come to places where you get a gain or a bonus by breaking the sequence. I look for these bonuses. And if a bonus doesn't come along about four or five stresses into the line I create it. I mean I create the bonuses, by juggling the order of sentences or something like that. I don't try to keep from writing in a form. When you first said, Well, you do write in forms, I thought that does sound like a violation of what I was saying about just talking across the table to someone. When I was a little kid, my parents would read me Robert Louis Stevenson, Kipling . . . formal things, mostly. So I was imbued with, penetrated with, those forms. They never felt foreign to me.
INTERVIEWER
Do you have any feelings about the so-called new formalism? The view among some younger poets that free verse is a bit played out, or overplayed.
STAFFORD
I do have a reaction to that. A poet like Richard Wilbur has been going along for years, steadily, doing these elegant forms. I have felt the quality in what he has written, and often I feel totally committed to what he is doing. I don't feel thrown off a bit. But there are many poems that I find scattered around in magazines that just don't feel like enough. OK, they've got a rhyme, they've got a meter, but I don't feel the delight in it. It's got to have more. For whatever reason, I don't think I will ever feel the surge of delight in a poem just because it's in a form. And if I have the feeling it's in a form by the sacrifice of something else that I can almost glimpse, then I feel it is a disaster.
INTERVIEWER
Do young poets you meet today have as good an understanding of craft and technique as poets did when you were starting to publish?
STAFFORD
Maybe not, but they've got something else much more important. They believe it's possible to get the whole tide of their feelings and lives into the language that comes naturally to them, which is much more than the young poets had when I was starting to write. My own feeling is that the technical study of forms is not worthy of the time that writers are able to spend together in most workshops, considering the other things that we can do. A person can read a book if they want, and practice the forms on their own. It's like taking beginning Spanish in graduate school so that you can fill a language requirement. Sure, it's good to know Spanish, but you shouldn't have to do it in graduate school. It's a distraction, I feel, in a serious workshop to go back to describing what a sonnet is. That's not to say that you couldn't practice them; that's different. But to come to a writer's workshop in order to learn what a sonnet is seems like a waste of money.
INTERVIEWER
You're well known not only as a poet but also as a theoretician and teacher of the writing process. Have these activities had much effect on the way you write poetry?
STAFFORD
Sometimes I think they have. And I don't feel good about that. My first impulse is to confess that I feel that I'm such a veteran of teaching writing that I can't get lost in a workshop; it's natural, it's like breathing to me. Which is not to say that I don't feel nervous. I don't feel comfortable letting my theorizing in a writing workshop influence the free, onward feeling of my writing. I want to be ignorant all over again when I start writing. I don't want to incorporate into the early stages of my writing process the laboriously achieved, step-by-step analysis that takes place sometimes in a workshop. I don't want that to have anything to do with my writing process. It makes me nervous. I may have sacrificed my instinctual self by teaching writing—I can't tell.
INTERVIEWER
Do you usually do several versions of a poem?
STAFFORD
Yes, I do. I write fast. I've been labeled by some as being a poet who writes too easily and therefore gets out a lot of junk. However, things that interest me I go back over. I do not feel committed to the idea that my work is perfect without my going back over it. Sometimes I go back over it many, many times. No matter how many times I go over it I don't ever feel that it's finished or that it has settled into what Yeats suggested—it clicks and therefore it's correct. I don't think that correctness or absolute rightness is in the realm of human possibility. So work is always revisable, as far as I'm concerned.
INTERVIEWER
Despite the fact that you've traveled all over the world, there isn't a great deal of exotica in your work. Why is that?
STAFFORD
I remember when I was traveling in Pakistan someone asked, Are you writing while you're traveling?—I said yes.—Are you writing about Pakistan? I was able to say yes, but I didn't want them to ask me more because at the time I was working on a poem about the patterns of cracks on the ceilings in hotel rooms in Pakistan. It was so immediate that it wasn't exotic. You know, there are cracks on the ceilings of hotel rooms in Cannon Beach, Oregon. So, I was at home. So much so that I wasn't a foreign traveler writing about an exotic place. I was a human being writing about his shelter for the night.
INTERVIEWER
Has translating the works of others influenced your own work?
STAFFORD
It doesn't feel like writing to me. It's like doing a puzzle. There is a kind of satisfaction, but it's a different feeling from writing my own work. A lot of the inducement, the motivation for writing is the discovery of the whole pattern. On the other hand, if you're running out of steam with your own writing, or you think you want to practice doing those adroit things that will redeem the subject matter shoveled onto the page, you can have those adventures working through the process of translation. But that's a long way from feeling the way you feel when you're writing your own things.
INTERVIEWER
Do you have a sense of your development as a poet?
STAFFORD
I don't feel much urgency to analyze a line of development. It's foreign to my feeling about the process of writing. I remember reading that Auden said the problem for writers as they grow older is the fear of repeating oneself. I felt let down by this. I believed Auden was exploring whatever came to him wherever it might lead, and then I find that he is deliberately cultivating variety in order to either reach new readers or attain some kind of eminence as a poet. That doesn't interest me.
INTERVIEWER
Do you have a sense of having accomplished what you set out to do?
STAFFORD
No. Not at all. This may sound brutal, but I don't cherish the poems that are done. I cherish the poems that are coming. I'd sacrifice all the poems of the past for whatever is coming up. It's not a feeling of either satisfaction, or progress, or defending them. As far as I'm concerned, they're in the world to make a living for themselves if they can do it. I'm not going to do anything for them.
INTERVIEWER
You put together a collection of your poems though.
STAFFORD
Actually Harper and Row made the move about that. I think they decided, Well, there are all these books, they're sort of in print, why not put them all together. There was an earlier book of mine they hadn't printed. That seemed fine to me.
INTERVIEWER
Your most recent book of prose is called You Must Revise Your Life. Did you have in mind some difference between revising your life and Rilke's injunction to "change"?
STAFFORD
I intended the reverberation with Rilke. I thought, this is sort of fun. I didn't try to disguise it at all. I thought that readers who know Rilke will say, Ah, yeah, here we go. I wanted to use the word revise because so many books about writing make it sound as though you create a good poem by tinkering with the poem you're working on. I think you create a good poem by revising your life . . . by living the kind of life that enables good poems to come about. It's much more productive, much more healthful, to feel you are embarked on a writing career in which the way you live your life has something to do with the kind of poems you write. I'm not suggesting being a kind of doomed poet: I'll drink myself to death in order to write brilliant poems. I don't believe in that at all! So I wanted to address all that. And I wanted that resonance in the title: the echo of Rilke, and the strong assertion that writing good poems is more than revising the one you have in hand. Your life is a trajectory. A workshop may seem, to those who take part in it, a chance to revise the work they bring. I think it's a chance to see how your life can be changed . . . so that poem that began to come will be more satisfying, more fulfilling.
INTERVIEWER
Is poetry a way "to bring strangers together," as you imply in your poem "Passwords"?
STAFFORD
I remember writing that poem. I like to say things like that to see whether they'll fly. That poem didn't come out of conviction. It was more like an experiment: how do I feel about this? Well, I think language does bring us together. Fragile and misleading as it is, it's the best communication we've got, and poetry is language at its most intense and potentially fulfilling. Poems do bring people together. And not just the people who come to a workshop. But everybody—they are addicts of poetry without knowing it. Walking down the street, someone comes out of church and says, Oh, Bill, hello, been writing? How come people don't pay any attention to poetry these days? When they've just been in church with hundreds of people reciting the Psalms in responsive readings, singing the songs, responding to the rhymes in the hymns. They are addicted to it. They're victims of it. And yet they come out and say, How come people aren't interested in poetry? It's because they've compartmentalized their minds. Maybe it's our fault that they feel that poems only appear in literary magazines. Poetry is everywhere. Here I am preaching about it. Oh yes, I think it brings people together. When they go to church and they hear, Though I speak with the tongues of men and of angels, and have not love, and so on, they're into poetry.
*William Stafford's son, Kim, sent us a manuscript page with the following note: "He wrote the poem at Yaddo, then sent it to many magazines. The Paris Review is one of almost a dozen who rejected what eventually became the title poem in his collection, Traveling through the Dark, which won the National Book Award in 1962. I believe my father would have enjoyed the irony, as I hope you do, of this poem appearing in this form in Paris Review lo these thirty-five years later."