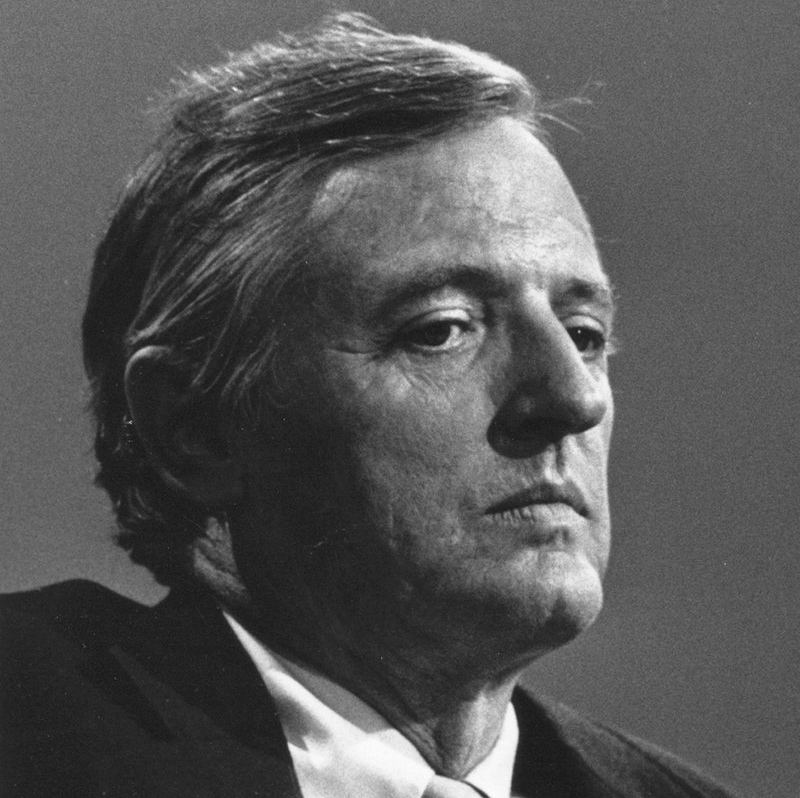 William Frank Buckley Jr.
William Frank Buckley Jr.—founder, editor, and now editor at large of the National Review, and author, lecturer, and host of public television's Firing Line, the longest-running serious TV talk show—was born in New York City on November 24, 1925. His early schooling was in England and France. He graduated from the Millbrook School in NewYork, studied at the University of Mexico, and took a B.A. with honors at Yale in 1950, where he debated, was Class Day Orator, and chairman of the Yale Daily News.
Drafted into the army as an infantry private in 1944, he was discharged as a 2nd Lieutenant in 1946. From 1947–1951, Buckley taught Spanish at Yale and in 1952 became associate editor of the American Mercury. Then he resigned to do freelance writing. In 1955, he started his own magazine and is generally held to be responsible for assembling a coherent, responsible, modern conservative movement in the United States. In 1962 he began a syndicated weekly column, which continues; in 1965 he ran for mayor of New York; and in 1966 he began hosting his weekly television show.
He was a lecturer at the New School, a member of a presidential advisory commission on the USIA, and in 1973 Buckley was appointed by President Nixon as a public delegate to the United Nations.
He has received twenty-nine honorary degrees and sixteen awards in journalism, literature, and television (an Emmy). His latest, the Presidential Medal of Freedom, was awarded in 1991.
From his first book, God and Man at Yale, in 1951, to his most recent, the novel Brothers No More (1995), he has written thirty-six books and contributed to nine others, including volumes on intellectuals, Catholicism, and the Beatles. It was at fifty that he first turned to fiction, producing Saving the Queen (1976) and in 1980 won the American Book Award for Best Mystery (Stained Glass). After ten novels featuring his hero, CIA agent Blackford Oakes, his most recent historical novel, Brothers No More, takes a new tack.
Any attempt to catch William F. Buckley Jr. in one place at one time must fail to catch the essence of a man in motion. This "interview" is the result of a series of exchanges over a period of time. The settings were as varied as Buckley's interests and attachments.
The family's main house, in Stamford, Connecticut, is a large, comfortable old establishment with a stucco exterior, painted a surprising pink, surrounded by flower and herb gardens, tended carefully by Mrs. Buckley, and it is a house filled with flowered cushions. Books and framed photographs are everywhere. Part of the talks took place in the music room, which houses a harpsichord, bookshelves, a projection screen television set, and audio equipment. A Bösendorfer piano is visible within the house, used over the years for concerts by Buckley's friends like Rosalyn Tureck, the virtuoso harpsichordist; Dick Wellstood, the jazz pianist; and Buckley himself. Outside the big glass windows, beyond a sloping lawn, is the Long Island Sound, one of Buckley's favorite sailing grounds.
Buckley's office is in the capacious garage, and overflows with papers, computer equipment, books. Over the garage is a small apartment where the Buckleys' son, Christopher, a novelist, humorist, and editor, has done some of his own writing.
The principal setting for our talks was in the Buckley's pied à terre, off Park Avenue in Manhattan, an elegant place, with most of the conversations conducted in the Red Room. This serves as Pat Buckley's city office—she is a formidable fund-raiser for good causes, most of them in the arts—and as library, small sitting room, bar, etcetera. Outside in the foyer is a harpsichord at which arriving visitors are likely to find the master of the house practicing or playing for his own enjoyment.
It is a true Buckley place, handsome but not staid, warmly hospitable. Evidence of their enthusiasms are everywhere: again, photographs, books, as well as paintings, many by the Spanish artist Raymond de Botton, picked out by small spotlights; a candlelit dining room; and a long salon for entertaining, with the aid of the Buckleys' largely Hispanic staff. Much of the daily small talk in the house is in Spanish, with English almost a second language.
Other exchanges took place by telephone, from his car, letters, faxes, and e-mail, some from the Buckley's winter place near Gstaad, Switzerland, where they spend February and part of March each year; and once from the Concorde on the way to Sri Lanka, on which plane he was leading a round-the-world tour group and which had recently suffered "the humiliating loss of one-third of its tail after takeoff from Sydney."
Despite his peripatetic existence, Buckley, an unfailingly gracious man, with a wry smile and a quick laugh, gives full attention to questions, as if he had all the time in the world.
INTERVIEWER
What sort of things had you been writing before the novels? You tend to group your previous books into categories, yes?
WILLIAM F. BUCKLEY JR.
The most obvious category, I suppose, is the collections of columns, articles, and essays, four or five of those before my first novel. There were two or three offbeat books—a book on the United Nations and the term I served there, a book on running for mayor of New York, a book on crossing the Atlantic, which has the ocean as mise-en-scène, and then a sort of autobiographical book on a week in my life, Cruising Speed. So when you suggested that I write a novel, I had at that point published twelve or fifteen nonfiction books.
INTERVIEWER
I remember saying you might like to try a novel one day. The name Forsythe came up, and I thought your reference was to the Forsyte Saga, which was then on television . . . as well as in the literature. You said, no, like Frederick Forsyth.
BUCKLEY
Well, my memory of it was that I had just read Forsyth's The Day of the Jackal and admired it hugely. That the reader should know exactly how it ended and nevertheless still pant his way with excitement through three hundred pages—I thought that was really a splendid accomplishment. I remember saying something along the lines of, If I were to write a book of fiction, I'd like to have a whack at something of that nature.
INTERVIEWER
So you liked the challenge of writing about an occurrence in contemporary history where the reader knew the outcome and . . .
BUCKLEY
Yes, although I proceeded not to do so. That is, Saving the Queen did not have a predictable and well-known outcome, though some of the succeeding novels did. However, I have this problem—perhaps some people would think my problem is greater than this—which is that I have never succeeded in prestructuring a book. I've never started a novel knowing what the end is going to be. When I get about halfway through—and I go into this only because I assume it's of some technical interest to other writers—I then need to stop and force myself to figure out how the Gordian knot is going to be severed, because at this point there are a lot of characters and dramatic questions that need to be consummated. Some people feel that a book comes out better written that way—if the author himself doesn't know what's going to be in Chapter Two when he writes Chapter One, Chapter Two might then be more freshly minted and read that way. I'm skeptical. It seems to me that a thoroughly competent operator would sit down and think of what's going to be in Chapter One through Chapter Forty, and simply move ahead. What I do at the end of an afternoon's work is write two or three lines on what I think is the direction of the narrative, and where we might logically go the next day.
INTERVIEWER
If you stop yourself halfway through—almost as Ellery Queen used to stop three quarters of the way through and say, Now that you have all the clues necessary for a solution, what is the solution?—is there a tendency then to load too much resolution into the end of a book?
BUCKLEY
I think that's a danger. It's what I hope I've avoided, in part because I'm very easily bored, and therefore if I can keep myself awake from chapter to chapter, I assume I can keep other people awake. That is why I don't reserve all the dynamite for the end. This may be the moment to say that in all of my novels—to the extent that I have a rule—my rule is to devote a very long chapter, close to the beginning, to the development of a single character. In book one it's Blackford Oakes, which is natural. In book two, Stained Glass, it was Erika, a Soviet agent. I lifted her as though Vladimir Nabokov had a daughter, not his son, Dimitri. I confided my invention to Nabokov, which perhaps precipitated his death. He didn't live to read the book, but he was very enthusiastic, as you remember, about the first book, and his widow liked Stained Glass. In any event, I've always felt that the extensive development of one character gives the book a kind of beef that it doesn't otherwise have. That's the only regimen to which I willingly subscribe and towards which I naturally drift.
INTERVIEWER
One of the questions about your novels is how much is true, and how much is invented.
BUCKLEY
Well, I poach on history to the extent that I can. For instance, when I was in the CIA it was reported to me that the evidence was overwhelming that the destruction of Constantin Oumansky's airplane—he was the Soviet ambassador to Mexico—was an act of terrorism, executed by Stalin. Stalin was killing people capriciously anyway in those days, so it was inherently believable. On the other hand, as I remember, Oumansky lived for a few hours after the plane came down, so the explosion wasn't very efficient. Thus there's a school of thought that sees it as a genuine accident. But for a novel I don't trouble myself about matters of that kind. That is to say, if something was in fact a coincidence, but might have been an act of treachery, I don't hesitate to decide which is more convenient for the purpose of the narrative. The books are, after all, introduced as works of fiction. Everybody knows that Charles de Gaulle is going to survive the OAS, and everybody knows that Kennedy is not going to survive the twenty-second of November 1963, and everybody knows that the Berlin Wall is going to rise. Even so, I attempt to create suspense around such episodes. And manifestly succeed. The books get heavy criticism, positive and negative, but no one says, Why read a book in which you know what's going to happen?
INTERVIEWER
Still, it's a nice challenge of art to put yourself up against history.
BUCKLEY
Sure. And I owe that idea to Forsyth.
INTERVIEWER
In the patterns you've developed, one of them is the unspoken premise that this is the way it might have been behind that great event that we all know about.
BUCKLEY
That's right. I found myself attracted to this idea of exploring historical data and visiting my own imagination on them. The very successful book on the death of Kennedy written by Don DeLillo, Libra, does, of course, that. In a sense overcomplicated and ineffectively ambitious in some of its sections, it's a magnificent piece of work, in my judgment. As long as the reader isn't persuaded that you are trying, via fiction, an act of historical revisionism, I don't think you meet any hard resistance.
Want to keep reading?
Subscribe and save 33%.
Subscribe Now
Already a subscriber? Sign in below.