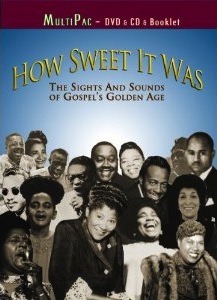 It won't be news to aficionados, but this spring the gospel historian and producer Anthony Heilbut released a new compilation, How Sweet It Was: The Sights and Sounds of Gospel's Golden Age. A copy arrived last week at White Street. The CD contains some knockout live performances: Brother Joe May, Mahalia Jackson at her best, Dorothy Love Coates "groaning and even barking" onstage with the Swan Silvertones.
But it's the companion DVD that I can't get out of my head. It contains twenty-seven kinescope clips from the early sixties, most from a half-hour syndicated program called TV Gospel Time, nearly all of them rare and hard to find. Plug in your earphones, close your door—do what you need to do—and brace yourself for the download. You just can't watch Marion Williams sing "It Is Well With My Soul" without laughing and crying. At least I can't, and I've seen it a dozen times. Ditto J. Robert Bradley's "Amazing Grace." Mahalia Jackson once said, "Nobody need mess with 'Amazing Grace' once Bradley gets through with it." This performance bears her out. As Heilbut writes in his liner notes:
You'll hear a few members of the choir, and Rosetta Tharpe herself, hollering out as he sings. This was not the usual practice on TV Gospel Time, where songs rarely lasted long enough to get people happy. But Bradley could move the coldest church.
In its classic form, gospel was music designed to kill—to slay the congregation in spirit, moving them not just to laughter, tears, and hollers, but to screams and even seizures. The first woman who started shrieking was known, in the parlance of the gospel quartets, as "Sister Flute." Big churches had volunteers in nurses' uniforms to tend to the stricken.
Later these forces were unleashed on white teenagers, to memorable effect. Little Richard, Sam Cooke, James Brown, Aretha Franklin, Tina Turner, Marvin Gaye, Al Green—two whole generations of soul singers got their start and their sound in church. You know what they can do. And you know the idioms too: You set me free. You set my soul on fire. Have mercy. Help me now. I need you early in the morning/in the midnight hour/in the evening/to hold my hand. Not to mention that rock and roll standby: I feel all right. Read More