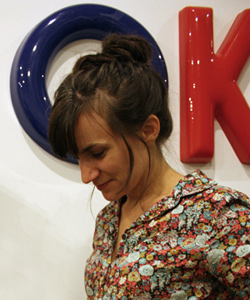 You may have noticed that our Web site looks different. It's prettier, less cluttered, easier on the eyes—it's a delight to click on every page. Meet Jennifer, the Web designer with Tierra Innovation who was crucial to envisioning our redesign. Who better to explain our magical transformation? She recently answered some questions about the site via e-mail.
For those unfamiliar with the old site, what has changed?
Well, a big change is that the site now features a mix of evergreen content from the issue and more ephemeral content from The Daily and Twitter. You might drop in to check out something on the blog and then ten minutes later find yourself reading an interview from 1978.
Another change is that it's easier to browse the archives of The Paris Review. For the first time, you can browse by genre, which is a whole new way of looking at the work. The new site pulls a lot of amazing pieces from the archive to the surface. I hope that it excites your readers!
What were you thinking about when you designed the new look?
When we first met to discuss the look and feel of the Web site, Lorin described a vision of the publication—and by proxy the site—as "rough and ready." That turned out to be a pretty provocative and inspiring idea that we kept drawing from over the course of the design. What could be considered rough and ready online is really open for interpretation. Ultimately our take was a design that's well-considered without looking too polished. Simple background shades and rules. No textures or finishes to make things on-screen look tactile and juicy. An environment in which text can stand out. And most significantly, a design that is loose enough to change with regularity. Specifically, the color palette of the site will change based on each new issue's cover.
We also really wanted to embrace certain design elements of the print magazine, like the hand-rendered logotype, some of the mid-century-modern typography and the frontispiece illustration by William Pène du Bois. It was an interesting challenge to integrate those elements into a Web site in a way that feels natural and modern rather than anachronistic.
The Paris Review has undergone many changes from 1953, when it was founded, to today, as realized by our new art editor, Charlotte Strick. In your research for the site, was there a look you liked the most? The least? Read More