Join us this evening, Wednesday, December 2, at 6 P.M. on Zoom, to meet Jenny Kroik and Julia Berick and draw a paper doll of your own.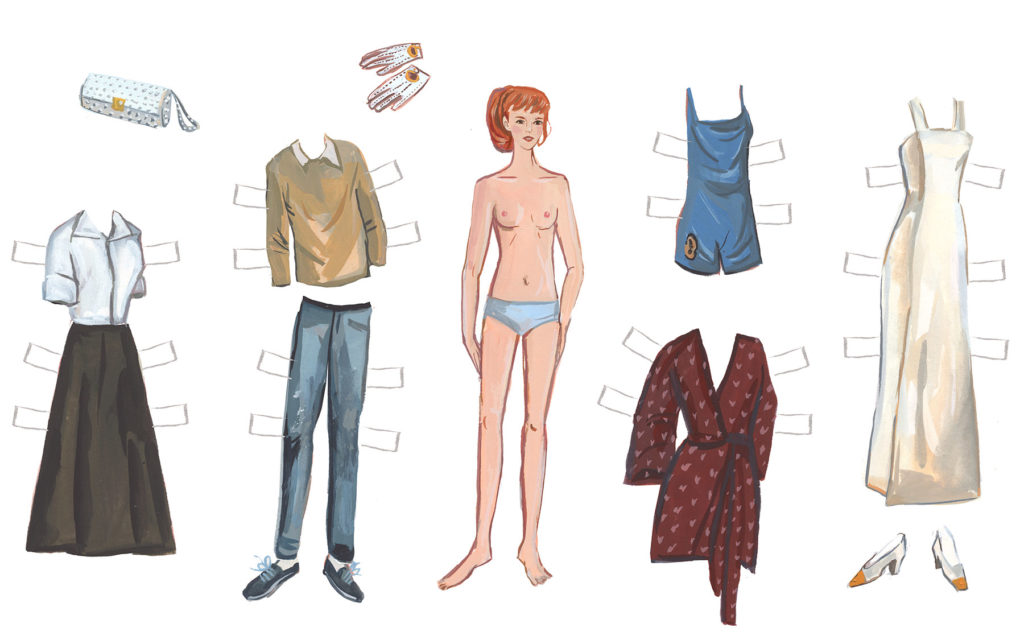 It's a June afternoon in 1963 when Cassandra at the Wedding gets on the road in a Riley convertible. The sun is setting on California's Central Valley. Cassandra Edwards is on her way home to a citrus ranch I imagine to be near Terra Bella where the novel's author, Dorothy Baker, lived and died shortly after the novel's completion. Cassandra stops at a bar for a lemon squash, tugs off her driving gloves to use an emergency phone, sluices off dust with an irrigation pipe, and then arrives home in the moth-laced dark. There are glowing lights on the brass wet bar, polished terra-cotta tiles, and herringbone wood ceilings.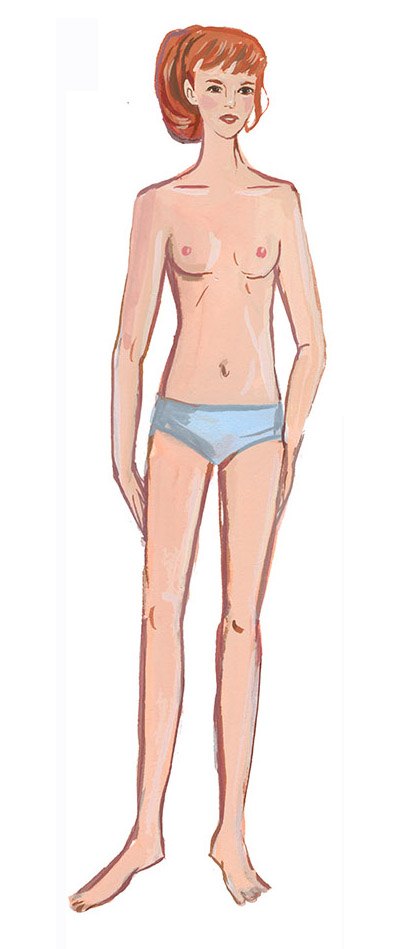 This isn't actually how the book starts. It begins with Cassandra, alone in her Berkeley apartment, wishing she wasn't. She considers suicide. She considers the futility of academia: "It was such busywork, this whole thing of writing a thesis so that I could become a teacher instead of a writer … I'd really have preferred it the other way around." She considers her "unsuitable" and unsatisfactory love life. There is the strong suggestion that, while Cassandra feels it's okay to have flings with other young women at the university, anyone else willing to do so is an inferior sort of person. Cassandra doesn't want to be part of any club big enough to be a club. She's got her standards to keep her warm. But, it wasn't always so lonely for Cassandra. Her twin was always with her. Even apart, they were together. Until they weren't.
The twins' paths diverged when Judith went off to Juilliard in New York to see about music and perhaps about individualism. While her sister was falling apart in Berkeley, Judith fell for, and got engaged to, a nice young man, an almost cardboard young doctor. The sisters reconvene at the family ranch for the first time in nine months for the wedding—or in Cassandra's case, to prevent the wedding.
It isn't something as simple as taste or money that sets people apart for Cassandra. I felt personally familiar with all her slippery superiority, and I'm not alone. The book has something of a cult following. For Cassandra, a damn fine way to see who's who is to look at their belongings, every one of which is a "tell." Cassandra has a Bösendorfer piano. She has a Riley, a beloved make of British racing and touring car, which should tell you everything else you need to know. Deborah Eisenberg, in her illuminating afterword to the NYRB Classics edition, points out that as opposed to all the critique of the American dream in contemporary sixties literature, "the Edwards' materialism, in contrast—it isn't one bit empty—the family derives substantial pleasure from their fresh orange juice, the views from their house …"
I spend no small part of my life not only thinking about material objects, but attempting to justify my desires. How easy it is to say "in late capitalism" before one says "I think about those shoes six times a day and I fully believe they will complete my life." I tried no small number of tactics and therapies—grad school among them—before I hit on a truth that about myself and things. It's a lifelong love affair. This is also a writer's problem. We're looking out for character notes, always. We don't know much about Vera Mercer, Cassandra's analyst. She has a "rather handsome piece of luggage—black canvas bound in tan leather, not particularly large but not exactly overnight either." Mercer is suddenly vivid. She travels alone. Her confidence and tendency to slightly overcommit are her calling cards. A superior person, for Cassandra and for me, is a person who tells an interesting story before you've heard them say a word. I am constantly trying to pass my own self on the street. What character am I performing? How complete is the portrait? How clear is the impression?