There is a sound made by a room full of people at a party. It's a radio between stations with a stretch and pop and one voice coming into focus and certain stories turning up like bingo balls from the collective burble. I love this sound.
I throw parties for The Paris Review. That's not what it says on my business card, and I certainly have other duties, but this is one of them. There are equations for judging provisions for a party. The average person drinks x number of drinks, times x number of people divided by glasses in a bottle, bottles in a case, et cetera, et cetera. I sometimes use these equations. I sometimes consult my old receipts, my faithful notes, but there is no keener pleasure or sharper anxiety than standing at the wine shop, bottles of merlot, burgundy, Côtes du Rhône, and Beaujolais in every direction, while trying to picture the crowd, the party, the temperature that day, and the humidity, what they will be wearing, the news that might buoy or sadden them—the mood of three hundred people who, not all at once, but over the course of the night, will be drinking this wine and think—no—feel, the two cases of white (the Sancerre), two of red (the Médoc), a half case of the crémant.
I have grocery lists, too, of course. It would be easy to send an intern to the shop with a list—they are as a rule very capable, too bright for easy errands and yet cheerful when sent on them. But how could I know in advance to tell them to get just a few of those stupidly expensive oranges straight from Italy, still packed in their leaves, which I did not know would be there until I saw them, and which will light up the windowsill and tempt the photographer to take a picture before the density of the crowd makes such a shot impossible.
In other words, I get the flowers myself. I always do.
Mrs. Dalloway is a novel about the rich interior life of humans in a metropolis, the minds of people inevitably tangled with each other. The mind we enter most often is that of a woman just past fifty on a day she throws a party in London in June of 1923. A landmark of the Modernist form, few readers will need even that barest of plot summaries: almost everyone through high school knows the novel is a drifting portrait of her conscious and subconscious thoughts interwoven with those of a few figures around her: the man she loved as a young girl, her husband, a shell-shocked young man encountering a very different London, that man's wife.
Clarissa Dalloway is given a relatively small sphere of agency—not because she was written by a man who doesn't care about her, or because she is an older woman without enough "market appeal," but because Woolf draws her like it was. As we know from our grandmothers, mothers, and—god help us—our own lives, women are often cast as the supporting figures to men. Virginia Woolf herself is famous in part for escaping, and drawing attention to, this fate. Clarissa excels then with what she has: parties, memories, loyalties, "a woman confessing, as to her they often did, some scrape, some folly," the florist "who thought her kind," and her servants, who respect her so much that, when taking her parasol, they "handled it like a sacred weapon." Only on this recent reading of Mrs. Dalloway did I learn that Woolf wrote the novel not from the tangle of London itself but from the suburbs where it was deemed safer for her mental state. She was writing a love letter to London, from just outside its power.
Woolf's famous protagonist, Clarissa, thinks of her identity in part as being "Mrs. Dalloway, not even Clarissa anymore; this being Mrs. Richard Dalloway." She has in one hand the domesticity of her present and in the other the romanticism of her past. The past is painful and potent, because so much of her future was then unknown. It seems to me that Clarissa has less regret and more nostalgia for the deliciousness of being undecided, complex, messy. Peter Walsh is the not-quite-forsaken suitor of Clarissa's not-quite-forsaken youth. He insults her when they are young by telling her, "She would marry a Prime Minister and stand at the top of a staircase; the perfect hostess he called her (she had cried over it in her bedroom), she had the makings of a perfect hostess, he said."
The orchestration of lives is her medium and even Peter admits that if this is her métier, she excels: "behind it all was the network of visiting, leaving cards, being kind to people; running about with bunches of flowers, little presents; so-and-so was going to France—must have an air cushion." There were places to record this kind of information: women used to keep books filled with menus served and seating charts, who mustn't be seated with whom, who couldn't tolerate that one's wife, whose guest that man was previously. I do this still, the record-keeping and the "running about." I don't always get it right, but when I do it feels like attaining knighthood. When the work is done well, it isn't conspicuous. Very good hostessing is often invisible.
I do have, as I said, other duties at the magazine. I don't only find florists in L.A., collect fir and pine branches before the Christmas party, place a particularly handsome man at the door, adjust the lights, keep up with the bartenders. And yet, in my role as a party-thrower, I have read Mrs. Dalloway quite carefully, checking for confirmation, affirmation, or an icy snub from Woolf. But there isn't a moral in Mrs. Dalloway. It isn't at all clear that Clarissa would have been happier with Peter, or as a poor women living for principles alone (had she been able to live as a wealthy woman alone, that might have been a good option, but that is a different story). And it is a great pleasure to bring people together. At my first party, or perhaps my second, I sent a text message to someone who would safeguard the emotion for me: "Remind me that I had a body high. Remind me that I couldn't imagine it would be ecstasy."
It is partly by habit and partly my necessity, since I tinker till the last moment, to step into the office bathroom to change just as the party begins. If I plan it right, I don't hear my name at all. No one notices I've slipped away because everything is ready. I'm not the center of the party—I'm the corral at the edges. There is the low music, which will later be muted by revelry, the sound of the staff playing pool—the workday dissipating as the click of the balls turns into the chatter of a filling house. Then I'm ready and I'm dressed and, if I've done a particularly fine job transforming, I get a nod from the bartenders as I pass them and it is time to begin. Not at the top of the stairs, perhaps, but at a threshold.
THE GREEN  DRESS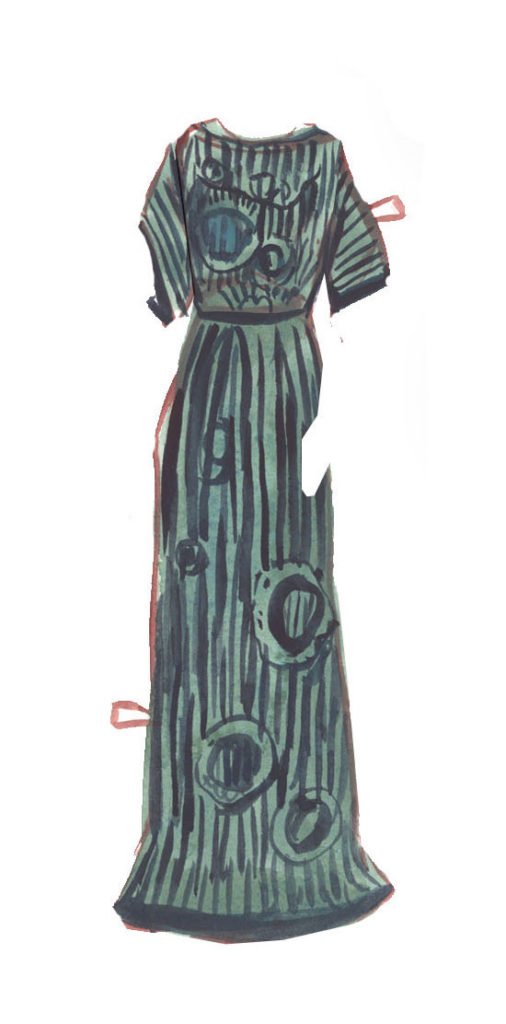 Before the party, there is always a flapping loose end or two, asking to be tied down, staked. One is always something of vital importance and the other is always something very minor, often to do with attire. And, as is the way with things, they always seem of about equal importance for a moment or two. On the day of her party, Clarissa sits to sew up a tear in her favorite green dress: "Quiet descended on her, calm, content, as her needle, drawing the silk smoothly to its gentle pause, collected the green folds together and attached them, very lightly to the belt."
THE WHITE FROCK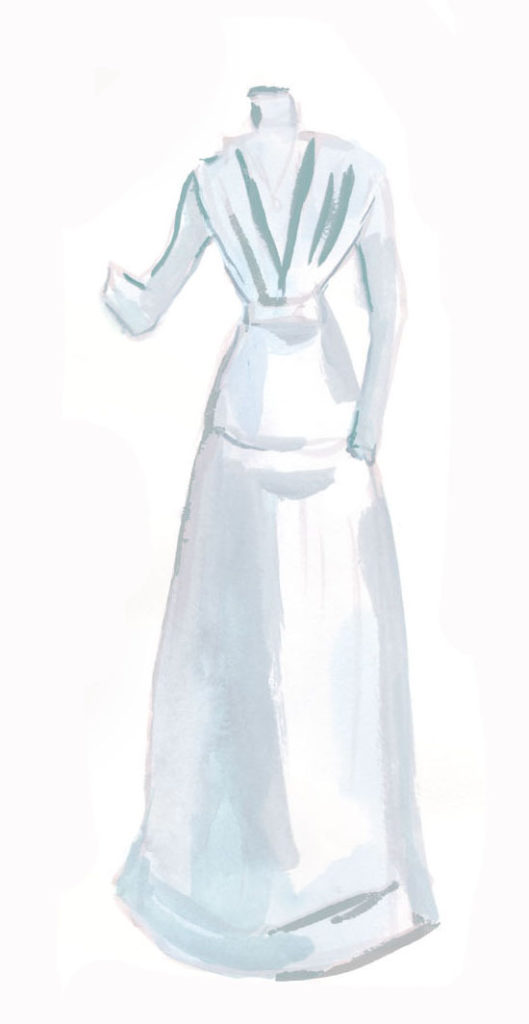 Clarissa looks back on a summer in her twenties, "early in the nineties." Thirty years later Clarissa can "remember going cold with excitement, and doing her hair in a kind of ecstasy (now the old feeling began to come back to her, as she took out her hairpins, laid them on the dressing-table, began to do her hair), with the rooks flaunting up and down in the pink evening light, and dressing, and going downstairs, and feeling as she crossed the hall 'if it were now to die 'twere now to be most happy.' That was her feeling—Othello's feeling, and she felt it, she was convinced, as strongly as Shakespeare meant Othello to feel it, all because she was coming down to dinner in a white frock to meet Sally Seaton!"
THE COAT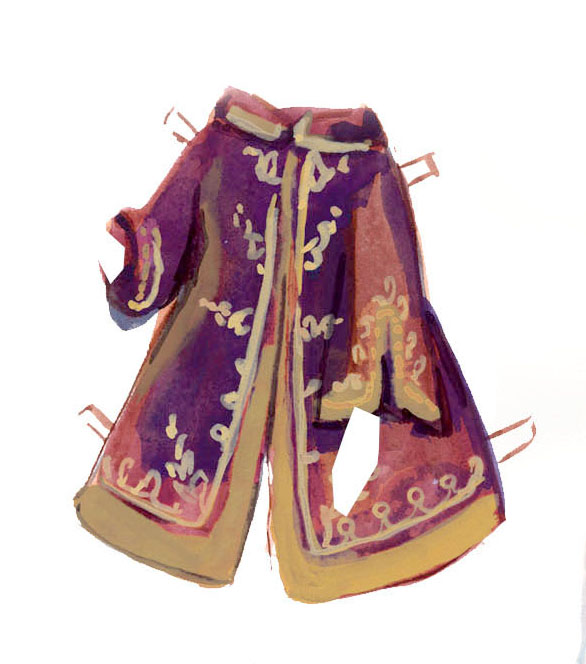 While researching clothing for Clarissa, I found a photograph, a striking snap of Woolf from June 1926, the summer after she published Mrs. Dalloway. There she is in silk and velvet, as the English summer allows—a little skeptical but wise beyond her years. I gave her coat to Clarissa.
Clarissa's immortal excursion: to buy the flowers. There she is on a busy day, "snuffing in, after the street uproar, the delicious scent, the exquisite coolness." During the day, Clarissa is alive to the possibility that her hat is wrong and that she perhaps could care a little less for gloves. "She had a passion for gloves."
THE HOSTESS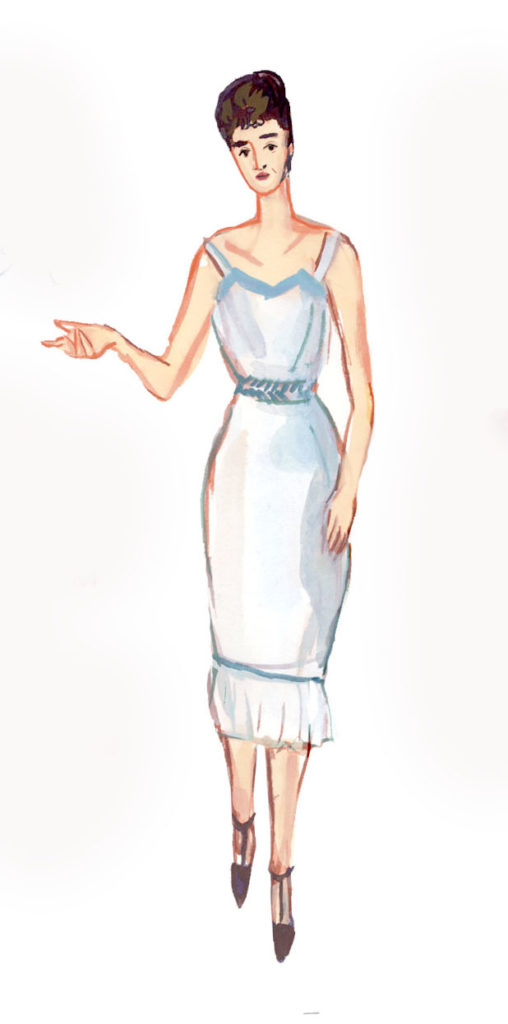 The secret is that, even during the party itself, the hostess longs most to leave because she cannot. Since I am not exactly the hostess I can leave, for a moment or two. I yearn to hear that the ice is out, that we need more lemonade. I find a friend, if I can in the crush, and duck out to breathe a minute on the stairs. I shake the sweat out of my hair, buy twelve bags of ice and a pack of gum past midnight. Every time, the men at the deli joke gently: "having a party?" Every time, I smile.
Click here to download your very own printable Clarissa paper doll
Find our other paper dolls here 
Julia Berick is a writer who lives in New York. She works at The Paris Review.
Jenny Kroik is an illustrator and painter. She has created covers for The New Yorker, and made illustrations for The Washington Post, the Los Angeles Times, Penguin Random House, and more.