The final installment of a four-part review.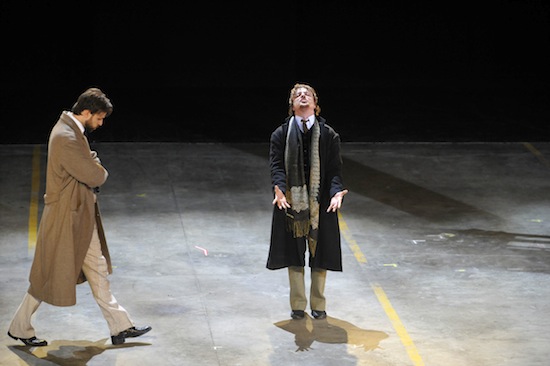 5:56 P.M. Another break. As sometimes happens with people under duress, our biological systems have warped into synch and pretty much all 400-odd culture lovers seem to have to pee this time. "Five-minute call!" I'm still in line on the trailer steps, where a faint but palpable ripple of panic passes through the crowd.
6:02 P.M. Back in the theater, I ask the LA Times critic how he is doing. "So-so," he says. "Hanging in there." He asks me whether anyone has ever tried to stage the dramatic poem written by Stepan Trofimovich in the first part of Demons. I don't know that they have, but what a marvelous idea! The description of this lyrical drama is one of my favorite passages in Dostoevsky's novel:
It is some sort of allegory, in lyrical-dramatic form, resembling the second part of Faust. The scene opens with a chorus of women, then a chorus of men, then of some powers, and it all ends with a chorus of souls that have not lived yet but would very much like to live a little… Then suddenly the scene changes and some sort of "Festival of Life" begins, in which even insects sing, a turtle appears with some sort of sacramental Latin words, and, if I remember, a mineral—that is, an altogether inanimate object—also gets to sing about something… Finally, the scene changes again, and a wild place appears, where a civilized young man wanders among the rocks picking and sucking at some wild herbs, and when a fairy asks him why he is sucking these herbs, he responds that he feels an overabundance of life in himself, is seeking oblivion, and finds it in the juice of these herbs, but that his greatest desire is to lose his reason as quickly as possible (a perhaps superfluous desire).
I am filled with a desire to see a turtle uttering sacramental the Latin words, and a mineral that somehow gets to sing about something. It strikes me as criminal that Peter Stein didn't include these highlights in his performance. What excuse did he possibly have—there hadn't been enough time?
6:05 P.M. I count seven empty seats behind me, and eleven to my right.
6:18 P.M. Nikolai has gone to confess to a monk that he once seduced a fourteen-year-old girl and drove her to suicide. This chapter was omitted from the first editions of Dostoevsky's novels.
6:23 P.M. Nikolai confesses to the monk that he really did secretly marry the pretty retarded lame girl. The monk totally has Nikolai's number. I hadn't realized before how much this conversation resembles the exchange between Raskolnikov and the detective in Crime and Punishment.
6:40 P.M. Still confessing. "On my conscience is a premeditated poisoning that no one knows about."
6:47 P.M. The confession shows no sign of ending. If this was a plane we would be in France by now. I glance at the program notes to see what else has to happen before the dinner break. The mayor has to explode in a fit of jealousy. I wonder how long that will take.
6:48 P.M. Nikolai is weeping in the monk's lap. Read More