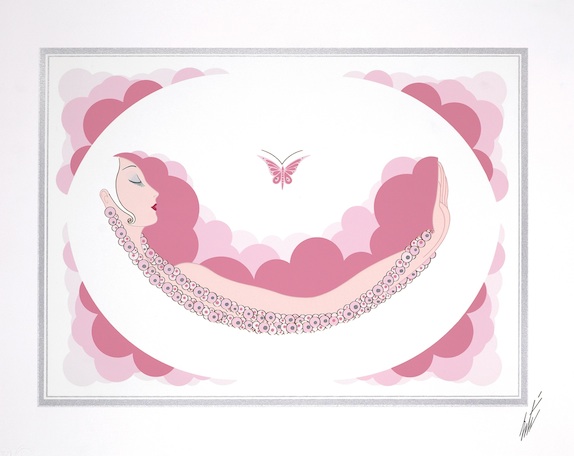 Kermit Westergaard, an interior designer, had come to SoHo from his home in the neighborhood where Greenpoint, Brooklyn, nudges up against Ridgewood, Queens, to attend a 110th anniversary retrospective of works by Erté, the "father of Art Deco," at the Martin Lawrence Gallery. Westergaard, an affable, lightly balding man, seemed somewhat underdressed in comparison to the other gallery attendees, but clothes were in fact the purpose of his visit: from his mother, the theatrical producer Louise Westergaard, he had inherited twenty costumes designed by Erté. The garments are in a storage locker, and Westergaard hoped to find someone at the gallery who could put them to use. "I would rather have the drawings of the costumes than the costumes themselves," he said, somewhat sadly. "I mean, what do you do with them?" He held a catalog of the costumes under his arm, and took it out to show me. They were exquisite, diva-worthy confections: stars and pearls and spiderwebbed dresses, halolike headpieces, cascading nets of rhinestones, and silver lamé. They brought to mind the sparse garb of the exotic dancer and spy Mata Hari, for whom, in fact, Erté had also designed, in 1913.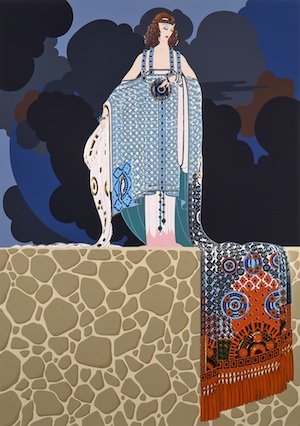 Stardust, the 1987 Broadway musical from which Westgaard's collection comes—for which Matel also produced a special series of porcelain Barbies, all wearing Erté's designs—was one of the artist's final efforts before his death in 1990, at the age of ninety-seven. He was born Roman Petrovich Tyrtov (the name is usually Frenchified as Romain de Tirtoff) in Saint Petersburg in 1892. The pseudonym Erté derives, like that of Tintin's creator Hergé, from the French pronunciation of his initials. Erté designed his first dress, an evening gown, at age six, and his mother was impressed enough to actually have the thing made. (The family was not, however, wholeheartedly supportive of Erté's making a career out of such amusements.) He moved to Paris at twenty, where he found a home in that city's bohemian and gay demimondes, gaining a place under his new name at the house of couture designer Paul Poiret. During the twenties and thirties, Erté gained renown as a costume designer for, among other places, the Folies-Bergere in Paris and George White's Scandals on Broadway. Along with many of the era's most stylish women—Sarah Bernhardt, Joan Crawford, and Lillian Gish among them— Erté often wore his own designs, most famously a toreador outfit of gold lamé which he donned for an opera ball in Paris in 1926. He told Time magazine in 1982: "That night, the huge cape I designed was completely lined with fresh red roses which I tossed, one by one, at my audience as I descended the grand staircase." Theatrics aside, Erté worked diligently on his art. In 1915, he began contributing drawings to Harper's Bazaar, for which he would eventually create 250 covers over twenty-two years.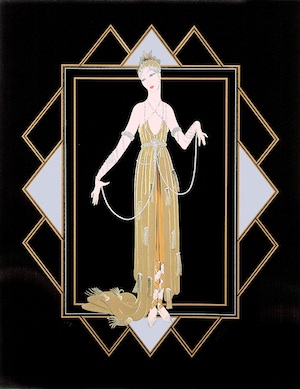 The erotic in Erté's art is subtle, but that may be the only element to which the adjective could be applied. The pieces are drenched in exoticism and rich, saturated color and texture. The drawings, seriographs, gouaches, and bronze sculptures that comprise the gallery's show are highly stylized, reflecting the influence of European Orientalist art, Byzantine mosaics, Greek vases, and Egyptian motifs. In his autobiography, Things I Remember, Erté recalled admiring the Persian and Indian miniatures at the Hermitage Museum as a child. These, he writes, aside from inspiring the technical perfectionism that characterizes even his largest works, were his introduction to the feminine eyes, called yeux des biches ("doe eyes"), that came to embody the flapper era: large, upturned almonds with ascending, pencil-thin brows.
"Erté's purgatory is Woman," Roland Barthes wrote in 1972, "To tell the truth [it is] as if he could never free himself from them (soul or accessory, obsession, or convenience?), as if Woman signed each of his sketches more surely than his finely-hand-written-name … Cherchez la Femme. She is found everywhere." At the gallery opening, women were indeed everywhere—not only the sable-draped sirens of SoHo, but gleaming from the walls and cases as well. The pieces Barthes was discussing, a series of gouaches in which the letters of the alphabet are composed of intersecting women's bodies (and the occasional man), were represented in the show by the cryptic syllabary E, F, H, O, D, and P. Following this alphabet, Erté did a series of numbers, and the gallery displayed the collected originals, numerals zero through nine, together for the first time. The zero is formed by a ring of blue smoke circling a cigarette clasped between a pair of disembodied pink lips; in the four, a woman is held at ninety degrees to a man's waist, bending her upper body toward his head, both wound in flowers and vines (on the man, a lily blooms slyly where one might have expected a fig leaf).
The Italian publisher Franco Maria Ricci once commented that Erté's women seem like "a woman disguised as a woman," and there is indeed something drag-queenish about many of these sylphs. As in fairy tales, Erté's women can take almost any form: they are peacocks, firebirds, butterflies, and fish, lean and lithe and sinuous. It is not their bodies but their clothes that come to the fore: The dress, as Barthes wrote, is extended into the body, which is draped in furs and dripping with feathers and scales, as intricate as a Fabergé egg.
From New York, the Martin Lawrence retrospective will tour the United States, making two-day stop offs in a number of cities. A catalog of the work, which includes reflections by certain prominent friends and appreciators, has been published by Chalk and Vermilion and edited by Charlotte Perman, the gallery's associate director. In her smooth British accent, Perman related that when she began reaching out to collectors of Erté, she was surprised that even incidental acquaintances felt a personal connection to him. "Barbara Streisand told me that she still keeps the picture of the two of them together in her house in California," Perman said. Stella McCartney, who met the artist on an airplane when she was thirteen, and later visited his studio, praises the artworks in her essay as "simply beautiful, incredibly delicate and overwhelmingly sensual."
Erté's career languished in the 1940s and 1950s, but was reignited by a revival of Art Deco in the sixties. At 75, he began to recreate his earlier designs, and, for the first time, turned to designing jewelry and creating bronze sculpture. Opinion at the gallery seemed to favor the earlier work, a tendency Kermit Westergaard worried made the disposition of his late collection that much more difficult.
On the other hand, "that'll never go out of style," a woman beside me said, gesturing toward a Harper's cover in the downstairs of the two-floor gallery. The cover showed a woman blooming pinkly out of a flower. Denise, as the woman told me her name was, said she used to work at the gallery, and still enjoys coming back to help out for events such as this one. Her job that night was guarding the downstairs door, though in the quiet room it hardly seemed necessary: "We've never had anyone steal anything," she said.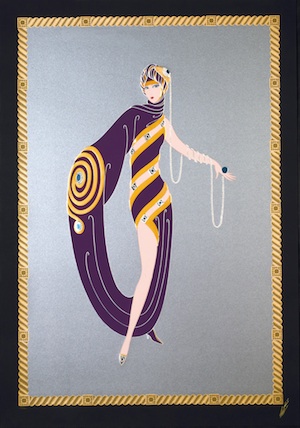 Were one inclined toward thievery, "The Clasp," a objet d'art being unveiled upstairs, might have presented a worthy target. Made by jeweler Stefan Canturi from an Erté design created for George White's Scandals in the 1920s, the petite mesh bag is valued at the staggering sum of $780,000. Luminous with 3,978 diamonds and sixty-three sapphires, it portrays a diamond-skinned pair of humanoid creatures lolling against one another above a cascade of forty-three liquidly red rubies. "The Clasp," like much of Erté's work, is about an ideal of beauty rather than any achievable standard—it's impossible to imagine anyone carrying such a thing. If designers are any guide, however, it is an ideal that is experiencing a resurgence, an impossible dream made all the more tantalizing by our era of economic hardship. After speaking with Eric Wilson from The New York Times, Perman told me, she'd learned that many of the fashion houses were drawing on the Art Deco aesthetic for their spring collections: Frida Giannini's collection for Gucci was called "Hard Deco," and the flapper made an appearance on the runway at Ralph Lauren, among other places. "I think it has to do with women wanting to be elegant again after all these studs and toughness," Perman told me. "I'm tired of wearing ripped jeans and skinny jeans. It's nice to just wear a dress again."
Jenny Hendrix is a freelance writer living in Brooklyn.