In her monthly column, Re-Covered, Lucy Scholes exhumes the out-of-print and forgotten books that shouldn't be.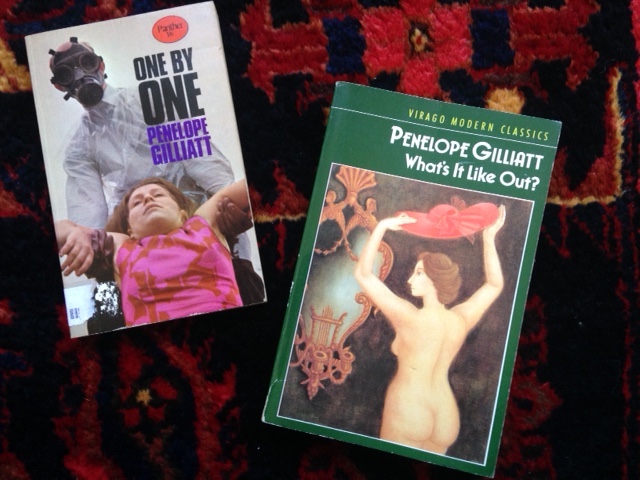 Turns out that watching an actual pandemic unfold in real time isn't enough for many of us. Steven Soderbergh's Contagion is being streamed by droves across the globe, sales of Camus's The Plague are through the roof, and I just received a message from a friend asking if Daniel Defoe's A Journal of the Plague Year was worth a read. Seems like none of us can get enough of stories that echo our current moment, myself included. Fittingly, though, as the author of this column, I found myself drawn to a scarily appropriate but much less widely known plague novel: One by One, by the English writer and critic Penelope Gilliatt.
Originally published in 1965, this was the first novel by Gilliat, who was then the chief film critic for the British newspaper the Observer. It's ostensibly the story of a marriage—that of Joe Talbot, a vet, and his heavily pregnant wife, Polly—but set against the astonishing backdrop of a mysterious but fatal pestilence. The first cases are diagnosed in London at the beginning of August, but by the third week of the month, ten thousand people are dead. Initially the government is more concerned with covering its own back than looking out for its citizens, so it's slow to take action: "No one in power grasped the danger because everyone was busy trying to find a scapegoat." Soon, however, it's impossible to ignore the bodies. The eerie "glow in the sky" above the city at night is evidence of vast makeshift crematoria. London is put under lockdown, cut off from the rest of the country. Joe gallantly offers his much-needed help in one of the capital's overcrowded, understaffed hospitals, while Polly, scared about her impending confinement and increasingly lonely, obtains a medical certificate verifying her health so that she can make the arduous journey to her mother-in-law's house in a distant, uninfected coastal town. Some enterprising journalist hails Joe as a national hero, but then another digs up a gay sex scandal from the selfless vet's adolescence and he becomes persona non grata.
Elements of the novel cut unpleasantly close to the bone right now. From the government's tardiness through the fear that spreads like wildfire through the city: "Seven million lives pounding behind locked doors and twitching net curtains." Gilliatt even makes the point that comparisons with war—then, of course, still a relatively recent memory for many Londoners—are extremely unhelpful, the danger in this case being "hopelessly different," with "nothing heroic about it." Such a warning is still important today. Here in the UK, where I live, both boomers and the elderly have needed reminders that the blitz spirit of "keep calm and carry on" doesn't work when you're trying to fight a highly contagious pandemic.
For some, these details will be encouragement enough to seek out a copy of this out-of-print book, but in all good conscience I can't advocate for One by One's republication. The novel's balance is off; although it begins as an apocalyptic nightmare, there's a discombobulating and not entirely successful shift, about three-quarters of the way through, to cutting social commentary. Writing in the New York Times, Martin Levin called it "a curious muddle of a novel," the conclusion of which is "a climactic non sequitur." Even Anthony Burgess—who was a fan—recognized its flaws: "More action and characters and ideas than the small space could carry."
The shortcomings of One by One weren't unique to it. Gilliatt's novels—she published four more: A State of Change (1967), The Cutting Edge (1978), Moral Matters (1983), and A Woman of Singular Occupation (1988)—were not to everyone's taste, and haven't aged particularly well either. She had, as Burgess put it, a tendency to focus on "the surface of life—conversations, the taste of pears, facial twitches, ideas that offer themselves but are never pursued." As such, "action is shunted to the margin," important events appear in otherwise throwaway sentences. Blink and you miss them. Burgess admired this approach, declaring that it "owes something to E. M. Forster," but others were less impressed. In the New York Times, Thomas Lask described Gilliatt's second novel as "boneless" and without structure. "It rambles from one conversation to another," he criticized, "from one small scene to the succeeding one." But that which made Gilliatt an imperfect novelist was the same thing that made her such a fascinating short story writer. The terser medium lent itself well to her uneven, texture-heavy approach. I'm much more confident championing her short fiction—of which she published seven volumes—in particular her debut collection, What's It Like Out?, which was published in 1968 (appearing the following year in America under the title Come Back If It Doesn't Get Better).
*
Reading the stories in What's It Like Out?, I can't help but think of the famous epigraph to Forster's Howards End (1910): "Only connect!" If there's one thing that unites the nine tales in this collection, it's Gilliatt's characters' abject failure to connect with those closest to them. As Marian Engel put it in her New York Times review, "All the stories deal with separation and disintegration: marriages break up, partnerships split; people grow away from each other, even as they fear the pain of parting."
Take the impressively capacious opener "Fred and Arthur," about a vaudeville duo whose lives are a double act both on and off the stage. "When they went out on their own with girls, they tended to fix things for the same evening so as not to spend two nights separated where one would do." Their closeness is tested, however, when Fred decides to get married. The night before the wedding, Arthur takes the soon-to-be happy couple out to the Savoy Grill, where he tells Daisy, Fred's intended, that they're all going to drink Dom Pérignon:
"We've gone off beer since you decided to get spliced," he said, looking at Fred.

"Fred hasn't. We always drink beer," said Daisy, collaring the "we." Then she regretted it, and touched Arthur's arm and laughed.
In other stories, marriages deteriorate to such a degree that the couples communicate only by means of letter. The elderly, aristocratic couple in "The Tactics of Hunger" live all-but-separate lives under the same roof. The thorny, unkempt, cardigan-wearing Lady Grubb has decided to preempt the loneliness she fears will envelop her on the occasion of her rheumatism-ridden husband's death by ceasing all communication with the man. "I hate her," Lord Grubb protests to his daughter. "I've written her notes and notes and notes and she's never answered one of them. Surely she could send me a message of some sort?" As with many of the stories in the collection, what begins life as a tale of entertaining unconventionality ends with startling emotional resonance. Lady Grubb eventually repels her daughter and her daughter's boyfriend's rebukes with a rare outburst of sentiment. "No one understands loneliness if they haven't been married," she shouts at them. "For forty years … You two. Fly-by-night affairs. You risk nothing." Gilliatt doesn't spare her characters—she portrays them warts and all—but she sees their pain too, and doesn't shy away from that either.
Gilliatt's at her very best when she's writing about oddballs. "For her, character is crucial," wrote William Shawn, the editor of The New Yorker, the magazine where eight of these nine stories originally found publication. As Engel writes appreciatively of the collection, "There is, best of all, a confirmation that the welfare state has not deprived England of its eccentricity." Harriet, the splendid protagonist of "The Redhead," joins the likes of Lady Grubb. She's a gangly, Victorian-born woman whose youthful heroines are Queen Elizabeth, Mary Wollstonecraft, and Edith Cavell. She becomes a suffragette, then a nurse during the First World War—beautifully described as "Boadicea with a bedpan"—and who lives on, "tough as old boots," surviving both the Second World War and cancer, only to be ridiculed by those around her. There's that poignant sting in the tail, too: "I put this down," reads the final paragraph, "only because I have heard her daughter's friends call her 'mannish,' and her own generation 'monstrous.' This is true, perhaps, but not quite the point."
Sentence by sentence, Gilliatt also offers up deliciously original descriptive passages. Lord and Lady Grubb's cold, unhappy home is "decorated almost entirely in weedy shades of green and looked to the children like a fish tank that needed cleaning out." She's a writer unafraid of a cruel but necessary detail or two. After the then-thirteen-year-old Harriet has her "thicket" of auburn locks hacked off, the Norland nurse (once a staple in any wealthy English home's nursery) "robbed of her pleasure in subduing the hair, turned her savagery more directly on to Harriet and once in a temper broke both of her charge's thumbs when she was forcing her into a new pair of white kid gloves for Sunday School." The "surface detail" that could be so distracting in Gilliatt's novels comes into its own in her stories. "She celebrates the bittersweet human condition in prose that brings us her visions undistorted," wrote the Los Angeles Times admiringly, while Shawn concluded his praise of the collection by declaring that Gilliatt "does not turn away from the dark disorder of existence but defiantly brings to bear on it a powerful intelligence, a benevolent wit, passion, style and pure sanity. She leaves us exhausted."
*
Shawn began publishing Gilliatt's short stories in 1965. Two years later, he hired her as a staff writer, and she gave up her job at the Observer to become The New Yorker's film critic. This, if she's remembered at all, is what she's best known for today. Or, perhaps more accurately, she's known for not being Pauline Kael. The two women shared the role, each working half a year on, half a year off. As the now much more famous Kael put it, they were "ships that pass in the night every six months." The two women had completely different writing styles. Kael's reviews were shot through with personal taste and "unbridled passion," according to Slate's Sarah Weinman, while "Gilliatt's enthusiasm came through in elegant turns of phrase crafted with the same care she took with her fiction." She sums them brilliantly up thus: "Gilliatt was Glenda Jackson to Kael's Barbra Streisand." And both were lured by Hollywood. Kael left New York for Los Angeles in 1979, becoming a consultant at Paramount Films, but she chucked it in and returned to the magazine after only a few months. Gilliatt's dabble with the industry came earlier, right at the beginning of her New Yorker tenure, when she wrote the Academy Award–nominated screenplay for John Schlesinger's magnificent 1971 film, Sunday Bloody Sunday, the story of a London love triangle with, for the time, a surprisingly liberal attitude to queer relationships. Following the success of Sunday Bloody Sunday, Gilliatt tried very hard to turn "Fred and Arthur" into a film, but was ultimately unsuccessful, according to her friend Betty Comden, who wrote her obituary in the Independent. "It kept almost happening," wrote Comden, "and then not, a source of great disappointment to her."
Though she was only in her midthirties when she was hired by Shawn, and thirteen years younger than Kael, Gilliatt's contract at the magazine came to an end long before that of her esteemed colleague: in 1979, to be exact, when Gilliatt supposedly lifted eight-hundred-odd words from a piece in The Nation for her profile of the author Graham Greene. Intriguingly, Gilliatt was publicly defended, albeit posthumously, by Mary Gilliatt, the second wife of her first husband. In a letter to the New York Times in response to Gilliatt's obituary, Mary wrote that no one who knew Penelope Gilliatt or her work believed the accusation: "Gilliatt was altogether unlikely to plagiarize anybody's work and was certainly not known for inaccuracy in other profiles." Gilliatt was tricky to work with in the best of times, though, in part because of a drinking problem. In Pauline Kael: A Life in the Dark (2011), Brian Kellow claims that extra minders from the New Yorker fact-checking department were sent to shadow Gilliatt at film screenings, to ensure she actually sat through the movie she was reviewing. And yet, perhaps because of their long friendship, Shawn continued to publish her short stories even after she was taken off the reviewer beat. And Gilliatt continued to drink. She eventually died from alcoholism in 1993, at the age of only sixty-one. It would seem that her addiction, coupled with the rather ignominious end to her career as a critic, has thrown a dark shadow over Gilliatt's reputation. It's unfair: her short stories, with their virtuosity and intelligence, should speak for themselves. For those of you who've had enough of pandemic-related entertainment, leave One by One aside and turn to those instead. They certainly make for wonderfully distracting reading right now, and are perhaps a reminder of how difficult it is for us all to connect, even in the best of times.
Read earlier installments of Re-Covered here. 
Lucy Scholes is a critic who lives in London. She writes for the NYR Daily, The Financial Times, The New York Times Book Review, and Literary Hub, among other publications.