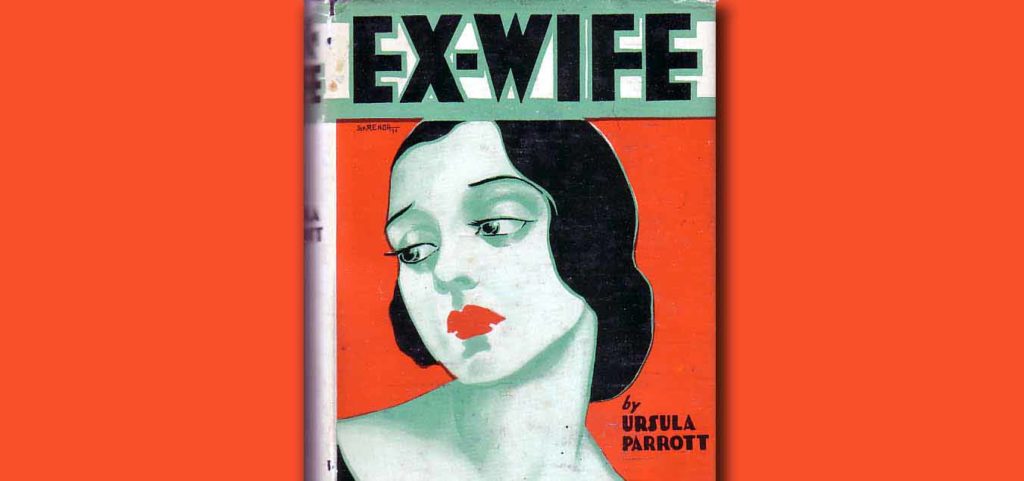 Ursula Parrott was accused of promoting a dangerous sexual freedom. In her best-selling novels, the controversial author chronicled "life in the era of the one-night stand" during the twenties and thirties. Parrott's extraordinary life took her to the heights of literary New York and pre-Code Hollywood, then left her jailed, penniless, and alone. Today, her books are out of print, and her name is all but forgotten.
I stumbled across her name in an advertisement at the back of a copy of Jamaica Kincaid's Lucy from the early nineties. One of Parrott's novels was sandwiched between works by Harriet Beecher Stowe and Toni Morrison in a series of classics by "American Women Writers." Eminent company, to be sure, but that was the last time one of her books was reissued—thirty years ago. Pursuing Parrott through the scant archives, I discovered an author whose work and life were exemplary of her time, yet strangely stranded there.
When Parrott's Ex-Wife was published, anonymously, in 1929, it was an immediate sensation. It went on to sell over a hundred thousand copies in nine editions. The publisher billed it as a "sociological document," suggesting that the twenty-eight-year-old narrator, Patricia, would provide readers with a glimpse into the rapidly changing sexual mores of the time. The fact that the novel was published anonymously gave it the aura of confession.
Ninety years later, Ex-Wife still carries the ring of truth. The premise of this beguiling, if imperfect, book is simple. Like any good modern married couple, Patricia and Peter have both committed adultery. Although she's unnerved by his transgression, she does her best to take it in stride—by committing her own. But it turns out that Peter doesn't share her modern attitude. "I always thought you were the cleanest person in the world," he tells her hatefully. "I used to think of you as dewy."
Peter soon falls for a more conventional woman ("conventional" is one of the novel's great insults, along with "being 1880") and asks for a divorce. But Ex-Wife isn't the story of a woman reclaiming independence with stoic dignity. Patricia clings to her marriage. She tries to negotiate: give her six months to persuade Peter to stay, and if he still wants out, she'll divorce him. These months are depicted in excruciating detail. While Peter drinks heavily and insults her, Patricia still invites him into bed. A pregnancy results, and with crazed glee, she informs him that he won't be getting that divorce after all. "He did not kill me," she reports. "He just picked me up and threw me through the glass door of the breakfast room."
The domestic violence may have been less shocking to readers at the time than Patricia's subsequent abortion, described with journalistic detachment. It would be easy to mistake this hard-boiled voice for coldness—"I dressed with extreme care," she recalls, "with the feeling that I might be turning up a corpse before sunset." But like a character out of early Jean Rhys, Patricia keeps her focus on surface appearances to safeguard her emotions. Otherwise, how would she survive a doctor who cracks a joke about "the price of pleasure"?
When the six months elapse, Peter leaves, and Patricia moves in with her divorced friend Lucia. The women try out definitions of ex-wife (in its review, the New York Times credited the novel with adding "a new descriptive tag to the American language"):
"An ex-wife is a woman with a crick in the neck from looking back over her shoulder at her matrimony."

"An ex-wife's a woman who's always prattling at parties about the joys of being independent, while she's sober."

"Ex-wives—young and handsome ex-wives like us, illustrate how this freedom for women turned out to be God's greatest gift to men."
Such languid witticisms give Ex-Wife the unmistakable air of the Jazz Age (indeed, the most recent reissue of the novel, in 1989, came with a foreword by Francine Prose, who argued that it "seems far less dated than many of Fitzgerald's Jazz Age stories"). Rhapsody in Blue is Patricia's favorite record, and her narration has the catchy, disjointed quality of that composition. She drinks on the roof of the Bossert hotel, dances at Smalls Paradise, and tours an exhibition of French painting at the gallery of Valentine Dudensing. She spends her nights with up-and-coming novelists and over-the-hill painters.
The narrator's keen eye for fashion is one of the novel's pleasures. When Patricia meets a sexual rival, it's a contest between "recent Vionnet" and "early spring Chanel." One reviewer complained that these descriptions gave Parrott's characters the lifeless aspect of "carefully catalogued objets d'art," but contemporary readers will see her as a precursor to the satirical materialism of writers like Bret Easton Ellis.
Yet for all its fizzy frivolity, Ex-Wife has serious ambition. It aims to explore how the new sexual freedom is being negotiated. Men and women have been liberated from Victorian norms only to discover that their newfound freedoms are unequal. A woman may smoke and drink to her heart's content (as Lucia points out, they don't look less feminine "with a cigarette in one hand and a cocktail glass in the other, than their grandmothers did, with a fan, held right, and a bouquet, left"). But freedom doesn't include emancipation from a ruthless sexual marketplace that greatly favors men. "Every attractive woman has fifteen gold pieces to spend," says Lucia,
one for each year between the time she is twenty and the time she is thirty-five. She may squander the first ten or twelve if she likes, but she damn well should invest the rest of them in something safe for her middle age.
Patricia laughs at her friend's savage bons mots, but finds herself genuinely torn between values. She considers herself spiritually old-fashioned, somewhat marooned in modernity. "The thought of growing old, alone, frightens me," Patricia says. Drunk on scotch, she'll admit to craving security, "meaning a husband to pay for facial massages through all my middle age." It's the tension between impulses—one for freedom, one for shelter—that preserves the book from easy classification. Ex-Wife is at once in the slipstream of its time and resisting the current.
*
Despite all the novel's complexity, critics focused narrowly on Patricia's hedonism. Ex-Wife "should not prevent any careful parent from sending his daughter to New York to work and live," said Robert MacDougall in Saturday Review, "but it ought to give pause to some women who long for what they think is Freedom." Women readers, in particular, were drawn to the lifestyle the book depicted—and that was disconcerting. "It had been left idle on the couch for only a few minutes before [my] wife was flipping over the pages," the New York Times critic reported, "with another wife reading over her shoulder."
Though undoubtedly brazen for its era, Ex-Wife might not be embraced as a feminist novel by today's standards. Patricia and Lucia don't name the real enemy—the patriarchal culture that sets the terms of the sexual marketplace. Instead, they exist wholly within that culture, resenting it while trying to turn it to their advantage. And though Parrott demonstrates an awareness of the historical contingency of sexual behavior—her "unmannerly generation" has shed the hang-ups of the Victorians— the fundamental "natures" of men and women are taken as a given. Indeed, Lucia sees the Modern Woman as merely affecting the "masculine attitude" toward sex.
But in 1929, the novel was explosive. And by the time it was optioned for a movie by MGM in 1930, audiences had learned the identity of its subversive author. Born Katherine Ursula Towle in Boston, on March 26, 1899, the writer had graduated from Radcliffe before settling in Greenwich Village. Her first marriage was to Lindesay Parrott, a journalist who covered the Lindbergh kidnapping for the New York Evening Post (and who, some say, was behind the anonymous Ex-Husband, a riposte to Parrott's novel that also went into many editions). The Parrotts had a child in 1924 and divorced shortly after.
When the film adaptation premiered at the height of the Depression, Ursula Parrott reached the zenith of her career. The Divorcee stars Norma Shearer as Jerry (Patricia) and Chester Morris as her husband. For her performance, Shearer won Best Actress at the third Academy Awards, and established herself, in the words of Screenland magazine, as "an American Garbo." The Divorcee is hardly faithful to Ex-Wife—half the film is about the couple's infidelities, while the novel is pure aftermath—but the screen version of Parrott's heroine was a Hollywood watershed. "I think they used very good judgment in getting away from the Snow White heroine," Louella Parsons said in an interview with Shearer in 1931. "People were fed to the teeth with ga-ga girls who were one-hundred-percent pure." Soon, the Telegraph was reporting that "every picture concern is trying for something sensational and startling." Parrott's second novel, Strangers May Kiss, was quickly adapted into another successful Shearer picture, and the author began fielding offers from Hollywood.
All through the thirties, Parrott remained in high demand. In seventy-two-hour writing binges, she'd pump out pulp romances like Love Goes Past (1931) and Next Time We Live (1935), as well as countless stories for magazines like Ladies' Home Journal and Redbook. Eight of her novels were made into films with stars like Barbara Stanwyck, Cary Grant, and Humphrey Bogart, and her story "Infidelity" was adapted for the screen by F. Scott Fitzgerald. None of these works (at least those I've read) match Ex-Wife's artistry, but they proved enormously popular. At one time, Parrott was pulling in over $100,000 a year (about $1.8 million today).
*
Yet no subsequent success could eclipse Ex-Wife—or the reputation it gave her. Because Parrott had created Patricia, who in turn generated the influential Shearer heroine, newspapers kept a close eye on the author's personal life, as if it were a case study in the state of contemporary women at large. After all, one movie critic put it, Shearer's performances advanced "a dangerous feminine philosophy." As a result, the public record is full of cruel delight in Parrott's misadventures, as if her every slip proved a more general feminine incompetence.
And Parrott always gave the papers something to talk about. "Ursula Parrott Wins 'Ex-Wife' Title Again," said the Washington Post when, in 1931, she divorced a New York banker named Charles T. Greenwood, charging intolerable cruelty. They'd been married for exactly one year. The article reads as both a report on Parrott's divorce and an advertisement for her sudden availability, the author being "seen frequently at literary teas in dusky red ensembles."
In 1934, she married a third husband, an attorney named John J. Wildberg, and a 1937 article describes her new home in New Canaan, Connecticut, where the journalist found her "looking startlingly like a little girl with her black hair cut in a shaggy bob." The headline—"Ursula Parrott Renovates Victorian House with Bold Modernistic Touches"—captures so much of what she was pulled between. Just one year later, Parrott was back in court for divorce, where she testified that Wildberg had pulled a gun on her. "I didn't think he would really do it. I was afraid it would go off and the noise would wake up my son," she testified, ever hard-boiled.
Yet despite these dramas, Parrott continuously put her faith back in marriage. Like the heroine of Ex-Wife, she "always believed, in a corner of my head, that some day, somewhere, something lovely might happen to me yet." By the late thirties, her many divorces had become a society joke. When it was announced that she was to marry yet again, the popular columnist Alice Hughes devoted a piece to defending "this high-powered fiction mill." After claiming that she was the inspiration for Lucia in Ex-Wife ("I was the only laudable character"), Hughes said that, as for public opinion, "a girl who can knock out popular fiction as fast and as well as she can should give a hoot."
It was easy to give a hoot while the money kept rolling in. But by the end of the thirties, the culture was growing hostile to Ursula Parrott. Out in Hollywood, the censors of the Motion Picture Production Code had forced her Shearer-style heroine into extinction. And as America entered the war, the delicious frivolity of Parrott's writing was associated with a kind of national flabbiness. When the Victory Book Campaign was initiated to augment the libraries of the army and the navy, citizens were explicitly requested not to send books by Ursula Parrott.
*
In 1942, Parrott made national headlines when she became the first person ever to be charged with impairing the loyalty and discipline of America's fighting forces. This little-known law had recently been passed by Congress out of fear of fifth-column activity, and the FBI found its first unlikely saboteur in the novelist.
Parrott was charged with helping a soldier desert from the Miami Beach army stockade. The soldier was Mike Bryan, a jazz guitarist who'd played in Benny Goodman's band (after the war, he went on to work with Dizzy Gillespie and Charlie Parker). According to reports, every afternoon, Parrott drove to the stockade, where she and Bryan would make love in the back seat of her car (the trial would lead to the end of her fourth marriage). One afternoon, she told him, "If you've got nerve enough to lie down in the back seat, I've got nerve enough to drive you out of here to get a good dinner." He told her she was crazy, but she hit the gas and sped past the guard. When Bryan warned her the guard had a gun, she said, "Let him shoot."
With this brazen nose-thumbing, Parrott was accused of demoralizing the entire American armed forces. But on the witness stand, the high-powered fiction-mill prevailed. She offered an audacious defense, too good not to be true. According to Parrott, she was actually working as a government narcotics agent, attempting to break up a "reefer rendezvous" in New York City. The jazz guitarist was a key witness in the operation, and so by absconding with him, she was attempting to deliver a vital informant into government hands. The story was just crazy enough to work. The jury took twelve minutes to acquit her of all charges. As spectators offered congratulations, Parrott said she'd go back to working on a book.
But in just a few years, she would give up writing altogether. She'd always been a heavy drinker—"I have just lived quietly, year after year, on scotch and kisses," Patricia says in Ex-Wife. By 1947, when Parrott published her last story ("Let's Just Marry"), she'd become a severe alcoholic, and all the money was gone. During this crucial period, the public record goes cold, but in 1950, a small, troubling notice appeared in the Washington Post: "Hotel Bill Jails Ursula Parrott." The novelist, who once carried around a $50,000 check from Fox in her purse, was wanted for running out on a $255.20 hotel bill. Friends in Beverly Hills wired the money, and she went free.
And then, in 1952, another warrant was issued for Parrott's arrest. This time, she was accused of taking $1,000 worth of silverware from a house where she was a guest, and pawning it in New York City. (Although she'd published twenty-two books and over fifty stories, the New York Times still reminded its audience of her identity by saying she was the author of Ex-Wife.) After this embarrassing incident, Parrott went into hiding and was not heard from publicly again.
"I doubt if this will be a long-lived generation," says Lucia in Ex-Wife. "We shall reach sedateness via emotional exhaustion by forty—and die of senility at forty-eight." The statement was prophetic. Ursula Parrott was fifty-eight when she died of cancer, destitute, in the charity ward of a New York hospital.
Progress is subject to sudden reversal, and so is a literary reputation. Ursula Parrott's name could have thrived in the sixties, which reacted to mid-century conservatism in rather the same way she reacted to the Victorians, but it did not. Her style of heroine burned brightly, briefly, and the author fell through the crack between eras. Her originality still awaits recognition. As she wrote in Ex-Wife, "People's ideas—what they think about affaires—begin to shift enormously, and their ideas are half a generation behind their conduct." We're always catching up to what's already there.
Michael LaPointe is a writer in Toronto.