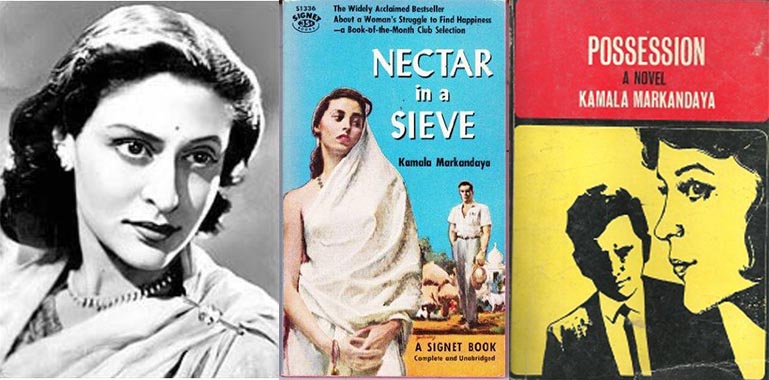 Our monthly column Feminize Your Canon explores the lives of underrated and underread female authors.
In 1956, the then-famous Indian novelist Kamala Markandaya was asked if she might set a book in England, where she lived with her British husband. "No," she responded, "I don't know England well enough, and don't think a static society—that is to say a society which has solved its problems in a mild and satisfactory way—can prod me into writing about it. I regret to say I have to be infuriated about something before I write." A decade and a half later Markandaya's greater familiarity with English society, and its increasing volatility, resulted in her seventh novel, The Nowhere Man. Her favorite of her own works, it belongs alongside such classics of diaspora disenchantment fiction as Sam Selvon's The Lonely Londoners, Andrea Levy's Small Island, and Linda Grant's The Clothes on Their Backs. Yet The Nowhere Man was all but ignored on its publication and, despite being reissued by Penguin India in 2012, remains little known today.
Set in 1968, the year of Enoch Powell's infamous "Rivers of Blood" speech, The Nowhere Man is an intricate, perceptive tragedy of alienation centered around the violent racism sparked by Britain's post-war immigration drive. The hero is Srinivas, an elderly spice importer, native of India, and decades-long resident of a leafy South London suburb. Along with many newer arrivals from South Asia and the Caribbean, Srinivas realizes with horror that, at nearly seventy years old, he has been marked as a pariah, "a convict on parole." At first, the danger signs don't quite penetrate his consciousness. He is by nature dreamy and peaceable, not given to assuming the worst of people. And he has always regarded England as a haven of tolerance and sanity. "My country," he calls it. "I feel at home in it, more so than I would in my own." But eventually, the ambient threat turns palpable, and he begins to hear of "a new gospel,"
a gospel he had not heard since those echoes from Germany before the war. He recalled them now, almost phrase by phrase, presenting hate as a permissible emotion for decent German people. Not only permissible but laudable, and more than that, an obligatory emotion, which they summoned up subtly and starkly from a reading of a checklist, or charge sheet, of the differences between men, their customs and observances, their sexual, religious and pecuniary habits, sparing nothing as they peeped and probed, neither bed nor bathroom nor tabernacle, citing in the end, without shame, the shape and size of their noses, lips, balls, skulls, and the pigment of their skin.
In his now hostile neighborhood, which is smeared with "hang the blacks" and "blacks go home," Srinivas had once envisioned a serene future unfolding with his wife, Vasantha, and their sons, Laxman and Seshu. As we learn via flashbacks, the newlywed Srinivases left India for England in 1919 and rented "a succession of rooms and flats," before deciding to buy "a gaunt old building" large enough to welcome their sons' future wives. But Srinivas's name, which means "abode of good fortune," turns out to be ironic. Seshu, at age nineteen, is killed by a German bomb while driving an ambulance during the Blitz. Soon after, Vasantha dies of tuberculosis. Laxman, who has moved away from London and absorbed himself in his own family and career, barely keeps in touch. Isolated and bereft, Srinivas is afflicted with a depression bordering on catatonia. He neglects his business, his appearance, and his house, which sinks into squalor:
Bluebottles buzzed around the dustbins, and litter from the unswept yard swirled over other people's tidy properties, severely trying the patience of housewives. A few—those most affected, like Nos. 3 and 7—made sharp wounding comments, but generally people were charitable, knowing the history of the widower at No. 5.
Those earlier post-war days, remarks the omniscient narrator, were "decent" and kindness was still the norm. Laxman, however, is less than kind. A fully English young man who measures human worth according to financial success and "potential," he cannot comprehend his father's passivity. He tells Srinivas to pull himself together, "and felt indeed that this aptly described what had to be done, as if his father were some slack old bag whose strings must be pulled tight before the entire contents fell out." Srinivas is painfully aware of the unbridgeable gulf between himself and his son, compounded by both generational and cultural differences. He "saw himself as his son did and as his son's children would…an ill-dressed ancient Indian, deficient in good living and small talk, with whom they would have nothing in common." Thirty years later, in Zadie Smith's White Teeth and Jhumpa Lahiri's The Namesake, the conflict and sense of separation that can arise between first and second immigrant generations would be explored to great effect. But at the time Markandaya was writing, it was a subject few novelists had confronted.
Salvation comes to Srinivas in the unexpected form of Mrs. Pickering, an indigent divorcée, older than him and almost as down-at-heel. Chance encounters in the street lead to walks in the park. Their bond is founded upon a mutual, delicately observed tact. "I hate people who pry," says Mrs. Pickering, "and force themselves on you for their benefit and pretend it's for yours." A partnership is forged, at first platonic yet no less committed and affectionate for that. Mrs. Pickering—we never discover her given name—moves into No. 5, and soon the house is as clean and tidy as when Vasantha was alive. The neighbors, relieved to see the "shine on the doorstep," confer respectability on the odd couple by referring, fastidiously, to "Mr. Srinivas, the landlord, and Mrs. Pickering, his tenant."
When racist hatred shatters their hard-won tranquility, Srinivas and Mrs. Pickering's divergent reactions dramatize a common theme in Markandaya's fiction: the clash of Eastern and Western sensibilities, and the persistence of cultural values despite deracination. Though he is "cut off from his roots" of Indian Hinduism, Srinivas's ahimsa—his honoring of all living beings—endures. A stamped-on mouse dropped on his doorstep by Fred, the local racist lout, causes deep distress: Srinivas feels responsible for the creature's needless death. That tiny gray mouse, he thinks, "has entitlements no less than a man." The same philosophy was held by Markandaya, who detested cruelty to animals and treated it, in her writing, as an auspice of general brutality. But to Mrs. Pickering, Srivinas's anguish is ridiculous. "Really, some people," she thinks, "the way they tore themselves to pieces over nothing." While her priority is to resist and fight back against the mindless prejudice, which she does doggedly, Srivinas simply says "People will believe what they want to." It is a measure of Markandaya's mastery of character and voice that neither approach to life seems less noble.
When Markandaya wrote The Nowhere Man, she may well have imagined that the racist dysfunction she portrayed would, half a century on, be a bygone aspect of less enlightened times. But to the contemporary reader, the novel is full of conspicuous parallels to today, not least the Trumpian/Brexitish attribution of economic woes to the presence of an alien outgroup. "They came in hordes," is the spiel seized upon by down-on-his-luck Fred, "occupied all the houses, filled the hospital beds and their offspring took all the places in the schools." Mrs. Pickering, intercepting the mail to shield Srinivas from abusive missives (though they receive equal amounts), finds that the neater the writing, "the worse the contents: the more innocent the envelope, the more vicious the enclosure." Now it would be emails/DMs, and in place of neat writing and plain envelopes the curious phenomenon, experienced particularly by women in public life, of the politest and most grammatical introductions presaging the vilest attacks. And when Srinivas's doctor reads a published letter about immigrant staff in the NHS, the sentiments precisely echo those often aired in English newspapers in 2018:
It concerned itself with the welfare of the sick, who might fall into foreign hands. On their behalf it inquired into the qualifications of those who tended them, their medical skills, their command of English. It hazarded—for facts were facts, and must be faced—that these might not, perhaps, come quite up to the standards of Britain which the world envied.
Perhaps this unerring diagnosis of English society's fault lines from a perceived outsider—a woman and a foreigner—felt disconcerting or even impertinent to readers at the time. Could that explain The Nowhere Man's commercial and critical failure? Markandaya, a rarity in the mid-twentieth century as an internationally read Indian novelist, was previously known for finely-drawn portraits of her homeland. Her debut, Nectar in a Sieve, published in 1954 when she was thirty, is a cri de coeur on behalf of South Indian tenant farmers whose fates, in Hardyesque fashion, are buffeted by forces outside their control: industrialism, colonialism, heartless landlords, droughts and floods. The title is from a Coleridge sonnet: "Work without hope draws nectar in a sieve,/And hope without an object cannot live." An international bestseller, an American Library Association Notable Book, and a Book of the Month Club main selection (worth $100,000), Nectar in a Sieve also appeared on the curriculum at many schools and colleges. "Most Americans' perception of India," maintained the literature scholar Charles Larson, "came through Kamala Markandaya."
None of Markandaya's subsequent nine novels, published over the course of three decades (plus one, discovered posthumously, and published in 2008), matched the sensational success of her debut. Her name gradually faded from literary prominence. Not that she ever sought the limelight, even in her heyday. She wrote under a pseudonym (she was born Kamala Purnaiya and became Kamala Taylor when she married her journalist husband.) She rarely granted interviews, and brushed aside suggestions that her novels contained autobiographical details. For example, she claimed that unlike Srinivas,  she had not personally experienced any racism in Britain, although the subject preoccupied her. She was especially irritated by the Western coding of Christian as virtuous. "Britons condemn bad behavior as un-Christian," she said "and it is unconsciously offensive. Barbarity strikes as barbarous to anyone, not just to Christians."
Her most autobiographical novel is her second, Some Inner Fury, set amid India's turbulent campaign for self-rule in the 1940s. Like its heroine, Mira, Markandaya came from a prosperous high-caste family, worked as a journalist, agitated against British imperialism, and fell in love with an Englishman. But whereas Markandaya's cross-cultural relationship led to marriage and a child, Some Inner Fury has no such happy ending. Mira's romance with Richard, an Oxford-educated civil servant, cannot in her opinion withstand his being "of the ruling nation" and her own passionate nationalism. "There is no in between," she thinks ruefully. "You have shown your badge, you have taken your stance, you on the left, you on the right, there is no middle standing. You hadn't a badge?—but it was there in your face, the color of your skin, in the clothes on your back." Some Inner Fury drew comparisons to E.M. Forster's A Passage to India, and one US critic called it "actually a more valuable study of Indian upper-class life and problems than Forster's great novel." Another review characterized the story as "essentially a woman's viewpoint, and the expression of that viewpoint in very moving terms is Miss Markandaya's forte."
Markandaya, understandably, disliked the patronizing way in which she was called a female author, and the "Indian novelist" label felt similarly restrictive. "I would prefer," she said, "to be called just a writer, not a nationality. No critic has ever actually said 'she writes surprisingly good English for an Indian'—but the subliminal message was there, and duly received." How galling, then, to be in effect forced into retirement for being the wrong kind of Indian novelist. In the 1980s, the magical realist innovations of writers like Salman Rushdie and Amitav Ghosh gave Indian literature an exciting and lucrative new image, and Markandaya was deemed passé. Publishers, seeking the next Midnight's Children, offered her no more book deals. Twenty years before her death in 2004 at age seventy-nine, she permanently disappeared from public view. Yet she is still remembered by some as the pioneer who, the author Manu S. Pillai wrote recently, "told India's tales to the world beyond, and brought a young, new nation into the global literary conversation." With The Nowhere Man, Markandaya wrote a British state of the nation novel whose acuteness and depth of understanding, unsung at the time, resounds eerily today.
Emma Garman has written about books and culture for Lapham's Quarterly Roundtable, Longreads, Newsweek, The Daily Beast, Salon, The Awl, Words Without Borders, and other publications. Read her previous Feminize Your Canon columns, about Violette Leduc, Dorothy West, Rosario Castellanos, Violet Trefusis, and Olivia Manning.