Our monthly column Feminize Your Canon explores the lives of underrated and underread female authors.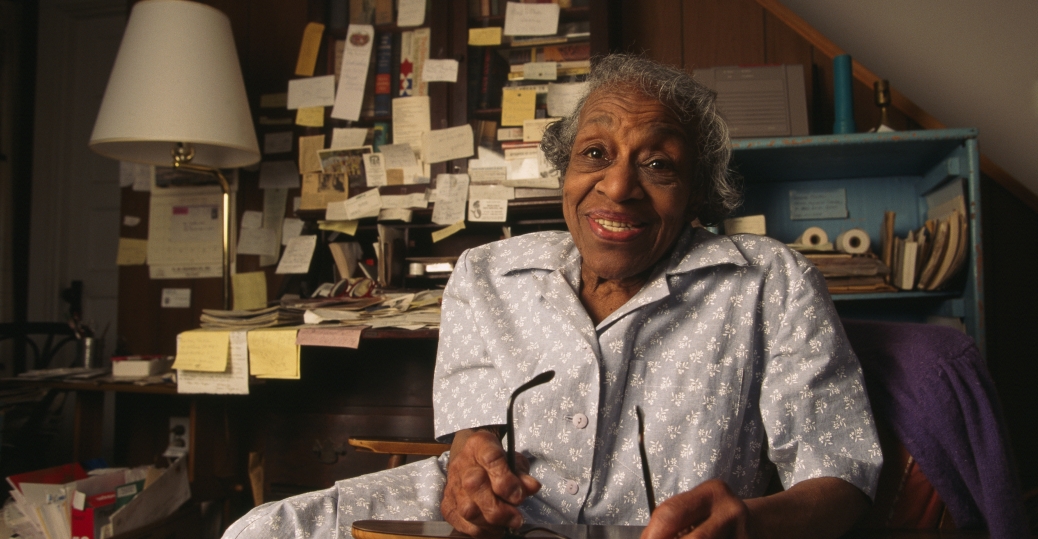 The career of the Harlem Renaissance writer Dorothy West featured one of the most remarkable second acts in literary history. Almost half a century after her trailblazing debut novel, The Living Is Easy (1948), West published her second novel, The Wedding (1995), at the age of eighty-seven. It received an ecstatic reaction. Jacqueline Kennedy Onassis, at the time an editor for Doubleday and a fellow resident of Martha's Vineyard, had encouraged West to complete the long-gestated work, which West dedicates to the late Onassis. "Though there was never such a mismatched pair in appearance," West writes, "we were perfect partners." Set on the Vineyard on a single summer weekend, The Wedding is narrated by an irresistibly droll omniscient voice that veers across centuries to trace the knotty, reverberating heritage of an affluent African American family. An instant best seller, it was adapted for television by Oprah Winfrey. The ABC miniseries, starring Halle Berry, aired not long before West's death at ninety-one. When asked what she wanted her legacy to be, she said: "That I hung in there. That I didn't say, I can't."
In the decades between her two novels, West published short stories—she was one of the first black fiction writers to be published in the New York Daily News—and for many years, she wrote columns for the Vineyard Gazette. Yet her enormous early promise seemed destined to go unfulfilled. Her name was but a footnote to the Harlem Renaissance, of whose luminaries she was the longest living but, then and still, the least famous. One reason West gave for her long spell out of the limelight was that she felt alienated by the black militancy of the sixties. When watching television in that era, she said, "almost all of the black people I saw, I didn't like what they were saying." Though she was already working on The Wedding, she worried that its backdrop of privilege and its message of communality ("Color was a false distinction; love was not," one central character muses) would go down poorly in an atmosphere abuzz with Malcolm X's revolutionary separatist rhetoric. 
West's small-c conservative outlook and her work's distinctive focus on upwardly mobile, status-conscious African Americans complicated her relationship with commercial publishing. Like her older contemporary Jessie Redmon Fauset, whose first novel was initially rejected because, the publisher stated, "white readers just don't expect Negroes to be like this," West was caught between conflicting demands. When she submitted short stories that didn't mention the characters' race, magazine editors—employing euphemisms like passion and vitality—would say they wanted stories about black people. (James Baldwin elicited a similar reaction after setting his second novel, the masterpiece Giovanni's Room, among white expatriates in Paris. Knopf refused to publish it—and not simply because they balked at a gay love story; only another Harlem book from their "Negro writer" would do.) Meanwhile, Houghton Mifflin, who had published The Living Is Easy to critical acclaim but not commercial success, turned down a precursor to The Wedding. They found Where the Wild Grape Grows "beautifully written" but feared another book about the black middle class wouldn't sell. When West was passed over for a Rosenwald fellowship (grants of a thousand to two thousand dollars awarded to African American artists and writers), she suspected the judging panel of deeming her work not "racial" enough. "Writers are always advised to write about what they know best," she later reflected ruefully, "and the black middle class is what I know best."
The scholar and writer Thulani Davis, however, has welcomed West's autobiographical portrayals precisely because her milieu is culturally underrepresented. "The complexity of our universe," Davis said after The Wedding was published, "is generally not reflected in the mainstream media, where blacks are usually viewed as working class, unemployed, troubled by pathologies. For me, all the pieces of the pie help give a more rounded view of our world." Davis also suggested that West didn't crave public renown. "She was a loner, content, self-sufficient. She lived without the need to be rich or famous, without those drives that are so typical of writers."
West led a thoroughly unconventional twentieth-century existence. A female intellectual who never became a wife or a mother, she instead dedicated herself to writing. Her serious romantic relationships were with women. "I did not want to get married and have to nurse a man," she said, "because I've seen that. The man becomes the woman's child." Verner D. Mitchell and Cynthia Davis, the authors of Literary Sisters: Dorothy West and Her Circle, suggest that West's first love was Mildred Jones, an artist whom she met in 1932. And West's longest intimate relationship was probably with Marian Minus, a writer and political activist. The two women lived together in New York and Martha's Vineyard, where Minus, a capable mechanic, was often seen under the hood of a car while West passed her a wrench.
Still, the always discreet and private West was untouched by headline-worthy scandal and uninterested in courting the kind of controversy that, especially for artistic women, fires the popular imagination. In a recent Slate essay, "Rebel Girls and Children's Books: In Defense of Well-Behaved Women," the author Joanna Scutts critiques the pervasive tendency to valorize female role models for their uncompromising fearlessness and defiance in a masculine-coded "heroic version of history." One of the books Scutts mentions is Vashti Harrison's best-selling Little Leaders: Bold Women in Black History, which among its forty worthy subjects features the writers Phillis Wheatley, Zora Neale Hurston, Maya Angelou, Audre Lorde, and Octavia Butler—but not West.
Well-behaved from the cradle to the grave, West often said her strict mother had shaped her habits. Rachel West, the beautiful and dynamic South Carolinian daughter of emancipated slaves, cherished and cultivated her family's membership in Boston's established black bourgeoisie. Their New England society was a bastion of good breeding, she taught her daughter, where class was more important than color. When nineteen-year-old Dorothy moved to New York City in December 1926, Rachel warned that New Yorkers were "real prejudiced." She cautioned that while those of "a proper background"—that is, Boston Brahmins—would not lower themselves to displays of ugly racism, no such manners could be expected in New York.
Even with her mother's words ringing in her ears, West found the city exhilarating. Getting off the subway in Harlem with her cousin, the poet Helene Johnson, she discovered "all these colored people all over the place, just on street corners. We had never seen so many colored people … Of course we fell, as everyone does, in love with New York." West, who enrolled for writing classes at Columbia University, had already published short fiction: her first story appeared in the Boston Post when she was fourteen, and thereafter she regularly won the paper's weekly short-story prize. Her vocation was clear far earlier, though. At age seven, she asked her mother if she could lock her bedroom door. "I said I wanted to write stories and that you had to be by yourself when you wrote them because you had to think hard to make them come out right."
West's career launched in earnest in spring 1926, when she and Zora Neale Hurston tied for second prize in a short-story contest held by the National Urban League's black culture journal, Opportunity. West's entry, "The Typewriter," is an astonishing achievement for a writer not yet twenty years old. A breviloquent tragedy of the American Dream from the perspective of a sensitive middle-aged office janitor, the tale displays the preternatural empathy that was to distinguish all of West's work to come. The nameless protagonist, who as an "eager Negro lad of seventeen" had come north full of ambition and optimism, is defeated and browbeaten when the story opens. But he finds profound and unexpected solace in role-playing J. Lucius Jones, a "dealer in stocks and bonds," while helping his daughter, Millie, practice typing and taking dictation. "Occasionally—and it must be admitted, ashamedly—he made surreptitious ventures into the dictionary. He had to, of course. J. Lucius Jones would never say 'Y'got to' when he meant 'It is expedient.' " "The Typewriter" was also selected as an O. Henry Memorial Award story and published in a collection with work by Dorothy Parker, Edith Wharton, and F. Scott Fitzgerald.
At the Opportunity awards dinner at a New York hotel, West met Hurston and other now iconic writers, including Countee Cullen, Wallace Thurman, and Langston Hughes. All would become close friends. That summer, West returned to Massachusetts and summered as usual at her family's Vineyard cottage, but the thrilling creative vanguardism of New York, with all its sophistication and intellectual promise, beckoned. Her parents were sympathetic. Rachel was proud of Dorothy's literary gifts, and her father, Isaac West, a former slave who left Virginia for the North after the Civil War and became a successful fruit merchant, likewise supported his precocious daughter's dreams. "Your little head is for making books, writing books," he once told her. "Mine is for buying and selling bananas."
Upon her return to New York that December, West was welcomed as the youngest member of the blossoming movement of extraordinary black writers, artists, filmmakers, and musicians eventually dubbed the Harlem Renaissance. "We never even heard the words," West said in later life. "We were all single, we were all young—the oldest was 30, which seems terribly young to me now. We were all on our own." Hughes affectionately christened her "the kid." To Hurston, who let West and Johnson stay at her apartment on West Sixty-Sixth Street, she was "little sister." With Cullen, who found her "a fascinating and lovable child," West enjoyed the new loosening of gender rules and attended drag balls. They even discussed marriage, though he was motivated less by romance than by the prospect of curing his homosexuality. Perhaps West thought the same. And Thurman was her trusted adviser, both for writing and life. According to West's biographer Cherene Sherrard, Thurman based the character of Emma Lou in his debut novel, The Blacker the Berry, on his youngest friend. None of the group ever had any money, but they found ways to survive. West recalled: "You invited a crowd of people to your studio, charged them admission, got your bootlegger to trust you for a gallon or two of gin, sold it at 15 cents a paper cup, and cleared enough from the evening's proceedings to pay your back rent and your bootlegger. There was usually sufficient money left to lay in a week's supply of liquor and some crackers and sardines."
Over the following two decades, through the end of the Harlem Renaissance (an end that West attributed, in part, to Thurman's tragic, alcohol-hastened death at the age of thirty-two in 1934) and the years of the Great Depression, West kept writing while trying to keep afloat financially. She founded a literary magazine, Challenge, which she collaborated on with Minus and Richard Wright, until Wright ousted West in order to impose a more communist editorial stance. "I guess you could say I was passive," West said of that hostile takeover. "Plus, I was small and my voice soft." But she added, a touch acerbically, "I was never crazy about Richard Wright because he was so timid and afraid of white people."
During this period, West also worked as a welfare investigator and as an interviewer for the Works Progress Administrations's Federal Writers' Project. Due to her race and sex, resources that might have allowed her time to finish a novel were scarce. The artist colony Yaddo, for example, excluded African Americans until 1941, when its founding director, Elizabeth Ames, lobbied the board to join "the good society of those who are fighting against racial discrimination." Hughes was granted a fellowship, but it would be many years before Yaddo invited a woman of color.
When opportunities did come along, there were often strings attached. West and Johnson were both sexually harassed by Carl Van Vechten, the bisexual writer and photographer who was a patron to many Harlem Renaissance figures, as well as a wielder of influence at Vanity Fair. "You don't know what we had to go through back then, and I'm so glad you don't," West told the author Deborah McDowell in 1985. "In so many ways, we were so helpless. In those days, the women were just like excess baggage or fair game."
In 1943, West drew a line under her formative years and went to live on Martha's Vineyard. Away from the tumult of New York, she completed The Living Is Easy, which was published in 1948, when she was forty. A gripping historical satire of class and colorism that should be shelved alongside Wharton and Henry James, its charismatic main character is Cleo Judson, a social-climbing Bostonian matriarch based on West's mother. A feminist before the word was invented, West said, her mother "could just stand in a room and every eye was focused on her. She had some personality, a strong personality." And Rachel West apparently loved the novel, even though Cleo is one of the most deliciously Machiavellian creations in literature. She has two goals, in service of which she doesn't hesitate to lie, scheme, and manipulate: to be wealthy and respected and to have her three sisters living under her roof and her control.
Cleo, whose beauty and light complexion confer a high rank within Boston's early-twentieth-century black elite, regrets the "cocoa-brown" skin and "generous nose" of her little daughter, Judy, and is drawn emotionally and erotically to Lenore, the hostess of an infamous gambling den who "passes" with her blonde hair and blue eyes. In this world, rendered as a kind of tragedy of manners, social striving and thrall to artificial markers of status take precedent over anyone's feelings or, indeed, their future happiness. When Judy is accepted, sight unseen, for a prestigious dance class, the teacher, on meeting her, "cloaked her chagrin with a delicate clearing of the throat." As a child, West attended a similar class, where the mothers looked at her and said, "What is that little dark girl doing here?"
Of all the romantic relationships depicted, only Cleo's sisters love their husbands. But Cleo is poised to willfully destroy their marriages, both to prevent the women from leaving Boston (where they are visiting) and because accepting the "lower class" men as relatives would mar the image that Cleo has carefully constructed. After all, the day-to-day lives of Cleo's circle "were narrowly confined in a daily desperate effort to ignore their racial heritage. They did not consider themselves a minority group. The Irish were a minority group, the Jews, the Italians, the Greeks, who were barred from belonging by old country memories, accents and mores … Though they scorned the Jew, they were secretly pleased when they could pass for one. Though they were contemptuous of the Latins, they were proud when they looked European … There was nothing that disturbed them more than knowing that no one would take them for anything but colored."
In The Wedding, West offers a more nuanced and succinct take on the same themes. In the late summer 1953, the prosperous Coles family is gathered on the Vineyard for the nuptials of their lovely scion Shelby Coles to a white jazz musician. The impending wedding brings to a head the foundational illusion of their lives: that skin color is "a direct barometer of virtue," as Shelby's sister, Liz, sarcastically puts it. West tracks the idea's evolution and its fallout by telling the stories of the family's ancestors, black and white, from back when "cars hadn't yet been invented, cocktails hadn't yet been invented, and the idea of colored people taking vacations had not yet been invented either." In a more recent flashback, a young Shelby gets lost, and the islanders are on the lookout for a "little colored girl." But blonde Shelby isn't recognizable as such, and when she tells her name to a white mother, the woman is at first confused and then reluctant to ask if she's "colored." "I couldn't do anything as awful," the woman says to her friends. "Supposing she isn't? It might leave a scar."
"West's novel," Leon Forrest writes in the Los Angeles Times, "shows why the 'black is beautiful' commandment emerged from the depths of suppression, like a howling apocalypse."  In the New York Times Book Review, Susan Kenney compares West to William Faulkner and raves, "It's as though we've been invited not so much to a wedding as to a full-scale opera, only to find that one great artist is belting out all the parts. She brings down the house." There were, of course, a handful of critics who found West's themes trivial and old-fashioned in a novel set during the most pivotal era of the fight for civil rights—the very reaction West had originally feared. Yet today The Wedding and The Living Is Easy, with their complex portraits of underdocumented lives and sensibilities, read not as politically passé but as highly relevant to contemporary feminist debates around intersectionality, colorism, and hegemonic beauty standards.
West's work is also timelessly cinematic, with painterly visual descriptions and pitch-perfect dialogue that ranges across class, region, race, age, and gender. When Winfrey optioned The Wedding, a principal enticement was, in her words, its "unique" depiction of Oak Bluffs, the African American vacation enclave of Martha's Vineyard (though she was disappointed with it in reality and chose a grander location in Wilmington, North Carolina). The Living Is Easy has never been adapted to film, but its snapshot of World War I–era patrician black Bostonians is equally unique. And seventy years after the novel's publication, its propulsive plot and protofeminist antiheroine seem tailor-made for the prestige drama treatment—and for the mass audience that West (not to mention the redoubtable Cleo) deserves.
Emma Garman has written about books and culture for Lapham's Quarterly Roundtable, Longreads, Newsweek, The Daily Beast, Salon, The Awl, Words Without Borders, and other publications.