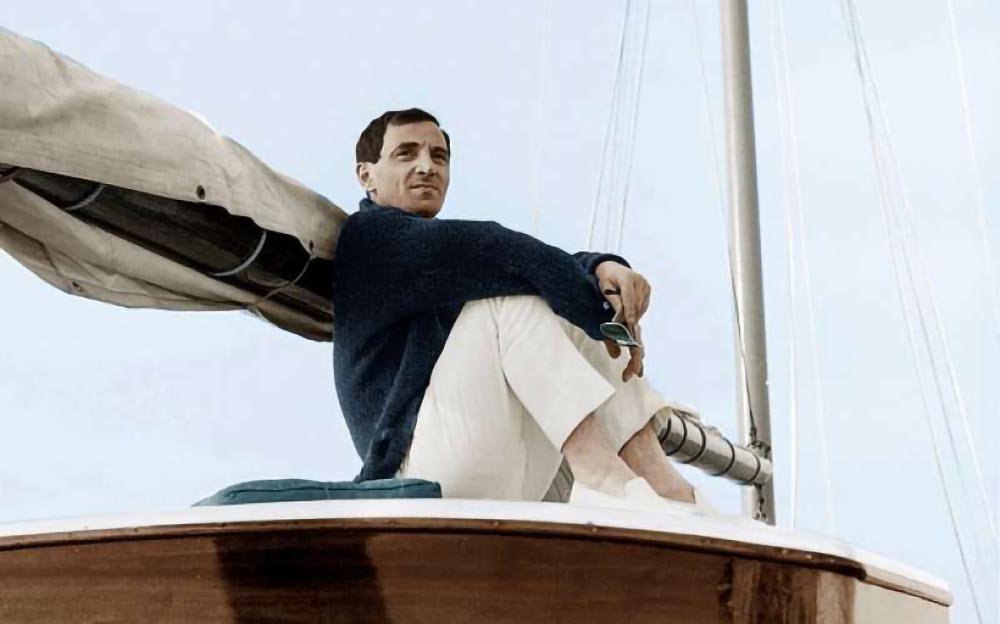 When he passed away this week at the age of ninety-four, the singer, songwriter, and actor Charles Aznavour was still touring. He was a living link to the golden age of French chanson. As a young man, he had been maligned as short and ugly, an immigrant with a hoarse voice, but he became a protégée of Édith Piaf, and then a global star in his own right. While his success in the anglophone world never equaled his renown in other countries, he was, by any reckoning, one of the twentieth century's most popular entertainers, often referred to as the French Sinatra (Aznavour sang with Sinatra on the latter's Duets record). He sang in five languages, appeared in at least thirty films, wrote somewhere in the vicinity of a thousand songs, and sold hundreds of millions of records worldwide.
"I am popular because I am like everybody in France," he told Lillian Ross in 1963. "My face is the face of anybody. My voice is the voice of anybody. My face is the face of their hope." That face was a soft inverted triangle, with mournful, wide-set eyes over a pursed, ironic mouth and parenthetical dimples—atop the trim, muscular but miniature frame of a lightweight boxer (he described himself as "short and a bundle of nerves"). He embodied for many devotees of chanson the combination of masculinity and vulnerability, of sincerity and self-conscious drama, that is a hallmark of the style.
As a songwriter, he was at the vanguard of a more personal, naturalistic vision of chanson known as chanson réaliste, which emphasized, he said, "subjects that were near the knuckle": romantic malaise in "You Let Yourself Go," a sympathetic portrait of a gay transvestite in "What Makes A Man," the expressionistic masochism of the alcoholic in "I Drink." Toward the end of a memoir studded with excerpts of lyrics carefully placed next to relevant memories, he denied that his songs were autobiographical. "My originality was in the lyrics, not the music," Aznavour wrote. "Take away the music and you can recite them onstage." His early hero, Maurice Chevalier, was shocked at Aznavour's songs, which used what he considered a vulgar vernacular and were banned for a time from French radio. "There are things one just can't say in chansons," Chevalier told him. "Soon everyone will start saying them," Aznavour replied. "When I want to say merde I say it, when I want to say piss, I say piss … My vocabulary is the same in my chansons as in my speech." He insisted on realism in the songs' narratives as well. Yves Montand turned down Aznavour's "J'ai bu" after Aznavour refused to take his suggestion that the narrator commit suicide at the end. If every drunk in France killed themselves, Aznavour replied, it would reduce the population by a third.
His commercial success was more robust than his critical acclaim: Aznavour was a crowd-pleaser. He didn't have the sexual explicitness of his contemporary George Brassens, the bleak existential cynicism and passionate melodrama of the younger Jacques Brel, or the ironic, rock-influenced provocations of Serge Gainsbourg. He had none of the nihilism that made those men appealing as cult figures. In the anglophone world, his lyrics suffered from bowdlerized translations that smoothed out their rougher edges, unlike the Mort Shuman adaptations of Brel. But he was undeniably, as Life once said, an "international show business phenomenon."
The filmmaker François Truffaut initially approached Aznavour about making a documentary of his life, before writing for him the anhedonic titular role in 1960's Shoot The Piano Player. (Jean-Luc Godard also reportedly considered him for the lead in Breathless, and he had a supporting role in the Oscar-nominated adaptation of The Tin Drum.) "Like Sinatra," wrote Pauline Kael, Aznavour "is an instinctive actor and a great camera subject." Slim, dour, and self-contained, with a melancholic dignity and a lowercase grin, Aznavour's performance mixed farce, tragedy, street philosophy, romance, cynicism, and hope. "I am an actor only when I sing," he told Lillian Ross in The New Yorker. "It is not my business [on film]. I am simply there, I am empty. Others put things in me. It is an art to be empty."
In his 2005 memoir, he spoke of planning a long fade-out into retirement: "I have no wish to die on stage," he wrote. "I have already written my epitaph: 'Here lies the oldest man in the cemetery.'" But what was announced as a farewell tour in 2006 stretched on another decade. "We live long, we Armenians," he told the Times in 1992. "I'm going to reach 100, and I'll be working until I'm 90." He almost did, and he was.
*
He was born Shahnour Aznavourian ("Varouch" to his mother) in 1924, the second child of recent Armenian immigrants to Paris. His first name was quickly changed to the more francophone Charles, and his last name was shortened early in his performing career. In his several memoirs, Aznavour describes a family that spoke Armenian in the house, and "kept our language, traditions, folklore, and religion … with a sense of humor and misfortune." Armenians, he wrote, "are very emotional and cry without the slightest hesitation." It was a raucous household. His father, Misha, was a cook, a good-time Charlie, and a nightclub enthusiast. His mother, Knar, was a seamstress. Both were enthusiastic amateur performers who organized, with their friends, theatrical revues-cum-banquets with their friends. They moved often. Charles taught himself piano, and he and his sister, Aida, began to write songs together. At the age of nine, he heard Maurice Chevalier on a café gramophone, and the music-hall singer became his idol.
When Caucasus, a Georgian restaurant Misha was running with Charles's grandfather, went under in the 1930 depression, Charles was thrilled: "I'll go begging in the streets with Aida, and I won't have to go to school anymore." But his father found work at a bistro across the street from a school for performers, the Ecole de Spectacle, where Charles eventually enrolled. He and Aida had already begun performing for Armenian audiences—she sang, he did "Russian dances." He began to audition for theatrical work, taking up smoking to fit in backstage, and eventually was cast as "a little black boy," using a schoolmate as a model.
He joined a series of theater troupes, performing both childrens' shows and juvenile parts in adult plays. At twelve, he was hired by a series of Parisian revues and radio broadcasts as a singing act. He played in drag, and on instruments ranging from the metallophone to upright bass. He came in second in a competition to a singer "with a voice as powerful as a foghorn" and took away another lesson: "Frenchmen like singers with a lot of voice." As a young teenager, though, playing at being a street tough, he discovered that he got more attention from girls for his singing than "when I played terror tactics."
In 1939, World War II interrupted his education. When his father enlisted as an army chef, Charles took to the streets and the black market. He sold chocolate, perfume, and lingerie, as well as bicycles that had been abandoned at the train station by Parisians fleeing the city, to the occupying German soldiers. He forged ration cards for his family's bread and dealt in bootleg sugar and coffee. He continued to perform in cabarets, doing dance, acrobatics, comedy, playing piano, and emceeing. For a while he commuted on roller skates (in his third-person telling), "a packet of music scores under his arm, wearing a balaklava helmet pulled down over his ears, the flaps tucked into a large, faded dark-brown Canadian bush jacket … stained with make-up." He resoled his worn shoes with rubber from bike tires.
His prominent nose attracted "the attention of occupying forces, who took me for a Jew hiding out in the middle of the [theatre] company." More than once, he had to produce his uncircumcised penis as proof.
In 1944, he began an eight-year partnership with pianist Pierre Roche. Roche was a jazz nut; Aznavour's tastes tended more toward tangos and waltzes, but their reputation grew—"in any case people began to know we were singers and not acrobats"—and brought them to the attention of Édith Piaf.
The older woman, already a star, had a habit of adopting younger men (including Yves Montand and Georges Moustaki) as protégées—and, often, lovers—making them over with watches and suits to her taste, and encouraging them to sing. They were "condemned to stardom," as one writer put it. She came to see Roche and Aznavour in 1948, and, afterward, put Charles through a kind of test of his abilities at banter and dance. When he passed, she informed them that their duo would be opening her next tour. While he successfully resisted her attempts to get him into bed ("I think he loved Edith too much. Most of all, he was too decent," wrote Edith's half sister Simone Berteaut), Aznavour spent much of the next decade in her entourage. The youngest in the mercurial and demanding diva's circle, he became, in turn, her drinking buddy, chauffeur, lighting director, errand-boy, and general "dogsbody." She treated Aznavour like a kid brother, referring often to their shared pasts as street kids, and calling him her genie-con ("genius-idiot"). He, in turn, was devoted to the woman he called a sacred monster. Even decades later, describing their "amorous friendship," he would still seem enthralled and a bit hypnotized by her: "I adored every minute I spent as Piaf's slave."
It wasn't a matter of learning from her explicitly, he said, since her art was so instinctive there was nothing for her to explain. Unlike the rest of "Piaf's boys," he was no clone—"as a singer," said Berteaut, "he irritated her," and she would sometimes, by way of hazing, sabotage his three-song opening slots with bad advice. While she encouraged his songwriting, she turned down most of his songs (though when Juliette Gréco had a hit with Aznavour's "Je hais les dimanches," Piaf was furious). Aznavour's impulse toward recognizable, true-to-life lyrics was an uneasy fit with Piaf's taste for melodrama: "When she was feeling down in the dumps, to cheer herself up she would call me … and say, 'Hey—write me a song, and make sure you find me a new way to die." … I preferred to write about being alive."
In 1948, Piaf invited Roche and Aznavour to join her in the United States—without, however, providing for their passage. "Be men," she told them. "Find your way to America, and once you are there … I'll help you." They made their way to New York, only to be interned at Ellis Island for showing up without a visa. The duo spent their time entertaining their fellow detainees with a roach-filled piano. After singing parts of a popular Broadway musical to a judge, they were granted three-month visas. Piaf, suitably impressed, got them an engagement in Montreal (and bought Aznavour a nose job), which led to two and a half "wild and crazy years" in the francophone city.
Aznavour's return to Paris meant both the breakup of his eight-year partnership with Roche, who stayed behind in Montreal, and, shortly after, his own marriage. The split with Roche, he said, was the more painful. He moved in (platonically) with Piaf, sleeping on her couch. According to her half-sister, "[t]o write, he'd sneak into corners where she couldn't find him."
He eventually moved out of Piaf's house, on the advice of his publisher that he needed to get out of her shadow (though he never truly left her inner circle, and was in the car for the two serious accidents in 1951 which contributed to her morphine addiction). He found that bookings became a challenge—the Piaf connection had been a benefit to him, and when he left her, the chanson world assumed he'd been expelled. Finally, though, he had a breakthrough in North Africa in 1956, which he followed up with successful headlining shows at major Paris theaters like the Moulin Rouge, the Olympia, and the Alhambra. Although a major car accident in 1957 kept him from the stage for eighteen months (and, he said, in debt for twelve years), his career as a performer was made.
He had remarried in 1956 to Evelyne, who presumed to offer him career advice and who had ambitions of her own—"she was already the wife of the star I had not yet become."  He cultivated an image of the French ladies' man, charming and shyly chivalrous, quick to send roses, with a somewhat antiquated sense of the role of a wife and an eye for young women "whose Pygmalion I could become." (Among his affairs—"more than friendship and less than love"—was the teenage Liza Minnelli.) He fathered an illegitimate son, Patrick, who came to live with him at the age of nine and died at twenty-five in 1977, surrounded by "diet pills and beer cans," in an apartment Aznavour had bought for him. He married his third wife, Ulla, in 1967. They had three children and remained married until his death; she shunned the spotlight, he said approvingly, and had no interest in show business. He told the Daily Mail later, "For the first [marriage] I was too young; the second one I was too stupid; the third time I was right on."
*
Aznavour's art was, in large part, a dramatic one. Reviews of his performances emphasized their control. As Brendan Gill wrote in the New Yorker in 1983, he was "ruthless in the manipulation of his charm." Stephen Holden, in 2009, wrote in the Times that "every gesture has a pointed expressive purpose; not a twitch was wasted." He was, said the Times in 1966, a "diminutive man with the shabby look, the look of a French postman run down at the heels … that insignificant fellow lost in the shuffle of life." (Early in his career, he was advised by the singer Leo Fuld to play up his vulnerability: "If you want to become a star you must make women feel that you need consolation.") His first decades in show business were on music-hall stages with comedians and strippers, costumes and canned jokes, and he retained the vaudevillian's exquisite sense for choreographed moments. "Those people who said I wouldn't succeed were people who … saw me in those small cabarets," he wrote. "I am made for large stages … I must move about when I sing. I need as much space as a dancer."
The chanson tradition "ought to be," wrote Peter Hawkins in his book on the subject, "one of the most characteristic genres of post-modernity." A self-referential mix of poetry, theater, performance, and art song, chanson mixes vernacular slang with high-culture allusions while delivering lowlife tales to bourgeois audiences. Its relation to high culture, Hawkins says, "is similar to that of journalism to literature: serious art is what it aspires to, but only occasionally what it achieves." Chanson's self-conscious aspirations to poetry exist in a French context, where performative literary fluency by politicians and public figures is valorized. It can seem foreign in a culture like America, in which erudition and pretension can be a distinct disadvantage. Unlike art song (melodie), with which it shares some characteristics, chanson highlights the text rather than using it simply as a melodic vehicle; unlike the musical comedies and operettas with which it shares a sensibility, it privileges "self-contained mini-drama[s]" rather than a song that moves a larger story along. In a genre that so emphasizes dramatic presentation, its most successful figures emit not just a star's charisma but inhabit a recognizable and "coherent world-view."
Before 1960, popular entertainers drew from the tradition known variously in the United States as vaudeville, in England as music hall, and in France as chanson. The style was one of populist live entertainment by any means necessary: song-and-dance, low comedy, sleight of hand, theater, and melodrama. From moment to moment, it could be witty and sophisticated, then broad and ribald. But as the rock-and-roll era of American song dawned, this conscious theatricality put Aznavour (and other chansonniers) at odds with the anglophone audience.
While today, chanson and music hall still retain an influence in the popular culture of France and (to a lesser extent) England, the advent of rock in the United States relegated it to a black-and-white nostalgia around Tin Pan Alley, classic Broadway, and pre-rock icons like Frank Sinatra. The American fetish for authenticity in its performers, the idealization of rawness in sound and manner, a natural and unpracticed affect, disqualified the professionalized entertainers that had dominated popular music until that point. The broad, full-throated tenors and baritones (Anthony Lane has referred to Aznavour's "striving lungfulness") and the unironic emotional range of vaudeville have never been fully rehabilitated in American music: anyone who sings that way faces uncomplimentary references to Broadway or Meatloaf.
The politics of the rock era, too, discouraged the professional entertainer. The once-political term sellout, for musicians who worked within the popular entertainment superstructure, crossed over from the unionizing left of the thirties to the folk and blues revivalists of the fifties—where it mixed with a valorization of untutored folk artistry. The sleek, people-pleasing multitalent was seen as a chameleonic entertainer with no artistic core.
And yet, in the songs of chansonniers like Brel and Aznavour, or their English counterparts like Scott Walker or Neil Hannon, the defining characteristic is empathy and humanism, a focus on detailed character sketches. (Bob Dylan, who has occasionally covered Aznavour's "The Times We've Known" in concert, has also latterly explored the heritage of pre-rock popular music.) The melodrama is that of the human comedy: most people feel their triumphs and tragedies fully and sincerely, not from an ironic distance. "For an American critic," wrote Holden, reviewing the first leg of Aznavour's farewell tour in 2006, "Mr. Aznavour's freedom of self-expression … arouses frustration at the degree to which our popular culture has become so youth-centered. There is much to be said for popular songs that take the long view, exploring erotic love and loss at every stage of life and connecting generations."
Given the xenophobic turn in French politics, it is instructive to remember the immigrant nature of iconic performers like Brel (Belgian), Aznavour (Armenian), Django Reinhardt (Romani), and Piaf (Italo-Moroccan). Outsiders have always dominated the tradition, and their humanism flows from that status: many of the American Tin Pan Alley songwriters (Irving Berlin, the Gershwins) were Russian Jews, and Noel Coward was far from the only homosexual.
To talk about music in America is often to talk about an upwelling of underclass expression that is distinctly American, whether African American or rural white, whose influence runs one way, outward to the rest of the world. ("If my kind of song survives," Aznavour told the Times in 1992, "it will be in country music. Country music tells stories, and my songs tell stories.") But to appreciate Charles Aznavour as an American is also to reclaim an American place in an international tradition of sophisticated, cosmopolitan empathy and, yes, authentic human emotion and experience. A CNN poll that named Aznavour "Entertainer of the Century" in 1998 can be cited skeptically, but there is something admirable about the recognition of a man who never quite broke into America, the America that presumes its tastes in popular culture to be necessarily those of the world. A pre-rock entertainer who succeeded in multiple languages is one of the best responses to American cultural imperialism the twentieth century produced.
Franz Nicolay is a writer and musician whose work has appeared in the New York Times, Slate, The Kenyon Review, and elsewhere. His first book, The Humorless Ladies of Border Control: Touring the Punk Underground from Belgrade to Ulaanbaatar (New Press, 2016), was named a "Season's Best Travel Book" by the New York Times.