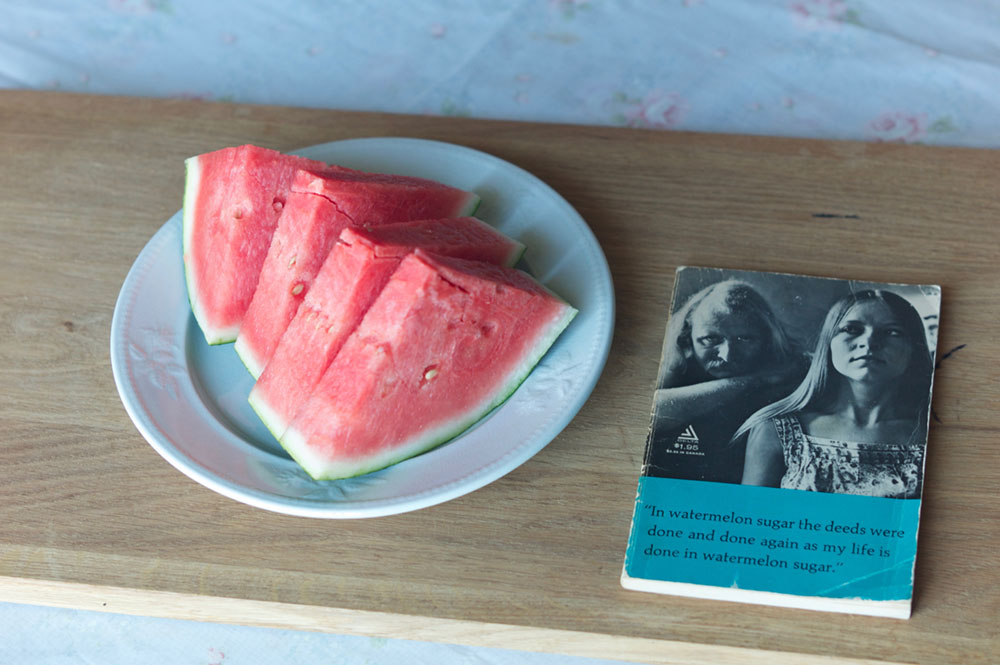 "In watermelon sugar the deeds were done and done again as my life is done in watermelon sugar. I will tell you about it because I am here and you are distant." These are the opening lines of In Watermelon Sugar, the third novel by Richard Brautigan (1935–1984), a poet who was published twenty-three times in Rolling Stone between 1968 and 1970 and who has been called the last of the Beats. The next lines read: "Wherever you are, we must do the best we can. It is so far to travel, and we have nothing here to travel, except watermelon sugar. I hope this works out."
Brautigan achieved literary fame after his second novel, 1967's Trout Fishing in America, captured the hearts of the counterculture and sold two million copies. He went into decline in the late seventies and early eighties and died by suicide in 1984 at age forty-nine. His books had a groovy design, which he controlled, and a kind of Hemingway-influenced minimalism. They've sometimes been called lightweight or dated, but his cult status has held nearly forty years after his death, so it seems his work will stand the test of time.
In Watermelon Sugar, my favorite of Brautigan's books, is a funny little dislocated story about people living in a commune called iDEATH. The novel's plot, such as it is, concerns possessive and materialistic urges leading to tragedy. In this story, the mysterious substance of watermelon sugar makes up shacks, lives, a dress (which "smelled sweet because it was made from watermelon sugar"), a chair, a state of being, and many things besides. Mixed with trout oil, watermelon sugar powers lanterns and other machines. Its definition slips around, but Brautigan is saying that the things we love form an interchangeable currency at the heart of our lives—it's all watermelon sugar in watermelon sugar. It doesn't quite make sense, but it feels true.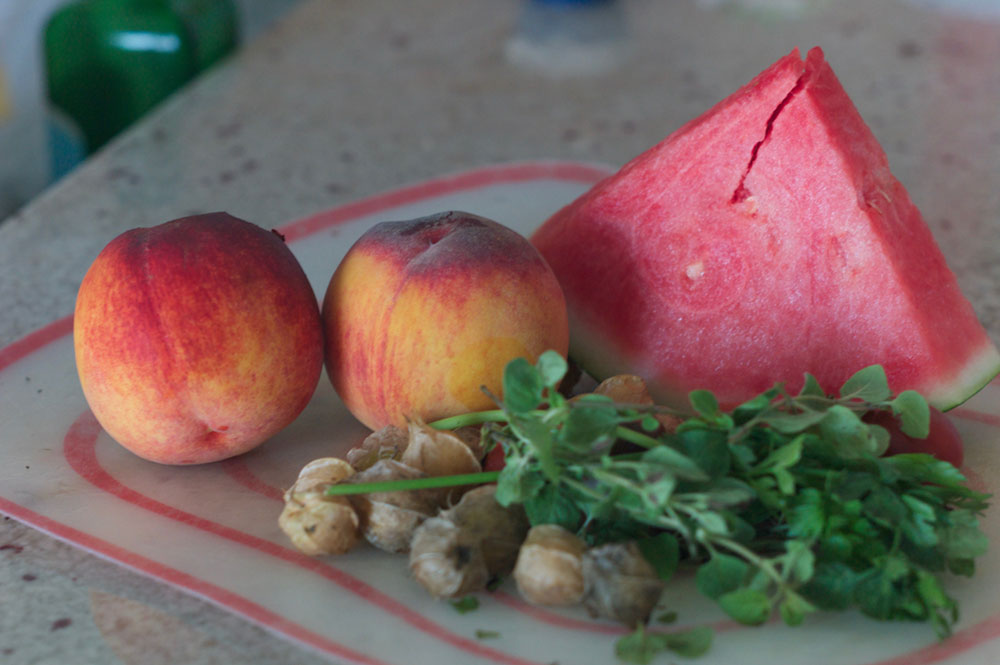 Such games with definition are at the heart of Brautigan's genius. The conceit of Trout Fishing in America is that "Trout Fishing in America" is a character, a friend of the narrator's, or maybe a pen or a hotel—or possibly also someone known as "Trout Fishing in America Shorty." As the narrator tells us the story of his life—a childhood friend, a fishing trip, a woman and a baby taken on hiking and camping trips—the mystery of Trout Fishing in America enlivens the mundane. Fishing might do that, too, or a concept of America might. The work is so loose and light that the reader has plenty of space to wonder.
Brautigan plays with the definitions of poems and novels and stories as well. His poems are like conversations. His novels are like poems. His short stories, which incorporate old letters, vintage cookbook material, and eavesdropped conversations, often have such a light and playful touch that it's difficult to tell why they work as stories, though they do. Here's a poem about a girl drinking a Coke that illustrates Brautigan's approach:
I remember you
drinking a coke.
I had never known
that somebody
drinking a coke
could be a beautiful poem.
Brautigan was often broke, and the many meals in his books are as simple and whimsical as his writing. A kid loves to make Kool-Aid. Giant statues of vegetables adorn the commune of iDEATH. A man makes carrots so frequently it becomes a running joke, though they're "mixed with honey and spices" and sound delicious. In Watermelon Sugar's narrator's favorite food is hotcakes; a woman stirs the batter for them "with a big wooden spoon, almost too large for her hand."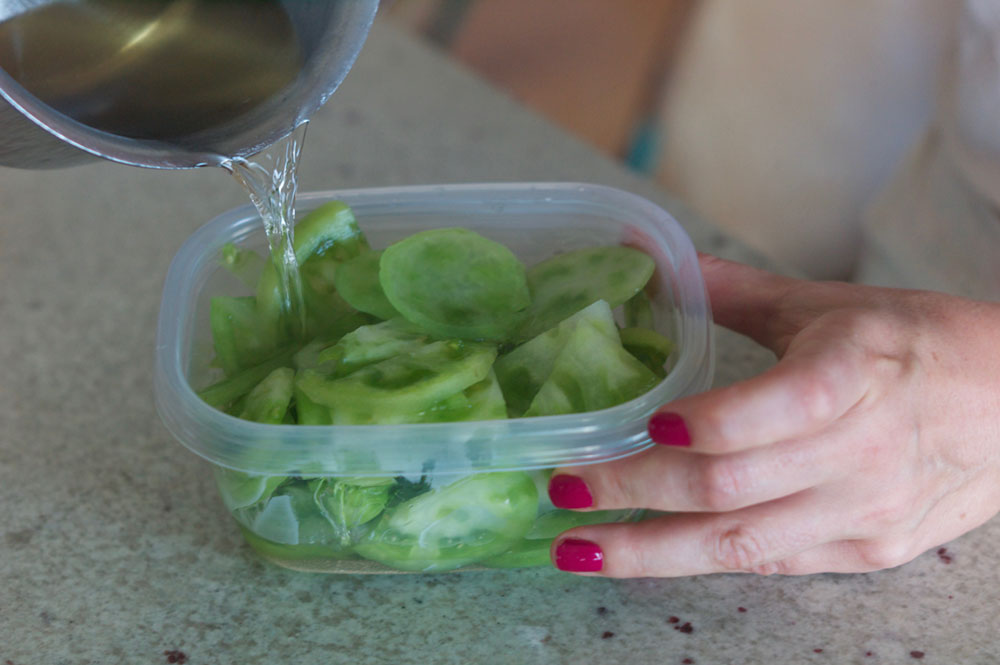 Because of my sentimental attachment to watermelon sugar, I ignored other possible menu items and made three watermelon dishes for Richard Brautigan, capturing the very end of the melon and stone-fruit season. I made a fancy-looking watermelon-and-smoked-trout salad, riffing off (and vastly simplifying) a Food & Wine recipe. Next was a late-summer salad of grilled peaches and watermelon, dressed with balsamic glaze and fresh herbs. Finally, I created a smoked-trout-and-sorrel salad, with carrots glazed in watermelon syrup, and a watermelon-syrup dressing. I don't know if Brautigan ever actually cooked them, but his two favorite ingredients turn out to be delicious together in any combination.
Brautigan also loved coffee. A short story called "Coffee" in the collection Revenge of the Lawn begins, "Sometimes life is merely a matter of coffee and whatever intimacy a cup of coffee affords." I took this as an opportunity to share, in our gourmet coffee–crazed culture, my solution for New York City's simplest and most affordable cup, brewed at home.
I did not sweeten it with watermelon sugar, but you could.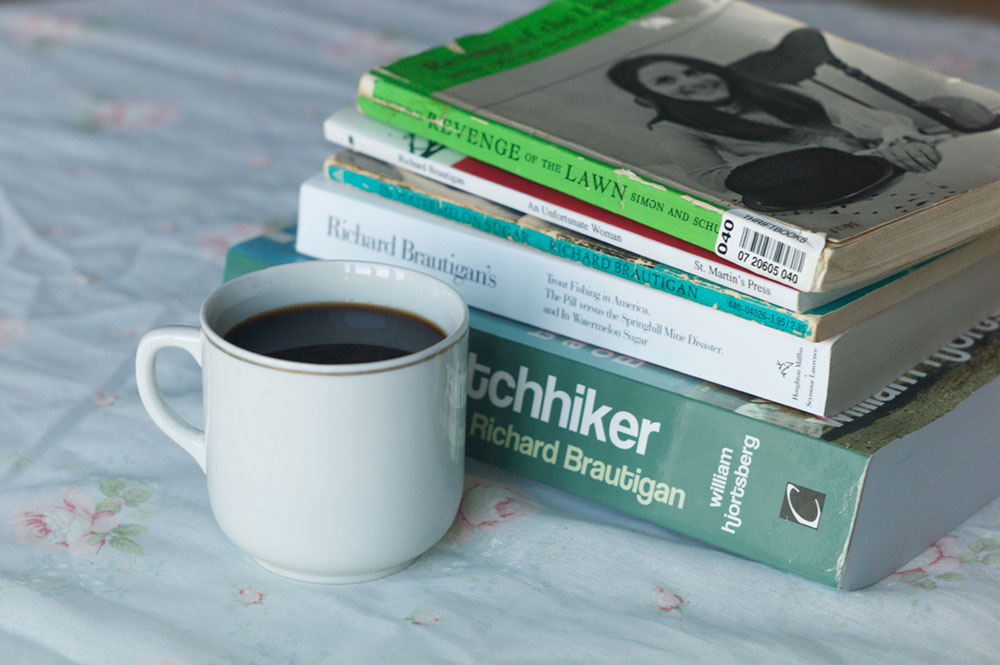 A Perfect Cup of Coffee
Using an ordinary filter coffeemaker, use 1 tbs Café Bustelo espresso-grind coffee for every cup of water. Bustelo costs $4.39 for ten ounces, about ten dollars less per bag than today's gourmet alternatives. No more steps—you're done!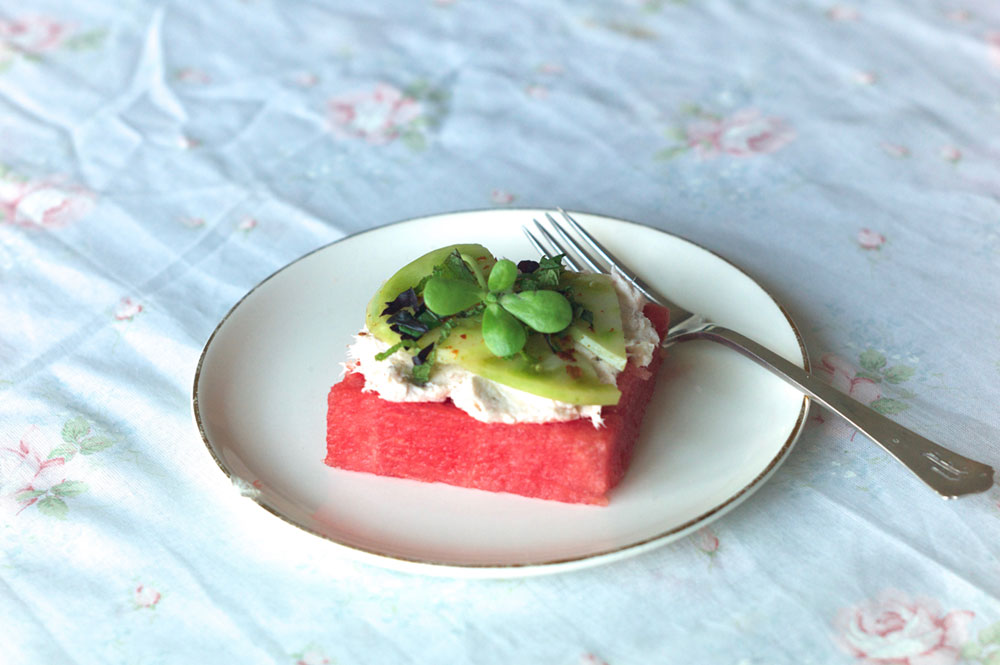 Watermelon and Smoked Trout Salad with Pickled Green Tomatoes
(This recipe is adapted from one found in Food & Wine.)
Serves 4
For the pickled green tomatoes:
1 green tomato
1/2 cup rice vinegar
1/4 cup water
2 tbs salt
4 tsp sugar
For the trout-and-goat-cheese spread:
4 oz goat cheese
juice of 1/2 lime
1/8 tsp salt
1/8 tsp coriander
2 tsp water, or more
1/2 cup smoked trout flesh, torn
To assemble:
4 watermelon slabs
1 tbs basil, thinly sliced
1 tbs mint, thinly sliced
4 sprigs of purslane, for garnish
1/2 tsp Aleppo pepper or pounded red chili flakes, for garnish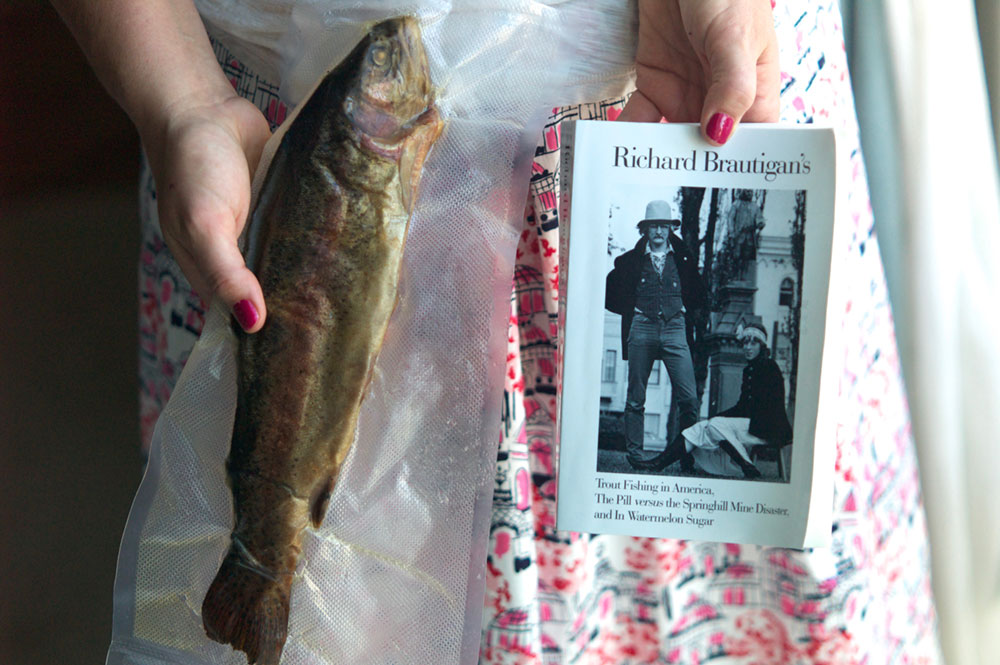 Make the pickled green tomatoes. First, make the brine by simmering the rice vinegar, water, sugar, and salt in a saucepan until the sugar has dissolved. Do not bring to a boil. Let cool slightly. While the brine is cooking, slice the green tomatoes very thinly, and then quarter. Put the tomato slices in a heat-resistant container that has a cover, pour the brine over, and let sit for at least thirty minutes before use.
Make the goat-cheese-and-smoked-trout spread. First, combine the goat cheese, lime juice, salt, and coriander in a small bowl. Stir to combine. Add water, 1 tsp at a time, to create a softened, spreadable consistency. The mixture should be smooth but not runny. Add the smoked trout and stir well to combine.
Slice the watermelon to create four 3-inch squares, about 1 inch thick. Spread each square generously with goat-cheese spread, top with pickled tomatoes, mint, basil, and purslane. Sprinkle with red pepper flakes. Serve immediately.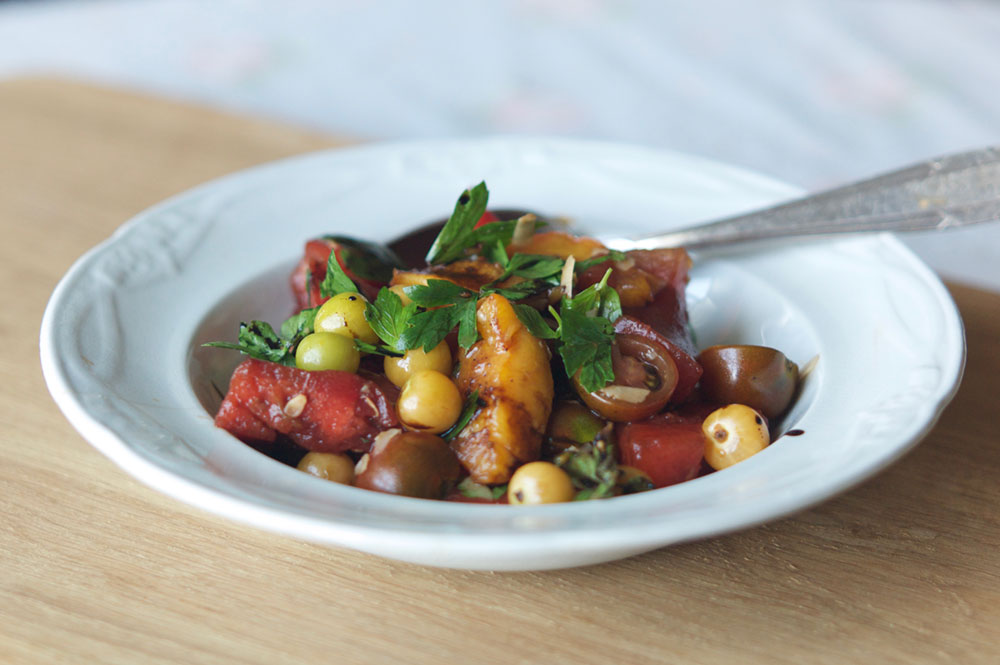 Grilled Watermelon and Peach Salad
(This recipe is adapted from one found on the blog Brooklyn Supper.)
1/2 cup balsamic vinegar
3 slices of watermelon, about 3/4 inch thick (from a watermelon that has been quartered), rind removed
3 large peaches
1 cup cherry tomatoes, halved
1/2 cup ground cherries, husked (optional)
1/2 cup parsley leaves
1/2 cup fresh oregano, chopped
juice of 1/2 lime
1/3 cup crumbled parmesan cheese
olive oil for brushing
salt and pepper to taste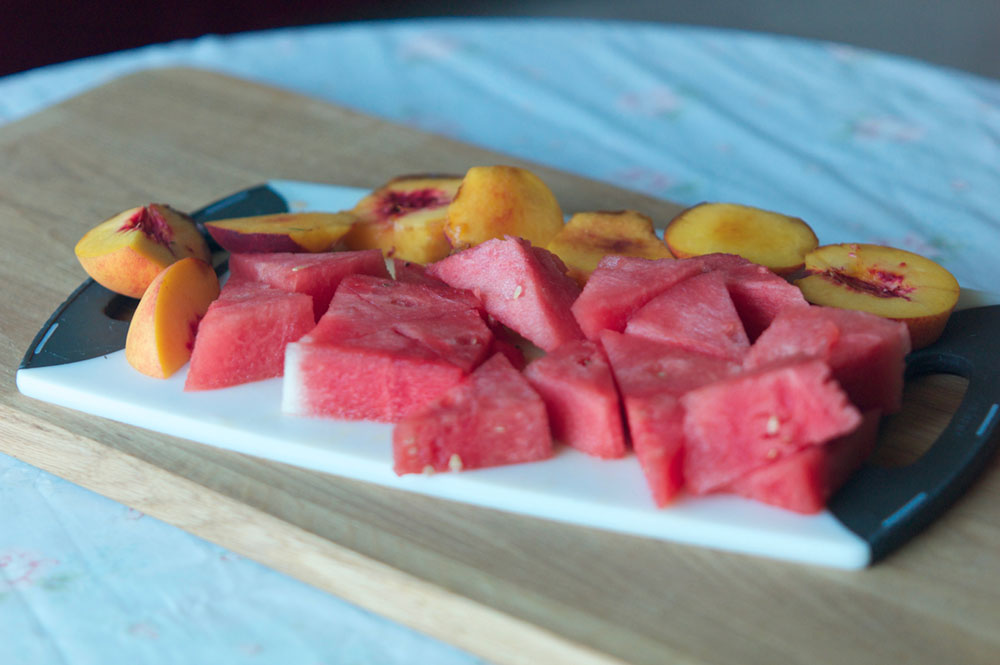 Make the balsamic reduction. Simmer balsamic vinegar in a small pan until reduced by half.
Prepare the peaches and watermelon for grilling. Halve the peaches, then cut through the halves vertically, so you have a total of four thick slices from each peach. Brush peach and watermelon slices with olive oil and cook on a very hot skillet or on a grill for three minutes per side, until the fruit is browning and beginning to caramelize. Chop the grilled fruit into bite-size pieces and drain in a colander for twenty minutes or until ready to assemble.
Toss together the cherry tomatoes, ground cherries, parsley, and oregano. Just before serving, combine with the grilled fruit and parmesan cheese, and toss. Drizzle with balsamic reduction, spritz with lime juice, and add salt and pepper to taste.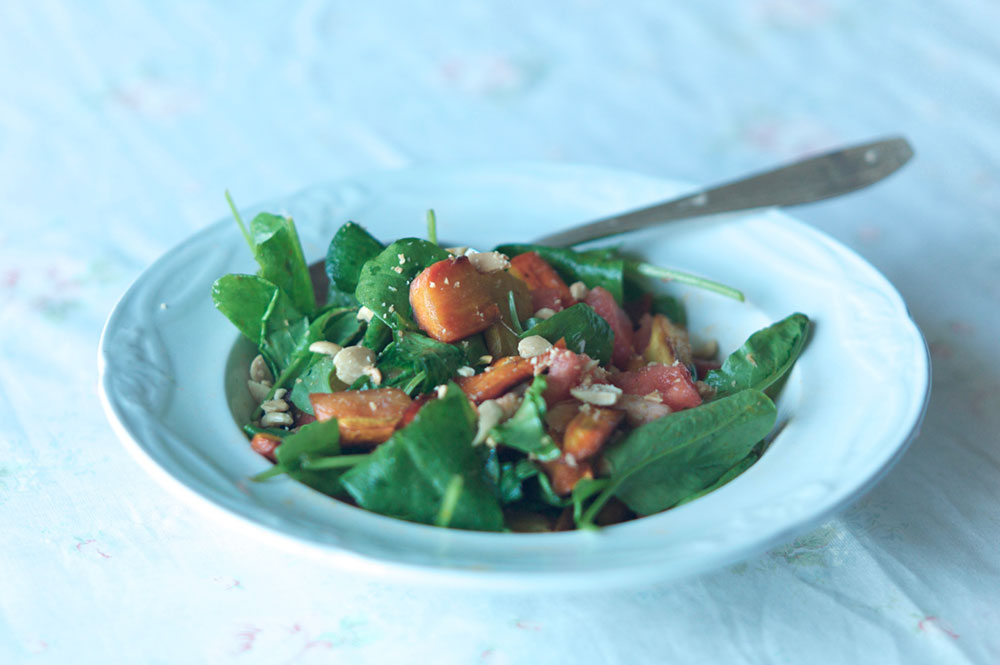 Sorrel, Carrot, and Smoked Trout Salad in Watermelon Syrup
For the watermelon syrup:
1/2 a large watermelon
1 cup brown sugar
For the roasted carrots:
6 large carrots, peeled and chopped
4 tsp olive oil
1/4 tsp salt
1/4 tsp ground cumin
2 tbs watermelon syrup
For the dressing:
4 tbs olive oil
2 tbs lemon juice
2 tbs watermelon syrup
salt to taste
To assemble:
4 cups green sorrel leaves
1 cup smoked trout, shredded
2 tbsp Marcona almonds, toasted and roughly crushed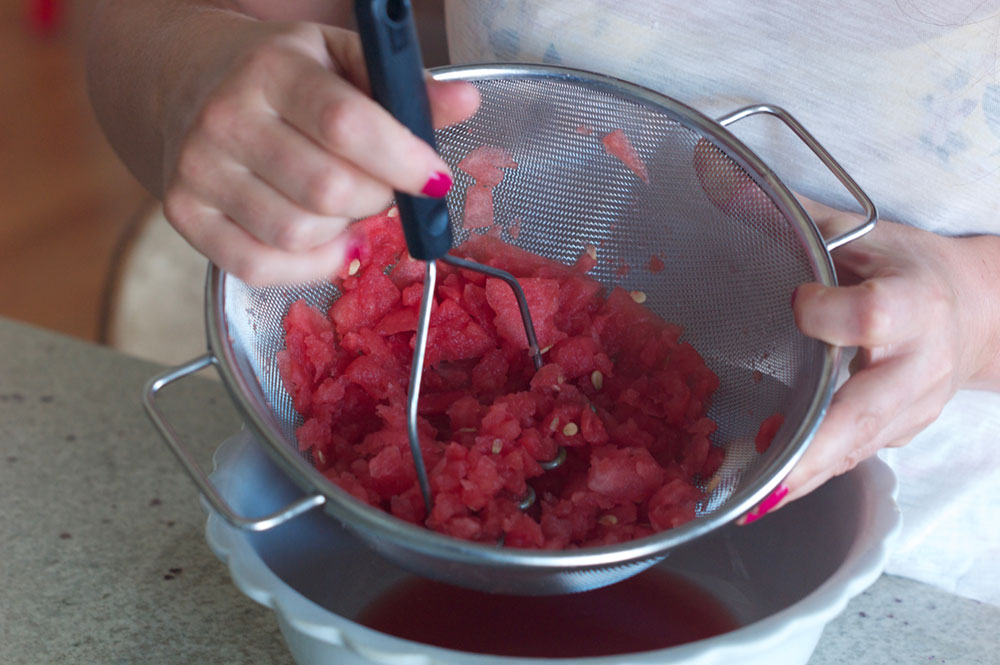 Make the watermelon syrup. Remove the rinds and cut the flesh from 1/2 a large watermelon into chunks. Puree in a blender, then strain. Combine the strained liquid with 1 cup of brown sugar in a medium saucepan, and bring to a boil. Simmer for thirty minutes or more, uncovered, until the liquid is thickened and reduced.
Make the carrots. Preheat the oven to four hundred degrees. Toss the carrots with olive oil, salt, cumin, and watermelon syrup in a glass baking dish. Roast at four hundred degrees for one hour, tossing every twenty minutes. Turn off the oven and let sit for fifteen more minutes to dry out and caramelize further before removing.
Make the dressing. Combine olive oil, lemon juice, watermelon syrup, and salt to taste in a small bowl. Whisk to emulsify.
To assemble, toss the sorrel, smoked trout, and carrots together in a medium serving dish. Top with the dressing and crushed almonds, and adjust seasoning to taste.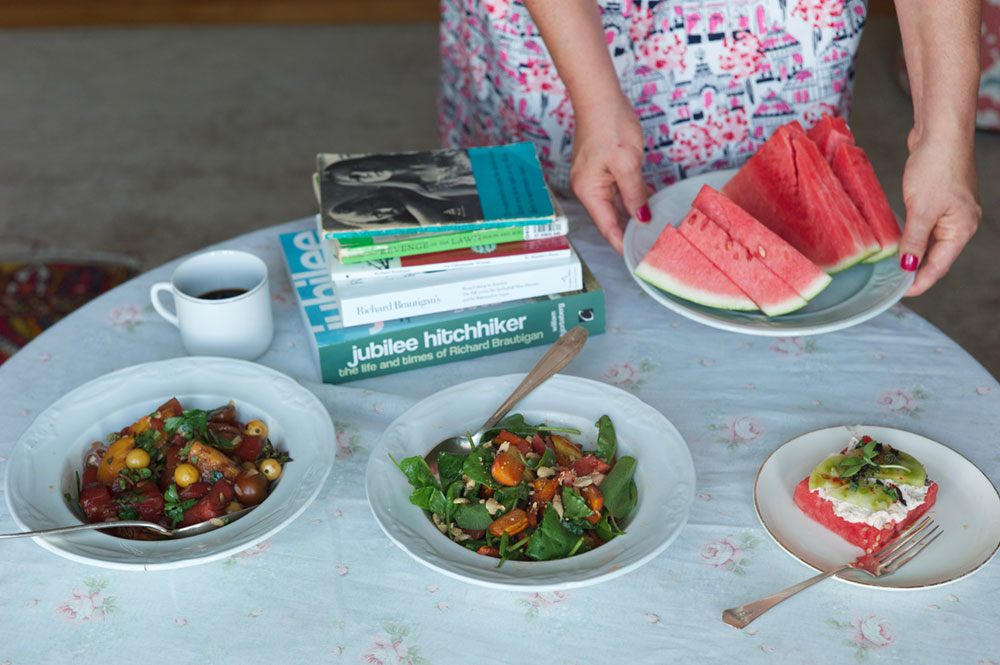 Valerie Stivers is a writer based in New York. Read earlier installments of Eat Your Words.