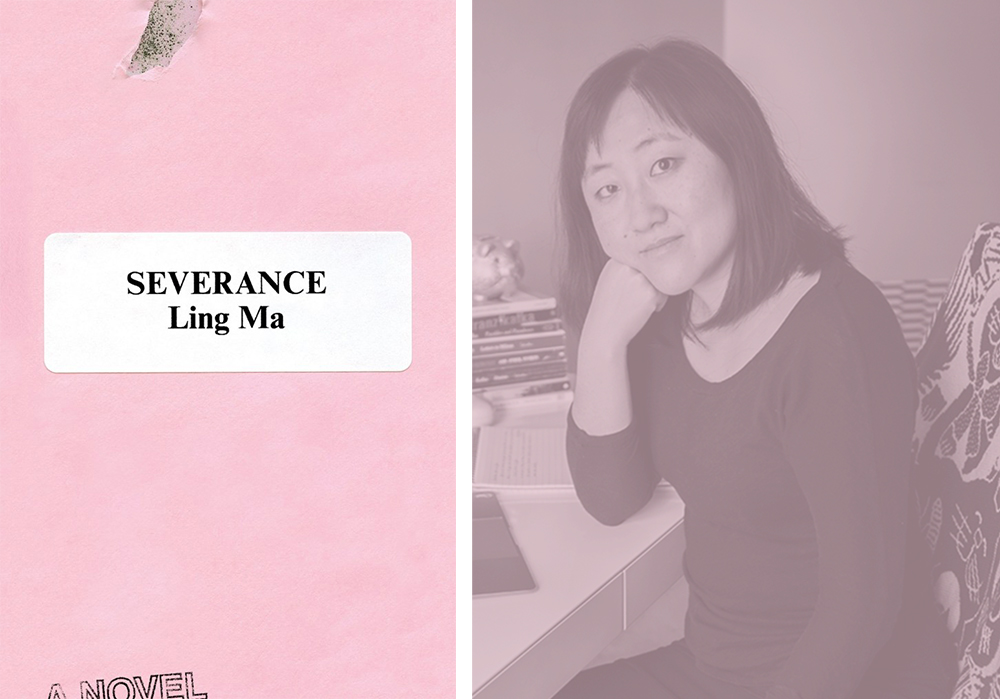 Ling Ma's debut novel, Severance, transcends any typical classification. It is part satirical office drama, part immigrant narrative, part millennial bildungsroman—with a dash of zombie apocalypse. Severance chronicles the life of Candace Chen, an obedient worker bee who is one of the last people alive in New York City after the Shen Fever strikes. The "fevered" who populate the city aren't your classic teeth-gnashing, skin-peeling zombies. Instead, victims of the Fever are reduced to creatures of habit—they adhere mindlessly to their everyday grinds until they quite literally work themselves to death.
Before the Fever, Candace works for a Bible production company in New York that outsources its labor to Southeast Asia. When the city starts to crumble and all of her coworkers flee, Candace chooses to stay behind and work—in part because her only family is far away in China and in part because she finds comfort in the familiarity of her day-to-day routine. Alone in New York, Candace spends her days wandering through the city and taking photos to post on her blog under the pseudonym NY Ghost. She catalogues abandoned avenues and ransacked luxury stores in hopes that people elsewhere will respond with their own nostalgic or romanticized versions of the city. ("If New York is breaking down and no one documents it, is it actually happening?") Eventually, when the MTA shuts down and the bodegas close one by one, Candace and a small group of survivors are forced to make their way to a safe "Facility" located near Chicago. All the while, through a series of flashbacks, Candace draws parallels between her own journey and that of her parents, who left their home in China for a new life in the States.
In the end, Severance isn't so much a story about zombies as it is an imaginative critique of capitalism. Underneath Ma's deadpan comedy lie shrewd observations of the West and the decadence of our everyday existence. We indulge in Frappuccinos and overpriced packaged vegetables at Whole Foods. We live off of products made by labor outsourced to China and Indonesia and Pakistan. In Ma's eyes, the Fever is an inevitable symptom of Americans' rapacious consumption. "What you do every day matters," Candace insists at one point. If we don't listen, we might just get what we deserve.
Although Severance is Ma's first novel, she has published short stories in Granta, Playboy, Chicago Reader, and elsewhere. She received her M.F.A. at Cornell University and is currently an assistant professor in the creative writing department at the University of Chicago. I had the chance to correspond with Ma the week leading up to the release of Severance, and we discussed her influences, the experiences that fueled her novel, and her opinions on social media. 
INTERVIEWER
Can you speak a little bit about the inspiration behind Severance? How long did this project take you?
MA
Severance began in 2012 as an apocalyptic short story. I worked on it at my desk in the last months of my office job. The company was downsizing, and many employees were getting laid off. As the story progressed, its moods were both joyful and angry. I began to understand that the anger was rooted in issues of work and that in effect, I was unwittingly writing an apocalyptic office novel. I finished the first draft in 2016.
INTERVIEWER
Like the Chen family in Severance, your own family moved to the U.S. from China when you were little. There's an increasing amount of literature about the immigrant experience—the Chinese American immigrant experience in particular—and yet yours is the first I've read that is set in a postapocalyptic world. Can you tell me more about that decision?
MA
While it may seem like I had some master plan in combining all these genres, the process was more experimental. The question I kept trying to figure out was, Why does Candace Chen keep working at her job? Understanding her family background and this immigrant imperative for success helped me complete the picture. Candace's immigrant backstory was the most difficult, yet vital, part of the story to write.
INTERVIEWER
The original title of Severance was Chinese Bibles. What made you switch?
MA
I woke up one morning, and it came to me. Severance. It never happens like that, but I thought it was a perfect title. It alludes to many storylines throughout the novel. Chinese Bibles, while catchy, is somewhat inaccurate. It suggests Mao's Little Red Book, not Bibles manufactured in China.
INTERVIEWER
Candace is often nostalgic for the eighties. She wears her mother's vintage clothes, watches old rom-coms, and even throws an "eighties decadence"–themed party. What was it that interested you, as a writer, about that decade?
MA
The eighties were more or less the time that China-U.S. relations began to open up. Many visiting Chinese scholars came to America and vice versa. It was also the era when China became more free market–friendly, introducing special economic zones in its regions with special tax breaks and other enticements to attract foreign business. Shenzhen, which is where Candace visits one of the Bible printers, is located in one of these zones. I also think about Reaganomics, the booming economy, the sense of wealth and excess. It's a very "cool" decade, but I like that the line between good and bad taste was precariously thin. As far as the eighties in New York, I would also point to that special issue of T about the cultural impact of 1981 to 1983. It's one of the most thrilling things I've read in a print magazine.
On a personal note, maybe because I was too young to have really lived the eighties, it feels like a lost era to me. I do remember that when I lived in China, I rode on my grandmother's bicycle, and the streets were flooded with bicycles. There were very few cars. I also remember riding in a car for the first time, what a strange sensation that was. These days, of course, the streets are glutted with cars.
INTERVIEWER
In addition to your family's past and your own office-job experience, what or who were your biggest influences during your writing process?
MA
I took notes from Kazuo Ishiguro's The Remains of the Day, which is about an English butler in the twilight of his career who questions whether he threw his life away for his job. Well, he doesn't directly question it, but by the way he keeps fixating on it, constantly justifying his career, we as readers come to that conclusion. In Severance, we begin with a slightly different premise. Candace Chen already knows that her job isn't really doing anything meaningful in the world. Yet she keeps going with it.
In terms of zombie-related stuff, I watched a lot of The Walking Dead, though I never made it past the third or fourth season. The Romero films, of course. In the beginning, I thought of Severance as Terrence Malick meets Romero, an unholy mash-up that probably defies good taste. As I was working on the novel, I read the first five volumes of Knausgaard's My Struggle and also Emil Ferris's graphic novel, My Favorite Thing Is Monsters. Both brought me a great deal of comfort during the writing process, and I'm sure they both made it into Severance in some way.
INTERVIEWER
Severance is composed of chapters that alternate between Candace's narrative present and her flashbacks to the past. The two storylines don't fully connect until the very end of the novel. Can you tell us how you reached this structure?
MA
Just as my influences are pretty eclectic, my arrival at Severance's narrative structure was a bit haphazard too. The mode of attack was writing whatever scene I was most excited by, whatever felt most urgent at the time, and then piecing those scenes together. I never felt like I was forcing any connections. I trusted that by sheer enthusiasm and a dash of not knowing any better, this Frankenstein's monster would come alive at the eleventh hour.
INTERVIEWER
You briefly touch on the pervasive nature of social media in Severance, especially when Candace muses on the Internet as a form of "collective memory." I'm curious about your own relationship with the Internet. Many publishing houses put pressure on new authors to engage in promotion of their own work through social media, yet you don't seem to have much of an online presence. Can you speak about that choice?
MA
Jaron Lanier's book You Are Not a Gadget, which is about our age of digital collectivism, should be required reading before anyone signs up for a Facebook or Spotify account. That and I'm just a private person. I'm not not on social media—I'm just there in limited and circumscribed ways. I'd prefer my fiction exist in the world for me, in place of any public face. Absolved of the imperative to present a persona, I can just be a classy-looking footstool or something.
Madeline Day is an intern at The Paris Review.