When I watch Christine and the Queens, I feel joy in its purest form. Her best songs are perfect pop constructions laced with a delicious, defiant queerness, and unlike most pop songs, they don't wear out after repeated listenings. They're songs to dance to, to feel at home inside, to feel sexy in, songs you don't mind getting stuck in your head. The pleasure of the music is deepened by her music videos—that is to say her body's movements, loose, earthy, MJ-inflected, charged with the casual charisma of a true star. I've spent the year pregnant, my body becoming bigger, stranger, slower, and unwieldy—after giving birth two weeks ago, my body remains a slow moving creature, still unfamiliar to myself. Watching Christine move with such boundlessness, as she does on her latest single, has a new kind of power over me. I feel it, the freedom she has in her body, in my limited one. It holds a place for my body to return to. She's on tour this fall to promote her new album, and you should not miss the chance to see her live. —Shruti Swamy
TMI, maybe, but I've had a rough summer so far. Well, so has the world (it's not summer everywhere, but you know what I mean). I'm reading all sorts of Marxian stuff for a book I'm working on—I don't recommend this as therapy—and a line from Deleuze and Guattari's A Thousand Plateaus keeps coming back to me: "What cogito lacks its evil genius, the traitor it will never be rid of?" But "at least there's pretty lights," as the band Men at Work put it. At least there's the National Park Service's Bear Cam, a live feed from Brooks Falls in Alaska's Katmai National Park. Right now there's a lone brown bear in the frame, scratching himself and romping in the river. Sometimes there are five or six, scanning for the salmon that surge upstream. Yesterday, I watched a huge fellow catch a fish, tear it open, then jump, startled, when a seagull alighted briefly on his back, causing him to drop his prize after one bite. The gulls just wade around, or float like ducks, waiting to gulp down what the bears let fall. I'm a bit obsessed with bears. I've met a few black bears in the wild, including one last summer in the Catskills who refuses to stay put in a poem. These Alaskan brown bears are bigger, lanky and lumbering but fleet af when they need to be. Now there are no bears in the frame, just the river. I like the river too. —Michael Robbins 
Will Mackin's Bring Out the Dog is a collection of ecstatic, trippy, morally ambiguous stories about the wars in Iraq and Afghanistan, featuring a narrator known to his Navy SEAL teammates as Fuckstick, "F.S." for short. He calls in air attacks on insurgents and busts into suspect compounds, wearing night vision goggles that turn body heat into "creeping flames." At one point, hunting a unit of Taliban, he nearly drowns crossing a river, and when his life flashes before his eyes, it's like an overdose described by Denis Johnson, if Johnson used the vocabulary of weapons system officers. The Virgin Mary appears "in a whirlpool of diammonium phosphate," and Fuckstick begs her to save him, but the Virgin reminds him she's already given him one miracle: the day in high school when he slept with his friend's girlfriend and his football team scored on a trick play.
Is Fuckstick a tribute to Fuckhead, the narrator of Johnson's ecstatic, trippy, morally ambiguous stories about drugs? At any rate, Mackin, who was a joint terminal attack controller attached to a SEAL team, is interested in the ways that war is a faith for Fuckstick, as dope is for Fuckhead. Here is Fuckstick reviewing footage of a battle, for inspiration:
Hot is black in the video, and Jimmy's thermal signature is the blackest thing onscreen. Blacker than the exposed slabs of granite that had spent all day absorbing the sun's rays. Blacker than the muzzle flash of the Taliban's PKM. And blacker than Jimmy's pinned-down troopmates. Jimmy maneuvers under fire to take cover behind a petrified mulberry tree whose trunk immediately bursts into splinters. From there, Jimmy sprints toward the PKM itself, taking three spectacular strides before he gets hit in the leg, rolls in the snow, pops up, then proceeds to give the Taliban the good news.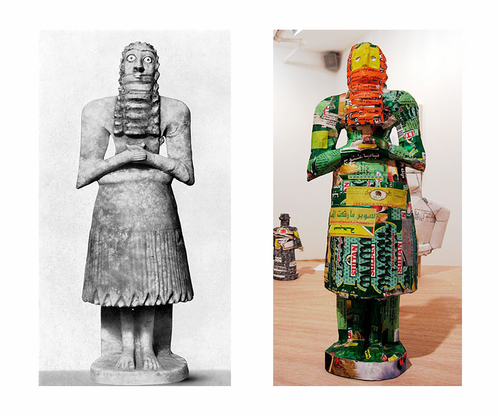 I'm here at SITE Santa Fe, a museum near me that I sometimes visit, looking at an astonishing show by Iraqi-American artist Michael Rakowitz. He makes replicas of the ancient artifacts from the National Museum of Iraq, Baghdad which were looted or destroyed after the U.S. invasion in '03. Rakowitz makes the replicas out of papier-mâché using Arabic newspapers and food packaging. I'm looking at a broken, beautiful, winged creature, "Hindquarters of a winged animal facing right," (just that description is poetry itself) from the Neo Assyrian period (ca. 800 B.C.E.) originally carved out of ivory. And a haunting little foot sculpture, a replica of an Early Dynastic II–III (ca. 2600–2400 B.C.E.), originally made of copper. It is the size of a baby foot, which reminds us of the lives lost in addition to the art. That little foot is as provocative to look at as the enormous foot of the Colossus of Constantine in Rome. The idea of making destroyed ancient treasures live again—out of materials which are literally layered, as history and cultures are layered—all while making the American viewer complicit in the tragedy, is very powerful. —Sylvie Baumgartel
I live in Wales, and like nearly everyone else on earth I have found the last few months fearfully depressing. I have regularly cheered myself up, however, by watching an uninhibitedly vulgar TV comedy. It is an Irish family farce broadcast once a week by the BBC in London and RTE in Dublin, and it is called Mrs Brown's Boys. Critics have hated it, but it has absolutely no inhibitions at all. It is just marvelously bad taste and deplorably funny. No joke is too crude for it, no comic situation too obvious, and it is all enacted with a laughing gusto and self-amusement that to my mind amounts to a sort of innocence. No Trump or Putin can defy the power of Mrs Brown's Boys. It seems to me, as a fairly unsophisticated elderly European citizen of the 21st century, not only atrociously entertaining, but actually good. —Jan Morris
Among the glut of motherhood books that have come out this year, one has sparkled for me like a jewel: Angela Garbes's Like a Mother: A Feminist Journey through the Science and Culture of Pregnancy. Garbes, a food writer at The Stranger, the Seattle weekly, first turned her eye towards the miraculous substance that is breast milk—then her roving interest moved on to everything from placentas to the health care system. The book is also personal: Garbes finds space to explore her own experience of pregnancy, birth, and the shattering transformation of early motherhood, and examine the larger societal structures that make mothering in this country so difficult. As a woman of color, her vision of motherhood includes women who look like me—those who have been so assiduously ignored by the other motherhood texts, and, in many ways, society at large. It shouldn't need to be said that even non-parents or non-parents-to-be can find this book compelling, but I'll go ahead and say it anyway. In the course of her interviews, Garbes is often shocked to learn how little research has been done on some of the most basic functions of women's bodies. Her work of illuminating and celebrating what we do know is a gift to all of us. —Shruti Swamy
Yes, of course. Staff-picking a recently unearthed John Coltrane album is the safest bet imaginable. Even if jazz gave you nothing but anxiety, you'd still have to be excited about the release of "Both Directions at Once: The Lost Album." There is so much beauty in the fact that the world has collectively NOT heard a full-length recording from the mid-sixties by the same band that, two years later, put together "A Love Supreme." Amanda Petrusich wrote a wonderful piece about this for the New Yorker—just one example of great writing around this release. It's unclear whether this session was ever meant to be released in the album format, but being able to listen to the engineer go, "It's an original isn't it? 11382, uh, 11383. Original," at the top of a previously untitled composition, is transcendent. For years now, pop stars and underground artists alike have tried to "eventicize" the album release. The advent of "Both Directions at Once," however, works as the opposite. It doesn't try to oversell a certain moment in the present; it sets an evergreen brilliance against the backdrop of a new millennium. It lets us eavesdrop on a room where four of jazz's greatest iconoclasts—Trane, Jimmy Garrison (bass), Elvin Jones (drums), and McCoy Tyner (piano)—sat down to calibrate the genre's free-wheeling future. Needless to say, they succeeded triumphantly. Just as its title suggests, "Both Directions at Once" is not a time-capsule, but a glimpse of how timeless art can be, when channeled through the mind of a restless seeker. —Julian Brimmers
My introduction to ruby onyinyechi amanze's work was at the Drawing Centre in New York back in 2017. As a writer of magical realism, I'm drawn to visual art that concretizes abstracts like extra dimensions and out-of-sequence narratives. Her drawings are simultaneously an embellishment and deconstruction of reality. Time is flexible, space is malleable, and on her canvas, human and animal faces are siloed to construct a mystical whole. You've likely been an audience to ruby's musings without knowing it: she created the cover art for the novel Freshwater, Akwaeke Emezi's acclaimed debut. there are even moonbeams we can unfold, the second part of ruby amanze's exhibition trilogy series with Capetown, South Africa's Goodman Gallery, closed in June. She's currently exhibiting at Drawing Room in London. —Wayétu Moore
I'm late discovering the amazing work of William Gass, but here I am, awestruck by his story "In the Heart of the Heart of the Country," from which the quote below was taken. Reading Gass made me feel the same thrill and excitement I felt reading James Joyce for the first time. Gass's sentences are perfect poems in themselves—haunting, vibrant, disturbing, surprising. There is very little narrative. But the immediacy, the beauty, the power of his words is overwhelming.
I have met with some mischance, wings withering, as Plato says obscurely, and across the breadth of Ohio, like heaven on a table, I've fallen as far as the poet, to the sixth sort of body, this house in B, in Indiana, with its blue and gray bewitching windows, holy magical insides. Great thick evergreens protect its entry. And I live in. Lose in the corn rows, I remember feeling just another stalk, and thus this country takes me over in the way I occupy myself when I am well … completely—to the edge of both my house and body. No one notices, when they walk by, that I am brimming in the doorways … I dreamed my lips would drift down your back like a skiff on a river. I'd follow a vein with the point of my finger, hold your bare feet in my naked hands.