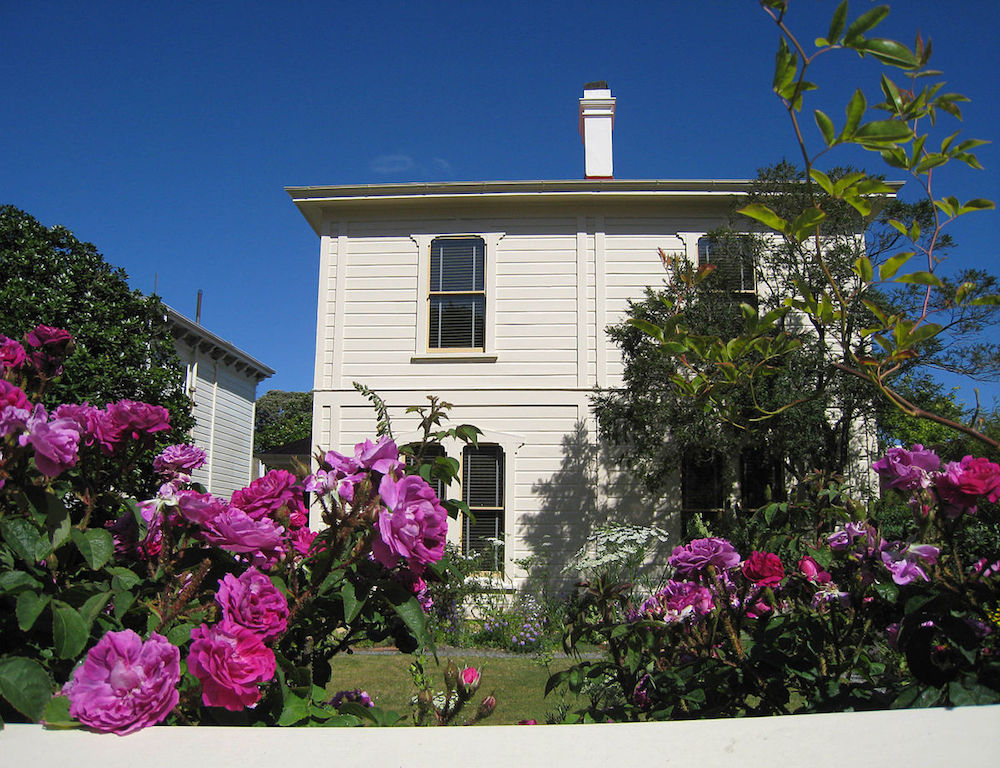 On Katherine Mansfield's birthday, I walked up the edge of a long driveway in gale-force winds. I walked for a long time, with cars passing me. "The wind—the wind." I was walking to Government House, which is at the top of a hill, where there would be a party. Katherine Mansfield was 125 years old today. The driveway to Government House has bushes and trees on either side, and these were beaten and pushed about by the wind. I thought about turning around and just going home, but that would mean walking past the guard at the entrance again. Every time someone drove past me, I felt more self-conscious. Finally, a hybrid car stopped, and a woman wound down the window. "Are you going to the Katherine Mansfield party?" I was. "That's a long way, dear. Do you want to hop in?" As we zoomed up the hill between the trees, we should've talked about the end of Mansfield's story "The Garden Party," in which a big dog runs by like a shadow and Laura walks down that smoky dark lane, because that driveway recalled it to us. But instead, we talked about whether we'd been to Government House before. The woman had been many times. I hadn't been. 
Government House, the governor-general's official residence, is an enormous brown-and-cream building with dark jarrah weatherboards and a flag tower. A rectangular pond is feathered by the wind. Cars were still creeping over the pristine gravel or were parked nearby, and the new director of the Katherine Mansfield Birthplace, a woman named Emma, was standing by the door with one of the board members and greeting people. I'd met Emma at the Birthplace that morning, my final morning as the acting director. I'd shown her through the house: the tiny office stacked high with filing boxes, where the new director would sit each day; the scullery with its steel pots hung on the walls and its meat grinder, on which she, too, would bruise her leg as she went by; the dim roped-off bedroom where Mansfield was born, where a hairbrush and hand mirror were fixed with catgut to a dressing table, and where a dehumidifier now hummed and slurped. At the end of every day, the birth-room dehumidifier was heavy with water. Now Emma would be the one to carry the bucket down the stairs and empty it in the little sink in the scullery. I'd handed her my lump of keys, which opened countless cupboards and cabinets and internal doors, then wheeled my bike out from where I'd parked it behind a sack of blood-and-bone in the rose garden and cycled down Tinakori Road, grinning as the wind pushed me on.
*
I got the job at the Birthplace on a whim. The previous director had left suddenly, and the board needed someone to look after the volunteers, to schedule tours, and to organize that year's birthday party while a new permanent director was found. I'd visited the house—a square weatherboard building with a red corrugated-iron roof, built in 1887—on a school trip when I was maybe nine or ten, and I knew that Mansfield, a famous writer whose story about a garden party had frightened me, had lived there until she was five years old. But I couldn't remember much beyond heavy Victorian furniture and dark drapes and walls lined with photographs of Katherine and her family.
On my first morning, I sat nervously in the cold kitchen. It was my first full-time job in a long time. The chairman of the Katherine Mansfield Birthplace Society and the four paid staff were there, all in winter coats. "Ashleigh will be here five days a week," the chairman told us all firmly, "and she'll be in charge. She is our director for the foreseeable future." The kitchen had stained timber walls and a hefty coal range. Pretty floral plates were held in place with wire on a sideboard. A bowl of Granny Smith apples was set on a velvet tablecloth below a single window that overlooked the back garden. I later learned that the garden had once sloped into a gully. Mansfield had complained about wretched people throwing their empty cans into it. And also in the kitchen was the replica of Mansfield's dollhouse, painted spinach-green with yellow windowpanes and a red roof. Its frontage was locked, but two figures collapsed in armchairs were visible through a window. "Open it quickly, someone!" I knew that inside, the rooms would be papered and that in the middle of the dining-room table would be a tiny amber lamp.
Greg introduced me to Caryl, who managed the accounts, a pretty silver-haired woman with red lipstick; to Linda, whose current job was to sort all the files in the upstairs office (once a nursery) and who had a bad back and seemed to communicate mainly in rapid eye blinks and hand gestures; and to Sue, who worked only on Sundays but had made a special trip to meet me today. "It's wonderful to have you here," she said with glistening eyes, "in the grotto." I'd passed her a few minutes before, as I pushed my bike on the footpath toward the house, and she had beamed at me. "I knew it must've been you," she said now. "You had Katherine's look about you." Sue was in her sixties, with bright-gold hair and a constant smile. Over the coming weeks, every Monday I would find long barely readable notes written on scraps of paper and folded into the appointment book. "Ash babe," Sue wrote (or sometimes "wonder bunny," a name she'd designated seemingly at random), "a very quiet day in the grotto today." Then there was Daniel, who introduced himself as "the education curator" and stared past my face when he shook my hand. He had one brown eye and one blue eye. He looked at my brooch, which was shaped like a blossom. "Nice brooch. Katherine would approve," he said. "You know, she called her brooch 'the little eye.' " I would soon learn that Daniel talked about Mansfield as if he had known her personally, as a friend.
When the chairman left us and the day got underway, Daniel instructed me to cut the scones he had baked for some visitors from a retirement village, who were coming for "Victorian high tea." The scones, hard and dry, disintegrated as I cut them, and when Daniel saw what had happened, he cried out, "Look. What an absolute mess. I don't think Katherine would be happy." My scone mishap was the beginning of a fraught working relationship whereby I would try to please Daniel and would feel pleased when he confided in me, usually about the flaws of the other staff or about his regrets from his former teaching career. I felt calm when he was happy and tense when he was flustered. "Oh, Katherine," he would say, when one of the volunteer gardeners brought in a posy of cinerarias or marigolds. "Katherine loved these flowers." Whenever a group of students touring the house didn't pay attention to his lecturing or tried to sneak into roped-off areas of the house, he would shout, "Katherine wouldn't approve of that!"
I came to learn that Daniel was one of many people who wielded a strong view of what Mansfield was like as a person. There was a particular set of statements the volunteer tour guides would repeat and that visitors would say back to them; these were deep within the narrative of the house. "She was ahead of her time." "A radical in many ways." "Very stylish." "A truly modern woman who cast off convention." And sometimes, conspiratorially, "She was very likely a lesbian." Sometimes visitors would talk about her life with admiration and then confess to me as they left the house, "I've never actually read any of her stuff. I should." The tour guides who had led groups through the house for decades seemed to believe that Mansfield's childhood home was the most important part, the most telling part, of her life. Maybe it was, because it was tangible. You could step inside and imagine yourself to be a child in another century. You could detect echoes of this house in some of Mansfield's stories—the deep tangled gully seen from a window in "The Aloe," a fireplace choked with rubbish in "Prelude"—and recognizing these echoes felt like knowing her.
There were also visitors who didn't know where they were or who Katherine Mansfield was. These were mostly young schoolchildren, but one afternoon, a group from Alzheimers Wellington arrived. About twenty elderly men and women drifted slowly into the house, with canes and walkers, their minder following. "Are you her?" a woman asked me, pointing at a poster of Mansfield on the wall. "You have her hair." I laughed and tried to explain, but the woman was wandering away. "It's not as nice as my house," someone else said. "This isn't my house," another woman snapped. None of the group could climb the stairs to see the room where Mansfield was born, so the volunteer tour guide and I ushered them into the garden, and the group began to drift slowly and silently apart, all of them with their heads down, looking at their feet on the lawn. And after a few minutes of this, their minder from Alzheimers Wellington had them return to the van, and they drove away. I went back inside to the tiny office and thought how their childhoods were the closest in time to Mansfield's childhood, but in every other way, they were so far away from her, she was invisible.
*
I learned a lot about the house from Daniel because he led the most tours. His voice twanged through the building, often on the verge of a shout or, it seemed, a sob. I learned that the chinoiserie-patterned wallpaper in the stairwell featured the ancient symbol for good luck that was later appropriated by the Nazis, and that visitors often complained about it. That in an archaeological dig around the house, men had found tea-set fragments, marbles, a white ceramic mouse, and pieces of a comb. That the grim-looking fruitcake on the dining table had been baked many years ago and then painted with resin—"No, it wouldn't taste nice," Daniel told children sharply. That the stuffed birds in display cases "reflected a Victorian preoccupation with collecting." That none of the furniture was original except for the three spindly chairs around a table in the drawing room and the sagging wooden bench in the kitchen, where I once spilled a full pot of coffee. And that until she was five, Mansfield had lived here with her parents, Harold and Annie Beauchamp; her sisters, Vera, Charlotte, and Jeanne; her two teenage aunts, Belle and Kitty; and her grandmother Margaret. There was another daughter too—Gwendoline, who died from infantile cholera. In the dining room, where another dehumidifier droned, there was a photo of Granny Dyer holding the dead baby Gwendoline, who was dressed to look as if she were alive. Her mouth was ajar, as if sleepily. Postmortem photography wasn't unusual in the late nineteenth century—deceased people would be dressed and positioned as if posing steadily for the camera—but I could never bring myself to look at that picture for long, Granny Dyer watching so tenderly over her granddaughter. Later, the Beauchamps had a son, too, when they moved to another house. Leslie was killed in World War I when a grenade he was holding in his hand accidentally exploded.
The Birthplace existed in a space between exhilaration—some people were visibly excited, humbled, when they walked through their hero's childhood home—and a deep stagnation that you could feel when you walked through the rooms alone at the end of the day. The air felt stale, as if it, too, were preserved in resin. It was important to unplug all electrical appliances at day's end because the volunteers, the staff, and the board all shared a great fear of electrical fire. "Gosh, I've had nightmares about it," Sue told me. "Just imagine." She put her hands over her mouth. It was as if fire were inevitable, just like "the big one," Wellington's devastating earthquake of a future century. The fear infected me too. In my first weeks, when I did my late-afternoon rounds, unplugging lamps and heaters, crawling on hands and knees to reach sockets, my hands would tremble. And I did imagine. I imagined wheeling my bike up the driveway one morning, the house a charred shell before me, the dolls, the birds, the pretty plates just lumps in the ash. I would have to phone the chairman. "Greg. I'm so sorry." But part of me believed that fire just wasn't possible. The air in the house wouldn't carry fire.
*
I was in the office when a magnitude-6.6 earthquake struck one Friday in August. Until that moment, there had been a profound quietness inside the house, except, as always, for one sound—a branch, outside the office, making a high-pitched fluting sound as it brushed against the window. It was the most mournful sound, and I couldn't help but imagine that Mansfield had heard it herself. The office, about the size of a linen cupboard and stacked high with yellowing boxes and ring binders, had once been a bathroom; Mansfield had bathed in here as a child.
When the quake hit, the office swerved side to side, as if the house were trying to swim. I heard Daniel shouting upstairs. I ducked under the tiny desk and held my breath while the house continued its strange, static shuffling. I could hear the staircase squeaking, as if hundreds of feet were going up and down all at once. Later, when I thought about that sound, I remembered that Mansfield had died shortly after running up a flight of stairs, perhaps to prove how well she was.
"It's not at all surprising, given it's survived since the 1880s," the chairman said on the phone. He said it was probably the safest house in Wellington because it was all wood, and wood moved flexibly with the earth. The only thing that happened during the earthquake was that a photo of Mansfield as a young woman fell off a wall upstairs, but it was undamaged.
*
Inside Government House, there were chandeliers and a huge gilt-framed portrait of Queen Elizabeth at the head of the ballroom. The room was filled with people. Lawyers, museum curators, and politicians—members of parliament, councillors, ambassadors of all the countries Mansfield had visited.
"Twenty-five years ago today," the governor-general said, reading from his notes, "Lady Beverley Reeves officially opened the restored Beauchamp family home at 25 Tinakori Road. The realization that the house where Mansfield was born still stood was the heritage equivalent of finding one of her unpublished short stories in an attic." There was a roar of laughter. The governor-general spoke of how the restoration of the house brought Mansfield back to her own country and of how desperate she was to escape "the socially rigid life of Wellington, which she considered no match for the bohemian joys and intellectual delights she thought she'd find in London." He spoke of how her character was shaped by New Zealand. Finally, he said, "I have to admit I haven't actually read any Katherine Mansfield."
At first there was laughter, but then I felt around me some ripples of consternation, of disbelief. Someone quavered, "How awful." And you could sense the governor-general realizing what he had done and that he shouldn't have told the truth. He tried to save himself by raising his hands and chuckling. "But, but Katherine Mansfield has always been so"—he paused for a while, seeming to struggle—"big. She's always been at the forefront of our literary consciousness. When I was growing up, there was always a sense of how … big she was." He turned back to his notes and was emboldened. "She helped to revolutionize the English short story and left behind a body of work that is as sharp, intriguing, and fresh as the day it was written."
Before I left the party, I said goodbye to the volunteer gardeners, who were standing together drinking from wineglasses and eating egg sandwiches. I'd never seen them in formal clothes, instead of grubby pants and gloves. I liked the gardeners. They came every week, with their clippers and trowels, to rigorously tend the plants that were mentioned in Mansfield's stories and letters: cinerarias, arum lilies, pot marigolds, and the mignonette around the front doorway, whose perfume had been "recalled by a visitor" in the early twentieth century.
I walked all the way back down the driveway, which was darkening now. "The wind—the wind." I felt enormously relieved to be free. I berated myself, as I had so many times over the past months at the Birthplace: I should've treasured this experience. I should have let it soak into me freely and without complaint. I should have risen above even Mansfield herself! "Horrid little piggy house," she'd said about the place, remembering it much later, from London. Well, I would miss having a place to go each day, instead of working in the little study at my suburban flat, but that was all I would miss: a place to go. And that, it seemed to me, was disrespectful, even shameful. "What a fantastic job for a writer," people had said to me, "to sit in Katherine Mansfield's house all day." And I'd agreed. It was. I didn't say that I was the wrong writer to be sitting in it.
Perhaps worse, though, was that I no longer loved Mansfield's stories as I had before. Having heard the tour guides reference them over and over—there was Daniel, shouting, as he pointed at the dollhouse, "And if you look inside, you will see the little lamp!"—the stories seemed not to belong to me now. People had crowded inside them and were digging between words for something new to hold up and turn in the light. I couldn't hold them close to me without feeling someone looking over my shoulder, without noticing the empty cans thrown in the gully.
It was the end of the school day, and at the bottom of the driveway, I got caught in a stream of students leaving their school gates. A group of boys were shouting at one another about how far through an Xbox game they were and how one of their teachers in particular was a dickhead and they couldn't wait to leave, they just couldn't wait to get out.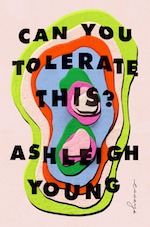 Ashleigh Young is the author of the award-winning essay collection Can You Tolerate This?, as well as a critically acclaimed book of poetry, Magnificent Moon. The recipient of a 2017 Windham-Campbell Prize in Nonfiction and an Ockham New Zealand Book Award, among other honors, Young is an editor at Victoria University Press and teaches creative writing at the International Institute of Modern Letters.
From Can You Tolerate This?, by Ashleigh Young, published by Riverhead Books, an imprint of Penguin Publishing Group, a division of Penguin Random House, LLC. This essay first appeared in Five Dials. Copyright © 2018 by Ashleigh Young.