It is better to live in a state of impermanence than in one of finality.
—Gaston Bachelard, The Poetics of Space
An attractive young woman with long dark hair stands in the atrium of a shopping mall. She is alone. There are no other passersby—no shoppers or security guards or senior citizens walking laps. To her left is a seating area with two unoccupied chairs, one gray, the other wrapped in geometric-print fabric. Nearby, an escalator operates without passengers. Its metal steps collapse and build and collapse again. Behind her, the concourse is vacant. Brown, gray, and white floor tiles abut the terrazzo before vanishing in the distance. The outline of her body is silhouetted against a storefront of blue-white glass, giving the scene the impression of a half-rendered hologram. No merchandise or display racks are visible, and it's unclear if the store is out of business or sells nothing at all.
The woman, who is wearing a floral-print dress that's cut just above the knee and white high heels that strap at the ankle, appears happy despite the loneliness of her surroundings. She is carrying four shopping bags. Two are slung over her right shoulder, while two more hang at her side. No store names appear on the bags, but each one is a different color. There is a sense she has been shopping for hours. With her shoulders turned and her eyes searching, the woman poses like a fashion model stopped at the end of a runway. Yet something is not right. She appears to be waiting for a photograph that will never be taken, and her expression seems to ask: Can you see me?

Step closer and the incongruities become more evident. The woman's  face is blurred,  almost  pixelated—the way a JPEG looks when enlarged beyond its resolution. There is also a seam where her hair meets the background of the mall, and rough edges where the shopping bags float against storefront glass. Though from a distance she looked like a model that had stepped from the pages of a catalogue, up close her appearance is more that of a paper doll cut from a child's activity book. This woman is not real. She is an apparition, part of a floor-to-ceiling graphic affixed to a construction barrier that covers the entrance to a vacant storefront in Monroeville Mall, where the future is predicted in architectural renderings that dot the concourses.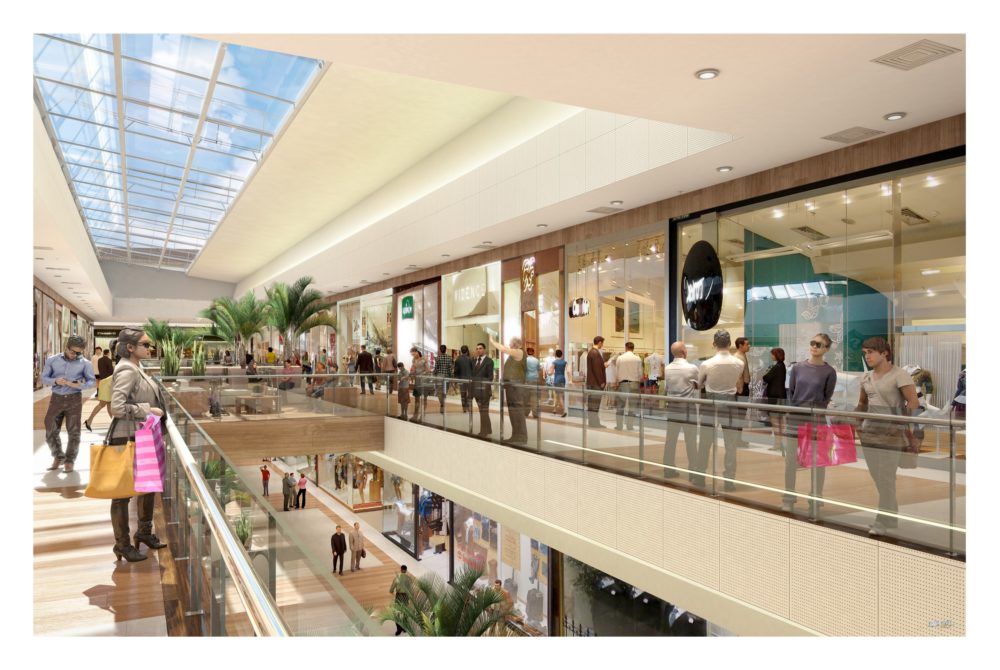 The fictive shoppers in these renderings, more formally referred to as "people textures" and "populating images" in the vernacular of architects, are intended to give a sense of scale. For that reason, some architects even call them "scalies." But as their use in imagined spaces has grown over the years, so, too, have their roles. The author and futurist Geoff Manaugh has noted that architects often employ people textures as a subtle way to manipulate perception: "You can take the most random rendering and just stick in a few people—someone listening to an iPod, somebody reading a newspaper, maybe a couple holding hands, some guy playing an acoustic guitar. Suddenly it's meant to make the entire building beyond critique; it's already part of our city."
Manaugh is not alone in his observations. The British writer, artist, and technologist James Bridle has also taken note of the growing prevalence of these fictive people and what they represent. But he refers to them by another name. "The Render Ghosts are the people who live inside our imaginations, in the liminal space between the present and the future, the real and the virtual, the physical and the digital," Bridle writes.
A world of architecture, urbanism and the city before it is completed—which is also never. They inhabit a space which exists only in the virtual spaces of 3D computer rendering software, projected onto billboards, left to rot and torn down when the actual future arrives; never quite as glossy or as perfect as our renderings of it would like it to be, or have prepared us for.
At Monroeville Mall the future is unclear, like the pixelated expression of the fictive young woman in the floral-print dress. And she is not alone. Render ghosts haunt vacant storefronts throughout the mall, their presence, alongside phone numbers that encourage would-be retailers to inquire about leasing information, boasting of a more prosperous tomorrow. But whether that future comes remains to be seen. Render ghosts make such aspirations seem real, save for the uncanny valley, and offer a counterbalance to the fear of decay and perceived obsolescence.
As social and economic realities have threatened to disrupt the dream of the mall, however, there are fixers waiting in the wings—professionals versed in rehabilitation. Firms like KA Architecture are rendering the mall's next phase in its history. "With competition from open-air and mixed-use centers, enclosed malls sometimes struggle to maintain consumer interest," a company brochure states. "We work closely with developers to reinvent enclosed malls into vibrant hybrid centers, positioned to compete with the lifestyle centers in their markets."
The mall is no longer a cultural phenomenon at its zenith, attracting hundreds of thousands of people who want nothing more than to experience what a mall has to offer. That moment came and went nearly thirty years ago. Today it's more of a cultural artifact either inching toward total obsolescence or poised for dramatic reinvention—whichever comes first.
"Malls are still cornerstones for a lot of the communities they serve," said Jesse Tron. "But we're coming to a point where we're going to have to drastically change our definitions." Tron, a spokesman for the International Council of Shopping Centers, explained how public perception of the mall has changed. I called him because I was in search of the definitive voice of the mall, or as close an approximation as I could find. It was the equivalent of talking to a car salesman and asking if the automobile was still relevant. I knew the answer would be yes, but I wanted to hear what words he would choose. I wanted to know the story of the mall from the perspective of someone who analyzed its relevance each day.
"It goes back to the days of the Greek agora," Tron said. "People have always congregated around a central point of commerce." He noted how, for decades, the shopping mall quite dutifully fulfilled that need for the buying public. It was a central hub for the purchase of goods, and it also provided a social experience. That is, until the advent of the Internet and the popularity of online shopping decentralized the whole industry—transforming once-vibrant centers into ghost malls, pushing others to the verge of bankruptcy. But after more than a decade of decline and closures, there are still 1,222 shopping malls across America, and Tron is hopeful that number will hold.
"What's old is new again," he said. "We're now in a period where we are reverting to more of that community-based, experiential, entertainment-focused kind of shopping center." In other words, malls with places to sit and relax, recharge your phone, watch a movie, eat dinner. It's a return to the social elements that defined the malls that Victor Gruen—the progenitor of the modern American mall—designed in the 1950s. But it also begs the question: Do people still want to do those things in a shopping mall?
On the lower level of Monroeville Mall, where the twin escalators meet, there is a bronze bust of a man named Harry Soffer. Mounted on a marble column, it includes an inscription: A MAN WHOSE VISION AND FORESIGHT MADE ALL THAT YOU SEE HERE POSSIBLE. Soffer is one of the men who developed this mall. A man who took a crater in the earth that was once a strip mine and transformed it into a gleaming, enclosed metropolis. If he were a science-fiction or fantasy author, he would be lauded for his skill as a world builder—his ability to construct a place that has stood for nearly half a century.
The shopping mall is, in its own right, a paracosm; a term used by psychologists to describe an imaginary world. These worlds have their own geography, history, and languages, and continue to grow over a period of months, years, or even decades. Children who are creative often build paracosms— not only for expression but also for escape. Writers do, too. J. R. R. Tolkien's Middle-earth, with its myriad species, histories, and landscapes, is one example. Henry Darger's Realms of the Unreal, which the writer and artist began creating as a child, is another. In the utopic world of the shopping mall, Victor Gruen is its omnipotent creator.
As the shopping mall evolves, it no longer resembles the place crystallized in my memory. Which begs more questions than it answers: Am I simply a render ghost inhabiting Victor Gruen's imagined world? Are we all apparitions strolling in the faded hallways of his failed dream? If you follow the life cycle of an architectural fantasy like Southdale Center in Edina, Minnesota, there is a definitive fiction at play. There is what Gruen imagined the mall could be, and there is what it became. The distinction between the two is important, because when Gruen washed his hands of the mall late in life, he did so because he lost control of the world he had built. And not only control of the way other architects and developers interpreted and later bastardized his  concept, but control of the narrative he wished to tell. Shopping malls were no longer "Tomorrow's main street, today," they were harbingers of consumerism's dominance over human behavior, marring the very suburban landscape that Gruen wished to transform.
At Monroeville Mall, as I stand in an empty end court, I feel distant from the landscape around me. It is the same space where, as a young boy, I watched in amazement as the Clock of Nations came alive each hour, its animatronic puppets celebrating the passage of time with a song. It is also the same courtyard where Gimbels department store once opened onto the mall, and where I gushed with joy each time I crossed that threshold, which meant I was stepping into another world. On weekends, it's where I sat with my father in the shadow of the clock tower, waiting for my mother to finish her shift at the Gimbels service desk so we could all be together again. And at Christmas and Easter, it's where I rode the holiday train, waving to my parents as I circled the courtyard.
But none of that feels real anymore. If anything, it reminds me of a dream degraded by the passage of time. Where the mall is a place on a map, and a wellspring of memory. Where aspiration and reality collide. Where discord gives way to violence. Where material desires test impulse control. Where past, present, and future are simultaneously collapsed. Where all but the most salient details are lost in the ether. My mother's smile as she takes my hand and we walk. The smell of the pine-tree air freshener in my father's blue Caprice. The rainbow neon in the food court and how bright it glowed. The black infinity of the video arcade and the tinny clang  of quarters in coin slots. My sister's roller skates and the sound of the wheels rolling on smooth concrete. Friday nights when the concourses came alive and thousands of people flooded through the doors. Darkened hallways and storefront security gates rolled down at closing time. It is the mall rendered in spare parts pulled from memory, its image flickering like a hologram, threatening to vanish before the future ever arrives.
This essay is excerpted from Shopping Mall, part of Bloomsbury's Object Lessons series.
Matthew Newton is the director of publishing at the Carnegie Museum of Art in Pittsburgh, Pennsylvania. His work has been published by the Oxford American, The Atlantic's CityLab, Forbes, The Rumpus, Guernica, and Spin.