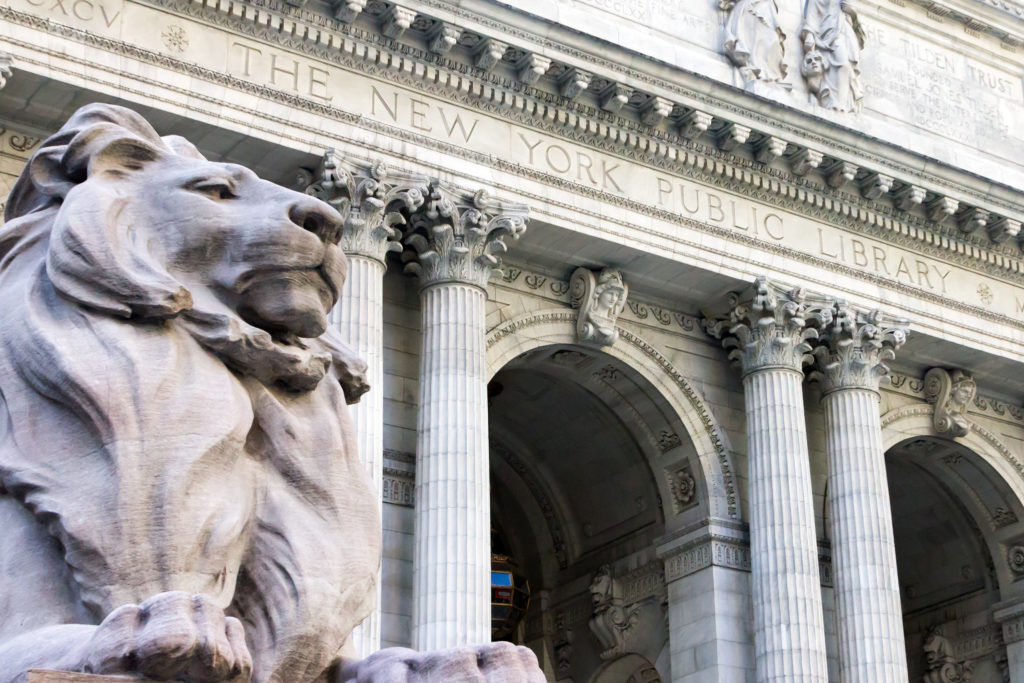 Last Thursday, at the New York Public Library's Countee Cullen branch, in Harlem, city officials gathered to announce the forgiveness of all fines on cards held by borrowers aged seventeen and younger. It was a recognition that even the best of us can incur these basic civic penalties—in 2010 George Washington's estate at Mount Vernon replaced a book, checked out to "President," which had started accruing fines at the New York Society Library 221 years earlier. It was also a recognition that library fines may unduly burden the most vulnerable. Across New York's three library systems—NYPL, Brooklyn, and Queens—161,000 of 927,000 youth cards had been blocked due to fines of at least fifteen dollars. The average blocked card, at the time of the amnesty, owed about fifty-five dollars. Countee Cullen tied for the highest rate of blocked youth cards in the NYPL system, at 28 percent, and in some of the city's poorest neighborhoods, rates exceeded 40 percent. All three library presidents spoke of young patrons who, already barred from borrowing books, may, for fear or for shame, stop visiting the library entirely.
"I don't want to live in that kind of society," NYPL president Anthony Marx said, after the announcement, which took place on the building's bright, open-plan teen floor, with the tops of trees and the cornices of town houses peeking through the windows. Marx pointed out that public-school students who enjoy fine-free borrowing privileges through a current pilot program are ultimately no likelier to fail to return books than are those who face fines. The NYPL is considering eliminating fines entirely, though this would require a significant endowment to offset the revenue loss. (To fund-raise during the Great Depression, some public-library systems encouraged their patrons to keep books late and intentionally incur fines.) For now, at least, youth fines began accruing again at the moment of the amnesty. The libraries hope that educational initiatives will improve renewals and timely returns.
Marx couldn't remember the last time he was late with a book, but confessed he goes in to pay off his children's fines with some regularity, which, all considered, is "embarrassing."
The crowd from the announcement cleared just as the after-school crowd began filtering in.
"The only way we know each other is we go to the same library," one girl, an eleventh grader, said, to explain how the assembling friends spanned different schools and class years. (Later, a girl who had been silently using her phone while facing a blank wall for ninety minutes would stand up and solemnly intone, "All right, bye. I don't like none of y'all; I don't know half of y'all.")
Of the first group to settle in, only one student, Jayden Rodriguez, a junior at Thurgood Marshall Academy, was aware of the amnesty.
"I've actually heard of that," he said. "There was actually a man that came into this library. People are saying this one man paid for everyone's debts." (The fines will be covered by a $2.25-million grant from the JPB Foundation; a previous youth amnesty, on a similar scale, took place in 2011.)
Jayden estimated his current library fine at "two-thousand-something dollars." His family moved, when he was in middle school, and he left a book at his old house, on 137th Street. "I actually forgot about it until I tried to use the card again. This was three years ago." (For teens, fines are capped at twelve dollars per item, which prevents any single checkout from hitting the fifteen-dollar cutoff. Jayden shrugged placidly at this information. He just knew it was blocked.)
"I've got, like, four library cards and I have fines on all of them," Mackenzie Marshall, a freshman at TMA, offered. "Like, thirty dollars currently. Let me go get this thing wiped clean so I can check out some books and be a good scholar!" she said, with cheerful sarcasm.
Rebecca Somefun, who attends one of the Evander Childs high schools, in the Bronx, was also blocked. A friend used her card and failed to return the items.
"He borrowed a book and a movie," she said, adding that DVDs are the worst, since the fines for movies are three dollars a day, more than ten times the rate for books.
In short order, the white king from a chess set, an errant sub-cube of a Rubik's Cube, and Mackenzie's glasses—dislodged in a playful slap-fight with Rebecca—all skittered under the computer table where Mackenzie was scrolling through Google image results. She was trying to settle whether the offspring of the demon dolls Chucky and Tiffany, in the Child's Play horror franchise, is a boy or a girl.
The library was in the midst of being decorated for Halloween, with paper cutouts of ghosts and jack-o-lanterns on the windows, vinyl posters of black cats against violet skies, and displays of Y.A. novels on whose holographic covers schoolteachers and lunch ladies shape-shift into monsters.
"Hey," Jayden said to Mackenzie. "What's your worst fear?"
"I don't actually know. I'm afraid of heights, snakes, and spiders. You?"
"Turning into a scarecrow."
The Countee Cullen branch manager, Nicole Nelson, was down at the main desk. In contrast with the library and city officials, who were, to the woman, dressed in plain navy suits, Nelson wore brown suede stiletto ankle boots, a cardigan dress in midnight green with bright red detailing, a necklace of big golden trapezoids, flashy retro Gucci glasses, and a tattoo of her daughter's name, Alexis, on her lower leg.
She reported that about twenty people had come in that day since the announcement—kids, or parents of kids, whose cards had been blocked. The staff were phoning patrons, welcoming them back.
Did Nelson herself used to get library fines?
"I still get fines," she said. "I'm not going to lie to you. I forget the books at home. Sometimes I say, I'm gonna bring it tomorrow, then tomorrow comes five days later."
Her longest overdue book as a kid?
"Forever, by Judy Blume."
Rafil Kroll-Zaidi is a contributing editor at
Harper's Magazine.
His story "
Lifeguards
"
 appeared in issue no. 217 (Summer 2016) of
The Paris Review
.