Glen Campbell was the perfect articulator of Portis's defiantly at-odds small-town characters and their old-fashioned dreams.
Like most sharecroppers' kids, the country singer Glen Campbell, who died last week of complications of Alzheimer's, instinctively looked for the quickest way out of the cotton field. He was born in 1936, in Billstown, Arkansas, an unincorporated community near the evocatively named town of Delight; he was, he often told people, the "seventh son of a seventh son." Campbell got good at the guitar fast—he received his first Sears model at the age of four, a gift from his Uncle Boo, and by the age of seventeen he had left Pike County far behind. Notably, he made it in Los Angeles long before he went to Nashville—a trajectory that would point him toward becoming one of the first true country pop stars, like the rhinestone cowboy of his own mammoth hit song.
Over the course of a fifty-year career, Campbell would become best known for performing other writers' songs. Like Willie Nelson—a friend later in life with whom he recorded versions of "Hello Walls" and "Just to Satisfy You" on his variety TV show, and an aching rendition of "Funny (How Time Slips Away)"—he was deeply influenced by the jazz guitarist Django Reinhardt. He had an ability to wrest the heart out of stories of the common man in the common place—the rhinestone cowboy with the "subway token and dollar tucked inside my shoe"; the plaintive yearnings of the overworked, under-romanced Wichita Lineman; the contemplative, brokenhearted hobo of "Gentle on My Mind." Even when he took issue with the lives he sang about (after Campbell made a hit covering Cree musician Buffy Sainte-Marie's "Universal Soldier," he told a reporter that people who advocated burning draft cards "should be hung"), Campbell was most at home in the world of other people's songs, as he would be until the end of his life. His ability to channel other personas may well owe as much to skills honed early on as a session musician, but they also speak to the survival instincts of a man with eleven siblings who left behind his impoverished, cotton-picking childhood as soon as he could. His phrasings were as versatile as his appearance; you could picture Campbell, with his genial, down-to-earth good looks, slipping into virtually any situation. You might work the factory line with him, you could have a beer with him, you would let him sell you a used car—or, perhaps, drive a stolen vehicle across the country. 
It was in this precise situation that Campbell found himself when he played the titular role in the 1970's adaptation of Charles Portis's debut, the road novel Norwood, in which, along with his part in True Grit a year earlier, he became the adept articulator of his fellow Arkansan's defiantly at-odds small-town characters and their old-fashioned dreams. Portis, author of five of the greatest and strangest comic novels of the last half century, including Dog of the South and Gringos, was born three years prior to Campbell and ninety-some miles south, in the town of El Dorado, closer to the equally evocatively named Norphlet and Smackover. Campbell and Portis were just far enough apart in age and geography that they likely wouldn't have played each other in high school sports, if either had done such a thing; they wouldn't have run into each other in their respective small towns. In 1960, Campbell arrived in LA after a stint in Albuquerque playing in an uncle's band. That same year, Portis decamped to New York, and later to London, where he worked as the London bureau chief for the New York Herald Tribune, a job he would eventually "quit cold" as his friend Tom Wolfe put it, going back to Arkansas to write fiction in a fishing shack. Campbell and Portis wouldn't have much reason to know each other until they did, in 1969, when Campbell portrayed two of Portis's most itinerant, demanding characters: the Texas Ranger LaBoeuf alongside John Wayne's Oscar-winning performance as the bounty hunter Rooster Cogburn in True Grit, and the aspiring country singer Norwood, alongside Joe Namath, in Norwood. Perhaps even more memorably, Campbell contributed the soundtrack to both films.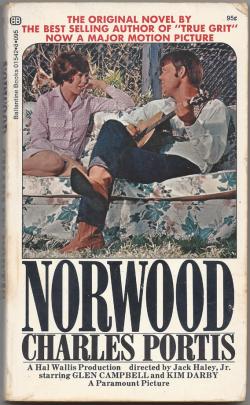 LaBoeuf, the tenacious Texas Ranger with the "great brutal spurs" of True Grit, is on a multistate manhunt, looking to settle a score and earn a hefty bounty. But Norwood Pratt, an uneasy homecoming serviceman and contrarian troubadour hailing from Ralph, Texas, is propelled by the conviction that life owes him something—namely seventy dollars from a fellow army discharge. The gloriously weird and ill-fated road trip that unfolds, played out on stolen vehicles and Trailways buses, is a many-miles attempt to collect that debt. Norwood dreams of one day playing on a radio show known as the Louisiana Hayride, but his otherwise literal-minded nature does not truck much in the matters of the spirit. He is frequently too trusting of the wrong types, a flaw that, in the film adaptation, straightaway lands him hitchhiking to his sister, Vernell, and her useless husband, Bill Bird (played by Dom DeLuise) in a ride with tires that may not be too "lasty," and seventy dollars in the hole. It is why he ends up in the dubious employment of "Grady Fring the Kredit King"; why he is the guy who ends up fronting his own money to tow a hot car across the country with a pissed-off passenger for company; why he subsists on a diet of NuGrape soda and canned franks and beans; why he harbors furious suspicion at the "dope fiend" who attempts to sell him a four-color ballpoint pen in Times Square. (Though, to be fair, this same impulsive quality also garners Norwood the possession of "the world's only college-educated chicken.")
On film, Campbell pours Norwood's disappointment and longing into song: when his new love, Rita Lee Chipman, played by Campbell's True Grit costar Kim Darby, whom he meets on a long-haul bus ride, implores to describe his singing style, he responds: "Have you ever heard Lefty Frizzell sing 'I Love You a Thousand Ways'?" In Portis's novel, the stretches of Norwood's introspection extend only so far as an interrogation of a man in a Mr. Peanut costume and in his frustrated attempt to compose lyrics on one of those bus rides ("Moonlight in the pines … and you were so fine … How did people write songs anyway?").
Where the film is a little goofy and watered down, unable to apprehend the darker, stinging complexity of Portis's comic genius, where the dialogue fails to do justice to the detailed impressions of the novel, which is rife with "cinder-block holiness churches," homemade signs reading I DO NOT LOAN TOOLS, Campbell's music expresses the dreams that continually confound and elude Norwood. After attempting to engage Rita in a discussion of Frizzell and Kitty Wells, he salves his bumbling interruptions and woos her with the syrupy "I'll Paint You a Song." For this is a man who stalwartly prefers "modern love numbers" over folk songs. You can certainly grumble over the film's Hollywood-tinged ending, but you'll still find yourself humming along to the AM radio friendly "Everything a Man Could Ever Need" and cheering at the fulfillment of his Louisiana Hayride dream.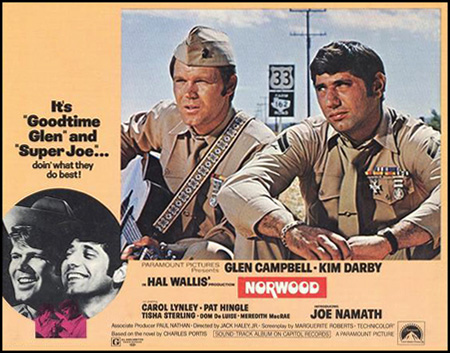 The finest moment on Campbell's soundtrack, and the closest to the archetypal experience of an Arkansan in late-sixties New York City—presumably not that far from Campbell's or Portis's—arrives when a cowboy hat–wearing Norwood is taken to a Greenwich Village coffeehouse, "about as far away from Ralph, Texas as you can get." Campbell is the ineffable square in a sea of acid-laden cool, the cowboy-hat rodeo clown taking in a sitar jam, sending the hippie room into a thousand bad trips when he guilelessly steps up to the mic and says, "I'd like to do a song about a guy that repossesses cars." His toe-tapping rendition of "Repo Man" is about as far from the nihilist, sci-fi 1984 Alex Cox film of the same name as one can humanly get. Rather, it is a jokier, more danceable relative of the "Wichita Lineman" strain of Campbell's oeuvre. And all the funnier if you recall the vitriol Portis reserves for the "shaggy young Americano vagabonds" overtaking Mexico in Gringos, or that when Campbell met Jimmy Webb, he took one look at the man who would write his greatest hits and told him to get a haircut.
The songs, written by Campbell's other frequent collaborators Mac Davis and Al De Lory, get at the feeling that Norwood is incapable of articulating—and perhaps that Campbell was incapable, or more likely, unwilling, to say in his own words. A darkness long existed in Campbell—he later acknowledged that most of the seventies, the decade after Norwood, would be an alcoholic and cocaine-fueled blur, which he mostly concealed from the public. As his New York Times obituary puts it, "He would annoy his friends by quoting the Bible while high." In his songs, the longing workingmen offer clues to that darkness. In Portis's novel, it's clear that though Norwood will do everything in his power to collect that seventy dollars, what eludes him in life is a less tangible, larger sum he never reaped. His "Repo Man" seeks to repair the sting of being cheated by the world.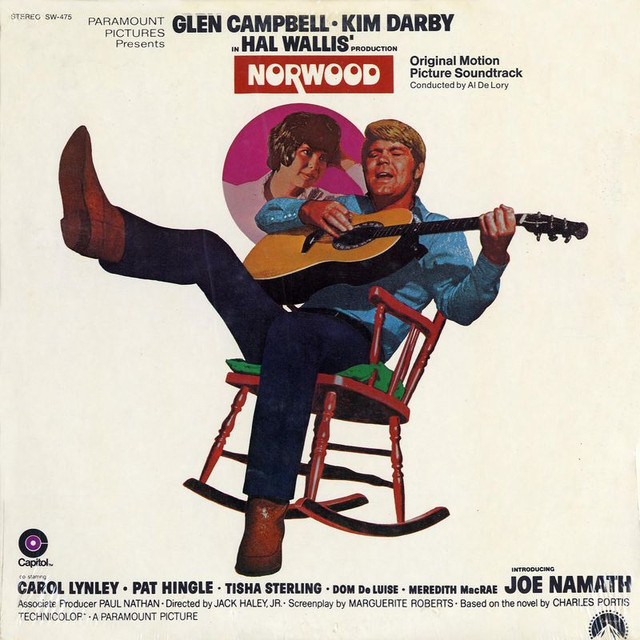 Both Norwood and his sister had grown up living in a place "on the edge of places or between places," namely, the oil fields and cotton patches along a stretch of "interstate concrete." "They clung to its banks like river rats." The picture of Norwood "on the back steps wearing a black hat with a Fort Worth crease," strumming guitar and singing "Always Late—With Your Kisses" "with his voice breaking like Lefty Frizzell, and 'China Doll' like Slim Whitman, whose upper range is hard to match" evokes the besotted, bittersweet, classic Campbell dreamer. Before he made it to Los Angeles, Campbell went from the sharecropper fields of Arkansas to try his luck in Houston and Albuquerque, working gas-station jobs and playing guitar. He was still in his teens in that period, but listening to all the songs that came after, you get the sense that Billstown looms large in the rearview.
Though Norwood did not become a film until after True Grit's more successful adaptation, the book was published in 1966, two years before his Western best seller, serialized in the Saturday Evening Post. The same year, Portis, who had worked as a journalist covering the civil rights movement (alongside Tom Wolfe and Lewis Lapham), published a long nonfiction story in the Post on "the new Nashville sound" (reprinted recently in Escape Velocity: A Charles Portis Miscellany), a chronicle of the early days of country, from the fated stories of Hank Williams and Jimmie Rodgers and the early days of the Grand Ole Opry, to the songwriter-breeding territory of Music Row bars like Tootsie's Orchid Lounge, to the disappearance of the nasal hillbilly voices, the emergence of a sound reconfigured for a broader audience. The "antic poet" Roger Miller, for instance, no longer considers himself a country singer. " 'I don't know what I am,' Miller says, rehearsing for a television show in New York City. 'I like to entertain everybody. Scooby doo.' " Glen Campbell doesn't merit an individual mention in the piece—he was just then catapulting to success—but his fellow Arkansan may very well have been describing him here when he wrote, in conclusion:
It's not an easy life at all. There's fame in it, of a sort, and money, and that keeps a lot of them going. But there's some deeper feeling too that keeps them out on the road, with a night here and a night there and a long drive in between, singing their songs, some trash, some gold, about hearts and wrecks and teardrops. They can't talk about those things, so they sing them.
Rebecca Bengal is a writer from North Carolina and Texas who lives in New York.