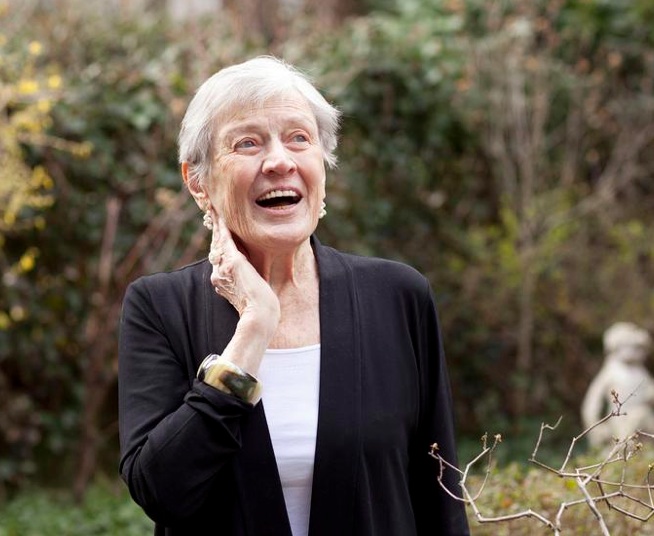 There's a kind of poetic mind that sees connections between things. I think that ability to make connections is part of the open secret of what a writer does. Everything on that side table there has a certain connection: Family pictures … An eighteenth-century Japanese bowl. But there's a kind of theme that holds all those things together. The thing is to discover what that theme is. Everything on that table has a certain benevolence. That's not the table I mostly write about, because there are other chords, that are not benevolent, that I tend to strike.
—Paula Fox, The Art of Fiction No. 181, 2004
Paula Fox died this week in Brooklyn at ninety-three, a loss felt deeply here at The Paris Review. Over the years, we have published her fiction, interviewed her for our Writers at Work series, and, in 2013, honored her with our Hadada Award for lifetime achievement. 
After a difficult childhood—marked by her parents' alcoholism, her intermittent schooling, an earthquake, and a revolution in Cuba, where she lived with her grandmother—Fox went to a boarding school in Montreal, where she discovered the work of D. H. Lawrence, whom she credits with transforming her. As an adult, she bounced between odd jobs in New York until deciding, in her early forties, to write seriously.
The novels that followed struggled to find a following, each of them going out of print by the early 1990s—even as she enjoyed great success with her children's books, for which she received a Hans Christian Andersen Award, a Newbery Medal, and a National Book Award.
But Fox's adult fiction made a resurgence in the late nineties, when several of her novels were reissued to a new and adoring audience of younger readers. Tom Bissell, instrumental in the publication of a new edition of Fox's masterpiece Desperate Characters, called it an "odd, prescient, intense, brilliant, and upsetting novel," and said, "I'm still not entirely sure what happened or why the novel caught on in the way it did … The credit goes, of course, to Paula, for being capable of writing a novel that cuts across generations and aesthetic tastes like no other modern novel I know. Postmodernists love it. I love it. Hipsters love it. Academics love it. Realists love it. My mother loves it."
"I was the goldfish that leapt out of the bowl," Fox said. "My childhood was a difficult one so I was able to observe the bowl and the water and the algae and everything else from a very early age." As a result, she was preoccupied, as Oliver Broudy observed, with the "various ways adults manage to live with the lies they tell themselves."
Jonathan Franzen, who famously evangelized Dangerous Characters in a 1996 essay in Harper's, wrote that he had "never read a book before that was about the indistinguishability between an interior crisis and an exterior crisis." This is the power of Fox's work—its devastating realism. "I think it's not helpful to over-psychologize," Fox once cautioned. "It substitutes for the chaos that most of us live in."