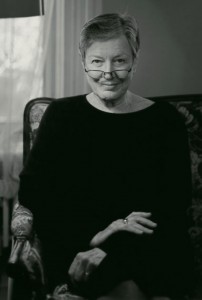 This year our Spring Revel will take place on April 9. In anticipation of the event, the Daily is featuring a series of essays celebrating Paula Fox, who is being honored this year with The Paris Review's Hadada Prize.
In 1998, which now feels like a Triassically distant time, I was twenty-four years old and on the publishing make. Technically, I was an editorial assistant, but I was making bold, audacious, and sometimes highly presumptuous assistant editor moves. I had some call, mind you. W. W. Norton, the house that employed me, had encouraged me to come up with "ideas" for the paperback committee, which at the time felt like a huge honor. Correction: it was a huge honor. I had a few ideas, most of which, I was gently informed, stank. But one didn't. This was the idea I had of republishing a thirty-year-old novel about a cat bite (and urban collapse, race relations, gentrification, and New York City) called Desperate Characters. Its author was Paula Fox, about whom I'd first heard in Jonathan Franzen's now famous 1996 essay "Perchance to Dream" in Harper's Magazine. The week before the fateful editorial meeting, I circulated some photocopied pages of the book and attached some writerly testimonials attesting to its quality. At the editorial meeting, we talked about it for maybe three minutes. Afterwards, I called Paula's agent. I called Paula. I called Jon Franzen. Soon we all celebrated. A wonderful book was coming back into the world. How easy it all seemed to me at the time. I was not yet aware of how cruel publishing fates—more like furies—can be. Indeed, Desperate Characters had been relaunched once before, a decade or so previous, by the fine independent publisher David Godine. Then, it didn't stick. Would it stick now?
It is no exaggeration to say that relaunching Desperate Characters was the single most successful thing I ever had a hand in publishing. So many people—Melanie Rehak, Gerald Howard, Andrea Barrett, David Foster Wallace, Jonathan Lethem, Walter Kirn, Shirley Hazzard, Frederick Busch, Jonathan Franzen—pitched in to help get the word out about this odd, prescient, intense, brilliant, and upsetting novel, so I cannot claim even five percent of the credit. I'm still not entirely sure what happened or why the novel caught on in the way it did.
Actually, that's not true. The credit goes, of course, to Paula, for being capable of writing a novel that cuts across generations and aesthetic tastes like no other modern novel I know. Postmodernists love it. I love it. Hipsters love it. Academics love it. Realists love it. My mother loves it. Only a year or two after it was republished, Desperate Characters was being regarded as one of the classic Brooklyn novels, one of the classic American short novels. A couple years ago, I found myself having a long, intense, wonderful conversation with a German biographer. Her subject? Paula Fox. Yes, Paula Fox was biographasized in Germany, where she is consistently a bestseller. Which is wonderful, but I want the English-language biography already.
This needs to be said: talk of "rediscovery" of any writer is a little absurd, but with Paula it's especially absurd. Paula wasn't cooking bear meat in a cave in Appalachia. She was living in Brooklyn, widely recognized as one of the world's most respected children's book authors. Even today, in her eighties, Paula's writing the same icily gorgeous prose. But my experience of publishing Desperate Characters taught me a valuable lesson: literary reputation is a fragile, innocuous, and transient thing—a butterfly that dies in your palm the moment you capture it. Thus: do the work, which is the only thing over which a writer has some measure of control. Paula did the work. It was there for us to find, still vitally alive. In that sense, I wonder if maybe we don't have all this backward. Maybe certain books and certain writers are not found. The work of Paula Fox, I think, found us.
Tom Bissell is the author, most recently, of Magic Hours.