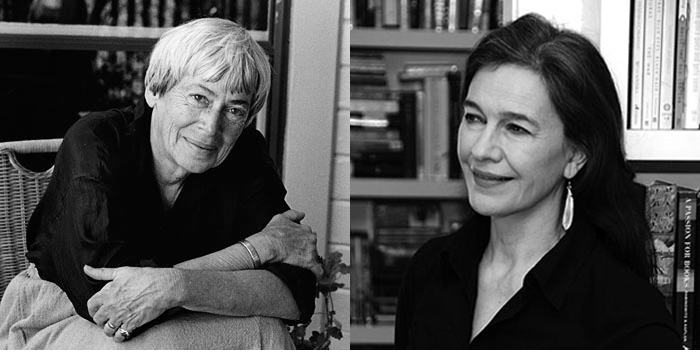 Our congratulations to Ursula K. Le Guin, who will receive the National Book Foundation's 2014 Medal for Distinguished Contribution to American Letters:
"Ursula Le Guin has had an extraordinary impact on several generations of readers and, particularly, writers in the United States and around the world," said Harold Augenbraum, the Foundation's Executive Director. "She has shown how great writing will obliterate the antiquated—and never really valid—line between popular and literary art. Her influence will be felt for decades to come."
And additional congratulations are in order for Louise Erdrich, who has won the PEN/Saul Bellow Award, a "lifetime achievement honor for American writers" judged this year by E. L. Doctorow, Zadie Smith, and Edwidge Danticat, "who praised the 'awesome' breadth of Erdrich's work."
The Paris Review has interviewed both Le Guin and Erdrich for our Art of Fiction series, the former in 2013 and the latter in 2010. Erdrich advised aspiring writers,
Begin with something in your range. Then write it as a secret. I'd be paralyzed if I thought I had to write a great novel, and no matter how good I think a book is on one day, I know now that a time will come when I will look upon it as a failure. The gratification has to come from the effort itself. I try not to look back. I approach the work as though, in truth, I'm nothing and the words are everything. Then I write to save my life. If you are a writer, that will be true. Writing has saved my life.
And Le Guin said,
Fiction is something that only human beings do, and only in certain circumstances. We don't know exactly for what purposes. But one of the things it does is lead you to recognize what you did not know before … A very good book tells me news, tells me things I didn't know, or didn't know I knew, yet I recognize them—yes, I see, yes, this is how the world is. Fiction—and poetry and drama—cleanse the doors of perception. All the arts do this. Music, painting, dance say for us what can't be said in words. But the mystery of literature is that it does say it in words, often straightforward ones.
We offer both of them our best wishes.