Scrolling through Retronaut, you might run across a 1927 pamphlet called "Examination of Conscience for Boys and Girls," which the site resurfaced last year. It's a Catholic publication by a Jesuit brother named A.J. Wilwerding, distributed by something called "The Queen's Work" in Saint Louis. The first few pages are pretty straightforward—the author defines different kinds of sins and helpfully distinguishes them by typeface: venial, venial (at risk of becoming Mortal), and MORTAL. Did the child DENY he was a Catholic? Did he curse? Did he misbehave in church? And then you reach the fourth page: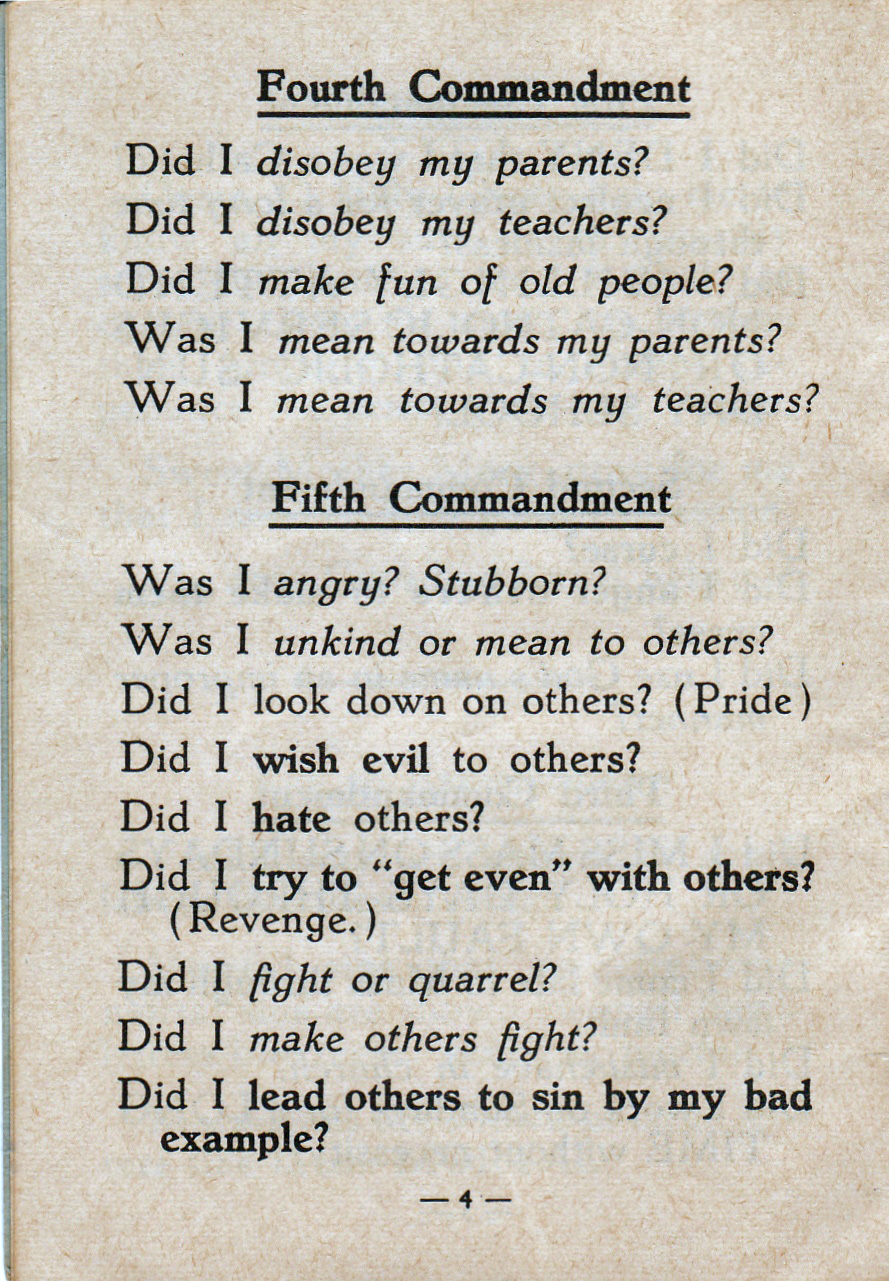 And maybe you cry, and you think that these are not bad rules to live by. Not just for kids. Certainly not just for Catholics. And that it's not easy; as Morrissey said, it takes guts.
Of course, then you keep reading:
DID I WILLINGLY TAKE PLEASURE IN USING IMPURE WORDS?

DID I WILLINGLY TELL IMPURE STORIES AND TAKE PLEASURE IN THEM?

DID I LIKE TO LISTEN TO IMPURE THOUGHTS?

DID I TAKE PLEASURE IN SINGING IMPURE SONGS?

DID I WANT IMPURE THOUGHTS AND DID I TAKE PLEASURE IN THEM?

DID I TEACH OTHERS TO COMMIT IMPURE SINS?

DID I TAKE PLEASURE IN TOUCHING MYSELF OR OTHERS IN AN IMPURE MANNER, OR LET OTHERS DO SO TO ME?

DID I COMMIT AN IMPURE ACT?

DID I REALLY WANT TO LOOK AT IMPURE THINGS OR PICTURES?
This is a relief.
That's better, you might think. That's imposed enough distance and history and sadness on the whole thing. Irony, or contempt, even. Easier to forget that one page, I think. Probably all of it. Although I do rather like the notion that italics are a venial sin.