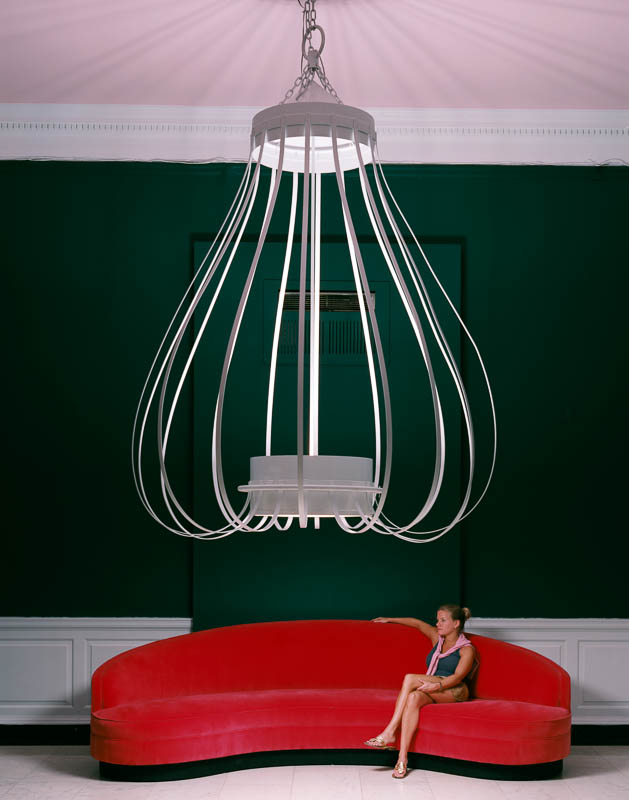 Some years ago, the Museum of the City of New York mounted a fantastic show devoted to the work of the decorator and entertainment doyenne Dorothy Draper. Draper's two books, Entertaining is Fun! and Decorating is Fun!, have been rereleased with the original splashy covers, and the firm of Carleton Varney, Inc. continues to use Draper's exuberant prints and insouciant style. The museum had done up several rooms with Draper's signature oversized roses, and replicated the decor of West Virginia's famous Greenbrier resort, which Draper refurbished in the 1940s. The effect was determinedly cheerful and pretty darn fabulous.
The books are arresting, too: between bits of absolutely authoritative advice on color, proportion, and élan (presented with the assurance of many generations in New York high society) Mrs. Draper presents the reader with "case histories" of "A Lady Who Thought Formality Meant Fuss" or "A Young Man Who Understood Women" or "A Lady Who Gave Herself a Party Instead of a Pill."
Now, I am in no danger of swapping my antidepressants for a giddy bridge evening (no matter how many cunning spade-and-club-shaped sandwiches, ample ashtrays, or convenient stacking tables it may involve) but it can't be denied that there is something remarkably bracing about these books.
I got pretty blue yesterday. A good friend had died recently after a brief illness. My family was involved in legal ugliness. I'd seen an ex who had found several ways to not-so-subtly imply my best days were behind me. A couple I know had decided to divorce, and, not that it matters, I stumbled onto a couple of Facebook comments on something I had written. (As my ex might say, I have become thin-skinned in my old age .)
So I reached for Dorothy Draper. Her protegé Carleton Varney described Mrs. Draper as "tall and imposing, head topped with a bright, strawberry satin hat, full black cape, gloves, and penetrating eyes." This indomitable spirit shines through in her writing. She puts up with no guff. As she writes, "'The Will to Be Dreary' is a morose little imp which whispers to us that something which we know would be fun would be too much trouble, will take too much time, is too expensive and probably wouldn't be as amusing after all as just now you think it would be. Now don't listen to that voice. Tune it out."
All this is of course simpler, it is easy to think, when one is in possession of family fortune, has commissions from the Carlyle and the Met, and no cares beyond how big to make a camellia on the Greenbrier china. In fact, silver spoon or not, Draper started working in a time when even her field was dominated by men. She divorced her husband, and seems to have been a remote mother whose real life was in the office. "Tuning it out" is, in a sense, not something you can only apply to one facet of life.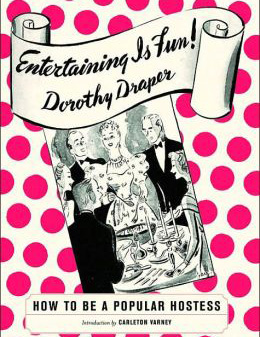 In some ways, she was like my late friend, Theresa—another great lady with a no-nonsense attitude and a lot of style. And when I read this quote from Draper, it seems to evoke a whole generation of people who brushed aside tragedy and hardship as "the Will to Be Dreary": "Never look back, except for an occasional glance, look ahead and plan for the future. Success is not built on past laurels, but rather on a continuous activity. Keep busy searching out new ideas and, experimentally, keep ahead of the times, or at least up with them."
I know it is a fantasy. And yet, I find myself looking at the website of the Greenbrier, and seeing if I can afford a weekend there, surrounded by Rococo splendor. Of course, I can't. And in any case, a friend who went tells me it's not what it once was.