While visiting my parents over the holidays, I spent a few hours looking over my dad's extensive magazine archive. He happened to have a copy of the first-ever 1963 New York magazine, Clay Felker's then Sunday-magazine supplement to the New York Herald Tribune. The articles, by Tom Wolfe, Barbara Goldsmith, and Jimmy Breslin, among others, were fascinating enough. But the thing that captured my imagination was the classifieds section—and one classified in particular. Nestled among the ads for military schools, summer camps, and tutors was the following: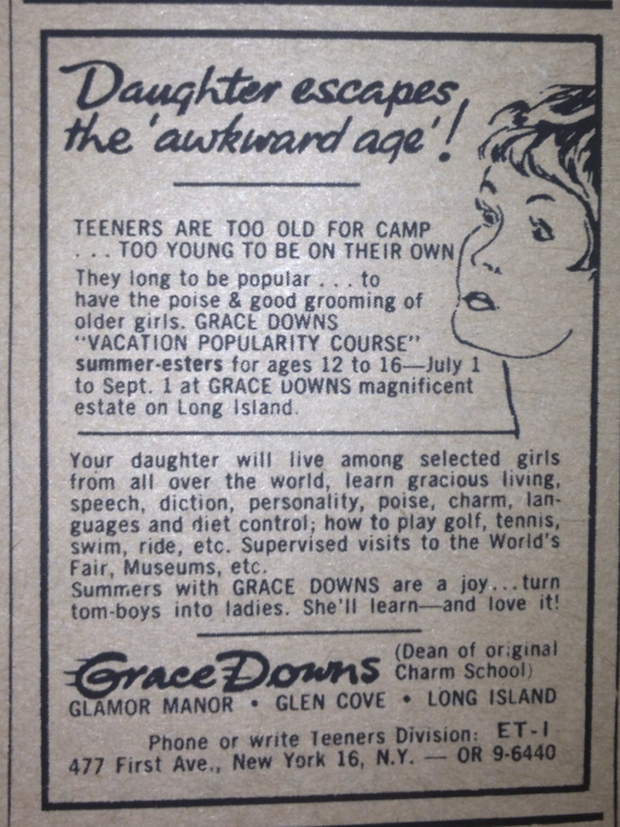 I was torn between natural horror—was this some kind of coded reprogramming for "tom-boys"?—and envy for the awkward girls who'd spent three months on said manor and returned to school in September not merely poised, slim, and well groomed, but also proficient equestriennes. One can easily imagine wistful mothers trembling on the brink of the 1960s feeling exactly the same way.
By 1963, schools like the Glamor Manor would already have been well established. Downs, after all, was not merely a charm doyenne, but the original article. A former cover girl, she founded her first charm school in 1927, later expanding into an "airline and secretarial school" and moving, in 1959, to the forty-one–room Glen Cove mansion.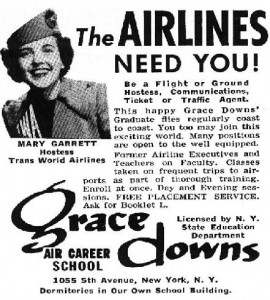 Although etiquette schools still exist—there is one remaining geriatric finishing school in Switzerland, and a quick search reveals both an Etiquette School of New York and the burlesque-tinged Kitty Cavalier's School of Charm and Cheek—one imagines there is rather less weight management, golf, and posture involved. I decided to hit the books for a better idea of what the Charm Manor might have entailed.
Two sprang off the shelves; in Dinny Gordon, Sophomore, the formerly gawky Blythe spends a summer at charm school and returns to school in the fall a teen model with beautiful posture and an enviable boyfriend. Even more details were supplied by 1964's Beth Hilton, Model. When our protagonist tours the Marshall School of Charm, she is enraptured:
It was a beautifully run school; Beth could see that very quickly as she stood in the long, window-lined hallway from which all the classrooms opened. The classes they observed, each for a few minutes, were small groups of girls and young women, all learning the things Beth wished to make her own: graceful carriage, poise, a well-modulated voice, the art of conversation, good taste in dress—a personal style sense.
Later, the pupils practice walking, makeup, elocution, and posture.
In the airy physical-education room they were greeted by Miss Dana, a lithe blonde with a heavenly complexion and a faint trace of a foreign accent. Here the girls were weighed and measured, their figures analyzed and the features to be corrected checked off on their personal charts.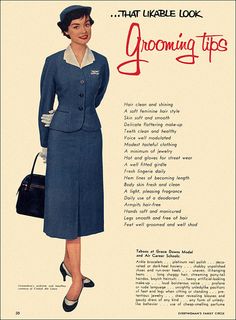 Needless to say, the course is life-changing for Beth Hilton (model), who ends up earning a lucrative contract and a love interest, following a subplot with a snobbish rival model, a skiing accident, and, if memory serves, a death-defying mountain rescue on a plastic cafeteria tray.
Clearly, charm school had mystique, and for some—if only a few mothers or a few girls, for a few minutes of reading that ad—it probably provided a little magic. But one hates to think of the little Harriet M. Welches of the world, publicly measured and forced to convey themselves with grace across fairways and around sand traps. I doubt they, or any of us, truly escaped the awkward age—then as now, no tuition is steep enough to keep it at bay.