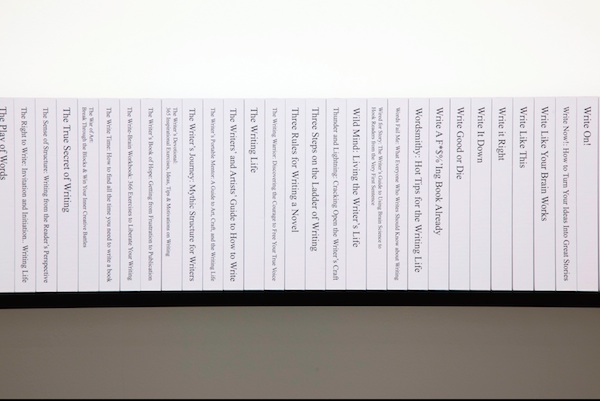 In March, Michele Filgate wrote about Meriç Algün Ringborg's Manhattan exhibition "The Library of Unborrowed Books" for this Web site. For that exhibition Algün Ringborg selected and exhibited titles that had never been borrowed from their respective libraries—an idea both clever and touching. Last month she opened her new, similarly bookish exhibition in Istanbul's stylish Gallery NON, which is currently hosting its first show in a new building on a bystreet cutting through Istiklal, the city's cultural center.
"The Apparent Author" consists of a sound installation which amplifies the voice of an author going on and on about her artistic goals, ambitions, and potentials (it feels as if she prefers speaking over the more difficult task of writing a book). Moving along, the viewer is confronted by two silent videos of the hands of the same author (in one video she ties a knot, in the other she performs a trick with a pen—both movements seem equally devoid of purpose). Then we come to what is, implicitly, the author's workplace; we see the manuscript of a romance-thriller novel composed entirely from example sentences found in the Oxford English Dictionary, whose random and yet strictly disciplined order serves as the point of departure for the exhibition.
As an Istanbul author trying to finish a first novel in English, I was particularly fascinated by one piece: a shelf holding more than one hundred books devoted to helping authors finish their manuscripts. In fact, I immediately took out my iPhone and made a recording of the manual titles so that I could read them in more detail back home. (With the exception of Milan Kundera's The Art of the Novel, I hadn't read any of the books on Algün Ringborg's shelf.) My fast-panning video is fifty-three seconds long; typing the titles of all the books in it took almost an hour. Below I present the fruits of my labors: a full list of the library's titles, which Algün Ringborg says are all taken from actual books. I checked them on Amazon; she is right. However absurd their titles may seem, almost all those books are sold under the site's Education & Reference department.
My feelings shifted from laughter to sadness when I tried imagining not only the readers of those books, but also the authors, themselves in desperate need of attention from the people they are meant to educate. Had the Stanford professor Franco Moretti analyzed the titles of their books with his distant reading methods, he would surely point to the curious ways in which they present the craft of writing: they offer exercises and strategies to create time for writing, they believe that a book is something that the writer grows, like a child, and that the literary voice is something one can find in a manual. Plots can be devised through kits and those same kits can help one write a first draft in thirty days; one can liberate her writing, or release or free her inner writer, just like that.
100 Ways to Improve Your Writing
100 Ways to Write Badly Well
200 Writing Prompts
250 Things You Should Know About Writing
500 Ways To Be a Better Writer
642 Things to Write
A Manual of Writer's Tricks
A Writer's Space: Make Room to Dream, to Work, to Write
A Writer's Workbook: Daily Exercises for the Writing Life
About Writing
Advice to Writers: A Compendium of Quotes, Anecdotes and Writerly Wisdom from a Dazzling Array of Literary Lights
Alphabet Juice: The Energies, Gists, and Spirits of Letters, Words, and Combinations Thereof; Their Roots, Bones, Innards, Piths, Pips, and Secret Parts, Tinctures, Tonics, and Essences; With Examples of Their Usage Foul and Savory
Anybody Can Write
Become a Writer
Becoming a Writer
Beginnings, Middles & Ends
Better Writing
Bird by Bird: Some Instructions on Writing and Life
Chapter After Chapter: Discover the Dedication & Focus You Need to Write the Book of Your Dreams
Craft of Writing
Escaping into the Open: The Art of Writing True
Everyday Writing: Tips and prompts to fit your regularly scheduled life
Everything I Know About Writing
Finding Your Voice: How to Put Personality in Your Writing
First Draft in 30 Days: A Novel Writer's System for Building a Complete and Cohesive Manuscript
How I Write: Secrets of a Bestselling Author
How Not to Write a Novel: Classic Mistakes and How to Avoid Them: A Misstep-by-Misstep Guide
How to Grow a Novel: The Most Common Mistakes Writers Make and How to Overcome Them
How to Not Write Bad: The Most Common Writing Problems and the Best Ways to Avoid Them
How to Write
How to Write & Sell Your First Novel
How To Write A Book: 3 Steps To A Perfect Outline For Your Book Even If You Have No Idea Where And How To Start
How to Write a Damn Good Novel: A Step-by-Step No Nonsense Guide to Dramatic Storytelling
How to Write a Sentence And How to Read One
How to Write and Sell a Novel
How to Write it: A Complete Guide to Everything You'll Ever Write
How to Write Magical Words: A Writer's Companion
How to Write the Perfect Novel: A Tongue-in-Cheek Guide to Certain Literary Success
How to Write: Advice and Reflections
If You Can Talk, You Can Write
If You Want to Write: A Book about Art, Independence and Spirit
In Fact: Essays on Writers and Writing
Invisible Ink: A Practical Guide to Building Stories That Resonate
It was the Best of Sentences, It Was the Worst of Sentences: A Writer's Guide to Crafting Killer Sentences
Just Write: Here's How!
Keys to Great Writing
Magic of Writing Things Down
Making a Literary Life
Naming the World: And Other Exercises for the Creative Writer
No Plot? No Problem! Novel-writing Kit
No Plot? No Problem!: A Low-Stress, High-Velocity Guide to Writing a Novel in 30 Days
On Becoming a Novelist
On Creative Writing
On Writing
One Continuous Mistake: Four Noble Truths for Writers
One Writer's Beginnings
One Year to a Writing Life: Twelve Lessons to Deepen Every Writer's Art and Craft
Original Writing
Outlining Your Novel: Map Your Way to Success
Page After Page: Discover the Confidence & Passion You Need to Start Writing & Keep Writing (No Matter What!)
Painless Writing
Pen on Fire
Plot & Structure: Techniques and Exercises for Crafting a Plot That Grips Readers from Start to Finish
Professional Writing
Reading and Writing
Reading Like a Writer: A Guide for People Who Love Books and for Those Who Want to Write Them
Reflective Writing
Say What? Here's How You Can Say and Write It Better
Seize the Story
Several Short Sentences about Writing
Shut Up & Write!
Sin and Syntax: How to Craft Wickedly Effective Prose Sin and Syntax: How to Craft Wickedly Effective Prose
Solutions For Novelists: Secrets of A Master Editor
Steering the Craft: Exercises and Discussions on Story Writing for the Lone Navigator or the Mutinous Crew
Steps to Writing Well with Additional Readings
Story Engineering: Mastering the 6 Core Competencies of Successful Writing
Style: Toward Clarity and Grace
The Art of Dramatic Writing
The Art of Readable Writing
The Art of the Novel
The Artist's Way: A Spiritual Path to Higher Creativity
The Book on Writing: The Ultimate Guide to Writing Well
The Careful Writer
The Courage to Write: How Writers Transcend Fear
The Elements of Style
The Essential Guide to Writing a Novel
The Little Red Writing Book
The Midnight Disease: The Drive to Write, Writer's Block and the Creative Brain
The New Well Tempered Sentence: A Punctuation Handbook for the Innocent, the Eager, and the Doomed
The Play of Words
The Right to Write: Invitation and Initiation.. Writing Life
The Sense of Structure: Writing from the Reader's Perspective
The True Secret of Writing
The War of Art: Break Through the Blocks & Win Your Inner Creative Battles
The White Time: How to find all the time you need to write a book
The Write-Brain Workbook: 366 Exercises to Liberate Your Writing
The Writer's Book of Hope: Getting from Frustration to Publication
The Writer's Devotional: 365 Inspirational Exercises, Ideas, Tips & Motivations on Writing
The Writer's Journey: Mythic Structure for Writers
The Writer's Portable Mentor: A Guide to Art, Craft, and the Writing Life
The Writers' and Artists' Guide to How to Write
The Writing Life
The Writing Warrior: Discovering the Courage to Free Your True Voice
Three Rules for Writing a Novel
Three Steps on the Ladder of Writing
Thunder and Lightning: Cracking Open the Writer's Craft
Wild Mind: Living the Writer's Life
Wired for Story: The Writer's Guide to Using Brain Science to Hook Readers from the Very First Sentence
Words Fail Me: What Everyone Who Writes Should Know about Writing
Wordsmithy: Hot Tips for the Writing Life
Write A F*$%'Ing Book Already
Write Good or Die
Write It Down
Write it Right
Write Like This
Write Like Your Brain Works
Write Now!: How to Turn Your Ideas Into Great Stories
Write On!
Write Right!
Write That Book Already!: The Tough Love You Need to Get Published Now
Write This Way
Write to be Read
Write Your Genius, Genius! A Rather Quick Guide to Book Writing
Write-Off
Writing
Writing a Novel and Getting Published for Dummies
Writing and Thinking: A Handbook of Composition and Revision
Writing Between the Lines
Writing Down the Bones: Freeing the Writer Within
Writing FAST: How to Write Anything with Lightning Speed
Writing for Impact
Writing from Start to Finish: A Six-Step Guide
Writing from the Body: For Writers, Artists and Dreamers Who Long to Free Their Voice
Writing from the Center
Writing from the Inside Out: Transforming Your Psychological Blocks to Release the Writer Within
Writing Life Stories
Writing Magic: Creating Stories that Fly
Writing on Both Sides of the Brain: Breakthrough Techniques for People Who Write
Writing the Breakout Novel
Writing Tools: 50 Essential Strategies for Every Writer
Writing With Power
Writing with Precision: How to Write So That You Cannot Possibly Be Misunderstood
Writing with Style
Writing Your Way
You Were Born to Write: Complete Your Book in 30 Days or Less by Mastering the Inner Game of Writing
Zen in the Art of Writing 
"The Apparent Author" is open until November 9 at Gallery NON, Tomtom Mahallesi, Nur-i Ziya Street, no 16, Istanbul, Turkey.
Kaya Genç is a novelist and essayist from Istanbul.