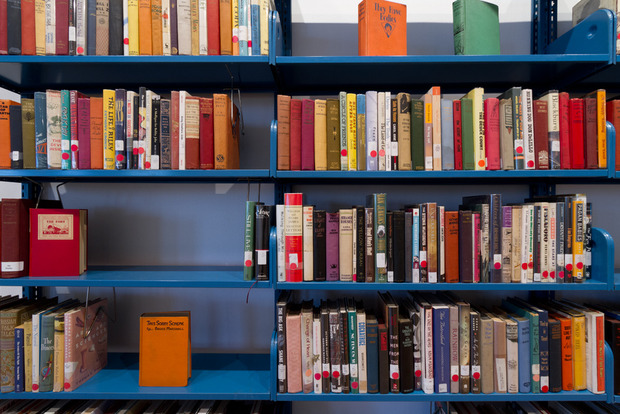 "You own every book," my boyfriend often says to me. And sometimes it seems like that's true. I now own enough unread books to last me at least ten years, and I keep adding to the collection every day.
Books are meant to be read. This is what I say to myself whenever I, with some level of despair, glance at my many bookshelves. My personal library takes up a substantial amount of room in the Brooklyn apartment I share with two friends. I've read a lot of books that I own. I've also, truth be told, not read a good number of the books. I feel tremendous guilt toward the books I ignore.
It's no surprise, then, that Meriç Algün Ringborg's "The Library of Unborrowed Books" exhibition at Art in General, in Manhattan, should catch my eye. I was intrigued by the concept: the artist had selected more than a thousand titles from the Center for Fiction's library that have never been borrowed.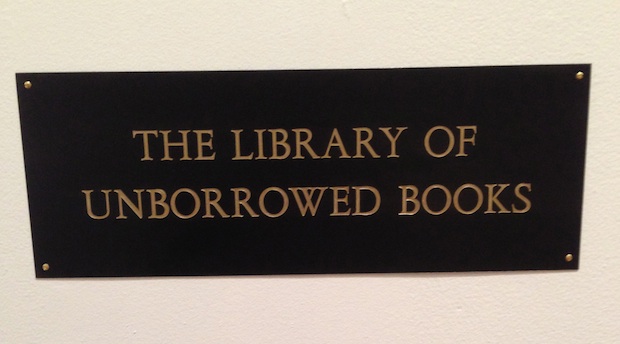 I went to the exhibit expecting to see shelves of neglected books I'd never heard of; titles long forgotten by the general public, an island of misfit tomes. Instead I immediately noticed some books by household names: Blood and Gold, by Anne Rice; Running Dog, by Don DeLillo; David Copperfield, by Charles Dickens; The Habit of Being, by Flannery O'Connor; and even a Dover Thrift edition of Edith Wharton's short stories.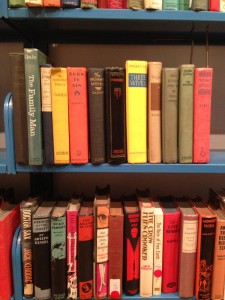 The exhibit takes up one wall in the spacious room; the books are exhibited on actual shelves from a university library. Some are displayed alone, but most of the books are grouped together and the entire library is alphabetized. Official-looking forms explaining that the books are on loan from the Center for Fiction are framed on a wall nearby.
A funny thing: there's something about displaying the books as art that made me want to page through each and every novel. It's as if all of the words put together are trying to say, We are necessary; we have stories to share. I feel a strange protectiveness toward these works of fiction; imagined lives collecting dust on shelves in some cases for years, perhaps at one point considered by a potential reader, then rejected.
I'm not alone; seeing stories that haven't been chosen before makes them desirable, according to Anne Barlow, the director of Art in General. She described the opening night of the exhibit; guests were deeply curious about the specific titles on the shelves, and she observed people longingly browsing the collection.
In an e-mail interview, Ringborg explained the rationale behind the exhibit. This isn't the first of its kind; she worked on the same project using books from the Stockholm Public Library.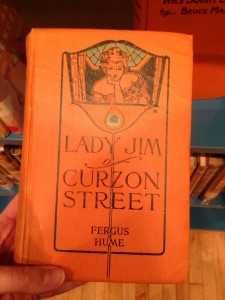 "Several of my previous works had brought me to ideas of the bureaucratic cataloguing of the world, and the gaps and cracks in history that come with it. The library in this case offered the opportunity of putting on display archived objects that somehow existed within this variable. It was a way for me to make something out of nothing, so to speak, as these books exist in physical form but their content has gone 'unused.'"
Recently, I hosted an alphabetization party at my apartment. I invited some of my friends to help me tackle the massive task of alphabetizing my personal library. I spent hours culling my collection before they showed up; the piles of books I was to give away covered my living room. (When the first friend arrived, she assumed the discards made up my entire collection.) Although most of my friends left with books—some of them took piles—the next day I still had to donate several hundred to Housing Works Bookstore. Afterward, I felt a sense of relief, as if I was giving those books another chance at life. I also felt a little bit of regret, and not just because of my sore muscles. I felt like I had let my unread books down, in some weird way.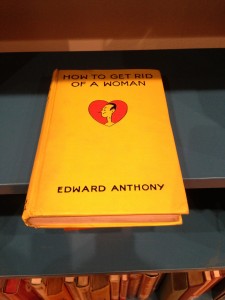 I hope my friends read the books they took home with them. I hope the books I donated to Housing Works are purchased by curious readers who don't just let the book sit on their shelves for years on end. But mostly I hope that we all can always live in a world where there are many unread books just waiting to be chosen by the perfect reader. Ringborg told me, "It is hard to deny the pleasure of reading from a physical book." Her exhibit is just as much of a pleasure; in many ways, it's exactly like browsing a used bookstore and coming across books you never knew you wanted to read. As she explains it, "There are many things I hope people take from this exhibit, but one of them is that I wish that the sense of discovery lingers a bit after one has left the exhibition." 
Michele Filgate is a writer, indie bookseller/events coordinator at Community Bookstore, and critic. Her work has appeared in The Rumpus, Salon, Time Out New York, The Daily Beast, O, The Oprah Magazine, Vol. 1 Brooklyn, Capital New York, The Star Tribune, Bookslut, The Quarterly Conversation, The Brooklyn Rail, and other publications. She lives in Brooklyn.