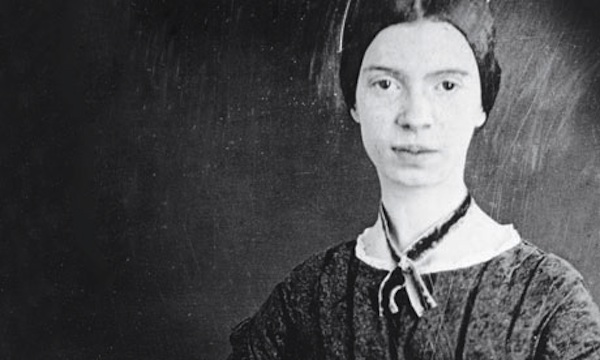 Emily Dickinson published only ten poems. Printed in various newspapers, her verses all appeared anonymously. It was not some failure of contemporary taste but her own decision that kept the rest of her poetry private. Dickinson wrote in one poem that "Publication—is the Auction / Of the Mind of Man—" and indeed she seems to have felt there was something crass, even violative about fixing one's words in a particular arrangement of type, surrendering them for a price.
And yet, I am grateful to have been able to pay small sums of money for her poetry. A few complete editions, two selected volumes, and one pocket collection: new and used, hardback and paperback, her poetry has always been something for which I was willing to pay. I dreamed of sitting by the fire with my Emily Dickinson while someone I loved sat reading Robert Frost. I collected all these copies of her poetry so that no matter where I went, I would be ready for those dangling conversations.
But the books I gathered have gotten to rest these last few days as I've spent hours clicking away in the Emily Dickinson Archive. For the first time since her death, almost all of her poetry, published and unpublished, finished and unfinished, appears together in high-resolution scans, just waiting for readers and scholars to page through it electronically.
The first poem I ever received by e-mail was one by Emily Dickinson. Ten years ago, on what would be one of my last true snow days, when school was cancelled and all the world was covered in possibility, a teacher sent me an e-mail: "Don't forget to put down the books and enjoy some of this winter wonderland," she wrote, and then beneath her signature included the text of Emily Dickinson's "It sifts from Leaden Sieves."
The poem appeared in my ancient inbox all those years ago in simple sans serif type. It's delightful now to see that same poem in her loopy cursive in the archive. There are two versions from Houghton Library's collection and two others from Amherst, so already the single poem has multiplied into several; the variability of Dickinson's line breaks and stanza divisions across the multiple versions of this poem alone could inspire several dissertations.
Although Dickinson wrote 1,789 poems, the archive includes more than four thousand images: completed poems, but also the drafts and altered versions that reflect her constant editing and meticulous revisions. Even more material will continue to be added. Never before has the zoom button been so useful: letting us see the very fibers of her paper scraps, the subtle bleed of ink from one side of a page onto another, the creases of bindings and page folds. You can browse by image or by first line, and search by date or by recipient. You can press a button and a transcription of the text unfolds to the right of the image. There is even a lexicon, which lets you choose any one of the more than nine thousand words that Dickinson used in her work, and then bring up its definition from the very dictionary she used, the 1844 edition of Webster's.
Eight institutions—the American Antiquarian Society, Amherst College, Yale's Beinecke Library, Boston Public Library, Harvard's Houghton Library, the Library of Congress, Smith College Libraries, and Vassar Special Collections—have pooled their holdings to create a central, open-access archive of her work. For no cost at all, we can view all of Dickinson's elusive poetry in her own handwriting: finished poems, the fascicle manuscript books, drafts, and tiny lines of verse on envelopes and wrappers.
Much has been made of the number of hatchets that had to be buried in order for the archive to exist. Two years in the making, the archive most notably reflects the rare collaboration between Amherst and Harvard. These institutions inherited a family feud that is most clearly described in the biographer Lyndall Gordon's recent book Lives Like Loaded Guns: Emily Dickinson and Her Family's Feuds.
The reductive account of that fascinating series of squabbles would go something like this: after Emily Dickinson died, her sister gave her manuscripts to their sister-in-law, who later allowed her husband's mistress to help ready the poems for publication, but who later claimed ownership of some of the manuscripts. The materials owned by Susan Dickinson, their brother's wife, eventually found its way to Harvard; the materials owned by Mabel Loomis Todd, their brother's mistress, found its way to Amherst. Most of Emily Dickinson's work continues to reside at these two institutions, while the six other institutions that have contributed to the archive own much smaller collections.
When I was an undergraduate, I had the chance to look at some of the Dickinson collection owned by Harvard. It was my first time visiting an archive of any kind, and I was there to see materials related to John Keats. What riches are wasted on the young. After depositing my books and pens in one of Houghton's lockers, and then taking one of their free wooden pencils and a few sheets of paper, I followed a small group into a reading room. Treasure upon Keatsian treasure appeared, and after an hour or so, the librarian who had been turning pages and producing manuscripts asked if we might also like to see the Emily Dickinson Room.
Opening an unassuming door on the second floor of Houghton, the librarian led us into what looked like a bedroom without a bed. One wall was all bookshelves; in one corner there was a chair and a narrow writing table; against one wall, between two windows, beneath a portrait of three children, stood a four-drawer bureau. The bookshelves are filled with the Dickinson family's books, the chair and cherry table are where Emily Dickinson sat to write, the portrait is of Emily Dickinson and her two siblings, and the bureau is where Emily Dickinson's poems were found hidden after her death.
There are no ghosts in the Emily Dickinson Room. It is difficult to conjure even a spirit with the windows shuttered and the atmosphere so sterile. Years later, when I finally went on a pilgrimage to the Emily Dickinson Museum in Amherst, I understood the peculiarity of Houghton's effort to make their artifacts seem at home with one another, at peace in their surroundings.
At the homestead, where Dickinson lived almost her entire life, I found myself lingering in her bedroom on the second floor. One of the only original artifacts in the entire house is the sleigh bed is where Emily Dickinson slept and died. In this bedroom, around that bed, there are spirits, a haunting so thick it puts Houghton's Emily Dickinson Room to shame. A white cotton dress, its cuffs and collar fitted with lace, stands full length in a glass case between two windows, and I remember thinking of one of Dickinson's poems that begins "The only Ghost I ever saw / Was dressed in Mechlin."
The dress is only a replica of one worn by Dickinson, but it's a useful analogy for the archive. Where before scholars and enthusiasts had to find their way to one of the institutions that contributed their holdings to the archive, making their case for access and then pouring over her manuscripts for restricted, limited hours, now all of her work appears before us—ours to read and scan for as long as we want, at whatever time of day or night we choose.
But the archive, however perfect the scans, however precise the digital images, offers only replicas. Beautiful, haunting replicas: but still just that. The originals will remain tucked away in climate-controlled drawers and heavily-guarded rooms, yet the spirit of the poet may very well have moved on to haunting the replicas. Just as the dress brings chills, so too do the digital equivalents of Dickinson's work, messy and unfixed in a way I think she might have liked, having so fiercely resisted the deadening option of publication in her own lifetime.
Some gimlet-eyed and buttoned-up scholars will rail that real scholarship can still come only from the actual, physical materials Dickinson left behind, but I think they are wrong. The open access archive of Emily Dickinson's work is hopefully the first of many such online repositories that will allow more of us the opportunity to admire and understand original manuscripts. We have all had the experience of an archive—if not one of a celebrated author, then at least the more important archive of our mother's attic or our grandfather's basement—and while dusty hands and allergic sneezes are the traditional badges of such research, the digital archive promises new rewards: annotations and bookmarks, screenshots and downloads.
* * *
On Emily Dickinson's tombstone, rather than died or returned to the Lord or left this world, it reads: CALLED BACK.
Emily Dickinson
Born
December 10, 1830
Called Back
May 15, 1886
Those two words were the last she wrote, in a letter to her cousins, but also the title of a novella she loved by Hugh Conway. The Emily Dickinson Archive means we can call her back whenever we like, however early the hour of morning or dark the hour of night.
Casey N. Cep is a writer from the Eastern Shore of Maryland.