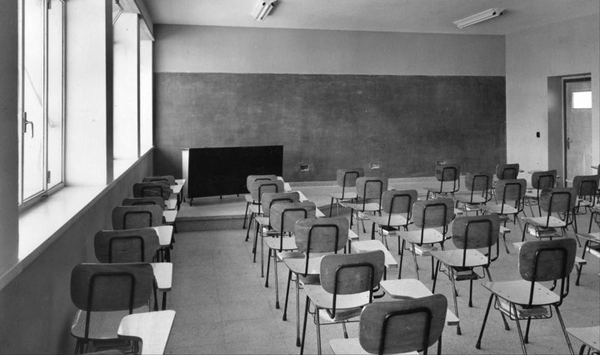 In Beirut, there's a shovel-faced gremlin sitting in front of the whorehouse. I'm just passing by, and he eyes me from his perch on a coffee can, where he rocks back and forth, opening and closing his fists, one bloodshot fish-eye firmly closed, the other spinning wildly. He barks out suddenly, a sharp noise like the backfire of an old Mercedes, and I turn to see his massive feet slap the pavement in black sneakers, his chest splattered in wet cigarette ash. Checking my watch, I still have ample time before I meet Marilyn Hacker, the eminent poet, who's agreed to an audience with my class of elderly writing students. The gremlin smacks his lips, the size and shape of small fish, and I'm happy to be rounding a corner.
Down the block, I see the lantern-jawed doorman with the scarf, patrolling his stretch of sidewalk. He's got the chiseled chin, the squinting, seen-it-all eyes, and the mane of hair of an Arab George Clooney. Yet for all his confidence, I've never seen the guy do anything but smoke, smile, and gesture admiringly at some cool car and—today—the shapely form of a woman's rear end.
On the next block, the bellhop is a puppy dog in a gray tux. Months ago, he told me he'd have a new uniform. Another day he smoothed his collar and tousled my hair. Later still, he blew me a kiss, and on another day he pretended not to see me, then yelled out my name, which I had not realized he knew. I spied him at a local grocery store, wearing a T-shirt and jeans, and in his basket was only tea and chocolate. Today he is busy.
At the fourth-floor apartment, curtains are drawn against what must be a jaw-dropping view of the sea. I shake hands with the gray-haired host and spot a man I don't recognize. He has rough hands and broad shoulders and I find myself wondering if he'll enroll in my writing class this spring. The room steadily fills with familiar faces, most of them women, and I stoop to hug the narrow shoulders of various elderly students. There's New Hampshire native J. M. C., who moved to Beirut in 1964, thinking she'd stay a year, and will mark her fiftieth anniversary here next year. Then lovely Nada, entering an advanced decade. But I don't yet see all of my star pupils, such as Dr. H., who wrote a stunning piece for me last fall about falling in and out of love with his first boyfriend, and Thanksgiving. They're all pretty good at this, in their own way.
We compliment each other on hair-dos and sweater vests and choices of lipstick and then take seats. I find myself on a white couch; the poet, Marilyn, comes over to crouch rather alarmingly on an armrest, sizing us all up, hands clutching to her chest one of her award-winning books.
Clearing her throat, the seventy-one-year-old—in town from Paris, where she's lived off and on since 1972—begins a poem that refers to the scars on her chest where once there were breasts, and as she continues I look around the room, at men and women who cradle drinks with liver-spotted hands, each of them listening to one who won the academy's top prize nearly forty years ago. There's the muffling of coughs and then sighs and then Abla rushes off to take a phone call in the next room. I want everything for them. Feeling responsible, I distract myself by picking at the arm of the couch, staring with considerable focus at a table lamp, made of an old bottle, with wire stretched through a glass neck. What are we made of?
We break for snacks, and wanting to seem professional, I opt for sparkling water. I admire J. M. C., whom I see pouring a second glass of wine. Finding myself surrounded by students, I tell the group about going to Italy this winter—my first time in Europe—and how I was not at all shy with the wine then. They laugh politely and I see out of the corner of my eye the eminent poet standing to the side, regarding me with a knowing smile. She retired from teaching not long ago.
You try hard and you listen but in the end we're all mostly capable of being exactly who we are, and whether or not that version can be improved by a class is another matter entirely. Then the rough-handed guy who hasn't yet enrolled volunteers to read a set piece he's written, about Beirut's main clock tower. The clock tower was how a grandfather set his watch, and the man tells us about the thrill of getting his first job: to tend to the mechanics of this famous clock. During the civil war, explosions were routine, and like on any other morning, he was listening to the BBC, when a newscaster said the latest strike hit the center of campus. The man ran up the hill, sinking to his knees when he discovered the clock lying in ruins.
Nothing lasts forever; neither my senior citizen students nor Marilyn Hacker, nor even an evening of poetry in a borrowed living room. J. M. C., still drinking wine, interrupts a question to recall her days in  Paris. "I remember when Stalin's death was announced," she says. "1953. Imagine that." Another student asks Marilyn if cafés in Paris are still important. "The tourists go to the old ones," Marilyn says, visibly drifting away from us. Then she snaps back. "Happily, there are some new ones." Her eyes light up, and I can almost see the woman she was.
Someone drops a fork. The man with the rough hands is falling asleep. The host is jangling her gold wristwatch. It's time to go. Outside it's almost too dark to see. The break before spring semester is coming to a close. Lost in thought, I walk home on a winter's night, a man of thirty-three years, forgetting for a moment where I'm going.
Nathan Deuel lives in Beirut and has contributed to the New York Times, GQ, and Virginia Quarterly Review, among others. His first book, a collection of essays, will be published by Dzanc in May 2014.