At the age of fourteen, one year removed from the forced tribalism brought on by being a bar mitzvah–age Jewish boy, I decided I wanted to define myself by something besides my recent readmission into the Chosen. Your typical suburban weirdo, I started to use the rudimentary sewing skills passed down by my grandparents to attach silkscreened patches to my L. L. Bean backpack and zip-up hooded sweatshirts. I bleached my hair, and quickly hid my CDs by contemporary "alternative" groups like Third Eye Blind and the Smashing Pumpkins, replacing them with albums by bands like Minor Threat, Bad Religion, and, my favorite, the Descendents.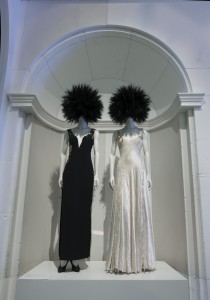 I was punk; at least, I thought I was punk, until an even older punk asked me if I actually knew what punk was, thus sparking a volatile internal dialogue inside my head. This was my first experience with the Talmudic-like discussion that surrounds punk: What did punk actually sound like? Was punk a philosophy? When did punk start? Did it start in America or England? Was Emma Goldman punk? Were the Situationists punks? Was the Velvet Underground punk? Were the hippies in the 1960s actually punks before punk was a thing? Was garage rock the original punk? I meditated on these questions and made very little headway, until one evening when I saw a kid at a punk show wearing a shirt with "Jesus was the first punk" scrawled on it in Magic Marker, and I had to admit the very act of wearing that shirt seemed pretty punk, even though I wasn't ready to confirm punk's existence. I also had to admit to myself, as I looked around the Chicago bowling alley-turned-venue, that for the most part, for a bunch of nonconformists, us punks all looked pretty much the same.
Questions of what punk is aside, it's difficult to deny that, other than the crude beauty of the Ramones, the noisy dirges of bands like Flipper, or the shouts that "Civilization's Dying" by the Indianapolis band Zero Boys, punk is best explained by its style. It's hard to say whether somebody thinks like a punk, but if you see somebody with a red Mohawk and a bullet belt, chances are you will make assumptions as to which subculture that person best relates. And while people who might identify as punk will probably tell you they aren't into high fashion, it is hard to ignore the profoundly impactful relationship between punk and fashion, intertwined since Dame Vivienne Westwood and Malcolm McLaren turned their Kings Road boutique into the iconic SEX store in 1974. And now everything that Westwood, McLaren, Johnny Rotten (née Lydon), Richard Hell, Patti Smith, and a host of other punks wore, and everything that followed, is getting the high-art treatment with the Metropolitan Museum of Art exhibition PUNK: Chaos to Couture.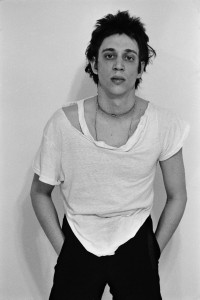 The Met, that iconic beaux-arts institution, naturally provides a study in contrasts: when you finish walking past the thousand-year-old statues and make your way into the exhibit (organized by curator Andrew Bolton, the man responsible for 2011's hugely successful Alexander McQueen: Savage Beauty. Two mannequins face each other. One wears a late 1970s ensemble created by Westwood and McLaren: a shirt made of red cotton twill with fabric straps, black rubber buttons, and buckles; a pair of bondage pants; and a bum-flap made of red terry cloth. The other, meanwhile, sports a 2006 creation that looks almost straight out of a Japanese anime cartoon: a jacket of black plastic embroidered with beads, crystals, and plenty of metal, and a black tulle skirt embroidered with red wool. The latter look is the work of the disgraced John Galliano; considering his high-profile 2011 arrest for a public anti-Semitic tirade (not to mention getting caught on camera proclaiming his admiration for Adolf Hitler), the decision to put his work at the forefront of the exhibition is certainly a compelling manipulation. The viewer is immediately forced to connect Galliano's work with the controversy surrounding punks of the late 1970s—namely, the infatuation with Nazi iconography and motifs, a theme often chalked up to postmodernism, shock value, or just good old fashioned nihilism. The band Joy Division (originally called Warsaw) took its name from a prostitution wing of a Nazi concentration camp staffed by Jewish women in the book The House of Dolls; Siouxsie Sioux and other punk icons were fond of wearing swastikas; and even Mick Jones of The Clash, whose mother was Jewish, was in a band called London SS. (It bears noting that just as these musicians' usages of Nazi symbolism have been largely forgiven, Galliano has landed on his feet, hired by Oscar de la Renta, and , briefly, offered a teaching position at Parsons.)
But swastikas don't show up much in the the exhibition; neither do histories on pogo dancing, Sid and Nancy, and other pieces of punk shorthand. There are instead facsimiles of the CBGB bathroom (complete with "Dead Boys Rule" spray painted on the wall) and Westwood and McLaren's Kings Road shop as it would have looked in the late 1970s. "Trash" by the New York Dolls and a dub version of the Clash's cover of Junior Murvin's "Police and Thieves" play over the speakers, and video snippets and sound bites from punk's golden era blare all around you as you walk by, but make no mistake: PUNK: Chaos to Couture is all about punk as a fashion. It isn't an exhibition designed to answer those lingering questions about what punk is, who is punk, and if it is alive or dead; rather, the exhibit shows how punk fashion was influenced by its parent cultures (a depressed, postwar England and New York's crumbling Lower East Side), and how it went on to influence fashion for the next three decades to come.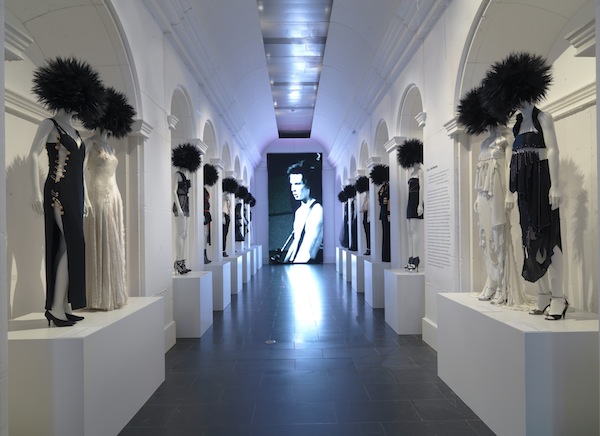 That influence is most noticeable when one looks closely at the sartorial works of art created by the late Alexander McQueen, particularly the pieces made from black silk and synthetic to resemble garbage bags, exactly the type of thing lampooned in Zoolander (which was actually a parody of Galliano's hobo-inspired 2000 spring/summer collection). Looking at McQueen's work up close, you understand quickly why it belongs in one of the greatest museums in the world, and situated mere feet away from a dozen pieces created by Westwood and McLaren (as well as Zandra Rhodes, whose work is also on display). Clothes considered transgressive in the late 1970s contrasted with what they begot; some pieces are held together by safety pins, others are made out of fishnet, juxtaposed with couture dresses and ensembles created by a who's who of today's biggest names in fashion: Yves Saint Laurent, Versace, Rodarte.
Punk has always existed as a messy curative for existential malaise, but for nearly forty years now, retrospectives, exhibits, and books have chronicled the history of punk aesthetics, not its meaning. So I issue the following warning: if you show up at the Met looking for answers, you will probably be disappointed. You should leave your thoughts and ideas about what is and is not punk at home with your Killed By Death compilations and Joe Strummer posters. While walking through PUNK: Chaos to Couture, you might learn that punk as a subculture may have had its ups and downs, but somehow, punk has never truly gone out of style—in a strictly sartorial sense.
The exhibition isn't a study of the underground that sprang up in the wake of punk's golden era circa 1977; there aren't copies of the handmade zines and Fugazi albums that changed my life as a teenager. It is from a different time and place than the one I knew, making it easier for me to detach and realize that the intention behind the exhibition is to highlight the evolution of the look of late 1970s rebellion into the high fashion seen recently on the red carpet of the Met's Gala that has been picked up and repackaged over and over. PUNK: Chaos to Couture is the punk I listened to, but not the punk I grew up believing in.
Jason Diamond is a writer who lives in Brooklyn. He's the founder of Vol. 1 Brooklyn, an editor at Flavorpill, and can be found on Twitter at @ImJasonDiamond.