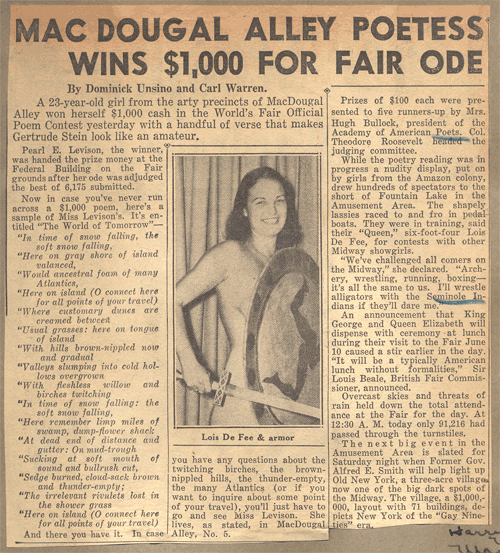 On April 30, 1939, the New York World's Fair opened in Flushing Meadows. You're probably familiar with the fair's iconic deco aesthetic and modern marvels, but did you know there was poetry, too? The Academy of American Poets sponsored a contest to find the Official Poem of the New York World's Fair, with contestants encouraged to write on the theme "The World of Tomorrow." The prize was $1,000; the judges were poets William Rose Benét, Louis Untermeyer, and, oddly, Theodore Roosevelt Jr.
The winner was Pearl Levison and "World of Tomorrow." (Of the five runners-up, three are also called "The World of Tomorrow." One is titled "Tomorrow, America," while Rosalie Moore opted for the economical "Tomorrow.") A New York Times article from May of 1939 describes Levison as "a 23-year-old poet who has lived all her life in this city," while the Daily News specifies that the winner hails from "the arty precincts of MacDougal Alley" in Greenwich Village. 
The poem (which is ten pages long) may be found here. 
(And no, as close readers will have noticed, the woman pictured is not the poet but "showgirl" Lois De Fee, engaging in "a nudity display" of archery, wrestling, running, and boxing.)