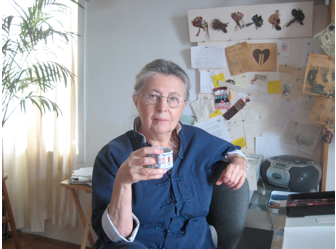 Miriam Katin's first book, We Are On Our Own, told the story of her escape, as a child, from the Nazi invasion of Budapest. An attempt to come to terms with her past, to reconcile faith and history, and an elegantly stark tribute to her mother, that graphic memoir was also a beautifully realized work of art. The story it told, retained all the wonder and pain of a child's impressions, tempered by experience and wisdom.
In her new book, Letting It Go, Katin grapples with her son Ilan's decision to move to Berlin, a city she identifies with Nazis. An investigation of the price survival exacts, it is also an unabashedly personal investigation of family dynamics, a sequel of sorts to We Are On Our Own.
On a recent March afternoon, I visited Katin, who bears an uncanny resemblance to her cartoon-self, in her Washington Heights apartment, her home for the past twenty-two years and the site of her studio in what used to be her son's room. She made tea for me and coffee for herself, set out a plate of freshly baked, sugar-dusted cookies, and, with a softly melodious Hungarian accent, recounted the process of working on her books, her feelings about contemporary Berlin, her nine-year-stint living on a kibbutz, her love of the city ("I'm an asphalt flower. Nature is okay, it's good. But I like asphalt," she said), and what it was like to be the oldest employee at MTV, where she worked on Beavis and Butthead and Daria.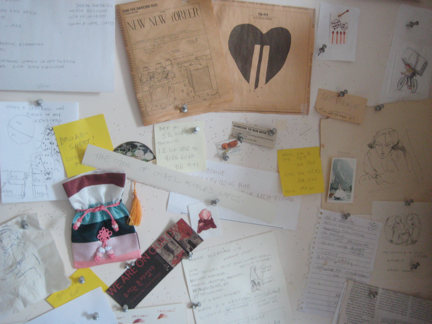 The first book stood on its own, a story from A to Z, a start and a finish. Now this story, this new book, is so personal. And it really depends on the first one. I think it would be hard, just getting to it, to say, That's interesting. It's more fragmented and extremely personal. And vulgar. And dirty. I didn't hold anything back.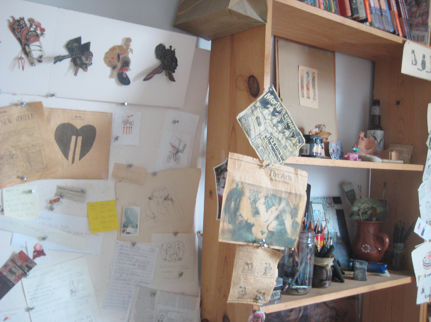 My husband had no problem with this, with Berlin. When I came to America, you know, World War II, I did not have any idea that they were fighting in Japan, in the far East. My husband's family, they were all cursing the Japanese, Pearl Harbor. I had no idea what that was. To me, World War II was Europe, all of us around there.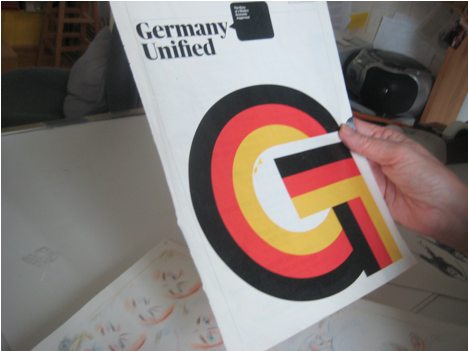 We went to Berlin for the first time in 2009. I think Ilan came up with the idea in 2008. He came for a visit, and then we decided to take a trip to the Baltic countries, which ended up with three days in Berlin. This was perfect. Because it would just sort of touch the place.
Last year, last June, we rented an apartment in Berlin for a few weeks. So, what is it now, everyone asks me, did you let it go, the hatred? And I say, Well, no, I didn't. But I have to admit that Berlin is a different city than I could have imagined. And I'm turning this whole business just into life lived every day. Life here, life in Berlin. We took an apartment in what used to be East Berlin. And it's a huge apartment building, huge block, like the old Communist blocks. And leave it to the Germans—unlike the Baltic countries, they really modernized it. I mean, it's fabulous. But then I sit there, on the balcony, and it's a beautiful view, all of Berlin, really a nice place. And then I see these old Germans. The one with the potbelly, and the other one, smoking every morning, and the woman watering flowers. And I always go like, How old are these people? Oh yeah, they are old enough. But we have our favorite supermarkets, our favorite place to do the laundry. So it's becoming a life.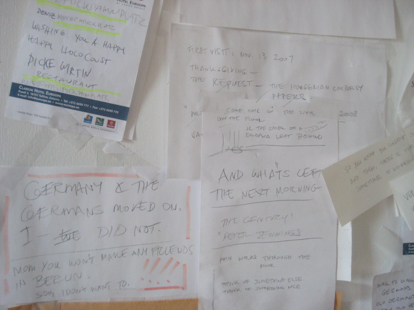 I was constantly jotting down thoughts, taking pictures, buying books. It was very difficult to start. I thought it was very hard to do the first book, because there was a lot of emotional stuff there. But it was a story—this could not be the same thing. This was not just a story.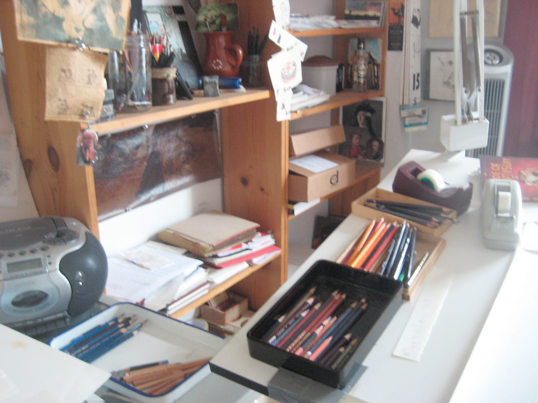 When I start a project, when I finally really get down to, I'm going to do this job, I really clock myself. I get up early, I come in here. And then if you get lucky, like I was a few times, if you get a contract and a deadline, then you're really in it, and, as you go along, everyone really starts to hate you. Because you don't have anything to do with them, you must finish this. They really want you to be happy and succeed, but then again you're not available to you mother, your husband. But yeah, I do, I come in here, and sit down, and work and work and work. And I thought, each time I finished a big job, I thought, I'm into it, I'm so into it now, I'll keep going. And I sit down and start the next one. But then I realize that I am exhausted. And I find excuses. And so this must be it. I'm totally exhausted and drained.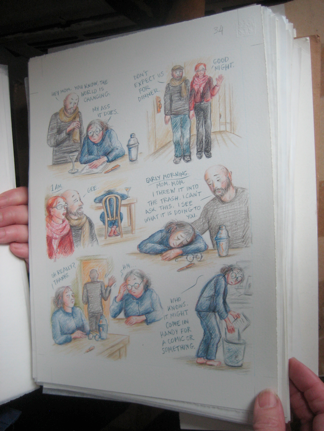 I think and draw. I don't write down the story or anything like that. I think most comic artists … well, I don't know. But I think and I draw. And the first time I did this, I made these little drawings. But here, in this book, it was very different. I didn't want to spend too much time, so I wanted to directly do it on the page, the way I planned, the size of it. I wanted to be more spontaneous.
Actually, I started regular panels. And then I thought I'd do it in crayon, so that it would be immediate. And I thought, maybe, at some point, I'll do it in ink. And then I thought, Okay, I can't. What happened was, as I said, this was written in real time, with an enormous amount of emotion and pressure and a lot of sort of hatred. I didn't have the patience for ink or watercolor. I just didn't have the patience with the various time-consuming things, and I said to myself, I still love pencil. And I just had to run with it. I couldn't do little frames and squeeze things into the frames. I just went wilding into the story, and it actually worked.
My first comics that I did, the very first ones, I did them on tracing paper first, and I thought they were so alive, I didn't want to start copying. So I scanned them into Photoshop, and I just cleaned them there. And then I did a few that way. And when they commissioned the book, I really thought I should do it on paper. And I was really lucky—here is the whole thing, the first book. I was very lucky—it was asked to go to a lot of exhibitions, and a lot of people wanted to buy it. And it's nice to get some money like that. So I realized there's a really great importance to it. Somehow you copy something, it's second generation, something is lost.
I just got back all the originals for this book. It's so nice to have them home, I missed them. I missed them a lot. I always like going to the shelf and looking at them and fondling the paper.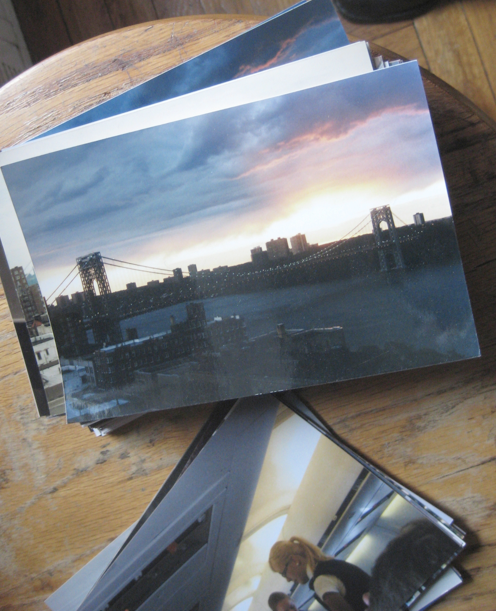 I took pictures for this. And really I used them. It's all in there. This is an enormous amount of pictures.
But I didn't use the pictures of my husband. Frankly, he's too good-looking. I needed an old, cantankerous Jew.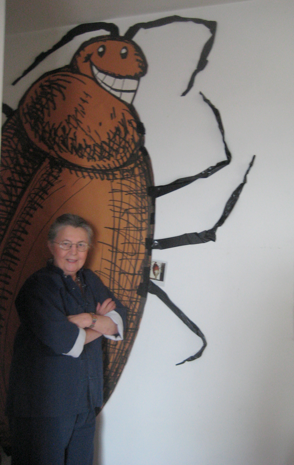 I was working at MTV on a show called Daria. And on the same floor, somebody made this movie called Joe's Apartment. That must have been the worst movie in the world, because it played maybe three times in New York. But the creator, the director, made up this roach, and I was sitting right next to it. And I loved that roach so much. And everyone knew it. Well, the movie flunked. And they said, Let's give the roach to Miriam.
When I was hired to work at MTV, I get a phone call, and she says to me, this girl, "This is human resources. You've made a mistake on your birthdate." And I say, "Oh, well, I always make mistakes. What did I do?" And she says, "Well, you wrote you were born in 1942." I say, "Yes?" So she says, "I'm sure you meant 1982." "No." "1972?" "No." Now she's getting spooked. I mean, everyone around there is an infant. I say, "Look, let me make it easier for you, I was born in 1942, and I am still alive and working." She was totally freaked out. It was a such a great story, MTV used it in training sessions.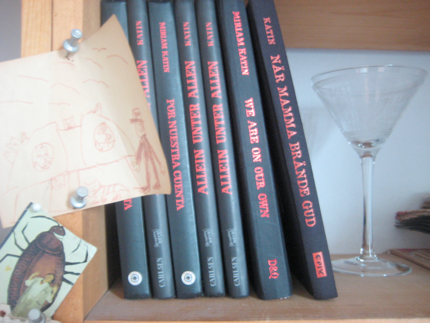 The last time I was in Hungary was in 1996, with both of my parents. My father died a year later. It's changed. To me it was a beautiful city, even when every third house was bombed out. We loved our city. My first story—I did short works—it always started with the beloved city. Because we loved it. And my parents, still, their happiest times, they enjoyed themselves more than anywhere else in Budapest. So all the stories, they started with the beloved city. We thought it was our city too. But it turned out it wasn't. They said, No. It's not.
Sometimes people ask me what am I? Israeli? Hungarian? A citizen of the world? And I say, No, I'm American. I'm American, because this was the most welcoming country … I ended up here, I came to visit, and I met my husband. I went to Bloomingdale's, and I said, I'm not leaving, I'm staying right here. It looks very good.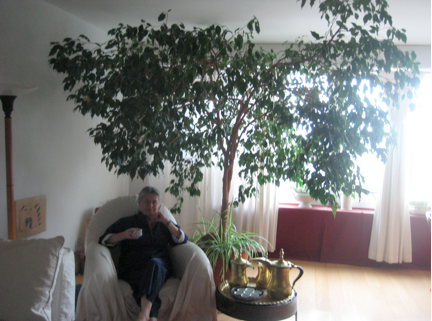 It's the tree of life. When they sent me the proofs for Letting It Go, I read the back of the book, it said, "Miriam Katin is living in Washington Heights with her husband and cats." I said, What cats? And Drawn & Quarterly said, We just thought you have cats. And I said, No, no. No cats. But I have a giant Ficus benjamina tree. So everywhere now, "Miriam Katin lives with her husband and a giant Ficus benjamina tree."
Yevgeniya Traps is a doctoral candidate in English at the Graduate Center, CUNY.