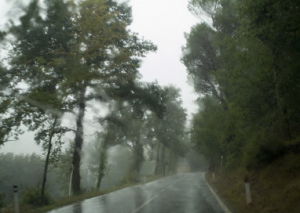 In Rome, I was cocky and competitive and altogether my usual self because the apartment we'd rented for the night was completely white—sheets, pillows, towels—and much bigger than expected, with a cow's head mounted on a wall and great, familiar coffee and I might as well have been in Istanbul or Moscow or New York or the many other places I had lived and worked, and I was thinking, after all that, how hard could Italy be? What's the big deal? Yet that concern about experience or mastery or difficulty was to miss an essential point. That a good thing doesn't have to be hard.
At the pub downstairs, the guy my wife knew knew from Baghdad was telling my wife how to get into Syria. I sighed, feeling everything retighten. A light rain fell as we passed through the piazza, and I saw cops and I stared at their guns. Under heat lamps, we hefted tall glasses of blood-dark wine and when we ordered the final carafe, all this big talk about the usual terrible things, there was nothing to do but float home on a red river.
The next morning, we'd meet the grandparents in Tuscany and I tried to imagine what it meant to have rented a house in Tuscany, with a hot tub and four bedrooms and a giant fireplace and the weight of its clichés, but I found that I could not yet know. On the road at first light, the GPS couldn't find us and neither could I. Normally I'd be livid but as roads ribboned under ancient walls, we laughed and giggled and there were no tanks or mortars or special prizes or special reports and then we stopped at a gas station and I drank a steaming cup of the best cappuccino I'd had in my entire life.
Just before dark, at last emerging into the deep hills, we watched as mist filled valleys, olive trees sagged in the cold, and terraced plots of grape trees stretched into the distance. Also: the threat of wild boar mashing their delicious heads against our car's elegant Italian fender.
"Oh, look, there's a castle," I said.
We found the house, scraping the car along the narrow alleys of a medieval town. My mom spoke halting Spanish to an Italian caretaker who wore a woolen cap and an oil slicker. No one had eaten so we took steps to a tiny store, where two hunters chewed sausages and drank coffee and the grey-haired shopkeeper was amused by us and favored her hip as we filled a basket with Chianti and Moretti and bread and coffee and pasta and then she sliced mortadella and prosciutto and salami and even bagged us up a ragged chunk of pecorino.
Opening a set of wooden shutters the next morning, I nearly fell down with the view: like a Vermeer—all stunning honey fog and a wash of green and grey. It wasn't hard to open a first bottle before lunch and then stumble to a restaurant with no name. A plump woman in a white apron and a chef's hat opened the door, ushering us into the steam of a sunroom warmed by a roaring fire. We clinked glasses of wine. There were something like three grapes in America. We could drink in Italy for the rest of our lives, and we'd never drink all of Italy's 1400. Maybe we'd never leave.
After lunch, the chef chased us down the street, clogs slapping on stone and apron ties streaming. She put a flyer in my hand. Christmas lunch, it said. As I tried to make out the Italian—pappardelle, bruschetta, sambuca—she worked her meaty, flour-covered hands.
"Reservo?"
"Reservo," I said.
On the Christmas table were tortellini in broth, goose liver on toast, pork chops, acres of pasta smeared in garlic, and carafe after carafe of wine. I loosened my belt, and we heard rifle shots in the valley, and then there were shots of grappa and heavy cups of hot espresso. The waitress made us up a to-go bag of beer, just to be safe. In our massive stone fireplace, we kept a fire roaring for five straight days. Hunters prowled the shadows.
The final day, we walked slowly up a hill. A man picked out a glistening red pepper from a stall, a woman bargained for a sweater, a pair of old ladies sipped coffee from a bar lined with bottles, and we all agreed: none of us ever wanted to leave. You could live here. Nothing was stopping you.
Then I found the pig, and I suppose what I did was I began to cry. Because of course we were gonna leave. For a few euro, a woman in a paper hat begin slicing from a giant, golden carcass. This was porchetta, and I swooned as she assembled onto a half loaf of crusty bread these warm piles of meat, which had been spiked with herbs and garlic. The rain fell again and my daughter sat on my shoulders and there were three grapes in America, all of which I loved.
The world was so big! It could take a lifetime and no matter how hard you tried you'd never really know it all and yet you might pretend, in your small corner, as I did, to have had some idea of what really mattered.
I'll never forget the way the woman looked at me from a moving car. She didn't hate me, and I was so used to being hated. She didn't want to be like me, either. She just didn't much care who I was or what I did. So I ate a pork sandwich in the rain, in a city older than dirt, with a mouth full and a crazy desire for more, and in the moment I resolved never again to pretend that hardness was goodness.
Nathan Deuel lives in Beirut and is an M.F.A. candidate at the University of Tampa. He has written essays for The New York Times, GQ, Salon, and the Los Angeles Review of Books, among others. Previously, he was an editor at Rolling Stone and the Village Voice.