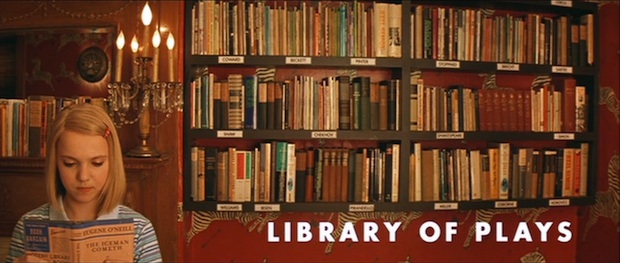 I once knew a man who bought antique books by the foot to fill the majestic library of a new house. He was completely unembarrassed by this fact, which is, I guess, the only way to be, and there was something very eighteenth century about the whole thing. (On close inspection, a lot of them proved to be bound sermons, in many volumes.) The idea of insufficient books to fill shelves is a novel idea to most apartment dwellers, certainly in New York. I was, therefore, fascinated to read about the Strand Bookstore's Books by the Foot program, in which the New York institution furnishes volumes for films, magazine shoots, private buyers, and, presumably, decorators.
Says Time Out New York,
Clients come to head designer Jenny McKibben, who previously worked in the store's rare-books department, with requests as vague as "golf books," or as specific as "leather-bound, six-inch-tall, red psychology books from the 1930s." It's up to the team at the Strand to hunt down tomes that fit the theme. Television shows and films tend to rent books from the program for use in set designs, including characters' offices and apartments. Once a show is finished with the props, they're returned to the store's stacks.
The twenty-year-old program has also outfitted scores of films, from The Royal Tenenbaums to The Departed, and in each case McKibben suits the titles to a character's individual needs, pulling books from all over the store. Presumably equal attention and care is given to the needs of private buyers, and looked at this way, it's actually an interesting way to acquire a curated library of potential great reading, or research. If, however, you have simple needs you want lavishly met, perhaps DecorativeLeatherBooks.com is more the ticket. That said, nota bene: "They are perfect for decorative and display purposes, and are not in English."