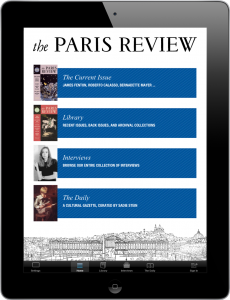 Have you heard the news? Two weeks ago we launched our very own iPad/iPhone app, which features new issues, rare back issues, and archival collections—along with our complete interview series and the Paris Review Daily. And best of all, it's free!
The New York Daily News called it "a real treasure"; Gizmodo named it app of the day; and The Rumpus recommends it over an M.F.A.!
Current print subscribers, you're in luck: we've granted free digital access to any issue covered by your print subscription! If you're a print subscriber and haven't already heard from us, send us an e-mail at support [at] theparisreview.org.
To those with Android devices: we hope to have a version for you soon!