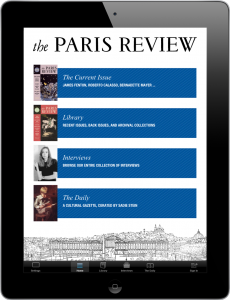 As reported in The New York Times, we're thrilled to announce the launch of our iPad/iPhone app! On it you'll find new issues, rare back issues, and archival collections—along with our complete interview series and the Paris Review Daily. And if you download the app by October 21, you'll receive the current issue, along with an archival issue—Spring 1958, featuring an interview with Ernest Hemingway, early fiction by Philip Roth, and a portfolio by Alberto Giacometti—for free!
To current print subscribers: stay tuned! Soon you'll be granted digital access to any issue covered by your print subscription. Look for an e-mail from us in the next week or two with details on how to set up your account.
And to those with Android devices: we hope to have a version for you soon!