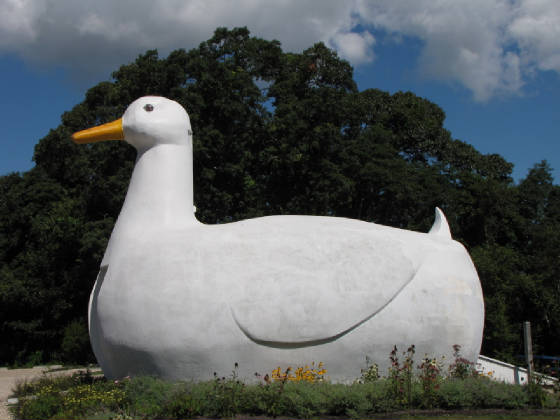 Perhaps you've seen it: that building out on Route 24, in Flanders, Long Island, that looks like a duck. Thirty feet long and twenty feet tall, it weighs a little over eight tons. It is called the Big Duck, and its white cement body sits in a permanent squat. At the center of its breast is a door that opens into a one-room museum and gift shop. There, three or four days a week, throughout most of the year, Barbara Bixby sits alertly behind the counter. Babs, as she prefers to be called, is a trim sixty-six-year-old with long auburn hair and bangs that fall over her eyes. Her accent is difficult to place. Not Long Island. Not New England. She draws out her words like an old film actress and speaks with great enthusiasm. She is infectiously friendly.
On a Saturday last winter, I trekked out to Flanders to spend an afternoon in the Duck with Babs. I traveled by train and by taxi, and when I arrived just past one P.M., Babs was entertaining a large, dark haired man and his young daughter. The shop smelled of potpourri. The Little Rascals played in black and white on a television set built into the wall. Babs wore a rose-colored sweater (a little threadbare at one elbow), a floral scarf, and a ring on nearly every finger. After the man and girl had gone, she turned to me and said, "What a sweet little lady!"
Babs is one of two duck sitters, and though she insists there is no hierarchy, she is more or less the head duck lady. The other sitter, Janice, has only worked at the duck for three years; Babs is entering her nineteenth. "We're a couple of good ol' gals," said Babs. Neither, however, is as old as the duck itself, which turned eighty last year.
Like many good ideas, the Big Duck began in California. In the winter of 1931, a Long Island duck farmer named Martin Maurer drove cross-country in a Model A Ford. In Los Angeles, on Wilshire Boulevard, he ate lunch at the Ben-Hur Coffee Shop. It was a curious building: decagonal in shape, it had a fifteen-foot stucco coffee pot on its roof. It was there, or so the story goes, that Maurer, between sips, conceived of the Big Duck. When he returned home he enlisted the help of two set designers, a carpenter, and a couple of contractors. As a model, the men tied a live duck to their front porch. When they had completed the building's wood and wire understructure, they covered its frame with four coats of white cement. Model T taillights provided the eyes. For the next fifty-three years, a succession of farmers used the building to sell duck dinners to go. The roasting took place inside, and the smoke vented through two wooden windows at the back of the duck's head. The windows have since been nailed shut, but somehow a flight of barn swallows have nested inside.
Once it was possible to climb up into the head of the Big Duck. Now the opening is sealed shut with a piece of Plexiglas. It is lit from the other side, however, so that visitors can see the internal frame of the building. I was peering through this plastic aperture when a young couple walked in.
"Duck right in and take a gander," said Babs. "Take a self-guided grand tour of the world-renowned Flanders Duck, a registered national historic landmark!"
"Wow," the man said, "it's all about the duck here."
The woman began to look around. Arranged on wooden shelves were duck T-shirts, duck umbrellas, duck mugs, duck Christmas ornaments, duck postcards, duck tote bags, duck refrigerator magnets, and (of course) rubber duckies. Everything was for sale.
The woman picked up a duckbill-shaped whistle, crinkling its plastic wrapper. "I don't have a sample of that," said Babs, "but let me vouch for it. It is a thoroughly effective noisemaker."
There were also some things that were not for sale, including a miniature portrait of the Big Duck painted on the interior of an oyster shell, a set of ceramic duck-shaped serving dishes, and several photographs of local residents, including one of a young couple holding their pet duck, a handsome Peking named Puddles. On the walls, framed press clippings celebrate the history of the building, which has gotten its share of publicity over the years. A replica of it appeared in the 1939 World's Fair. A drawing of it graced the cover of The New Yorker in 1987. And, as every architecture student knows, the Big Duck lends its name to any building that looks like the thing it sells, or the idea it represents. The Ben-Hur Coffee Shop has been retroactively called a duck.
"Will you take our picture outside?" asked the woman. "I'd be delighted," said Babs. "The duck is always worthy of a photo. We can do that right now. You never know if in ten or fifteen minutes a crowd of people will come pouring in." Earlier Babs had admitted that it'd been a slow day. When I asked how many visitors had come, she said, "Oh, maybe a little over a dozen. Let's make it a dozen. Like a dozen good eggs."
Babs only leaves the Duck to use the restroom, which is down the road at the county fire station. She eats her lunch, which she brings from home, behind the counter. It is usually leftovers that she heats up on the Duck's baseboard heater: "I've got kind of a camping spirit." To pass the time when there aren't visitors, Babs watches the films that play on the built-in television set, or she reads, though not as much as she used to. Recently, she's discovered the historical novels of Ken Follet. She also enjoys American classics. "I have this old printing of Longfellow's Song of Hiawatha. It's the American epic poem. I love that." Babs is a history buff with deep roots in this country. The Bixbys arrived in America from England in the 1600s, and they helped settle the Southern Tier, the region of Upstate New York that lies along the Pennsylvania border. "I've always been a proud native New Yorker," said Babs.
Though Babs likes what she does, she would not do it for free. Her paycheck comes from the county, and though she jokes about its modest size, she would not accept a more permanent arrangement. "It's just not my style. There are the real county employees with their pensions, and there is me, which is fine. We all have our reasons for what we do." In addition to duck sitting, Babs is a classically trained pianist, and she teaches lessons all over Long Island. At a Catholic church in Bayville, she is choir director and head organist. "Duck sitting is what we musicians call a day job. It's just something I stumbled into by no special plan, and I'm off the beaten path enough to like working here—if you can call it work. It's so enjoyable."
Behind the cash register and next to a large lollipop-shaped stamped steel sign that says ENJOY LONG ISLAND DUCK—an advertisement from a time when there were more than sixty duck farms on the eastern half of the island—is a collage of postcards that Babs calls the "Wall of Bigs." It includes examples of famous architectural "ducks" from around the world. There is the giant merino sheep in Australia, the Cabazon Dinosaurs in California, the red Kentucky Fried Chicken in Georgia. I asked Babs if any relationship existed between the buildings. "Oh no, they're all unique. But I hear that there are some with similar set-ups. There's Lucy the Elephant in New Jersey. A couple of women work in the gift shop there. And then there is the shoe house in Pennsylvania where a little old lady lives. I wish the duck were like that. It's just one room, but I could live here. Wouldn't it be wonderful!"
Cody Upton grew up in Santa Barbara, California, and lives in New York City.
[tweetbutton]
[facebook_ilike]