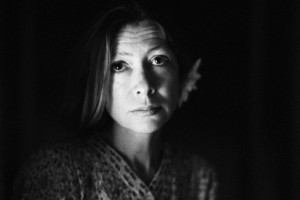 Each Sunday, we would walk down Lexington together, the conversation taking the tempo of our steps: slow, meditative, purposeful. She'd always be in immediate need of a coffee, so we would head for our café. The one on Seventy-something, a fifteen-minute walk from her place. We would never spend too much time in her apartment beforehand. I would go up to get her, maybe sit in her kitchen for five minutes while she got her things together, keys jangling, and we'd leave. I would try to take in the walls of books, visually inhaling the pillows collected over years and continents, and those curtains—thick buttery beige, like icing. Framed photographs from the seventies—the nuclear family—lining the bookcases, soaked in that sunny filter of the era, then sun-soaked again by the morning light.
At the café, we'd speak of her writing, about what she was working on, what movies we'd each recently seen and if they were any good. If we'd spotted any celebrities downtown, we would share what they'd been wearing and she would tell me her dreams. We would sometimes order two scoops of vanilla ice cream to share, and she'd urge me to finish the last bite. If conversation lagged, I might tell her I felt a West Coast phase coming on.
She would read my writing and tell me what was good and what wasn't (she'd never say anything like she "saw great potential" in me—nothing like that, nothing that might threaten eyes to roll). She'd advise me as a professional equal and as a child, which is exactly how I would feel sitting across from her, two times her size and one-third her age, her books overstuffing my backpack.
"You don't think in terms of suddenly making it," she would tell me, remembering when Play It as It Lays first came out. "You think you have some stable talent that will show no matter what you're writing, and if it doesn't seem to be getting across to the audience once, you can't imagine that moment when it suddenly will." I would nod. "Gradually," she'd add, "gradually you gain that confidence."
She wouldn't always be nice to me. She might be in a foul mood and take it out on me a bit, but then she would always be fair. That's how I'd know she was taking me seriously. I would be aware then, I wouldn't have to wait until I was older to recognize, that this acknowledgment, this leveling, was more valuable than anything else.
Her secrets would be my secrets, and mine hers—in so much as people share their secrets. Keepers of private notebooks are a different breed altogether, she'd say knowingly, eyeing the stacks of journals overflowing my lap, lonely and resistant rearrangers of things, anxious malcontents, children afflicted apparently at birth with some presentiment of loss. I would shrug and scribble a note or two.
I'd learn her way of being, how she took up space. How she liked her eggs, where she'd sniff after words and what that meant, which was her favorite linen dress. And I'd learn to sketch maps of her intellectual processes. I suppose she would learn mine as well. She had many friends, of course, so it wouldn't be like I was giving her something to do. She would meet with me for some other reason, one that would never be entirely clear to me. Years later, I would still wonder.
When I finished Blue Nights, I exhaled deeply, knowing things were now different. I'd started it the day before, a copy I'd happened upon, and while I knew there was other writing of hers I'd yet to read to be sure of it, I nevertheless knew I'd tasted something true. The sense of a new era overwhelmed me. Loss, memory, loss, memory. That was my mantra at the time, and Didion sang it back to me more clearly and more devastatingly than I'd known it could be sung. Memories are what you no longer want to remember.
At the same time, she was mighty. And brutally funny, of course. She conveyed the humor of regret as effortlessly as its intransigence. The admission of feeling lost when you're told you shouldn't (when caring for a child, for one). The shameful desire that things, that people you love, be different. The comical and terrifying process of aging, in which you're asked to do things like swallow tiny cameras—equal parts tragedy and farce. In the end I did swallow the very little camera, and the very little camera transmitted the desired images, which did not demonstrate what was causing the bleed but did demonstrate that with sufficient sedation anyone could swallow a very little camera.
There were many moments throughout Blue Nights when normally I'd have underlined a particularly stirring sentence or passage that made me smile or my eyes well. But for some reason, I hadn't used a pen at all, a complete departure from the norm. I didn't want to pause reading long enough to assist my future memory by leaving its trail.
That's when I started fantasizing about our meetings. Imagining her walking New York alone, as I did, I craved the synthesis of a loving parent and a fiercely objective mentor. I wanted to be a professional. I wanted to be taken care of.
Days after reading Blue Nights I found myself at La Guardia waiting to fly to Atlanta for my grandmother's funeral. She'd been ninety-one and was my last living grandparent, and the final act of a two-year procession of eldest generation leave-taking. The living link to the South and an older, vastly different way of life were no longer. What had always been a vague interest in family history intensified to a fascination.
At the gate I checked my e-mail and saw a message from my friend Emily inviting me to a public interview with Joan Didion the next month. She knew nothing of my recent fantasies, so this invitation felt like magic. The event, organized by Emily's sister, ended in a private reception, and we were invited.
It was a sign, of course. I would meet Joan Didion. I would introduce myself, give her my phone number, and say, Joan Didion, I would like to take you out to coffee. Please give me a call if that prospect at all intrigues you. Just like that. She would call, weeks later after I'd given up on it all, and we would meet. She'd think I was sort of silly but bold and would give me a chance accordingly (as in the movies). She would become my mentor. My friend.
She would become my grandmother, and I would become her daughter—but that wasn't clear to me until later. That much only revealed itself after it became clear that I'd be unable, in the end, to make it to the event. Unable to go to the private reception. Crying over this impossible twist of fate, it occurred to me: this—this is bigger than Joan Didion.
I'd already grieved for my grandparents ten years earlier, when they were very much alive. They were moving to an assisted-living apartment building and the magical home I'd grown up visiting twice a year—the one where I'd imagined I'd bring friends, my future husband even (with the skewed sense of time and mortality in which a lucky thirteen-year-old exists)—was sold, the brick painted a hideous white. I'd mourned my thirteen-year-old fantasy of the everlastingly bustling home and only returned to the now-white house ten years later with my boyfriend of the time, just to drive by, just to have a look.
Looking out at the Atlanta skyline from their new apartment, unfurnished and sterile, I was surprised at thirteen when my eyes welled with tears. Soon I would learn to say loud hellos to each small, often stooped person I passed in the hall; soon I'd become used to eating at six P.M. sharp; and I would laugh when my grandfather would refer to the others as "the old fogies," always winkingly distinguishing himself from those who were supposed to be there. When he died two years to the week before my grandmother, the unreality of it all made the change hard to feel. I continued to visit my grandmother at Lenbrook but was less and less able to connect to her. She drifted further away. She had always operated out of that Southern feminine toughness that left you well fed and feeling her fierce loyalty in place of that grandmotherly softness you see on TV. (In one spontaneous demonstration of physical affection, she would almost yell, "Do you know what love is and when you're getting some of it?!" punctuating each word with a slap to your thigh.) Once I was old enough to take her on for who she was, bypassing shyness to know the woman behind the hard-to-read crustiness, she'd been getting older too.
Months after her funeral, my mother, aunt, and I spent a weekend cleaning out the apartment to be sold. Early one morning, a woman out walking in the hall said hello as she passed and offered, dreamily and without invitation, that unexplained elderly clairvoyance, to pray for us.
And so, I would not meet Joan Didion. Not in that magical way. I would not be a prodigy. I was not a genius, it turned out, just as David Rieff—son of Susan Sontag, an epithet I'm sure he'd rather not see enclosed in dashes, rather not, perhaps, see at all—had suggested while speaking, not unkindly, to a group of young writers of which I was one. It was likely, as he put it, that none of us were geniuses (and with such a mother, these realizations must come all the faster and more brutally). I would, instead, slowly practice and progress as normal people do until, if lucky, I became good. A good writer. And would I be happy then?
A mother doesn't have to be perfect, according to D. W. Winnicott, nor does she even have to be great—she only has to be a "good-enough mother" for her child to learn to trust the stability of the ordinary world. Blue Nights was a holding environment, a place I could feel taken care of and, still, a place alive with possibility. But would it be good enough to be a good-enough writer?
But I do know that there is one kind of love that doesn't require a person to love you back—one where the person might not even know you. And another where you might know someone all your life and then realize, at the end of hers, that you never really did.
Doing what you love can help with this. Doing what you love allows you to remember so well, to feel so closely how you have loved, that you can forget the space between yourself and the words you draw with. Forget the distance between you and everything, everyone, else. Love becomes transmutable. Freud knew this. Writing can be an effective replacement mechanism—and in its solitude, there is antidote for the deepest loneliness.
"It's people trying to make sense of a fairly universal experience that most people don't talk about," Didion would spit back, as if to say, Yes, well, duh. Didion knows her writing provokes a very personal, often emotional, response from readers. Desperate, even. Is remembering, then—is writing—a way to respond to the promising threat of forgetting? A way to figure out what you might actually think about something, without coming to any confining conclusions? A release—or a holding on?
By feeling the muggy Georgia poolside air, thick with cicadas and the whirring of the ice cream maker swirling vanilla cream, wafting "takes-the-rag-off-the-bush" fried chicken, biscuits and greens; her manicured, diamond-ringed fingers, soft Pond's pink cheeks and blue watery eyes; honey buns and bacon, Mommy-Toot-Toots and German chocolate cake; the deep cool Oriental rugs under wet bare feet—that coming into air-conditioning after a swim in pool water insistently set at a bath tub's ninety degrees; dark shiny magnolia leaves and scratchy pine needles; that time, running up the steps, you fell, the wind knocked out of you and all of a sudden he was holding you until desperate gasps brought in air again; crayfish in the stream and Disney Channel on the TV; blue and white china, tiny bronzed shoes—the comfort of being a child among a family of adults. An attempt to retrieve something out of the loss.
To make use of the otherwise potentially mad-making material of which life is made. And Joan Didion, I'd hoped, would help me parse this material, help me make something of it. How presumptuous it all sounds. How naive. Whether or not she'd want to walk with me, though—that would always have been up to her.
Lucy McKeon is a writer based in New York